Adventurer's Bingo
This is adventurer's bingo! Looking for a fun game to play while you are out, perhaps to add a new element of fun to a familiar walk or to encourage adventuring out beyond your usual haunts? Well, this is absolutely the game for you! This game will see you wandering out into the unknown in a desperate bid to find your last winning tile and laughing as you argue over what constitutes a 'very tall tree'. Ready for some fun?

For those new to bingo
If you have never played bingo before, don't worry - the concept is pretty simple. The grid below is a checklist of things you need to find while out on a walk, every time you spot something you tick it off. The way to win is to be the first to have a horizontal, vertical or diagonal line completely checked off - if you do, that's bingo! You can also play solo if you like, where you can either try to get a bingo or challenge yourself to complete the entire grid...

Tips for Adventurer's Bingo
So with bingo established, what changes for Adventurer's Bingo? Well, there are a few things you need to decide prior to play:
Some of the tiles have an open definition, while a duck is always a duck, what constitutes a 'large bird'? That's for the players to decide - as an example when we played we agreed a large bird would need to be something heron sized or a bird of prey in order to count.
You don't need to necessarily complete the game on a single outing, you could play across multiple walks and days out as required.
While traditional bingo is played until a line is completed, if you are on a grander adventure you may want to play to complete the grid instead.
Most of the options are meant to be as worldwide as possible, but some do have an English bias - decide on a suitable alternative before heading out on the hunt.

How to play
You have two options to play - firstly is the simplest, just use the print button below to print out a copy of your grid; that way you don't have to worry about things like signal interrupting your game. If you do wish to play online, great! All you have to do is click on a tile when you spot it and it will display a 'found' icon, once a line has been completed it will switch to a 'bingo' icon automatically and should you play to complete the entire grid then you will get the 100% stamp of approval:
Found Stamp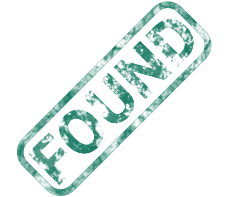 Mark an item as found and it will be labelled as above
Bingo Stamp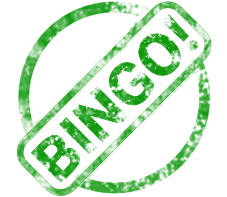 When a row, column or diagonal is complete you'll get the bingo stamp - this means you've won!
100% Bingo Stamp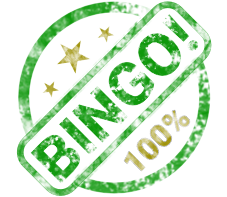 Play to complete the entire grid and you will get the 100% stamp - congratulations!
Navigating away and coming back will reset your bingo card, so be sure to save your token or bookmark the page to get back to your current game! Don't forget to zoom in or use your phone in landscape mode for the best view of the grid.

Waterfall, Cascade or Rapids