I remember a time when 20,000 steps was a reasonably lofty goal. When I first donned my Fitbit I only really walked on weekends and my desk job often resulted in a paltry 2-4k steps by bedtime, but as I got into the spirit of things I increased my daily average much closer to the 10k steps recommended by various health organisations. Of course, I had my massive spikes on hiking days - I'm by no means setting any records but the app proudly displays my "Cleats" badge for 40k steps in a single day, and as each year goes by I tend to swap that badge out for the next step milestone. So for someone who is used to spending his Saturdays hiking, the 20K goal is a bit of a soft target, right?
Early on into the year I certainly felt that way, but as the weekends pushed onwards what I was aiming for started to dawn on me: 20,000 steps, about 10 miles, every Saturday - rain or shine, sickness or health. On the good days I could have strolled my way to my goal a little after lunch, but on the bad days I would still be slogging away at 8pm just to see the counter roll over so I can finally relax. Of all the things I thought I would take away from this challenge, I wasn't expecting "I have walked 10 miles without leaving my house" to be one of them.
So let us take a brief look back over this year of 20k, it's highs and lows, what I learnt from it and what I intend to do going forwards.
An accidental start
I never intended to have a challenge for 2019. I'm not really a 'New Years Resolution' person, although I do try to set myself goals I don't tend to wait for January 1st, I just get going and try to set a reasonable deadline. So this one kind of began as an accident - following Christmas and New Years 2018 I felt like I needed to get back into the swing of hiking to shake off those walking cob-webs, plus a few extra pounds. Our first outing of the new years was to The Wrekin, aiming to get some fresh air, a few steps and a handful of floors, but because we took the longest route available (Up and over the Wrekin and around the back through the woods) I was pleasantly surprised with my end results: a little over 20k steps and just shy of 200 floors, not bad for someone who had just spent two weeks drinking intoxicants and eating Celebrations tins by the pallet load, so naturally I took a photo and stuck it on my Instagram story.
The next week, we explored Ironbridge, had a wonderful time around the town and all through the woodland walks that overlook this pretty little town, and a similar step score was achieved, so I posted it to my story once again. These had become fun little pick-me-ups to escape the doom and gloom of January, the festive season over and the reality of the working world setting back in. Week 3, we headed back to the Wrekin again as my parents had never been, got a wonderful walk into the clouds and to the snow cap of the hill; this route left me with another easy 20k, another snapped photo and now I had a streak that I decided to see through to the end of the year. After all, I had already proven 20k was fairly trivial to hit when out on a hike, so as long as I, more often than not, spent my Saturdays exploring this challenge would be a cake-walk.
The easy days...
At first it was simple, head out early Saturday morning, take a fairly relaxed stroll somewhere and try to be at about 13k around midday - the rest of the steps would just sort of happen as I went about my normal Saturday afternoon tasks. We took trips to Carding Mill Valley, The Clent Hills, Bewdley, all around Shropshire and beyond just to ensure I could keep the streak alive and the early weekends were absolutely happy walks to my goal.

Then there was the holidays, where 20k is a given any day of the week so the Saturdays were a given: so much so that this year I actually registered my first 40k day! I did it by completing a walk I had always wanted to try, walking from near the small town of Llanddwywe to Barmouth and back, zig-zagging between the beach and the roads and exploring the town upon arrival. As mentioned above, being on 13k around midday was optimum to hit 20k by the end of the day, well on that day I had done the full 20k before 3pm, and was less than half of the way back. A few walks on the beach later and 40k was another little achievement unlocked.

Filling in the gaps
Of course, some days would always be more difficult than others. Maybe the hike was too short, or I had other things to do on Saturday that stopped me from walking. Luckily, I was used to having to work around my life to get my steps in; my desk job often results in a terrible amount of steps done come 5pm, so cramming in the steps via other means was a familiar feeling. About a year prior I had even invested in a step-worker to make sure I was stretching my legs as much as could be. I was unsure whether or not to use the step-worker, but ultimately decided it was fine considering it has adjustable resistance, meaning you can make it harder than normal walking! something akin to walking shin deep in custard. It became a real calf-killing workout to use the stepper, add in the resistance bands for the arms and it is a great little addition to a regular workout regime.

I also knew that I could wonder around the local shopping centres, and I even had a mental note of roughly how many steps I would get by visiting each, plus little additions I could do to really stretch out the steps done. At least with a change of scenery it could make the tougher days a bit more tolerable. But when all else fails I would put on some music and either walk laps around the house and garden, or repeatedly walk up and down the stairs, to hit my goals.
The tough days...
Lets be real, keeping up the momentum of hiking every Saturday morning was always going to be tough. Some days you just aren't feeling it, sometimes you need to get other things done (that unfortunately may not involve much walking) and sometimes the British weather has other ideas. Now, I'm not one to shy away from hiking just because of a little drizzle, but if its absolutely bucketing down I'd rather just break out the step-worker and put a film on. Where there is a will, there is a way - but there were certainly greater challenges to come.

The first thing I knew I would have to deal with is illness and injuries, over the course of a year I was almost certain to have something spoil the progress. I ended up getting extremely lucky in this regard, having only a single Saturday where I had to deal with a cold. No flu or more serious ailments, no sprained ankles or bad knees - this is the one thing I thought would kill my streak but I got away without any real stress. Especially as someone who is a little injury prone, but more often than not if I did pick up an injury, it would be because of the Saturday and it would have healed by the time the next Saturday rolls around.

The next major problem I faced was actually from a typically positive situation: heat. We ended up taking this year's main holiday in Spain, during a week where it would often reach 40 degrees Celsius in the sun and I needed to get steps without my step-worker (some 1000 miles away). While 40 degrees may not be the hottest most people will experience in their life, it is a bit beyond what I regard as "ideal hiking weather" and this was the second day of the holiday so I was barely acclimatised - but by the time we were there I was more than half way through the year and determined to give it a solid attempt, even if I had made my peace with the possibility of failure. I ended up walking in shifts, taking a 10-15 minute walk around the block or along the local nature park armed with a huge bottle of water and taking 10 minute breathers in an air conditioned room to cool off - it ended up being a real tough day but a satisfying moment at the end.
The other general problems, beyond those mentioned above, included days where I had little plans/poor plans and step-worker burnout. Local walks are limited, the step-worker will get me there but it was always a boring way to do it and roaming the house might get the job done but doing 20k steps using a short walking circuit is a recipe to go stir-crazy. The end solution seemed to be a combination of all the above, plus throughout the year games like Beat Saber and BoxVR certainly helped make the steps a little more enjoyable. Towards the end of the year we even had an Aldi open up within walking distance and I got many a step exploring that middle aisle.
The final stats and reflection
So the year is now done and I have done all of the steps I aimed to do - so how did it shape up? Well I pulled the stats for every Saturday last year, taken from Fitbit, which total:
1,153,555 steps (Averaging 22,184 steps per day)

532.23 miles (Averaging 10.24 miles per day)
Best day: 41,287 steps - 18,93 miles
Worst day: 20,337 steps - 9.39 miles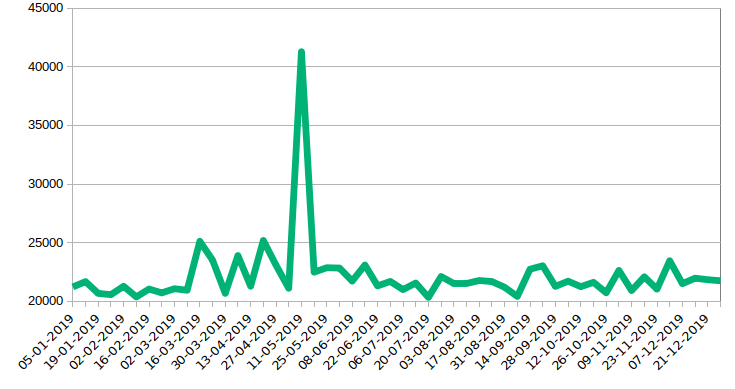 So what does that distance look like? According to Google Maps that is roughly the walking distance from London to Inverness (535 miles), perhaps a future challenge? On second thoughts, maybe not..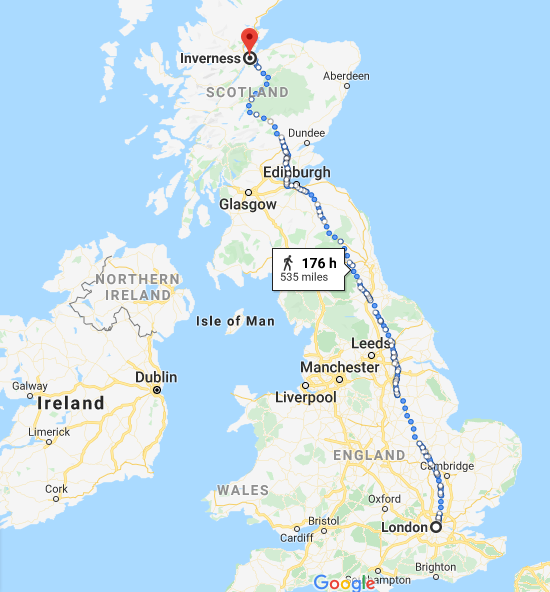 Lets also look at the high and low days, and roughly what they looked like. The high day was about as perfect a walking day as I could ask for, as I discussed previously this was the walk to and from Barmouth, with beautiful weather and nice long beaches/roads/parks/green spaces to explore. The lowest day of the year? Well there is not much to say about it, good or otherwise, as my caption on my Instagram story sums up: "Rough one 😴 stuck indoors". But with all of that in the past now, it is time to look forward to the future and consider if another challenge is in the works.
Considering this one started completely by accident, I won't be setting anything in stone during this article, in fact as fun a challenge as this was I don't think I will be picking another Fitbit stat to aim for. It would be very easy to just say "25k Saturdays", or "200 floors Saturdays", but the original challenge came about organically and I think continuing it or creating a similar challenge into the new year would feel much more like an chore than something I truly enjoy. So maybe I will come up with something a little more interesting - maybe something more flexible, like a total walking goal for Saturdays that I just need to hit by the end of the year, or something monthly: perhaps 12 new towns and cities explored or 12 hills/mountains climbed in a year? I think there are a lot of fun options, but even if I have no challenge for 2020 I am sure I will keep active and adventuring for many Saturdays to come.