The Mawddach Trail is a great bit of walking infrastructure for the wandering adventurer; this trail links Fairbourne, Barmouth and Dolgellau along a smooth gravel path which is perfect for walkers and cyclists alike. In fact, we've explored it multiple times before, between crossing Barmouth Bridge to link together the wonderful seaside towns of Barmouth and Fairbourne, to heading inland to discover the wonder that is Arthog Falls, we love the Mawddach Trail and it has become a go-to for us if we just want to cover some ground in stunning surroundings without straining our calves scaling hills and mountains. It is perfectly smooth and level, making it accessible for walkers of all skill levels. That being said, there is still plenty to discover if you wish for something a little different, which brings us to today's hike: Coed Abergwynant. This little patch of woodland stands out along the trail, but being where it is a lot of people may not have ever encountered it or be aware it is publicly accessible - plus, it holds some brilliant secrets for those willing to scale its modest heights.
Travelling to Coed Abergwynant has multiple options, but those who like to park up at the entrance are out of luck, the woodland is adjacent to the A493, a major route between Dolgellau and Fairbourne that offers little in the way of places to stop. Unless you happen to staying at a holiday let somewhere in the area, your best bet is to take advantage of the Mawddach Trail to reach Coed Abergwynant, this will add a little extra distance onto the walk but it is ultimately the best solution. We started out from the car park at Penmaenpool, which as far as we can see is likely going to be the best and closest option - this name may or may not be familiar to you, but I'm sure you know either the iconic toll bridge over the Mawddach or the George III pub. There are plenty of spaces next to the toilets, and the entrance to the public car park is near where the toll bridge lane joins the A493, with a second car park further up the lane for the George III pub if you plan to stop for food or a tipple. The walk mapped above will start from here, but there is no reason to limit yourself to this if you are happy to travel further - as mentioned above, the Mawddach Trail connects Fairbourne, Barmouth and Dolgellau together, so you can start from any of these towns and link through. Starting in Barmouth requires you to cross the bridge to join the trail, Fairbourne sees you starting from along the seafront, just past the golf course here, and Dolgellau you join the trail on the riverfront, near the main town car park here. Public transport is actually pretty good to the area, with a bus stop at the George III pub serviced from Tywyn and Dolgellau, naturally, if you are starting out from one of the towns then you have many more options including the train at Barmouth and Fairbourne.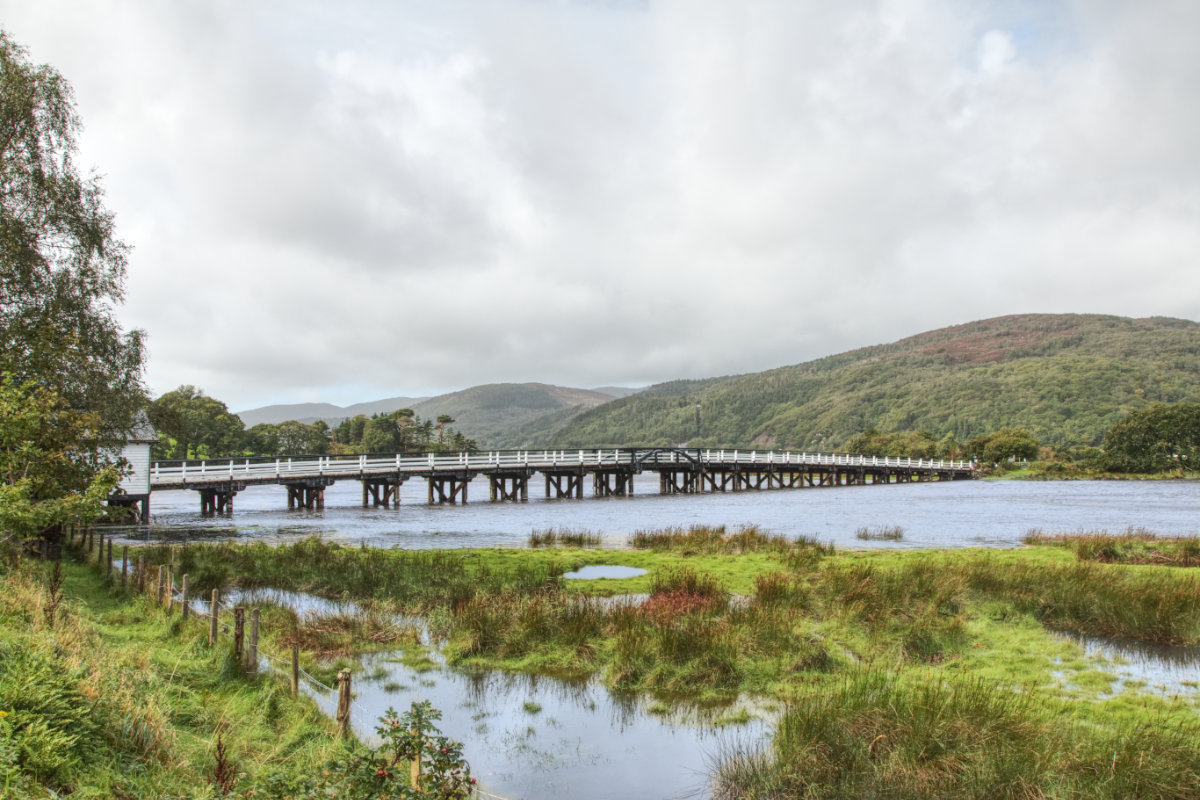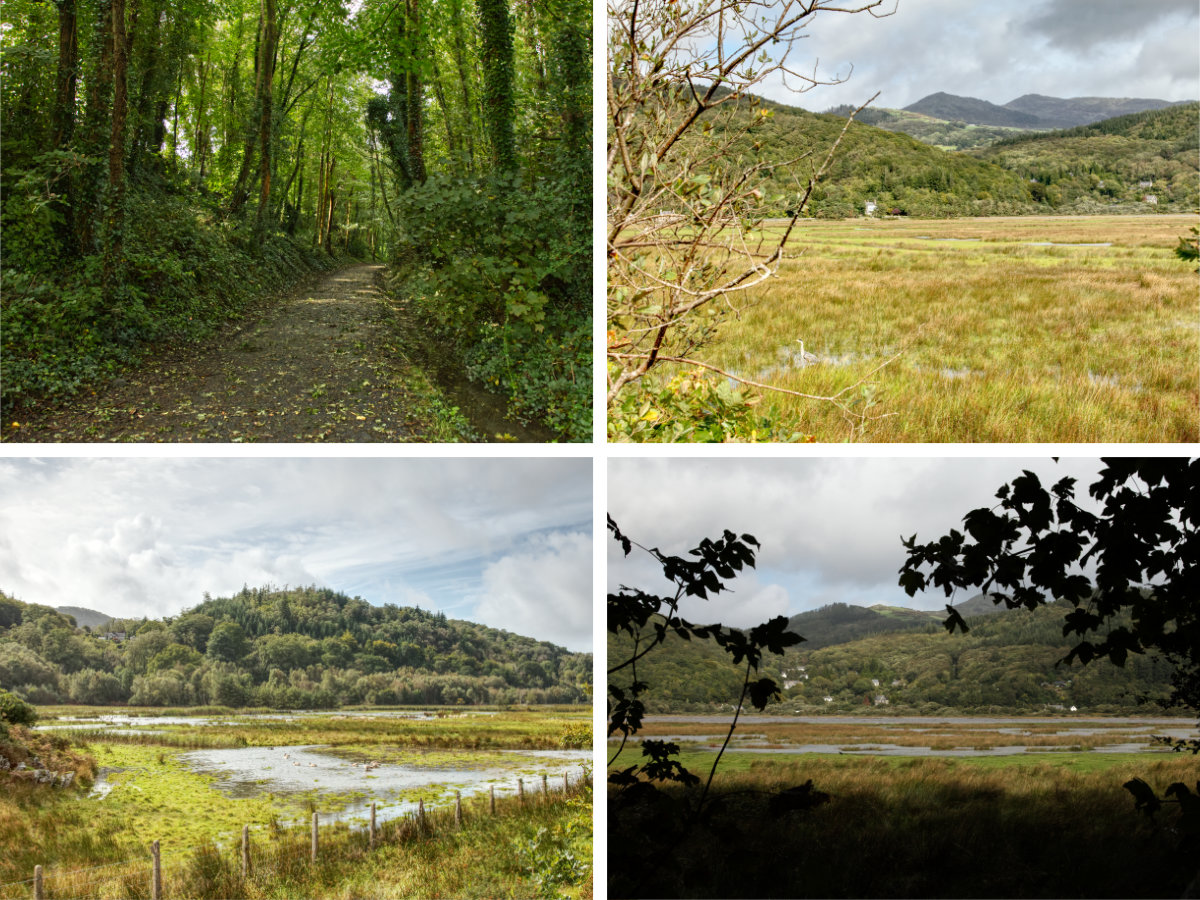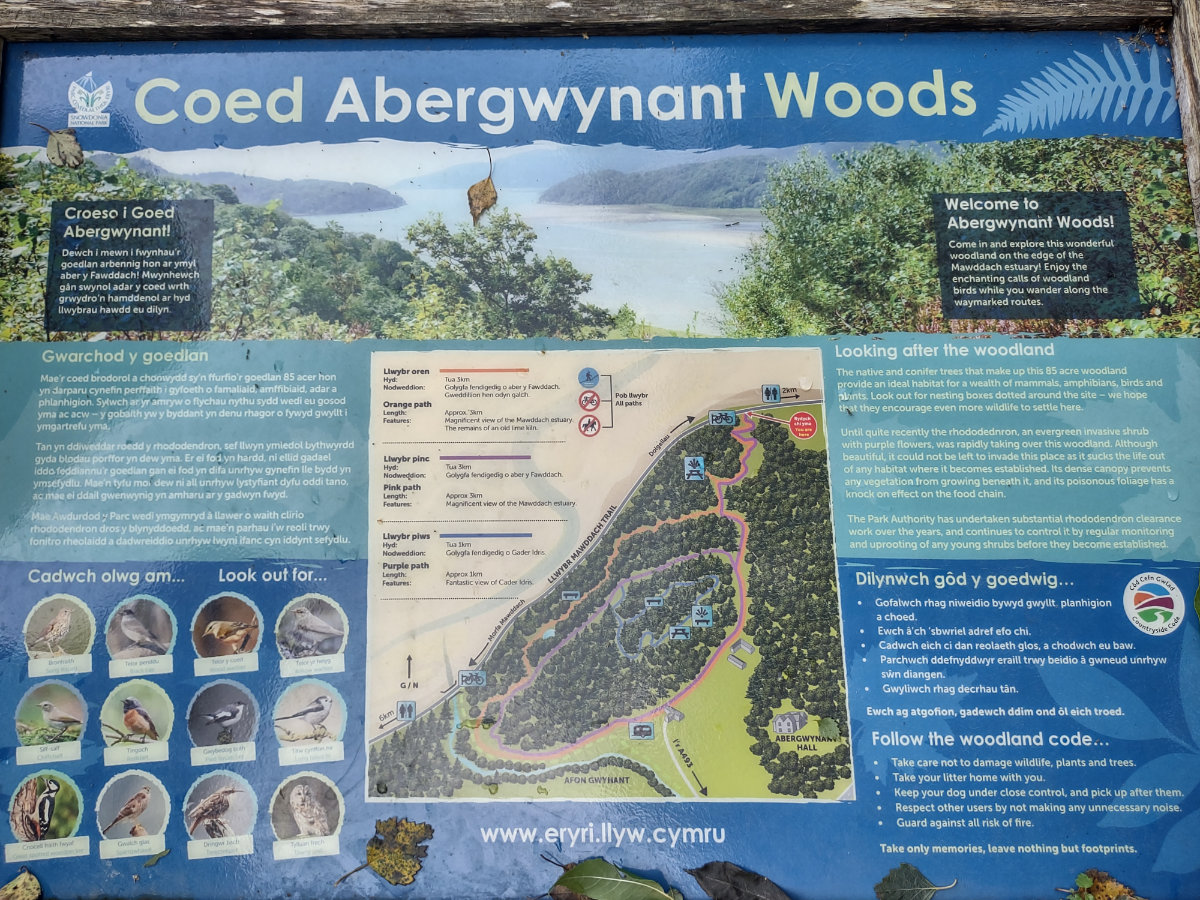 Starting out from the Penmaenpool Toll Bridge/George III pub, you will be following the trail for approximately 1 mile before we reach the entrance to Coed Abergwynant - remember to factor in this when hiking, do not exhaust yourself in the woods as you will still have a mile return walk to the car park! This is a pleasant stretch of the Mawddach Trail, with sections offering beautiful views towards the river on your right, Cadair Idris and its foothills on your left and fields of cattle in between. As far as preparation goes, on windy days the estuary of the Afon Mawddach really catches and funnels the wind up from the sea and sections of the trail without trees will be more than a bit blowy, so dress appropriately - once in the trees of Coed Abergwynant, you are likely to be completely shielded from the worst of the gusts. Keep heading onwards and the start of Coed Abergwynant will be fairly apparent, the trail will close back in with trees on either side and a small space with a picnic bench and a gate will appear, the gate clearly labelled for the woods. Now it is time to leave the smooth gravel path and tackle the woodland hike...
As I'm sure you have gathered from the title, our target today is Coed Abergwynant's Purple Path (it looks blue on some signage but it is labelled purple, so that is what I'll go with), this walk is actually a small loop off of the Pink Path, so we will be following the pink arrows for quite some time before diverting onto the Purple Path loop, then retracing the Pink Path back to the entrance. We opted for this route as it will cover the two viewpoints promised by the map at the entrance, which are the main draws for us - if you are looking to tackle longer walks then following the Orange Path or Pink Path to the end may be more your thing, but we can highly recommend shooting for the Purple Path. Of course, these walks are interlinked and circular, so they are very easy to tack onto one another for a grand adventure. It is also worth noting that we visited on an unseasonably wet September morning and so everywhere was muddy, we can't be certain what this woodland would look like under normal conditions, but I would always plan for a woodland walk like this to be at least a little muddy. That being said, even under less-than-ideal conditions we were always able to pick our route through the quagmires in our hiking boots, so hopefully you won't face too much adversity no matter when you choose to visit.
To reach our goal on Coed Abergwynant's Purple Path today we will be doing a moderate amount of climbing, just short of the summit of Bryn Abergwynant which is about 96 meters tall as the Purple Path sort of encircles the actual highest point, so hardly a mountain but certainly enough of a climb that you will feel it. It will be quite a stark contrast to the Mawddach Trail! To begin with, the paths undulate around and bounce up and down, we were dodging the muddiest of the routes while following the pink and orange arrows to stay on track - everything was pretty straightforward and I have no complaints about signposting here. There were a few stretches where we hadn't seen a sign in a while, but as there aren't many options for veering off course all you need do is keep going and you will eventually find where you need to go. The first viewpoint will be along before long, the pink and orange arrows joined by a white viewpoint icon off to the right, we checked this out on the return journey but you can check it out either first or last, it is a very short path that gives a lovely view straight up the Mawddach Estuary between the foliage - a beautiful little spot and ideal if you fancy a quick breather before continuing onward.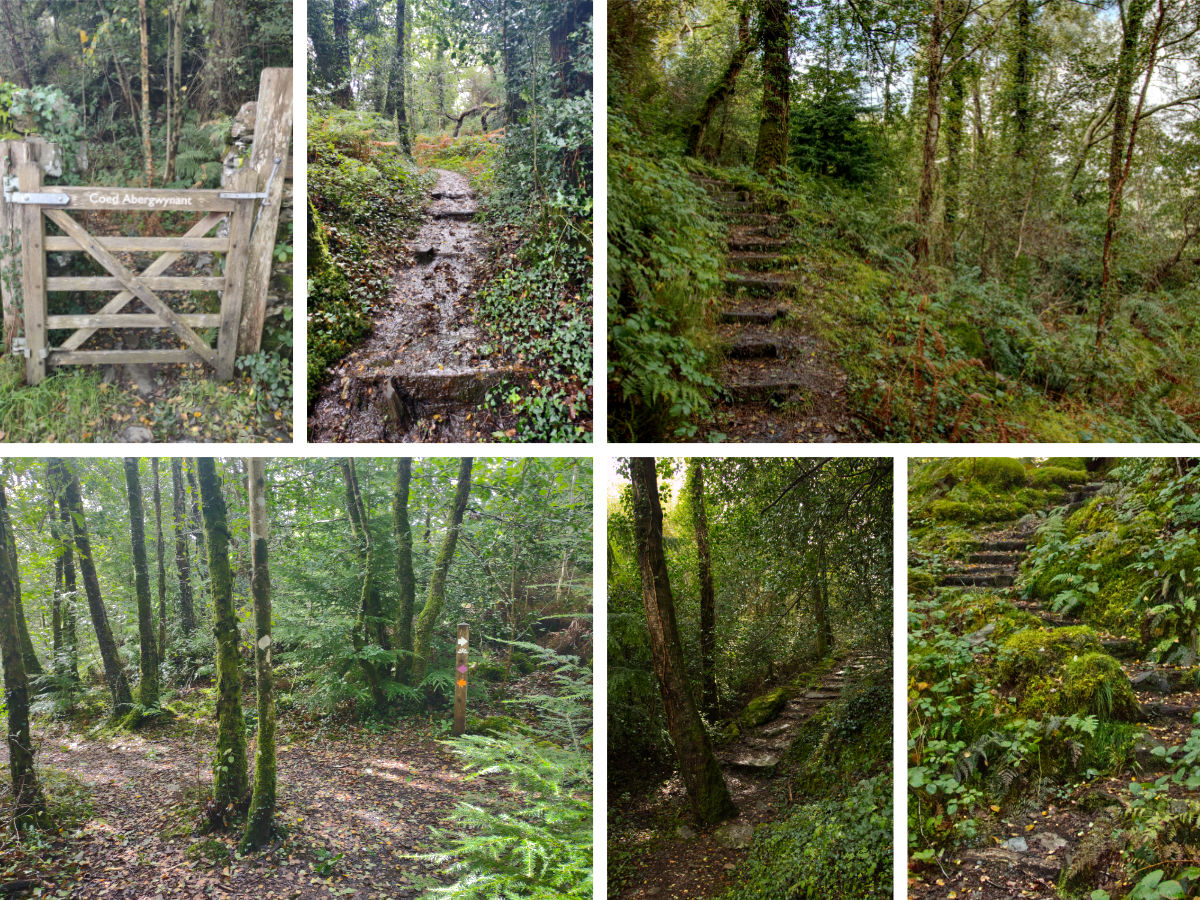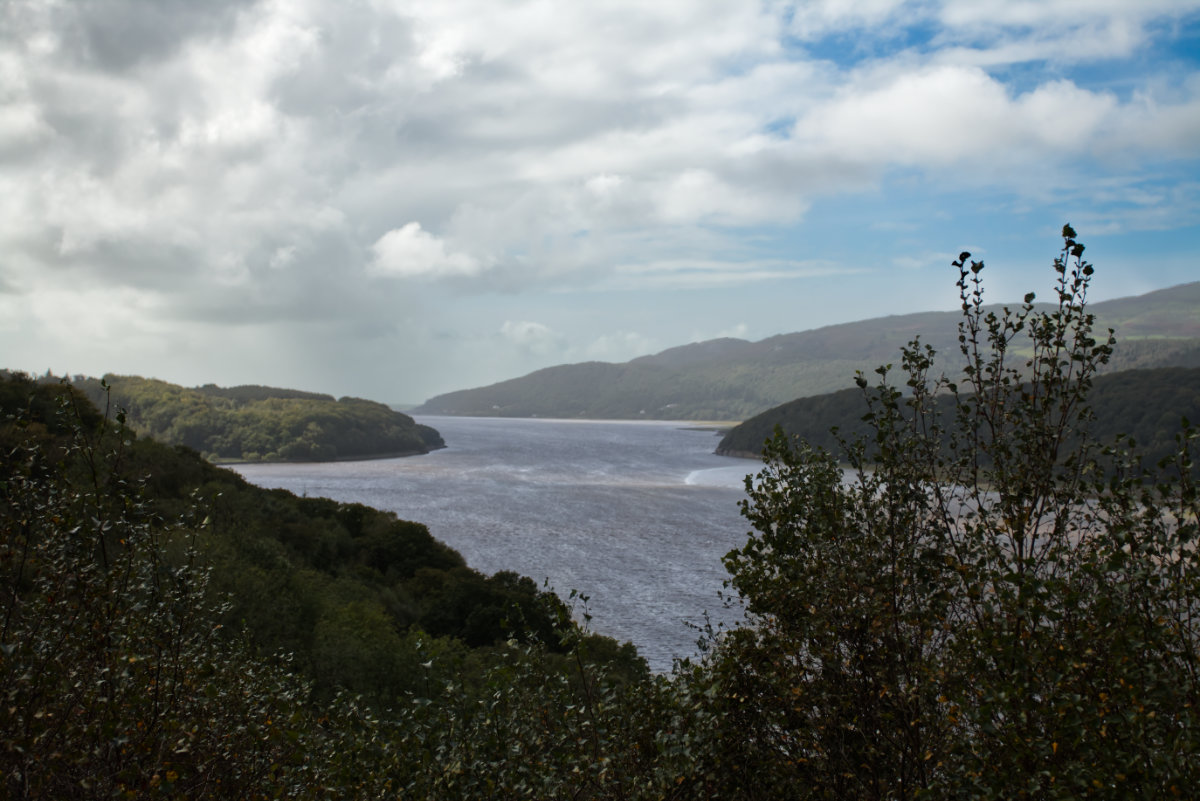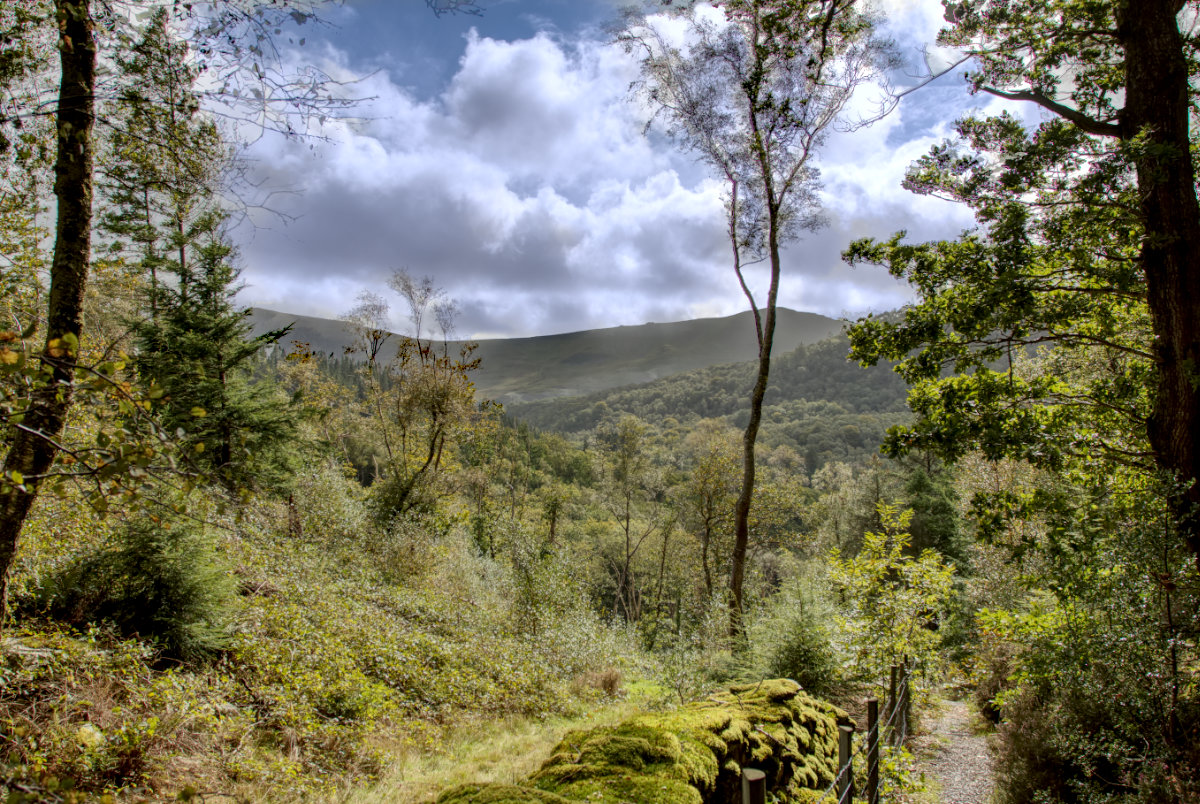 There is nothing left to do now but keep climbing! Coed Abergwynant will continue to alternate between sections of stairs and loose stone paths, but from now onwards it will mostly be an upward climb with occasional flat sections to allow you to catch your breath. Keep following the Pink Path as the Orange Path diverts off on its own route and ultimately you will find yourself on the Pink Path's circular - now if you want you can follow the Pink Path all the way around as well, no matter which way you take you will eventually arrive at the Purple Paths' entrance, but we took a right when we reached this point so as to head directly for the Purple Path. It's easy to head the wrong way here if you happen to not notice you've started the circular of the Pink Path, but if you find yourself quite rapidly descending along a stone wall and wire fence (pictured above), then turn back, go straight past the fork where you joined and head uphill instead. Keep following the path for a while, there was quite a while without seeing any signs, but before long you will find yourself in an open little grass clearing, a veritable swamp on our visit, where a path off to the left marks the start of the Purple Path - it's time to make the final climbs to our second viewpoint.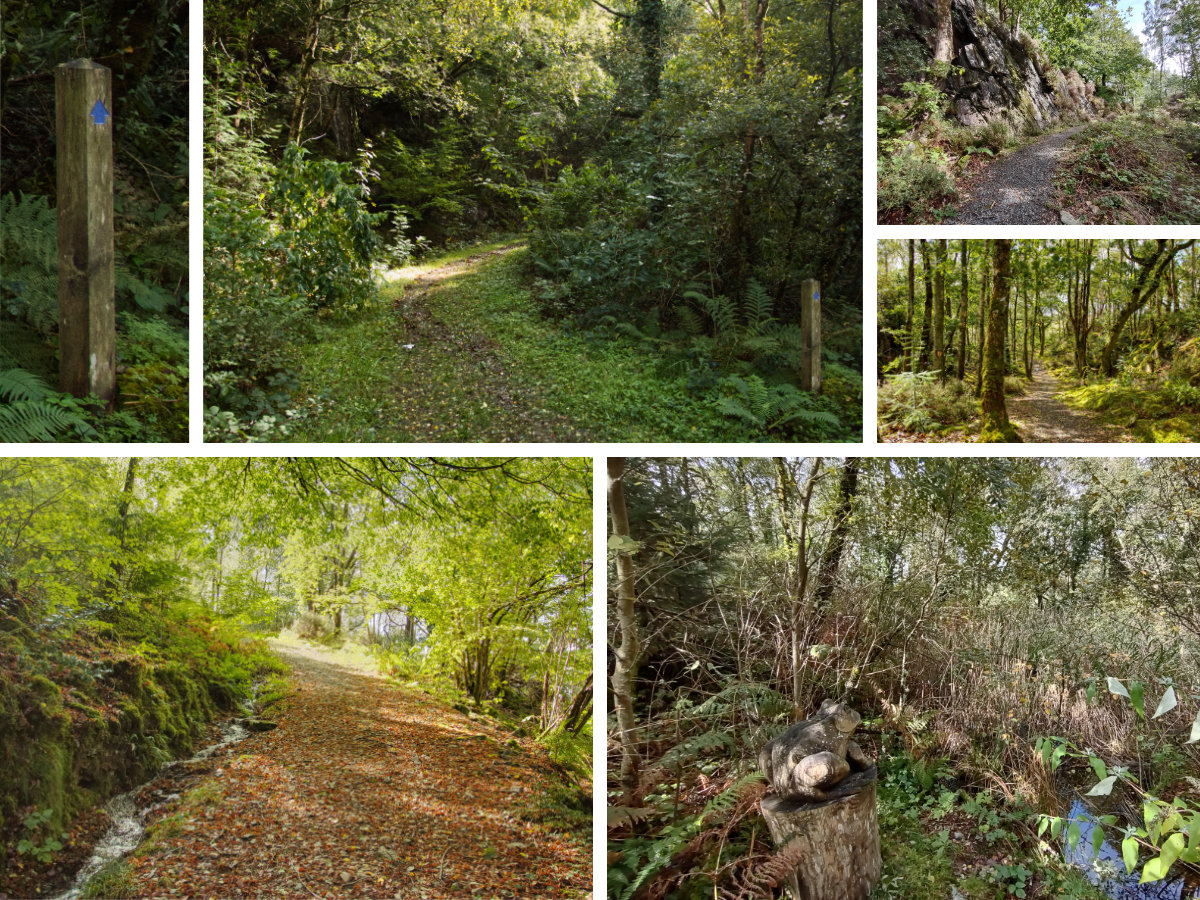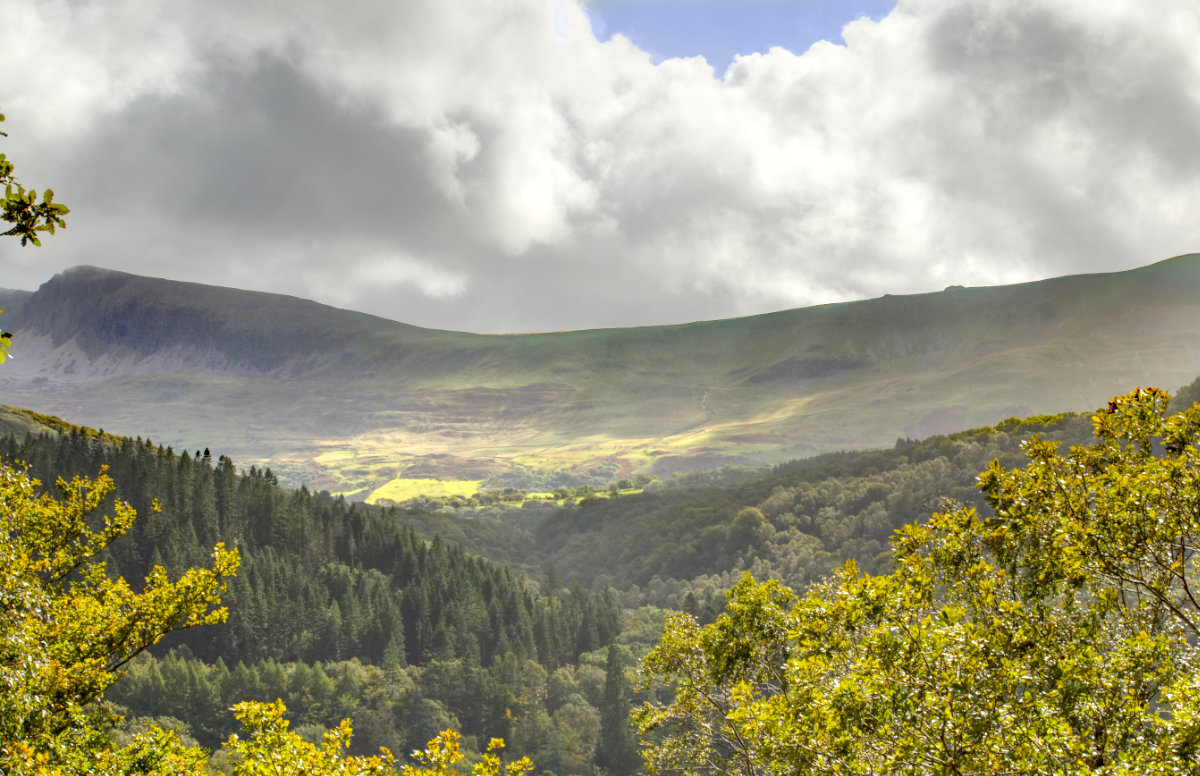 The promise of the final viewpoint on the Purple Path was our main reason for visiting Coed Abergwynant, and those who are starting to run out of steam at this point will be happy to know that this circular is about 0.6 miles in length, so not too far to go now. You can follow the circular whichever way you please, the viewpoint is roughly on the opposite side of the hill from where you join the route so either option will take about the same time, left possibly being the shorter option - we headed right, which took us on a little loop around the idents of the hillside with rocky outcrops and beautiful mossy woods before bringing us to a small picnic area. Not knowing what to expect we were a little worried this was the viewpoint, but thankfully that was just a little further on - you will know you've reached the viewpoint when you find the lovely carved bench denoting Cadair Idris and its many peaks and hills. In fact, there are a handful of wood carvings dotted around, with my favourite being the frog statue (pictured above), overlooking a perfect little spawning pond that I am sure is loaded with tadpoles in the spring. Either the picnic area or the viewpoint itself make for a great place to recharge, perhaps even grabbing a bite to eat before beginning your return journey. You will more or less be heading downhill most of the way back, so even if you are a little tired at least gravity is on your side; I recommend paying attention when retracting your footsteps so as not to missstep at any of the forks in the path, if you're already tired its probably best to avoid the longer circulars!
I don't expect the return journey to give you too much trouble, aside from the couple of forks in the path you negotiated on the way up it is mostly just following the path down until you reach the entrance gate to Coed Abergwynant again and can link up with the Mawddach Trail and follow your feet all the way back to whichever starting point you selected. Even from the Penmaenpool car park, it is a good little walk, with plenty to see along the way it is a great way to spend a morning. If you haven't quite walked enough yet, then naturally I recommend continuing on the Mawddach Trail, you will pass by Arthog Falls and if you keep going Barmouth Bridge will pop into view, both beautiful spots in their own regard but a good distance from here so make sure you are well prepared. If you've had enough walking then perhaps get back in your car/hop on the bus back into one of the great towns nearby, or head up to Cregennan Lakes, some of the most idyllic lakes in the area and, thankfully for tired feet, you can park right on their shoreline. All in, Coed Abergwynant is a great space for an adventure, tucked away you're unlikely to run into another soul on your walk and its views are something truly special.