A staple of our year of adventures is our winter weekend breaks, these often take us to a range of different and interesting places, with such a variety of amazing cities, beautiful stretches of national parks and all of the United Kingdom's coastline just a short drive away (plus a ferry for Northern Ireland), we really are spoilt for choice. It has been a little too long since the last time we were able to truly enjoy one of these trips, so getting to take one this year felt like something truly special, so I decided it was high time to tick off a city that had been on our lists for a while - Cardiff. The Welsh capital offers such a great mix of all the wonders of modern cities, plus a smattering of history, a beautiful river and some wonderful green spaces means there is the potential for a varied adventure for all ages! I'm a firm believer that no matter who you are, you should experience each of our nation's capitals at least once and I am excited to make Cardiff the first one I personally tick off (having only passed through London briefly and not having been blessed with a trip to Edinburgh or Belfast yet). We built up an idea of the things we wanted to see and embarked on a weekend to remember, and one that I recommend you should consider too; most of the trips on Love Our Adventures are perfectly curated, guiding your every step and making sure you don't miss a thing, but as I think you will discover as I detail our weekend trip there is no blueprint for a great trip to the city - there are simply too many options!

As a major city and capital within the United Kingdom, getting to Cardiff couldn't be much simpler no matter how you plan to visit. Options are everywhere: linked to the motorway network via Wales' only major motorway, the M4, and with a major train station at Cardiff Central, an intricate bus network plus Cardiff Airport just a short drive away near Barry. When driving from across the border you could either follow the motorways and take the Severn Bridge but our route took us down the M50, through the Wye Valley and across the rolling countryside - a much more picturesque course that took away any additional stress from the busy motorway routes. Likewise, travelling down from the North of Wales or the coast is just as simple, jump on any of the major A-roads that wind down through the valleys and you are sure to find your way to Cardiff in a jiffy. If you do drive in, remember to check out street view so you know your way around the one-way systems and, while not implemented at the time of writing, Cardiff Council are investigating a ULEZ zone so check before driving in to avoid any unexpected additional fees. Not only do you need to make a decision on how you plan to arrive via the multitude of options but once here there are countless options for places to stay, from major hotel chains dotted around the city centre to smaller and independent lets dotted all around the city and out towards the bay. Depending on what kind of trip you are after you could choose your hotel to suit, but personally, I would recommend staying somewhere near Cardiff city centre - a lot of the most exciting parts of Cardiff will be just a short walk away, and if you wish to see Cardiff Bay you are just a short car or boat taxi ride away. We opted to stay at Cardiff Marriott, the room was a perfect base of operations, the staff were lovely and you can fall out of the door and you are right where the action is - perfect for our weekend.

Cardiff is a wonderful mix of all the characteristics of contemporary and historic cities, if you explore a bit you can find a little bit of something for everyone, with modern architecture often right next to hundred(s) year-old buildings. Major thoroughfares around the city are often lined with statues, art installations and often you will discover interesting things that temporarily pop up and disappear throughout the year. If wandering in the shadows of the city centre starts to feel like a drag, you can always venture north, exploring some of the beautiful architecture around Cathays Park, with some of the university and council buildings having wonderfully ornate facades to enjoy - plus you can escape to the nearby Bute Park, a pristine green space following the River Taff - more on this area shortly, but the take away is that the city is a great mix of just about everything you would want from a city, not overwhelmed by concrete and brutalism as so many major cities seem to have become since the turn middle of the last century, great examples of historic buildings but still feeling like a modern, growing city.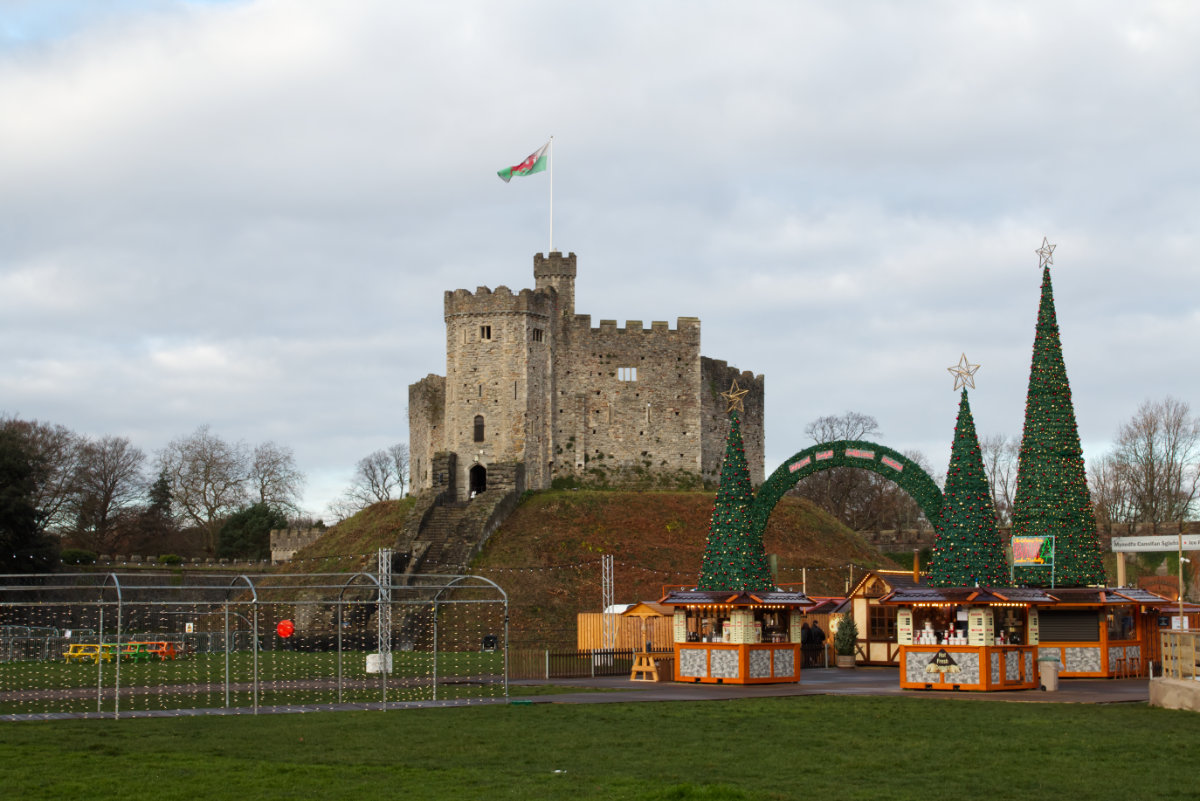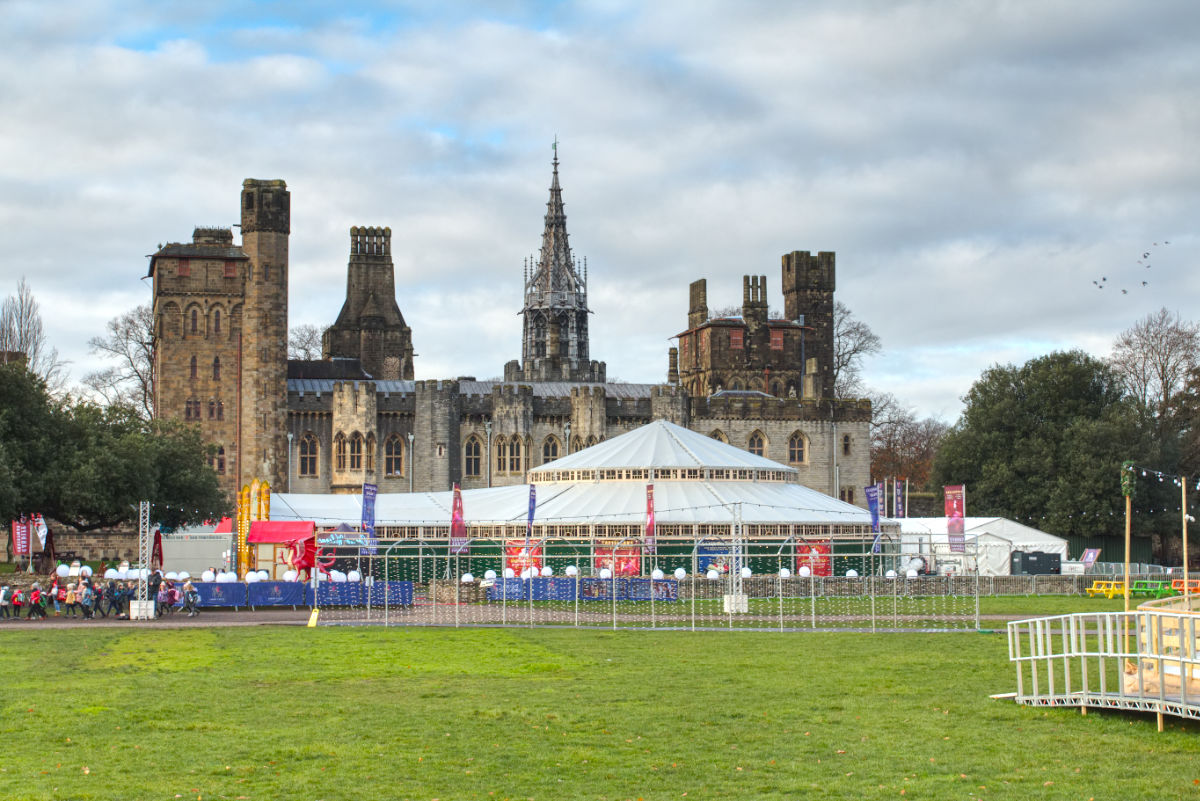 It wouldn't be a visit to Cardiff without a trip to the castle, and I have a breakdown of a trip to the castle here so it is unsurprising that I think that if you are spending time in Cardiff it is almost essential to take the time to visit. It is framed by the aforementioned Bute Park, which even if you only plan a quick visit to the castle, is well worth walking the outer perimeter of the walls which take you on a nice little stroll through the park. If you have more time, then an extended route through the park can take you down some beautiful stretches of the river and can even become a grand adventure to Cardiff Bay - the Aqua Bus launches from the park right by the castle and will drop you conveniently near Roald Dahl Plass. Around the bay are a handful of brilliant attractions, cafés and places to eat, but you also have the option of walking the sea wall trail or taking a quick wander around the wetlands and Hamadryad Park or even taking a visit to the Techniquest science museum. Being away from the city centre you will still find some exciting modern architecture and its ongoing development is clear, becoming something of a second city centre within Cardiff. That being said, Cardiff is so chock full of things to see and do that while we had planned to take the taxi to the bay, we simply ran out of time - luckily I have visited the bay in the past, but we will both return to take the taxi and explore the bay in the future.

Museums and entertainment venues are plentiful if you are looking for something to do during your visit, with the city centre being home to the Museum of Cardiff, The National Museum plus everything on offer in the castle, history is certainly covered, but other entertainment options are abundant. There was far more than we could tick off in a single weekend trip, with live music venues down Womanby Street, Cinemas, Bowling Alleys - just about everything you would expect to find in a city, plus more. You could bookend your shopping trips with a round of Treetop Adventure Golf, set a bit (or a lot, depending on your personal skill level) of your day aside to tackle an escape room or rent a boat while exploring the bay. As far as keeping children of all ages entertained, I sincerely doubt you will have many issues here...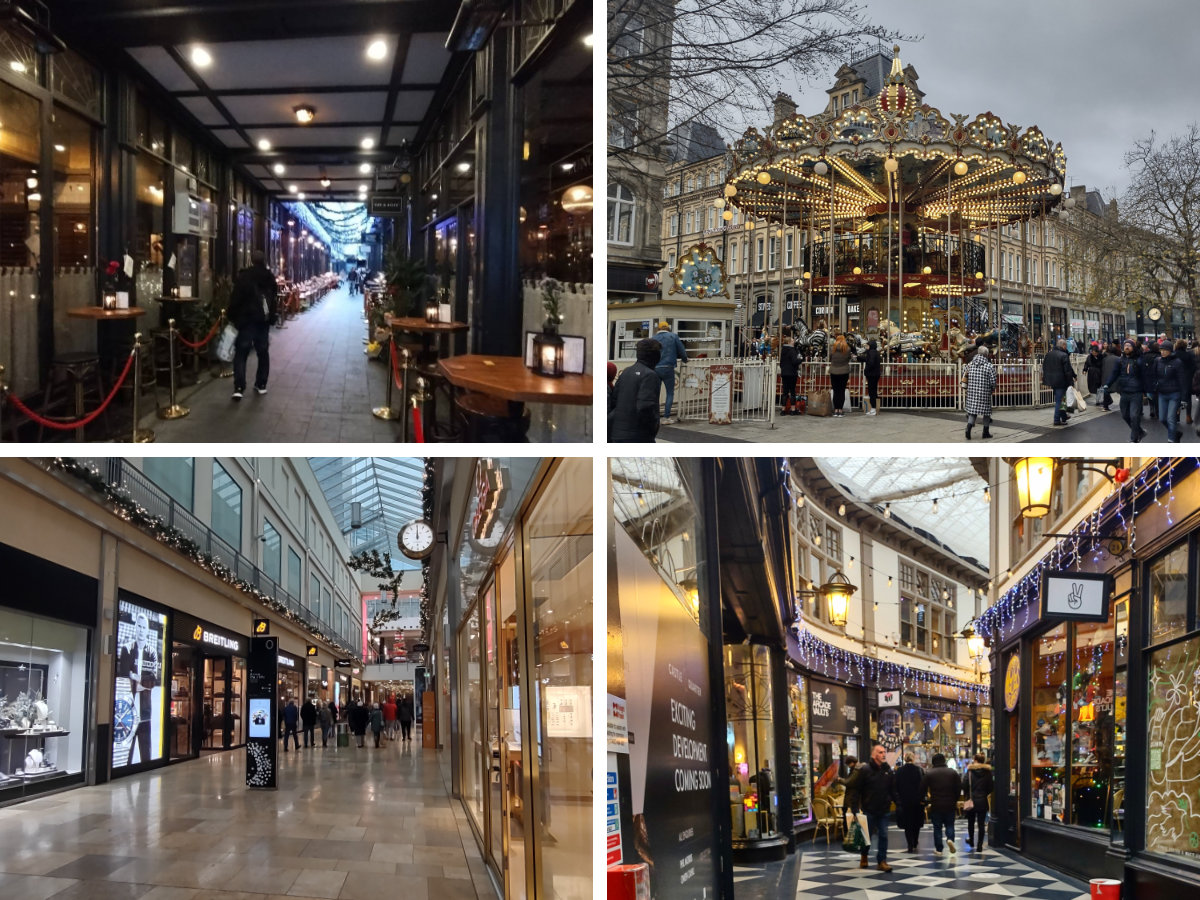 The shopping is, of course, a great draw to Cardiff. It goes without saying that Saint David's Shopping Centre is the star of the show and a great way to start your day off, you could easily while away a few hours window shopping along the beautiful glass-fronted stores before winding through all the nooks and crannies of the centre. But Cardiff goes so far beyond its shopping centre, you can take winding walks down the great network of stores to explore all of the main runs, but diving down the arcades was probably the highlight of our trip - from grabbing some drinks for the room at Wally's Liquor Cellar to warming up our frozen soul with a drink from Waterloo Tea on our first day in the city or grabbing a coffee and cake from Mrs Potts Chocolate House on the last, to all the small and independent shops stocking anything you can imagine, it really was nice to break away from the major chains and find something unique.
It wouldn't be a trip into the city without some amazing food and drink options, and I definitely think Cardiff delivers in this regard. There are multiple options for all tastes, from the vast array of fast food options to great restaurants and eateries to suit all tastes. We had a busy weekend planned, so quicker stops definitely suited us better but we did take the time to sit in at Fat Hippo and take in their great burgers and amazing starters - we tried one burger plus a range of starters as a sort of sharing platter, and not only was all the food brilliant but the staff were wonderfully accommodating when it came to allergies and special requests, I cannot recommend them enough! For fast food, all the typical options were available but when we wanted to grab a fast bite we tried to gravitate towards places we hadn't been before, including Jolibees and Shake Shack which were both outstanding, no matter what your personal preferences there is something you can grab on the go - far more than can be sampled in a weekend, I believe you could easily spend a full week stuffing your face around the city without running out of options! The best thing is the convenience of it all, just stumble around a corner anywhere and you are sure to find something exciting but you can always rely on the massive array of chains to deliver something quick and convenient - we ate far more than I can recall, far more than we probably should have, and I do not regret it for a second.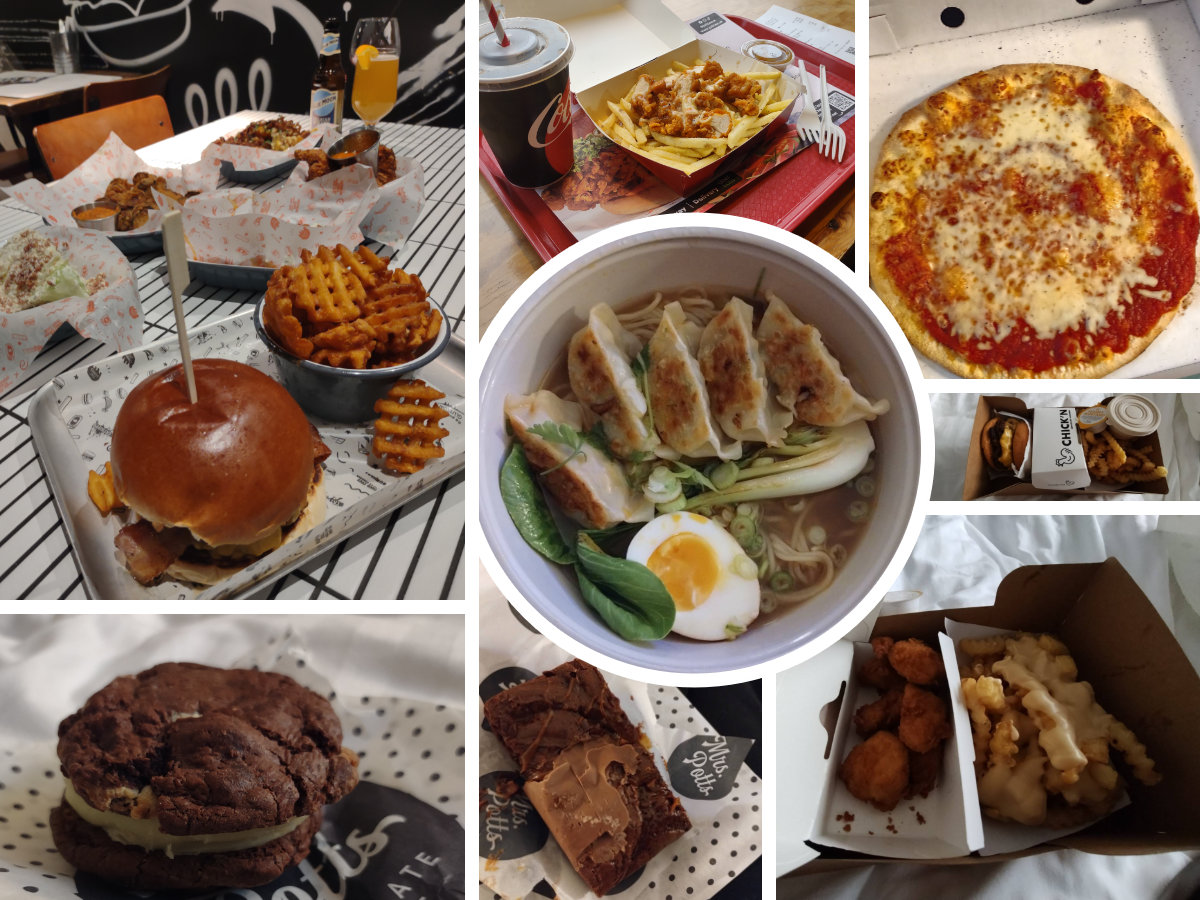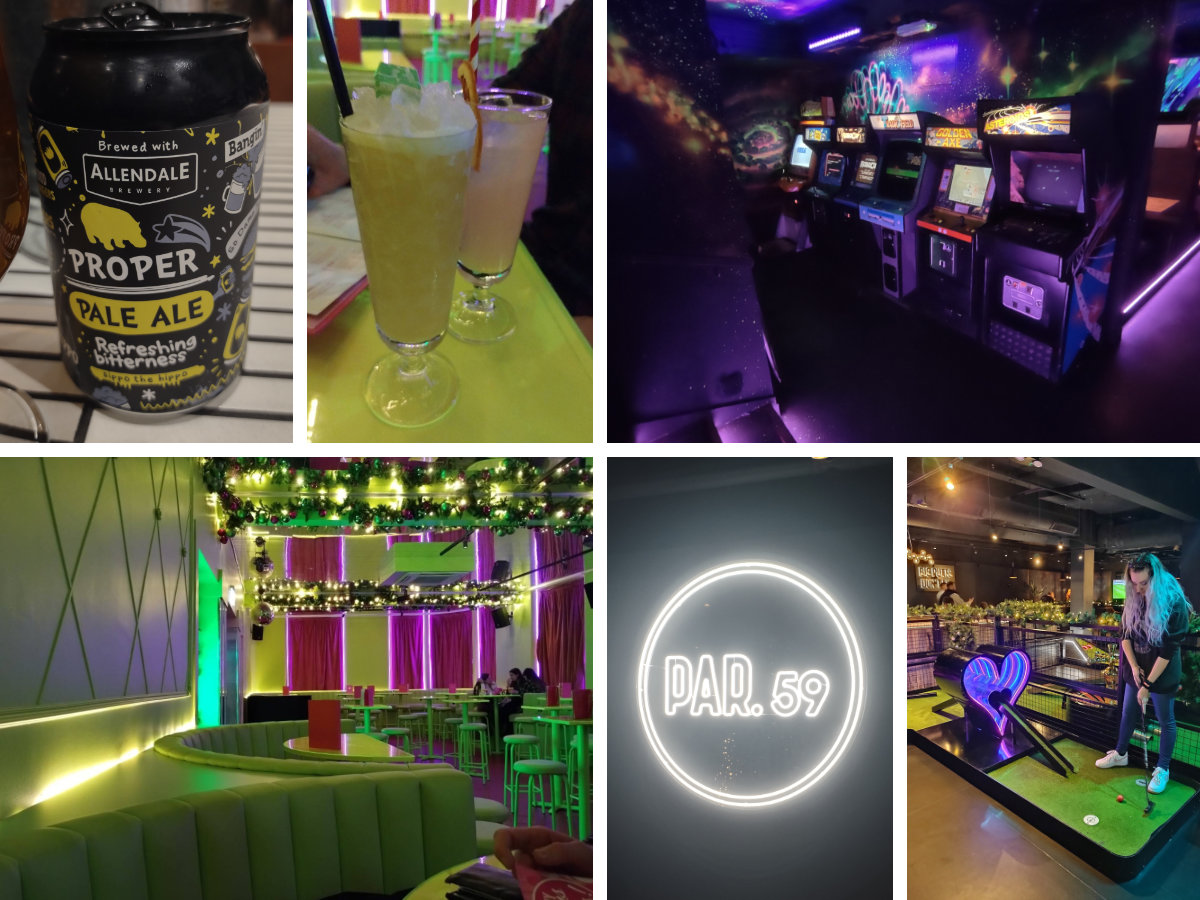 Drinking in Cardiff is just about as exciting as eating, we had a list of so many places we wanted to grab a tipple in that we struggled to see even a tiny portion of them, but we tried to focus on the ones we were most excited about. Even knowing we had to prioritise we still got carried away, with two highlights for us being NQ64 and Par 59. NQ64 really absorbed so much of our time, it is an arcade bar with a range of games that should be familiar to all ages, plus some games consoles and a creative range of cocktails that we were fully engrossed, gaming and drinking, for a good few hours on our first day - trying just about every cocktail and burning through our tokens with a smile on our faces. On our final night, it was Par 59 just across the road that soaked up the time; considering we wanted a more relaxed evening, given the drive home the next day, we had so much fun around their minigolf course that we were happy just to remain there and spend the evening battling for victory (She won the front 9, I won the back 9). There were plenty of other places we would recommend visiting too, like the awesomely neon green and pink Tonight Josephine where we grabbed some cocktails or if you fancy a local ale then Tiny Rebel has a bar in the city where you can grab a fruity and refreshing beer alongside some top food. There simply was not enough time to enjoy everything on offer here, but that is a good thing because it just means that our hands are tied - we must return and try to taste everything next time!
Our visit had a few extra attractions, thanks to visiting during the Christmas period, and boy Cardiff certainly does not disappoint during the festive period! There are a wealth of stores set up in the Christmas Market, as well as ample food, you could easily spend a good portion of your day exploring the markets alone, grabbing a drink and some grub and continuing on to the second main attraction of Christmas, the winter wonderland! Cardiff Castle and the neighbouring Gorsedd Gardens are linked together with an array of attractions, rides, ice skating and more to see and do - it really lives up to its name, especially the features in the castle square, with the castle forming one of the most beautiful backdrops imaginable! Being a major city there were a host of additional perks, we got to see some donkeys at the nativity outside the church and the Coca-Cola truck was also sitting right in the heart of Cardiff's centre, the truck was a nice cherry on top of the festive spirit within the city and the overall Christmas experience in Cardiff is one I can whole-heartedly recommend. I feel like I've already said this a lot, but I think its important to reiterate to emphasise just how much there is to do here, but I really feel like we didn't get a chance to see everything around the Christmas markets in our little weekend, there was simply too much to see and do.

It should go without saying that we had a great time in Cardiff, it really is a wonderfully varied city that was loaded with surprises as well as all the expected trappings of a major city. From all the wonderful history, the brilliant shopping and everything else we have covered here, it is to find a fault with this great place and it is definitely somewhere I would recommend to anyone looking for a city break somewhere more built up. I feel I have already made it pretty clear, but I cannot overstate how little we covered compared to what we wanted to do and we really just scratched the surface of the city - not only did we not get to explore Cardiff Bay, but we had so many ideas just beyond the centre that we never got to explore because there was just too much to do right on our hotel's doorstep. To give you a better idea, when visiting other cities I often build a Google Maps list of places, just so I can keep track of all the amazing things I want to do, for most cities I will save anywhere between 15-25 pins, usually a mixture of local attractions, places to eat and drink and just things I want to go and see (think like viewpoints or interesting buildings) that is plenty to fill up a weekend break. For Cardiff, I had 63 items saved, so take that as my endorsement of Cardiff as a place unquestionably full of things to see and do. Once you escape the hustle and bustle at the end of the day, there's nothing quite like heading back to your hotel and watching the city go about its business below...