Today's stop-off is a little different from our usual fare of walks into nature, up mountains, down valleys, through nature reserves and amongst the wildlife. That being said, today's journey will take us to a creek, there is plenty of greenery and you will be meeting some interesting wildlife, which is very vocal and is sure to impress any fans of all things dinosaur - this is Jurassic Creek, a dinosaur themed mini-golf course full of amazing pre-historic themed scenery all framing a great 18 hole course. It is ideal for kids of all ages, and as a couple of big kids, we had a blast around this course and would recommend anyone give it a go, so without further adieu, it's time to travel into the past.
Jurassic Creek is a recent addition to the Three Hammers Golf Complex, a traditional golf course complete with a clubhouse and driving range and getting here couldn't be simpler - the golf course is on a side road just off of Stafford Road, A449, on the southbound side (towards Wolverhampton). The current parking facilities are outside of the clubhouse, a strip of parking along Old Stafford Road - this may change in the future, but if it does the new parking should still be on the same road, just on the opposite side directly adjacent to Jurassic Creek Adventure Golf. Public transport does pass through the area, although the frequency and how close you end up may be a bit hit-and-miss, with routes potentially passing through northern Wolverhampton and Coven being your best bets.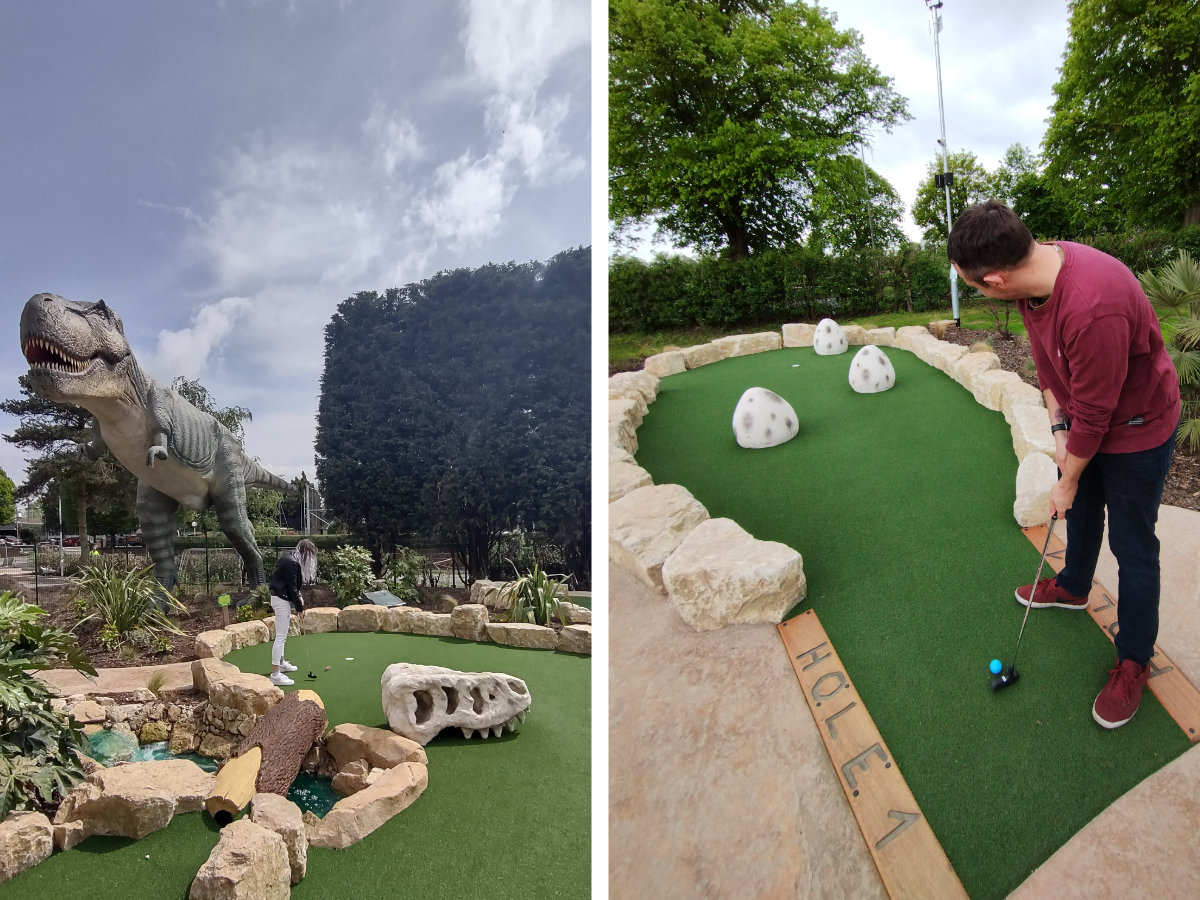 So onto the golf itself, Three Hammers Golf Complex has dedicated a corner of its land to Adventure Golf and has seriously gone all out with its theming and decorations. Giant dinosaur statues, some moving and most roaring at you as you pass by, surround you at every turn, complimented by prehistoric feeling plants and a central water feature which winds its way through the course and into the holes themselves, interconnected by streams and waterfalls. Dotted around the course are little plaques with information about all of the dinosaurs on display, so there are even a few opportunities to learn a thing or two as you play your round. Travelling between the holes has quite a lot of things to see and do, between all of the waterfalls and decorations, to crossing the raised hole over the central lake and the rope bridge by the hole in a cave (the bridge can be circumnavigated if you don't want to cross it, or if you want to get a nice photo on it) it is a really well thought out space which would probably keep kids entertained even without the mini-golf to play! Currently, only phase 1 of their plans is complete, with phase 2 adding dedicated parking and phase 3 adding somewhere to get something to eat as well as on-site toilets (currently available in the main building across the road).

Speaking of playing, the course is well planned with some interesting holes and even the occasional tricky green to putt against, more than just flat pieces of astroturf like some mini-golf setups, I found myself on more than one occasion missing what I felt was an easy putt because I hadn't spotted the gentle slope away. Each hole feels distinct and is a nice mixture of simple holes to fairly challenging, long and short, with extra hazards such as obstacles, water traps and much more adding to the fun. Many holes feature tubes that offer shortcuts or potential hindrances to your progression to the hole and all of this means most holes are more than possible to get a hole-in-one, but you'll find yourself just as easily scoring a 7 if you aren't careful.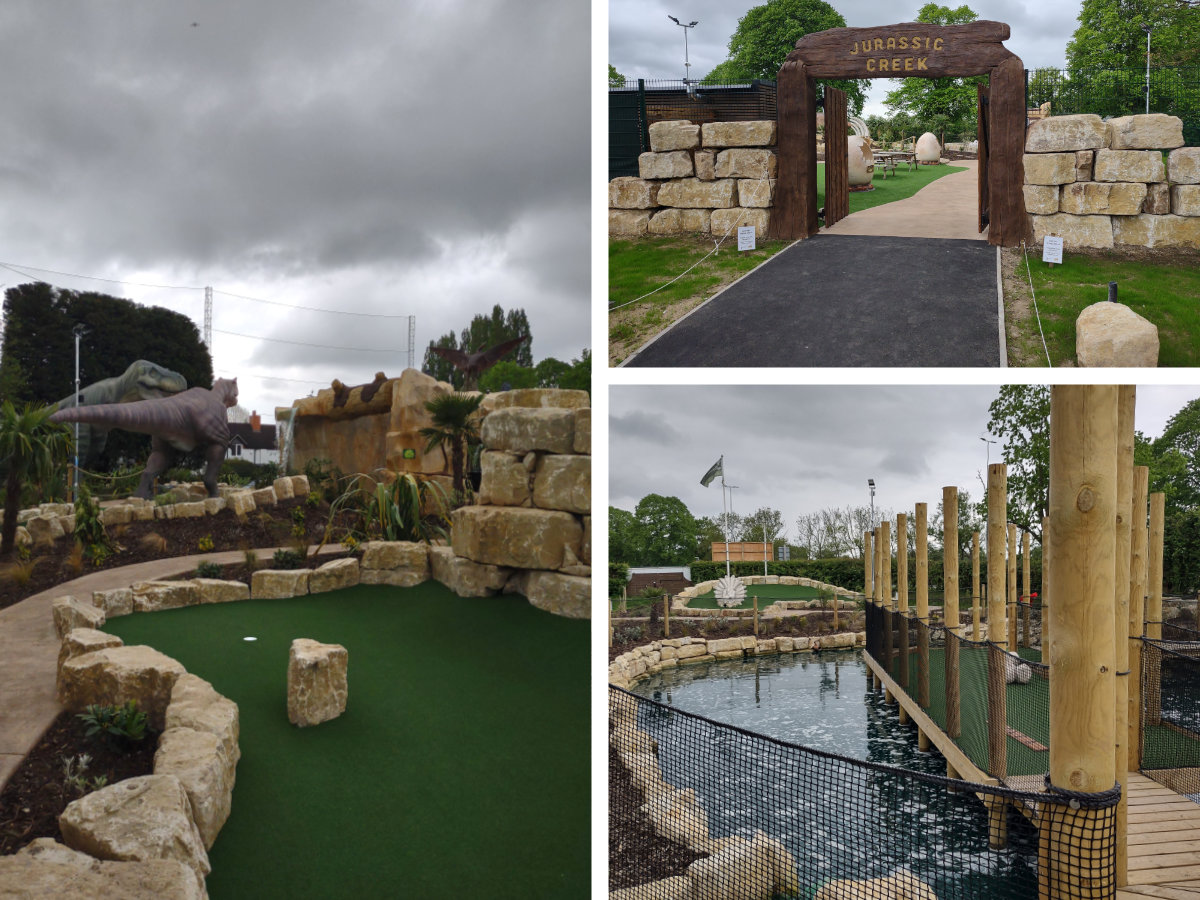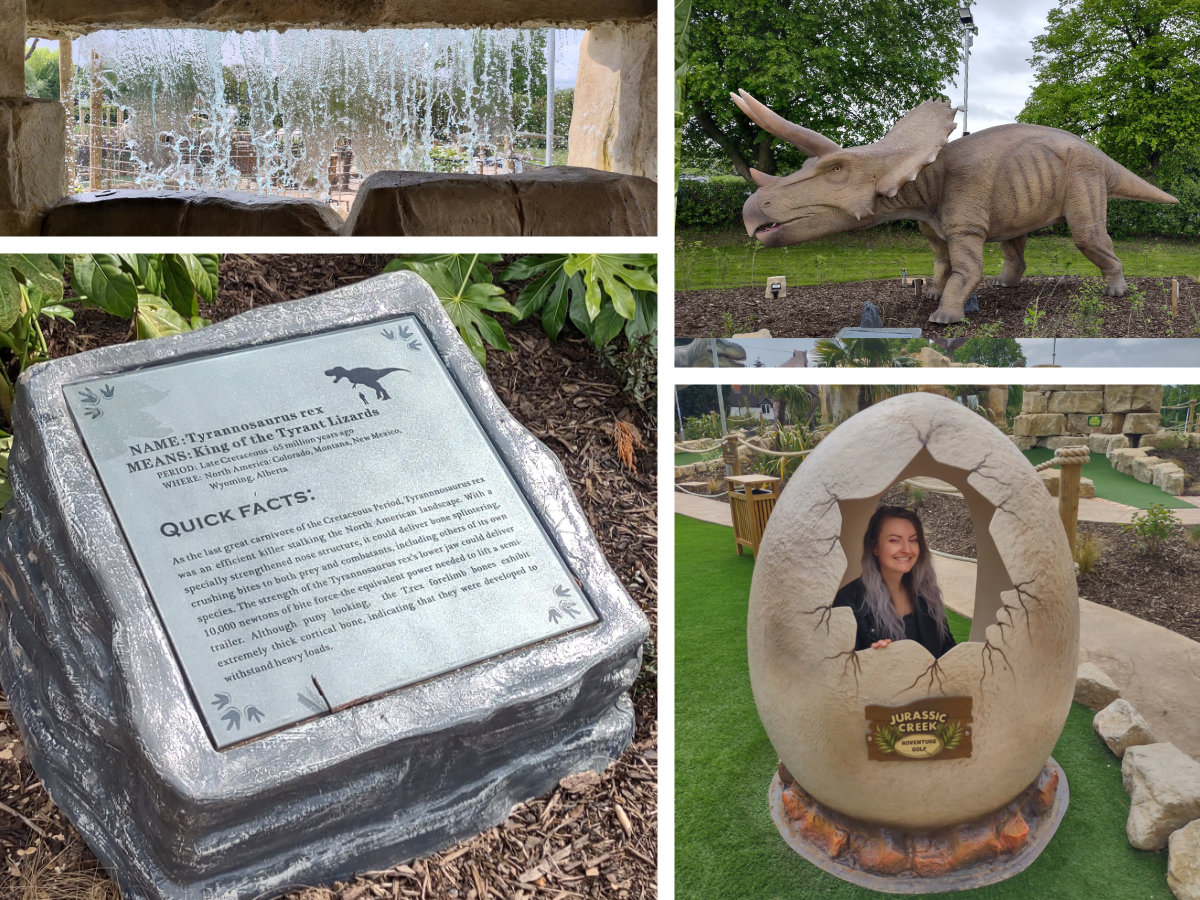 All in, depending on party size and how busy it is on the day you visit, you will probably spend around an hour completing your round at Jurassic Creek (we visited on a quiet day and the two of us probably got around in about 40 minutes), making this a brilliant little addition to any bigger day out. We had a great time, and will happily be visiting if we find ourselves with a quiet afternoon in need of something fun to do. Those wanting something nearby to combine with Jurassic Creek could always have a nice walk in nature, with Pendeford Mill Nature Reserve and Chillington Lower Avenue (plus the connecting stretch of Shropshire Union Canal) offering beautiful options for woodland walks, or perhaps a walk around the gardens and historic home of Wightwick Manor would be more up your alley. If you didn't want to travel too far then Three Hammers is also connected to the canals, so you could always find somewhere to park up near the adjacent stretch of Staffordshire & Worcestershire canal and have a peaceful walk among the ducks and canal barges. At the very least, I hope your day out golfing goes a little smoother than mine, as I managed to hit just about every obstacle and trap going...