I love driving. I often go driving just for the pleasure of it, and when possible I love to escape the tarmac to explore some of our countryside properly. But as I have spent many years making my way around this beautiful nation I have become determined to maximise my travel time to get some value out of it. After all, in the UK you are never usually more than 15 minutes from something absolutely worth stopping for.
As you can quickly work out from a visit to any of my social media accounts: I love North Wales. The journey into Snowdonia National Park is one I have done more times than I can recall and making that journey is one of the best things I can do - it means I am escaping work and responsibilities to spend some time hiking, exploring and just relaxing surrounded by rolling mountains and infinite beaches. But back around 2014 I began to start planning. Even a cursory look over Google Maps showed a bunch of points that appeared worth the detour, I was already going to be stuck in a car for 2 and a half hours, may as well make it 3 or 4 and go see some sights, right? I stopped thinking about my journey as being a line from A to B and more as cone pointing out from my starting location - if it looked interesting, and fell within a reasonable distance, I was there. No longer would I have to impatiently race to my destination, clock and sat-nav watching because, well, what else was there to do? My plan was set and, to start at the end of this story, was such a success it changed my attitude towards travel.
Our journey started out as normal - escaping the city centres will usually require a slog up a motorway or two although now I even cut this out in favour of a more picturesque view of Bridgnorth and skirting the edges of the Shropshire Hills. It is not too long after the England-Wales border that we cut-off the road well travelled and started heading towards Pistyll Rhaeadr.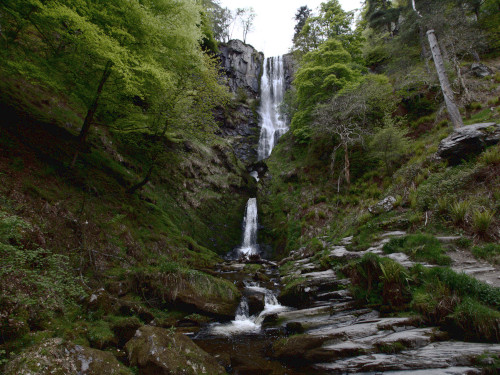 Pistyll Rhaeadr is a sight to behold. It is one of the 'Seven Wonders of Wales' and deservedly so - every time I return here I am struck by just how damn tall this thing is, and it just kind of appears as you trundle down the country lanes. Park up and head to the bridge to soak it in, and if the water level is high enough you will get a gentle soaking from the spray. At the other end of the water level, pick the right time of year and you may be able to climb down right to the foot of the fall for a perfect photo opportunity. There are walks and things to see here, depending on how long you want your stop over you can tailor it accordingly but even 10 minutes to just take in this staggering piece of Wales is time well spent.
Now its time to double back down the country lanes and head to where I usually spend the longest on these journeys: Lake Vyrnwy. Even if you lack the time to stop you absolutely should drive a lap here, but if you can spend some time here you absolutely should. There is a number of beauty spots to sit by the shoreline and take it all in, the sprawlinglake surrounded by steep tree covered hills filled with a variety of walks and additional things to see. If I had to pick just a handful of things to do then you should definitely take some time to see the dam itself (both above and below), take the walk to see the Rhiwargor Waterfall at the North West tip of the lake (and follow the circular walk if time permits) and of course get some photos of the absolutely stunning water tower. The water tower is such an iconic piece of architecture that you would be silly to not at least grab a few quick snaps on your way through.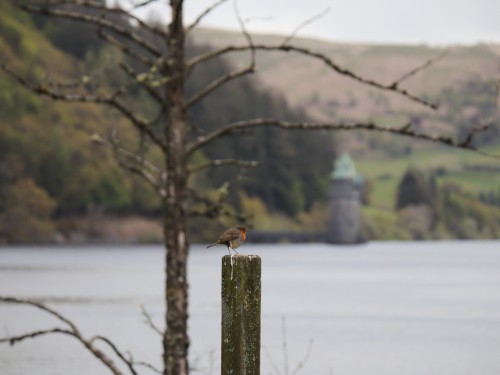 Leave the lake North and the next stop will be signposted immediately - Bala. Another beautiful lake this time dwarfed by mountains, usually you will get a face full of fresh air as the mountains perfectly funnel the breeze straight up the lake. As you would expect Bala has many opportunities to walk and take in the sights but I usually take this opportunity to go and find a nice quiet café and reflect on the day, hopefully in view of the lake.

From there, the rest of the journey is up to you, by the time you have reached Bala you are already within the boundaries of Snowdonia National Park, pick any direction and you are sure to find something great.

Sure I may have added some 40 miles and about an hour in travel time but what I got back from it was discovering some of the best places I had ever been to in the UK. Almost all of my future trips will take this planning into account, with an upcoming trip to Edinburgh filling me with the excitement of where I could possibly stop off: Travel up the East Coast possibly grabbing a night in York, stopping off at Bamburgh Castle on my way in? Or perhaps The West Coast with a long stop in the Lake District and all of the beauties it has to offer?
When you stop thinking of travel as just a means to an end you find some truly wonderful things. Digging through my archives I found a time-lapse of one of these journeys, feel free to enjoy it below:
Best of luck on your next adventure.