Nottingham is a city of caves, over 700 of them to be more accurate - it lives up to its Old Bythonic name of Tigguo Cobauc, the "city of caves" or "place of many cave dwellings". Research projects have been carried out around the city to understand and map out as many of these caves as possible, but luckily for us there is a section of caves that can be easily explored by anyone who can pay the admission fee - this is City of Caves. Tucked away behind the skate park under an overpass is the entrance to an unexpected gem of an attraction that is sure to impress and open your eyes to the world that came before us, City of Caves is a brilliant example because it allows you to see a sizable stretch of caves that show a great range of different applications for the caves throughout history.
City of Caves is tucked away right in the heart of Nottingham city, hidden beneath the overpass of Middle Hill and the tram line split, opposite Broadmarsh Shopping Centre, find any set of stairs down until you can see the skate park and City of Caves is just beyond it up the corner. Getting there is easy enough, those travelling from far away will have ample A-roads to choose from or the nearby M1, navigating the city's inner roads is actually pleasant; City of Caves' only minor issue is it has no dedicated parking so you will need to pick from one of the cities car parks, the good news is you have plenty of options, such as Lace Market Car Park and Broadmarsh Car Park just up the road from the attraction. Public transport in the city is well equipped and can get you here easily, busses pass throughout the city, the train station is just a 5 minute walk away and the tram line would be hard pressed to drop you any closer.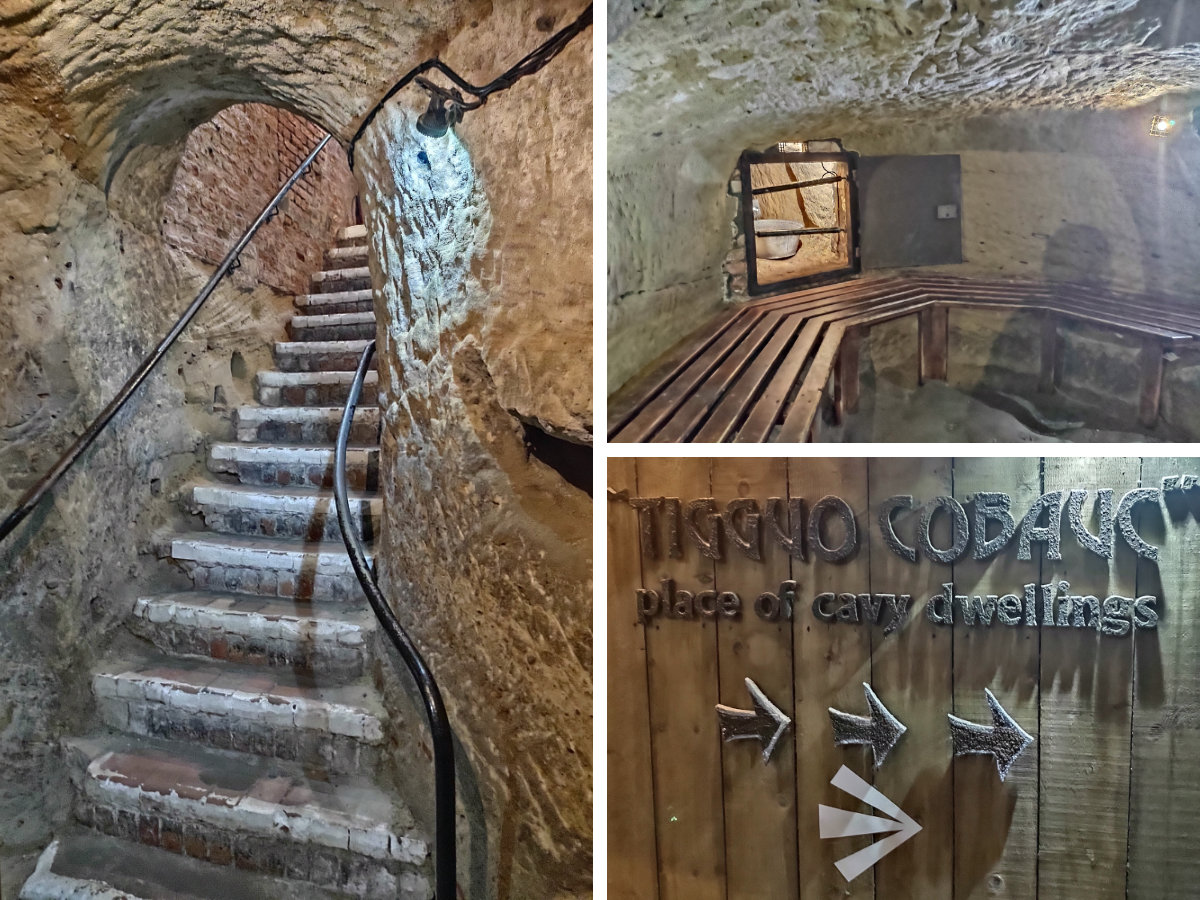 A few important points before you decide to go cave delving - City of Caves is guided tours only, and by appointment only, this is fine as you can book online or just swing by reception to book the next available slot, but don't expect to head in during peak summer holidays and stroll right into the caves. That being said, we went on a random Sunday in July and were able to get in within an hour, so as long as you either plan or go during quieter times I doubt you will have any issues. While I didn't take a headcount, I'd estimate our group was 15-20 people max and the group was appropriately scaled to the rooms we would be exploring. You are advised to arrive before your allotted time so as not to miss anything, there is a small waiting area beyond the reception and gift shop where you can take a seat while waiting for the show to begin. The tour guides are bubbly and entertaining, cracking jokes while educating about the caves and history so even young ones shouldn't end up being bored - one of my main hangups about guided tours, and why I generally avoid them, is because they can sometimes be dry or spend far too long going into the nitty gritty, this tour was well balanced and entertaining throughout! The tour took around 45 minutes all in, with a few places to sit as you go along but, as you may imagine in a Scheduled Monument, there are no toilets or places to eat or drink as you go along and the guides ask you do not eat and only drink water for the duration of your visit.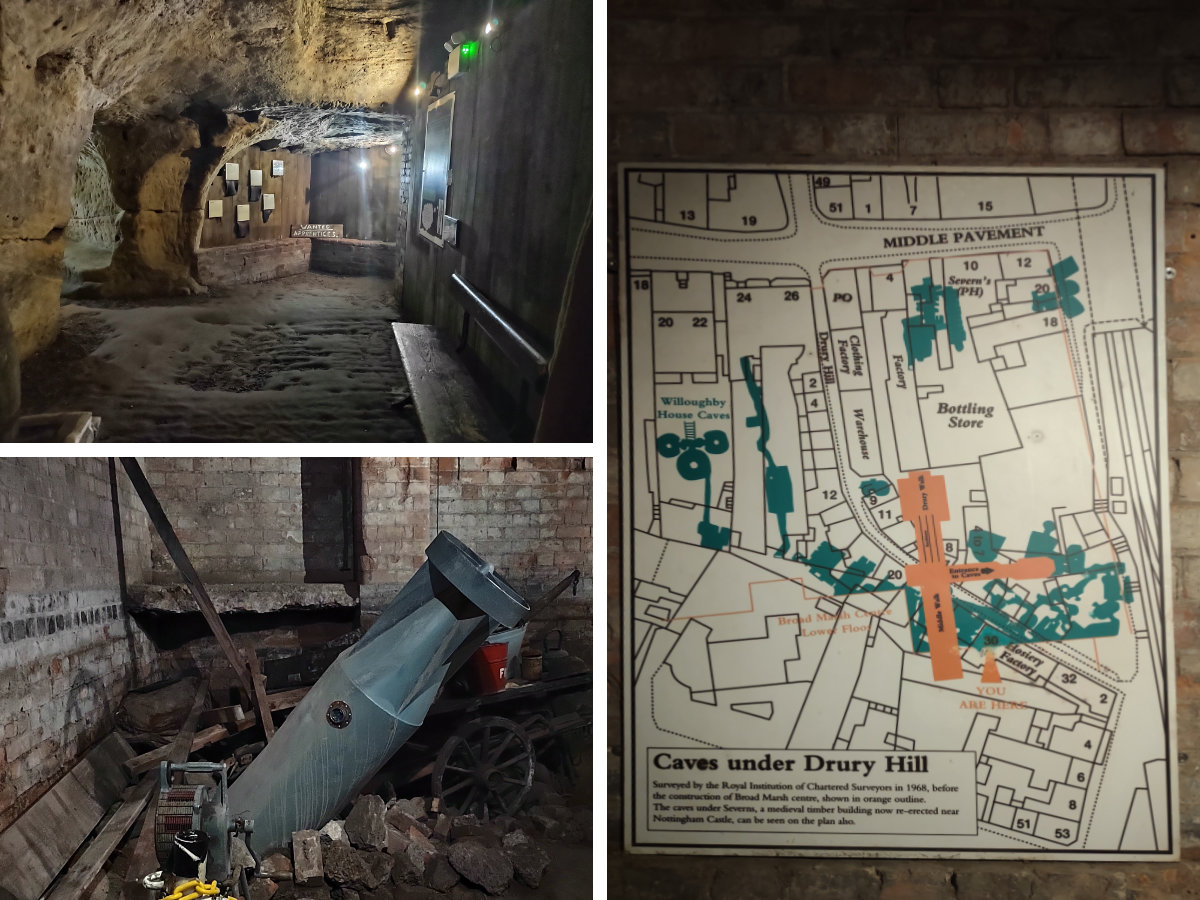 Underneath Nottingham is an interesting story, the city is built on sandstone, something you may have spotted if you have already seen the castle atop its hill - this is a soft stone, very easy to shape and carve out with only hand tools. The people of Nottingham throughout history have been very busy in this regard, expanding and building out as the years go by to form the City of Caves as they exist today. Those holes have formed everything from dwellings to basements and, perhaps most importantly, pub cellars. I won't go into a lot of detail here, largely because I wouldn't want to detract from the tour itself, but know you will be exploring through history from around the 13th century all the way to modern-day changes (and the scars they have left upon the more historic parts). It is a fascinating and unique experience, with very few cities able to take you on such a detailed, up-close-and-personal tour of their own history.
Your tour ends where you began, ascending back up the staircase and to the reception/gift shop. If you find yourself in Nottingham with an hour to spare then I feel seeing the City of Caves is a no-brainer, as mentioned previously, it is about one of the most unique experiences in any city! Those exploring Nottingham with a little more time will find a wealth of shopping, food and drink right around the City of Caves, of course, its wonderful castle is well worth your time too. It is a great city that has a surprising amount to offer, and the City of Caves is perhaps the jewel in the crown.