Sometimes an impromptu trip is what you need to refresh the mind and soul, it doesn't have to be a massive adventure, just going somewhere new and different, to see new sights and taste new foods can break you out of the monotony of life and leave you with some wonderful permanent memories. We are no strangers to city breaks, slowly touring our way around the UK with stops like York, Chester and Cardiff all highlights of our anniversary weekends away, but this trip was to be a little different. We had our eyes on Nottingham as a quick stop, somewhere to grab some foods that Rox was excited about as a single day there-and-back-again trip, but the more I dug into the city the more I felt like there was actually quite a lot to see and do, so we settled on picking an overnight halt to maker it a 2-dayer and began piecing together a great visit to the city of Nottingham.
Planning was easy enough, I picked out a handful of places I wanted to see over the two days and Rox picked enough food places for a month in Nottingham. We kept our hotel simple by staying in Roomzzz, the same chain we had stayed in when visiting Chester as it's always nice to know what to expect in terms of features and cleanliness as well as being one of the better-priced stops with dedicated parking. Our two days would span Sunday and Monday, giving us plenty of time to do all that we need to while avoiding peak Saturday travel. It is important when planning a trip like this to plan around opening times of the things you wish to see and do, Sundays, of course, have limited trading hours but a lot of small and independent places tend to shut Mondays so we tried to take our time planning exactly what would fit in where. With all that set and the day to depart finally upon us, we packed light and got underway, a quick run down smooth and easy A-roads before linking with the M1 - by 10 am we were in the city, perfect timing for a Sunday morning explore, so we parked up to begin our adventure. Roomzzz were fine with us parking up before check-in time, so we left most of the luggage in the car and began our Sunday around Nottingham with our finely laid out plan to guide us...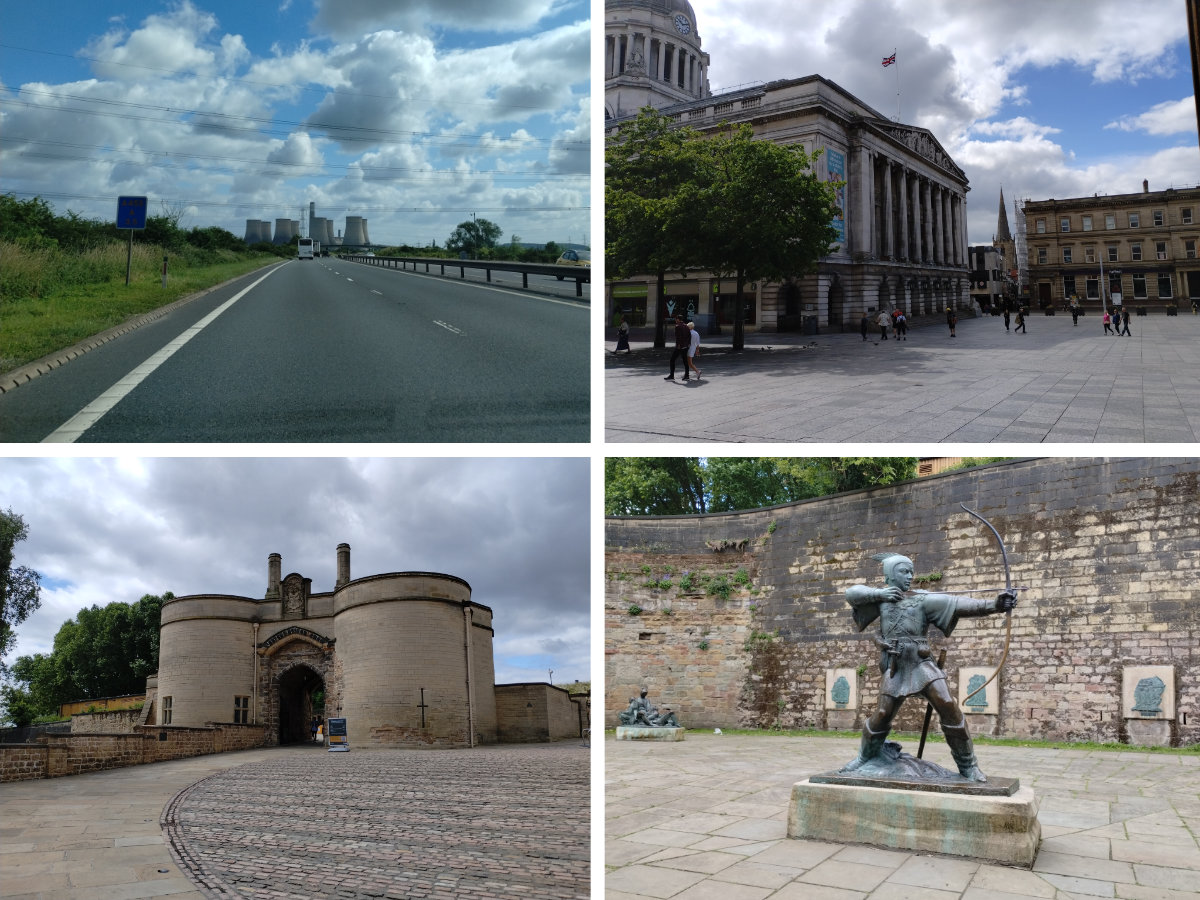 Naturally, Rox Immediately deviated from our plan to head to Nottingham Castle and instead wanted to find some breakfast - it was still fairly early in the city and when combined with the later Sunday opening hours this proved a little trickier than expected. We toured around some of the spots we had picked for lunch (and beyond as we got more desperate), but most were not open yet. Some spots, like Dunkin', lacked the specific items she was after and after a frustrated half-hour detour we returned to the original plan - time to make our way over to the castle. Now, I didn't know too much about Nottingham Castle before heading over, usually, I simply default to "This place has a castle, so naturally we're going to see a castle!", So as we ascended Castle Road and past the Robin Hood statue I was pleasantly surprised by just how complete the outer walls were and how beautifully preserved the gatehouse was. Again, as we ventured inwards I was even more surprised to discover not a medieval-style keep, but a much more modern mansion at the centre of it all. The interior is littered with displays and educational sections spread across its 4 floors and we had a wonderful time learning about the castle and the mansion that would come to replace it - plenty of history to sink your teeth into, but for us, it was time to head on to another ancient gem in the area.
Leaving the castle we snapped the obligatory photo with the Robin Hood statue, before circling around to find another stop I was very excited about: Ye Olde Trip to Jerusalem. This pub is a contender for the oldest on these isles, established in 1189AD, and was one I was already aware of thanks to making quizzes for Love Our Adventures. Being around 11 am it was a bit early, but I still had to take in a half of one of the ales on tap, just so I could say I had drunk in this spectacular pub, and the place really lived up to what I had heard. Quirky and charming through and through, between the carved-out caves of Castle Hill to the decorations here it was a great addition to our weekend. The castle, and all of the attractions around Castle Hill, are well worth your time and should be the core of any visit to Nottingham - my bias considering my love of castles notwithstanding, this whole area of Nottingham is beautiful and set us up with a brilliant start to our journey. We even debated staying in "The Trip" for Sunday Lunch, but Rox had so many food places in mind that it was time to head off and return to modernity...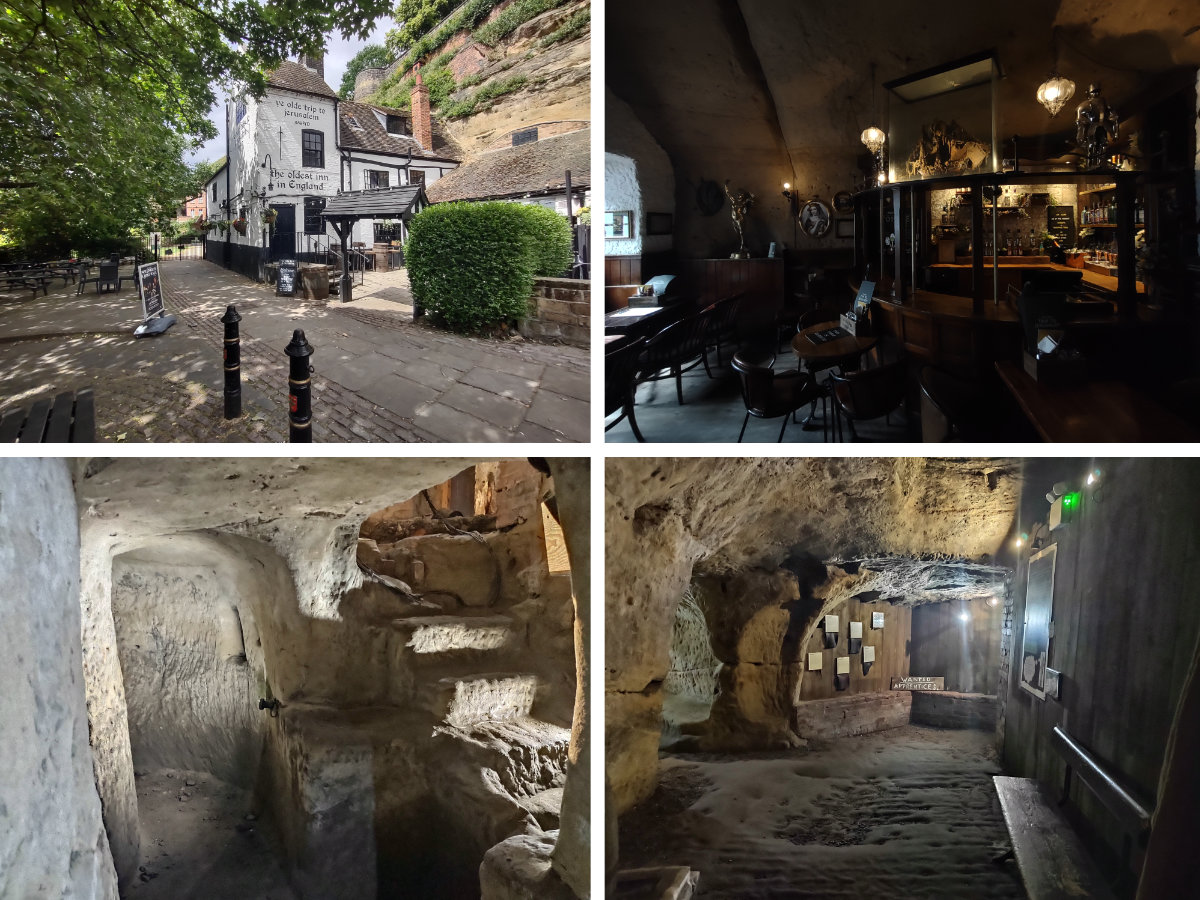 Now with all the independent and small chains available in Nottingham, it may surprise you that one of the biggest draws to Nottingham was some of its fast food joints. As a quick overview for those not familiar with the UK, the distribution of fast food joints can be a little...odd, new chains tend to logically gravitate towards the capital, great if you live there but pretty inconvenient otherwise, but then a handful of others seem to pop up in the north of England (while slowly expanding outwards). This means that for everyone in between these areas, these chains can be a little tricky to try out but now Rox had a perfect opportunity to try a few. For lunch, it was Popeyes Louisiana Kitchen to satiate Rox's now inconceivable hunger, having failed to find any breakfast, before returning back to our adventures in Nottingham and its history with a tour of the City of Caves. We got a little turned around trying to find the City of Caves, for those looking to head to the tour it is tucked away under an overpass beside the skate park and at arrival we were a little concerned about timings; our weekend was pretty tight in terms of schedule, so we were a little worried we wouldn't be able to get a tour time to suit us. Admittedly, we could (and should!) have booked in advance, but we hoped a random Sunday in early July would be quiet; thankfully, we were able to get a tour with room for two people in about an hour's time, so in the interim we headed to Brewdog for a couple more halves and to get off our feet for a little while, which was a lovely much-needed break from all the walking. The hour quickly melted away, and before long we were heading back to descend into the caves.
City of Caves was a great addition to our trip, you can read more about it here, but safe to say if you find yourself heading into Nottingham it and the castle are two of the must-sees that I fully endorse. We ascended back from the depths and into fresh air and sunlight right around check-in time, so we headed back across the city to Roomzzz. Of course, no trip across the city would be complete without grabbing Rox some food - this was a two-stopper, first to Doughnotts to grab a selection of absolutely fabulous doughnuts (the Biscoff one being my personal favourite), as well as making a quick stop at The Gallus to grab a couple of Korean Corn Dogs, which were both great - the cheese filled one was lovely but the sausage one is naturally the best iteration, and the Corndog and doughnuts for me were probably the highlights of this trip. A quick and friendly check-in goes by and we found ourselves kicking off our shoes in a lovely and clean little aparthotel, perfect for our needs and time to unwind and begin prepping for our evening - I had a little dose in front of the TV while Rox got ready. There was a minor fly in the ointment however, as not too long into our hotel stay the peace was interrupted by the blaring of a fire alarm, the blaring didn't let up so we joined the bemused flow of people heading towards the fire exit and got to spend half an hour out front while things got sorted out. We would come to find out this was no drill, confirmed by the speedy arrival of a handful of fire engines, fully loaded with chipper and friendly firemen - luckily the sun was shining and we were at least in a decent state of dress and not needing the bathroom when the alarm went off - others had not been so lucky, a handful of poor souls dressed in bathrobes and others left platting their legs desperate for the toilets by the end. Drama over, we headed back to the room to finish getting ready, while you can't plan for an event like this it will always be one of the more memorable moments and one you can always look back on and laugh...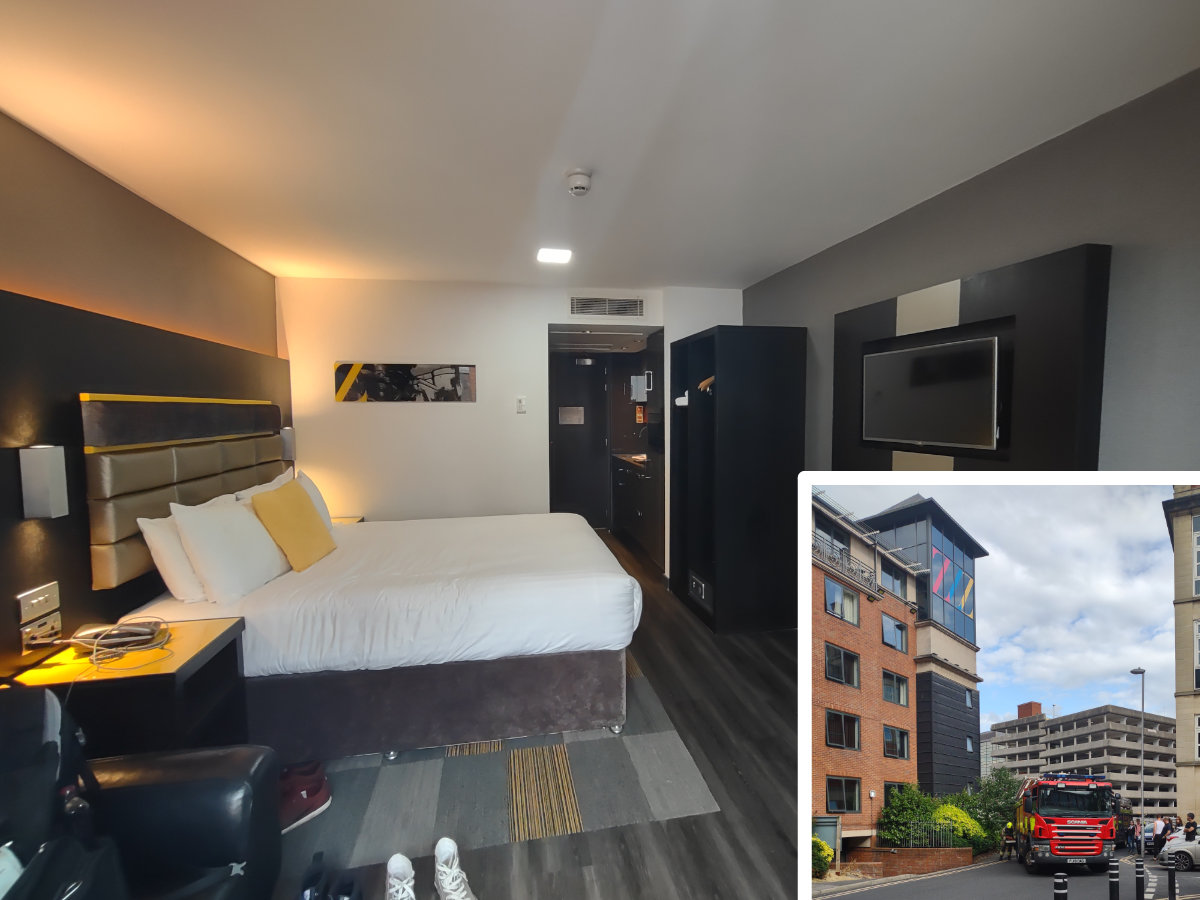 While putting the finishing touches on our eveningwear, it was around now we spotted one flaw in our schedule, our plan had been to head to BOHNS Best Burgers for a lovely evening meal together, but during planning this trip we hadn't spotted the Sunday hours cut-off at 5 - even if we sprinted we weren't going to make it. Even more unfortunate for us, they were not open on Mondays, so this was one thing we were going to have to miss on this trip. Frantic googling ensued trying to find an alternative while we ticked off location after location, either not fitting our mood or not being open on a Sunday evening, ultimately I suggested that instead of stressing to find an alternative we could head over to Fat Hippo, an awesome burger chain we had enjoyed in Cardiff, knowing we would get a solid meal and could get on with our evening merriment. Fat Hippo delivered exactly as we expected, two colossal burgers alongside their own-branded beers combined to start off the evening perfectly and, not ready to just head back to the hotel, we decided to add in one more stop somewhere a little unique...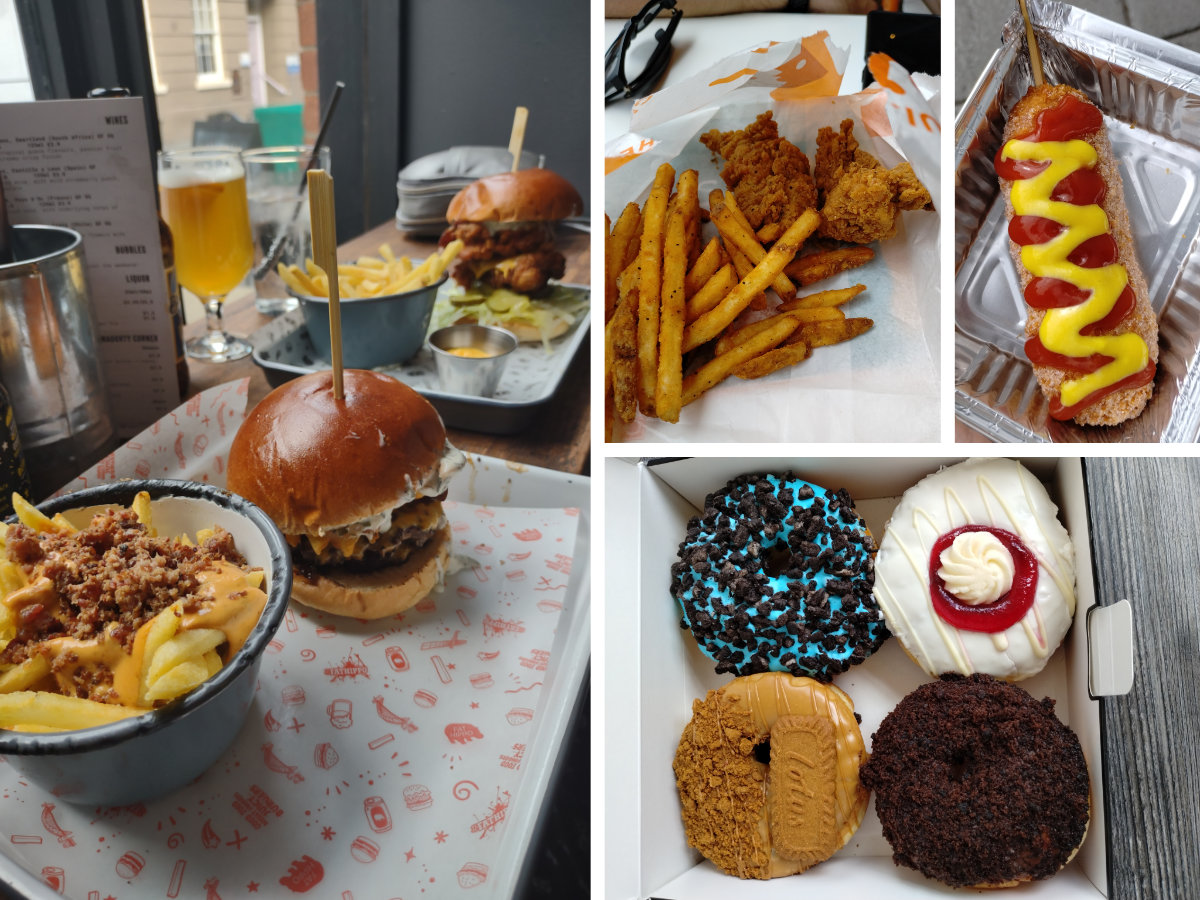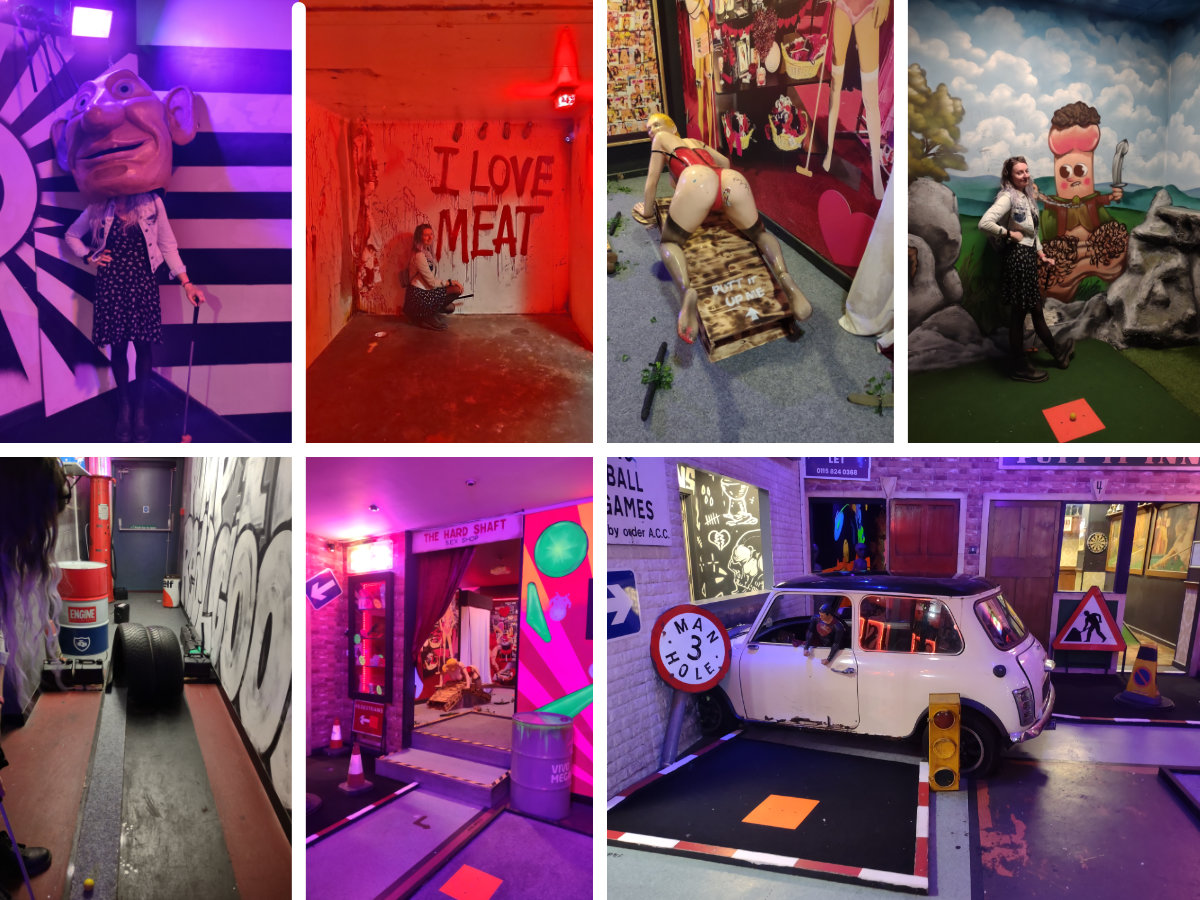 Because of our one-evening stop in Nottingham, we knew this was not going to be a late night, so rather than pitch up in a random bar for a couple, why not make a game of it? Nottingham on an evening actually looks like it has plenty of life in it, with so much to do, but the one that caught our eye was the appropriately named lewd mini-golf bar, Gloryholes. We dropped by, paid for a round of golf and grabbed a couple of delicious and hilariously named cocktails to keep us company - the bar's course twists and winds through various rooms, each well-themed with different features and concepts to keep it fresh and funny as you slowly get drunker. As hole 18 rolled around and our balls disappeared into the collection machine, we opted to make our way back, planning to get a good night's sleep so we could make the most of our second day with an early start.
We managed a decently early rise around 8 am, raided the Roomzzz complimentary breakfast for some croissants, juices and fruits to start off the day right and then headed out to capitalise on another mostly sunny day in Nottingham. The city was plenty lively for a Monday morning, with people heading off to work or getting their shopping done away from the weekend rush, and we would be joining them; today was mostly going to be a day of shopping, so to mix it up a bit we started with a mull around Nottingham Arboretum. In the sun the arboretum was looking lovely from the duck pond and old rose garden to the Chinese Bell Tower - this charming green space was a perfect start to our day, a little escape from the urban centre without having to travel too far, but now it was time to do some retail therapy! The timing for today was critical, with checkout looming, so we started with a tour of the INTU Victoria shopping centre, a well-kept and spacious shopping space, nicer than many I have encountered in my tours and allowing us to have a flick through all the other staples of a typical shopping experience, plus some outliers like Miniso and its cutesy vibes, it was quickly time to head back to the hotel and complete checkout.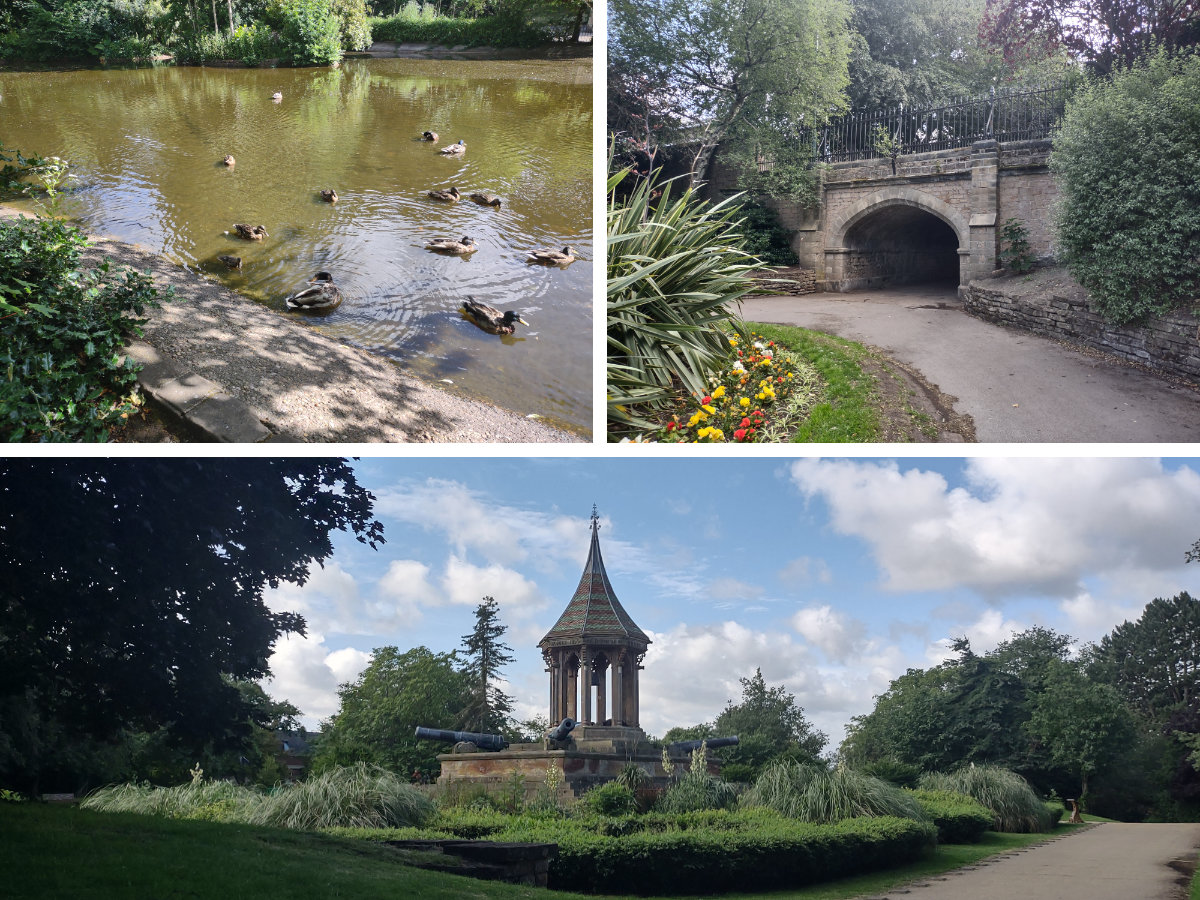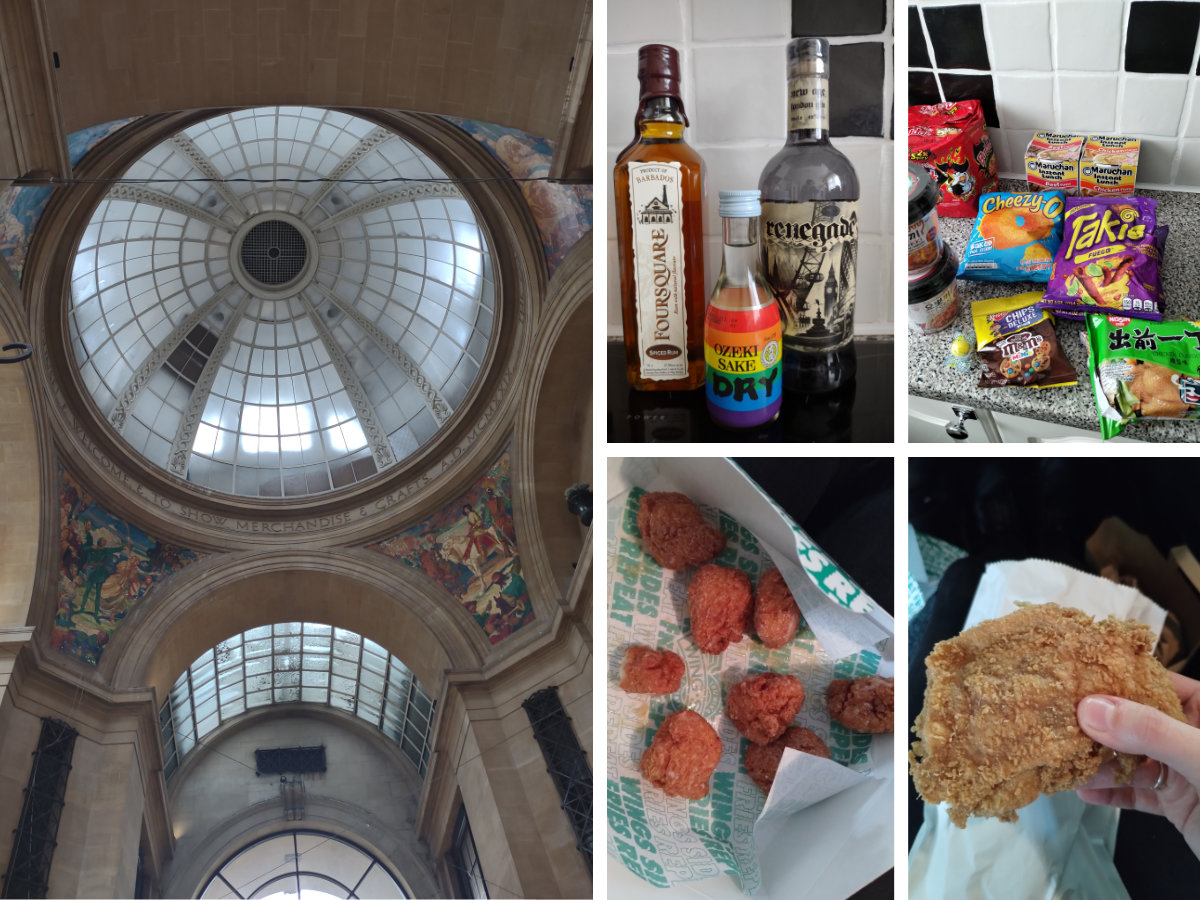 We got our bits-and-bobs from the room and Roomzzz, being as accommodating as ever, were happy for us to leave the car in the car park until we were ready to leave - so with the shopping centre ticked off it was time to see what the nooks-and-crannies had to offer in Nottingham. Perhaps my favourite part of exploring any city is discovering what is tucked away and what exists usually just a stone's throw from the main thoroughfares. Rox also needed to stock up on food, her light food stockpile for the journey home consisted of a collection of Jolibees, Popeyes and Wingstop as well as getting as much as we could carry from Oriental Mart, a well-stocked supermarket of, as you may have guessed, Asian food, plus even more goodies from American Krazy Kandy which, as you may also have guessed, was chock full of imported American snacks and candy. My attention was more drawn in by some of the smaller and independent shops, with my major takeaway being a tipple to take home with us - a bottle of Gin and a bottle of Spiced Rum to enjoy on my Saturday evenings from the basement of Gauntleys Of Nottingham, a charming purveyor of drinks and cigars, amongst other things. The city's collection of independent shops makes for a fun window shopping experience and while we weren't looking to get anything in particular, we still managed to come away with our little souvenirs.

With our pockets overflowing with goodies it was time to head home, after what was a quick but brilliant weekend break in Nottingham. It really was a charming city, and while we arranged a tight two days I think we could have expanded to a longer weekend easily with things to do (and perhaps more importantly, eat). We had so many things on the list that we just couldn't get to, and with Roomzzz where it is, I would love to return when Rock City has an act performing I am excited to see, check out other attractions like Mortimer's Hole, The Haunted Museum, Green's Windmill and just make another long weekend in a great city...