You may have previously read my article all about the deer of Cannock Chase, and how I grew to love wildlife photography courtesy of these elusive beasts, but after years of practice, I now have a pretty good handle on finding deer every time I visit. I did broadly discuss the subject of where to see deer on the Chase in that piece, but this time I want to address it more directly and give some pointers on how to go about stalking deer as well. Cannock Chase is a cracking little Area Of National Beauty (AONB) just north of Cannock that often draws in many a crowd trying to escape from the urban sprawl that the Midlands is more typically known for. Of course, one of the best things to see while you are out on the heathland is the local deer - Cannock Chase has a collection of free-roaming Fallow, Red and Muntjac with Fallow being the most common at over 600 in the last consensus with Muntjac and Red being a much rarer sight. Being naturally skittish and wary of humans, it is very easy to visit the Chase without ever seeing so much as a passing glimpse of a fleeing herd, but by visiting the right places and taking a bit of care as you adventure, you can almost guarantee you will get far more than just a glimpse.

If you are just looking for a map to follow in order to see these wonderful creatures, look to the top of this page for our landmark map with 3 of my favourite locations to go looking, plus some spots you should be avoiding. But traipsing through the undergrowth after deer may not result in many quality sightings, especially if you are in pursuit of photos! While I never became an expert on all things Cervidae (the 'family' name for deer, comprising "hoofed ruminant mammals" - interestingly, ruminant means they ferment the plants they eat in their stomach, which creates a great image in my mind of deer being permanently half-cut), in my early days of struggling to snap a photo of these darting deer I did dive into two amazing resources that helped me get better at finding deer - scientific studies and hunting tips. Now, while I personally never wish for any harm to come to these beautiful creatures, I have to admit the hunting folks have certainly mastered the art of sneaking up on deer and the logic definitely translates to photography, with that being said my first point is an important one: don't bother trying to track deer on Cannock Chase. There are too many dog walkers, cyclists and cars around to make it a viable option as each time they get spooked they can spring off at speeds pushing up to 30 mph. If you do spot a good group of deer and they get spooked before you snap your shot, just assume they will get spooked back in your direction before long.
How much preparation you want to put into spotting deer is entirely your decision, and while things like monitoring the wind direction so you always stay down-wind of deer is absolutely a useful technique, I have never really found the need. In fact, if you were to stumble upon a group of deer I'd wager you would be more likely to spook them trying to circle around, the noise of you skirting through the undergrowth catching their attention - better to just stay put. There are things I would absolutely do to improve the odds of seeing a deer, firstly, try to avoid any strong smells; keep your colognes and perfumes to a minimum as odours are going to be picked up quickly, in a world where strange smells could mean predators, deer take no chances. You could dress in camouflage or a full ghillie suit if you would like but this I have never found particularly necessary, opt for darker shades if you want but on colder days I am usually wearing a spectacularly orange coat and it doesn't seem to impact the deer spotting to my knowledge. As far as the senses go, deer have an amazing sense of smell, a similar level of hearing to ours (although their ears are mobile and can move independently making them excellent at surveying the surrounding area for noises) and pretty bad eyesight based on what I have read. Deer tend to be most active around morning and evenings but they are fairly active throughout the day, likely due to fleeing from disturbances via walkers and cyclists passing through the Chase, the only time I tend to have less luck is when the weather turns rainy and they all disappear to shelter somewhere.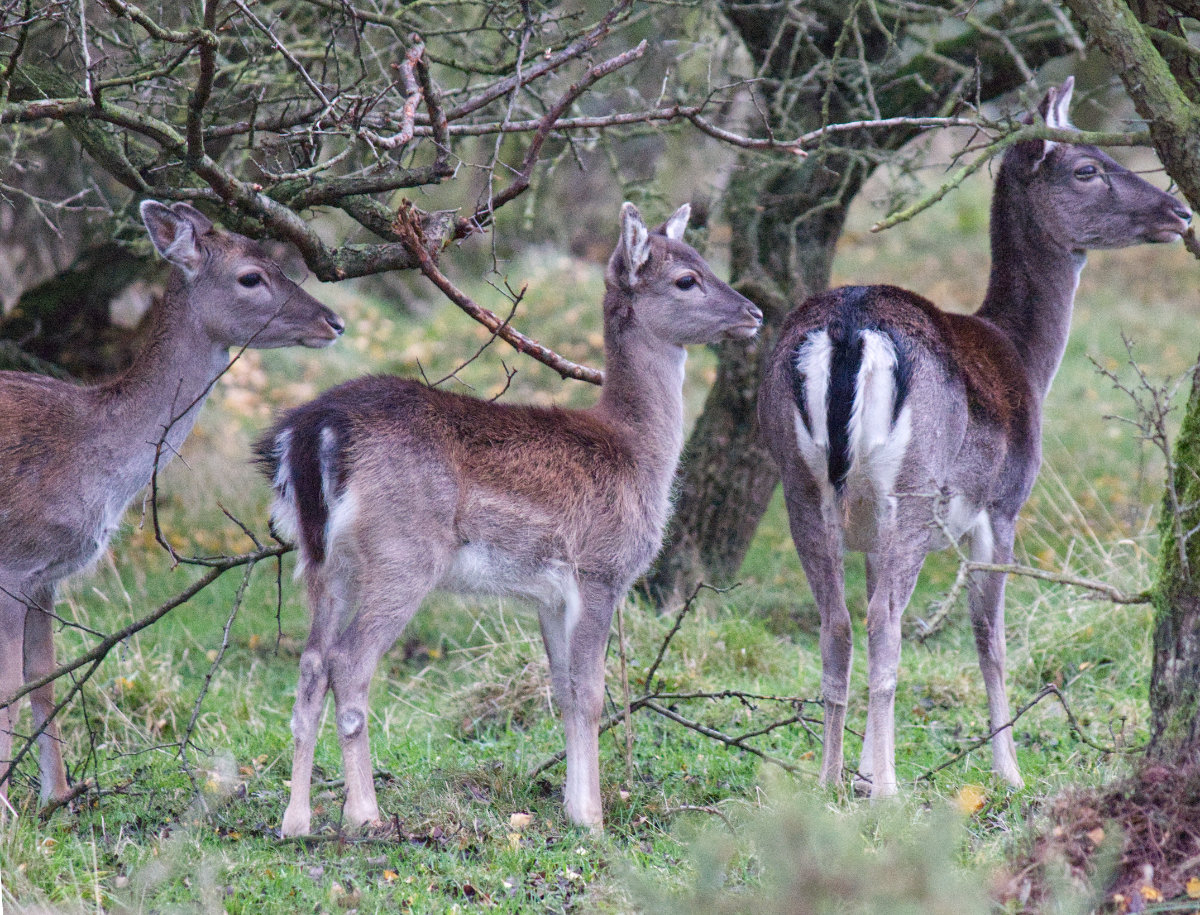 Before I finally get into discussing the map, a brief note on man's best friend. While I am sure you love your dog and would love to take them everywhere, your pooch is a bit of a deer deterrent which will make things a lot more challenging in the long run. I am not saying it will be impossible, but you are essentially bringing a miniature wolf on a leash who is almost certainly going to keep the area around you devoid of deer. If you can, travel with a little group so someone else can look after fido for a while, allowing you to break away and go deer spotting. I have explored the Chase specifically to find deer and while out on a dog-walk and it must be said, I find deer mysteriously absent whenever I have taken our little fluffy friend out with us. That being said, dogs can also be an advantage in deer sighting when they aren't yours! As a general rule, if I ever see a dog walker while out on the paths I'll usually pick a different route to walk, it doesn't always work but sometimes their dog will force the deer towards you, just try not to get trampled under the rush...
As far as spotting specific deer go, as mentioned previously, Fallow are your best bet. Furthermore, herds of does (female) Fallow deer with fawn (youngsters) in tow, are the most common sight. This is pretty much down to the social structure of deer, with the does travelling in larger family groups to help protect themselves from predators. While not entirely loners, the bucks (male) tend to spend their time in much smaller groupings called 'bachelor groups', but these groups will break down when it is time for the buck to find a mate. Lone deer are more vulnerable to predation, so will be more skittish, plus the larger groups are easier to spot - if I do spot fully matured male deer I still get excited to this day. Once again, I don't think it is worth getting into tracking deer, but if you want you can usually see narrow channels of trampled down grass which mark the little highways they frequently walk. You can also find circles of flattened grass, which may indicate a spot where deer like to rest. Personally, that is about as far as I go to confirm that deer are in the area, the next step would be looking for fresh leavings but I draw the line well before that!

So let us recap the main points: try not to smell, use other walkers to your advantage and just have a fun time trying to find these amazing animals. The map above details three spots I often have luck, especially the first one, which I will get into in a minute but it is worth noting first that the deer on the chase do get here, there and everywhere and you should have some luck no matter where you are. You may note the locations in red, these are spots you are likely going to want to avoid. The first, all the way in the north, is Shugborough Hall; the hall and its grounds are unquestionably a beautiful day out in their own regards, but the high footfall and constant flow of traffic mean you are unlikely to find deer in the very northern tip of the Chase. Making our way south, there are two red zones in the middle, labelled "Visitor Centre" and "Birches Valley Forest Centre", these once again are incredibly popular spots for visitors meaning the deer are almost guaranteed to steer clear. The next is the main road that bisects Cannock Chase: The A460. This is a fairly major road and sees traffic at all hours of the day, plus there are lots of popular cycling routes around here so you can probably write this off as an area you won't often see deer. Lastly, I have marked the Golf Course, the last thing you want to do is get struct by some errant balls on your nice day out!

With the places to avoid out of the way, time to focus on the three spots I have chosen - these are all in the map above, but I have also included Google Maps links for your convenience. My favourite place is in the very north of Cannock Chase, right around here. This is a popular dog walking and bird watching spot but the lack of major roads and cyclists seem to make it a popular place for deer to congregate. The census seems to agree, stating the greater population of fallow deer are found near Brocton, just a stone's throw north from where we are. There is quite a distinction between the two sides of the road, with one side opening up to sprawling heathland and the other being more enclosed by trees and denser undergrowth. It is the latter side I often have more luck with, you can follow the paths down-hill and into an open valley or keep going north until you hit a small patch of trees - walking in this region I will almost always see some deer. If you fancy a change of scenery then you can walk out into the open heathland, I have less luck with this but at least you can spot deer for miles when out walking here.

If you aren't having much luck, you can venture a little further south, pull over in one of the lay-bys around here and walk south out of here; this spot is my second favourite location, closer to the middle of the Chase but still close enough to areas I know have deer - this is my go-to if the first spot fails me. On one side of the road, you can cut through the trees and onto a dog-sledding track, a surprise to a lot of folks but the CCSDG make use of this space from time to time to keep their dogs active. This area isn't always a winner in terms of deer, but it is such a quiet spot and as you walk the dog track you should keep your eyes peeled through the tree-line - you might get lucky. On the other side of the road is dense vegetation that can be hard to walk through, but just up the road from our original lay-by is a smaller car-park that tends to be quieter and you can walk north from. How busy this car-park is will determine how much luck you have, but if you keep heading north you will end up back at our first spot so there is definitely plenty of potential for the deer to roam here.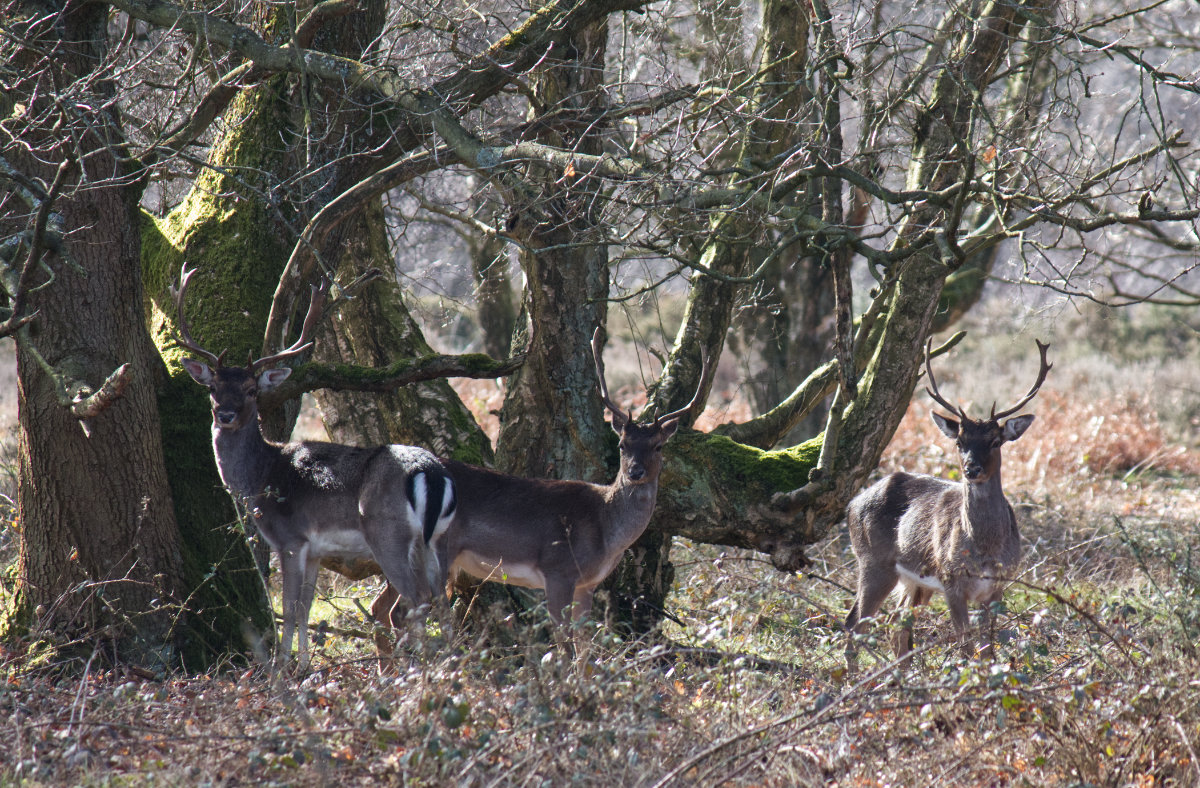 Our final spot, near the Southern edge of the Chase, is the last area I tend to explore for deer and I don't get down here much, this is usually because the first two spots mentioned have always worked out for me! You have to pick your routes carefully around here, to avoid accidentally stumbling into the golf course, the camping grounds or into the path of a mountain biker - so I would just head south and explore the area around the Castle Ring. As an added bonus, Cannock Chase themselves point out in their census that Red deer occur more frequently on the southern side of the Chase, so you have that to look forward to if every other place has failed you thus far!
I would be willing to wager you are now armed with enough information to get out there and go spot some deer, so get going! The Chase is a remarkably beautiful spot, the perfect escape from the urban sprawl to the south and these impressive creatures are just the cherry on top. The only thing I haven't included here is patience, I remember my earliest days of stumbling around the Chase desperate to catch my first photo of a deer, not knowing where to look or how to go about it, and I now laugh considering these days I see herds of deer on just about every visit. I am sure, with a little patience and persistence, you will be catching photo after photo and loving every second of it! The Chase itself is home to other amazing creatures, with a thriving bird population, lizards and snakes all possible sightings - so even if you don't spot a deer, you may still spot something else worth remembering.