Out in the Staffordshire countryside lies this stunning estate named Shugborough Hall. Easily accessible by car, train and even bus, this is definitely a must-see if you are in the West Midlands area. It makes for a wonderful day out, with plenty of walks to keep you busy. There's loads of ground to cover at Shugborough with (dog-friendly!) walks spanning across its 900 acres of parkland, however, if this is not your thing, the hall itself plus its immediate surroundings are just as incredible to see.

One of the main things that attracted me to Shugborough was a photo I saw of this bright pink bridge in my yearly National Trust membership guide: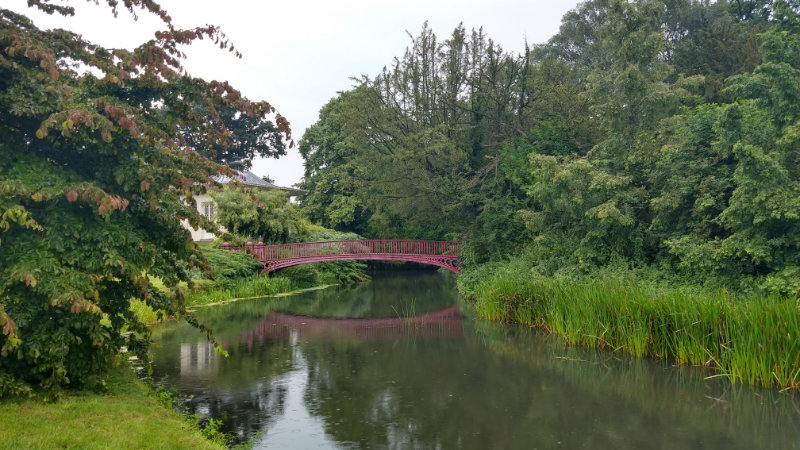 Apart from the obvious photo opportunity, after looking into Shugborough a bit more I discovered that not only was it relatively local, but it looked to be full of absolutely wonderful things to do. There's plenty to see including old monuments, a small farm, beautiful, gardens in full bloom, a river and tonnes of interesting history to learn along the way. Keeping with the theme of bridges, another one at Shugborough is the Essex Bridge, it's shape is definitely something you don't see every day and is pretty cool to witness. It is located just outside the Estate and crosses the River Trent, it is said to be a favourite of Queen Elizabeth 1st. Built in the 16th century, it is the longest remaining packhorse bridge in England, it's triangular parapets make it the most unique bridge I have ever encountered. Shugborough seems to incorporate so many weird and wonderful styles of architecture including Greek, Chinese and Gothic, so definitely have your cameras ready. I have included some of my favourite styles further in this article. Keep an eye out for the Cat Monument, I thought this was especially sweet, there's a couple of theories as to why it was built but I'll let you find that out for yourselves.


Another must-see here is Hadrian's Arch. It's quite a walk uphill but most definitely worth it because the arch itself is pretty breathtaking. When you look into the history of this Arch it is actually very touching. Based on a Greek architectural creation of the same name, it was built by James Stuart in the 1760's for Thomas Anson (a British member of Parliament) and it was altered to become a memorial of Thomas's brother George Anson and sister in-law Elizabeth York. There are 2 busts at the top, one of Elizabeth which is facing towards where she and George are buried, then one of George who faces Shugborough Hall as he helped create the Shugborough Hall Estate. It's astounding to think something this mighty was built hundreds of years ago, without the help of modern technologies and equipment...really makes you appreciate it even more. While you're at the arch this is a nice spot to stop and take in the pleasant views around you where you can see most of the Estate and can see for miles across the Staffordshire countryside.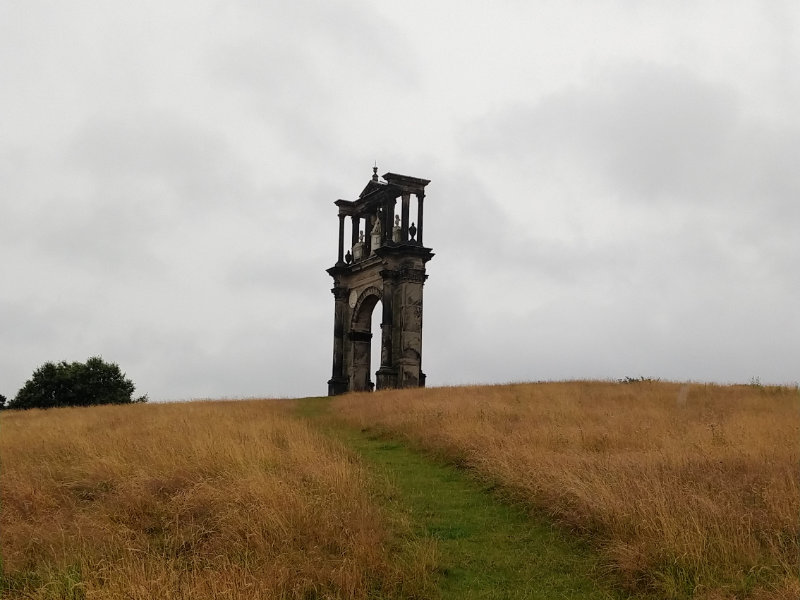 As well as all the wonderful monuments there are a few different animals at Shugborough, as you walk around the gravelly paths you'll see loads of cows roaming about eating grass or soaking up the sunshine (on a good day), some of the bull's horns are really beautiful and it's quite the experience to see these creatures up close. There's also plenty of sheep there too so a good time to visit would be in the spring so you get to see the absolutely adorable little lambs bounding and bouncing around in the fields. As I mentioned above, there is also a mini farm on the Estate where there are some very intelligent pigs hanging around, we spent a while watching them at feeding time which was entertaining, they were using a feeder ball which they quickly figured out! One thing that blew my mind was watching them using their snouts to trigger a water spout so they could have a drink. On our last visit we were also lucky enough to spot a heron on the pond while we were watching the swans, it really was spectacular to see.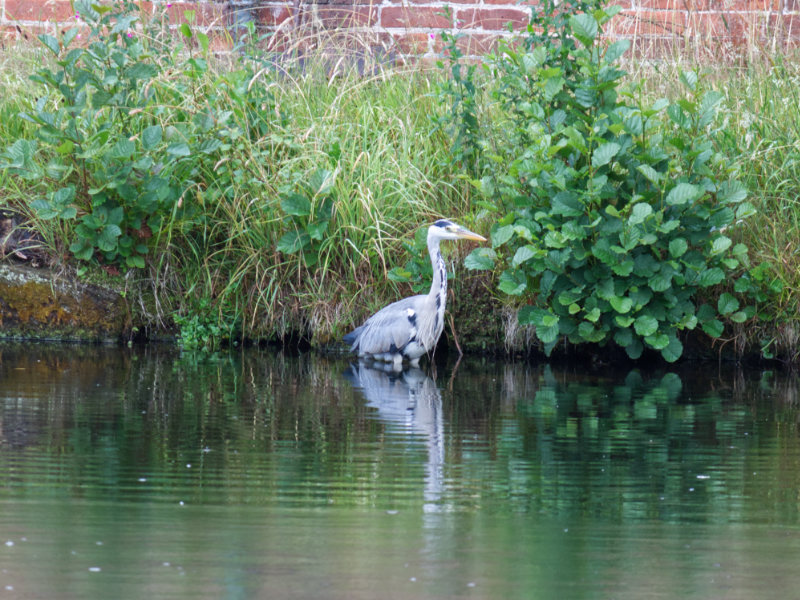 If you need a break there's a couple of cafés dotted about in some quaint buildings, you can stop and re-fuel mid-way so plenty of time to take it all in. On our last visit we, unfortunately, got caught in the rain and desperately needed to grab a cup of tea and a bite while we dried off, we ended up in the Mansion Cafe. As always with National Trust places there were some lovely freshly made cakes and biscuits! The other cafe on-site is the farm café and there's the chicken pen nearby which was a new addition when we last went, very interesting to see. Dotted around the entire site there are loads of rooms you're welcome to go in to and have a look around, such as the servants quarters, where there were many very old utensils and tools on display for you to have a look at (and touch if you fancy). There are also some fascinating displays of old farming tools in the mill, as well as the actual old water mill built in 1805.


There is a building just on from the farm that is called the Tower of the Winds and it is one of my favourite bits of Shugborough. It is another Greek-inspired building which has the most stunning stained glass windows, marble walls and the acoustics inside are incredible. Of course, being me, I had to have a little sing-song in there with all that echo...it's very church-like and something about the tower just draws me to it every time. Apparently it used to be completely surrounded by water, don't know how I would have felt about it then with my fear of open water! It's really beautiful and peaceful (when you're not singing) if you get the chance to be in there alone.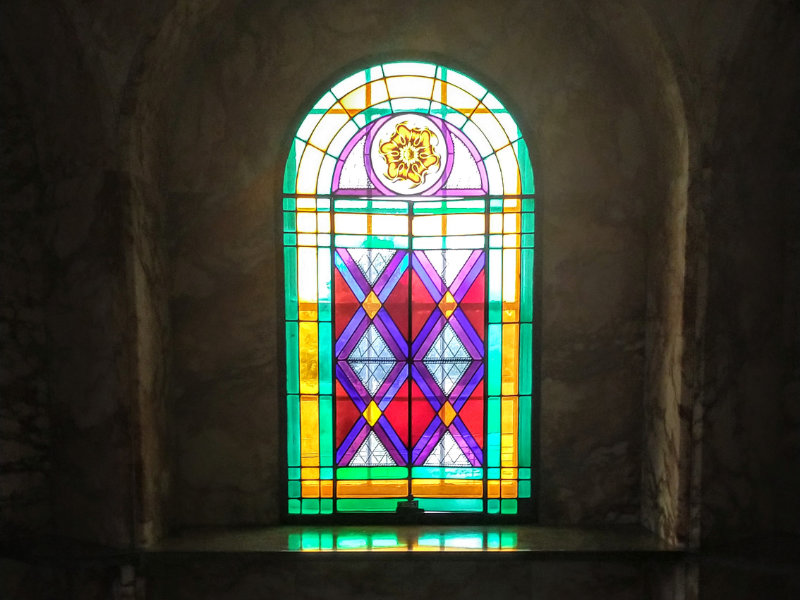 Because there is so much ground to cover at Shugborough there is lots of fun to be had with Geocaching! We're big fans of Geocaching whenever we're out and about and it was cool to do some at Shugborough, as difficult as it may have been. I remember we were trying desperately to find this Geocache amongst a bunch of trees that looked exactly the same and the only clue was about the tree, we got there in the end though, it was quite funny. Overall Shugborough Estate is a really lovely place to visit for people of any ages with plenty to keep you busy for the day, it is hands down one of my all-time favourite National Trust places and I'd highly recommend anyone to visit.