Ludlow is a great little market town just beyond the southern edge of the Shropshire Hills full of historic charm and surrounded by gorgeous Shropshire countryside. With a walled central section, 500 listed buildings and of course the iconic Ludlow Castle as a centre-point, there is no shortage of medieval age goodness to sink your teeth into; but if the old bricks aren't to your personal taste then you can explore the rivers Corve and Teme, do some shopping at the market and enjoy all the features you would expect of a British town in the country. For such a relatively small settlement out in the countryside, there is a little bit of something for everyone - so let's dig in!

Ludlow is an easy town to reach considering its fairly relatively remote positioning, motorways are a good distance away but the A49 arches around the town and can be a great connecting road between you and the heart of the Shropshire Hills (and Shrewsbury beyond that) to the north or Leominster to Hereford in the south. Beyond the A49 expect roads to twist and narrow as they often do in historic towns, pay attention to the one-way routes and pedestrian-only bits but otherwise you will be fine. Truth be told, on one of our recent visits to Ludlow we spent 20 minutes touring the town trying to find somewhere to park before giving up and heading on to another days adventure - there can be a real limit to parking in the town on busier days so arrive early or plan to park on the outskirts and find your own way into town. Parking, in general, is littered down back-streets along the roadsides but pay attention to parking restrictions and pay-and-display requirements, the two larger car parks close to the town centre are Smithfield Car Park and Galdeford Car Park and of course, Ludlow Castle Street is the most central to the town and can be an option on quieter days.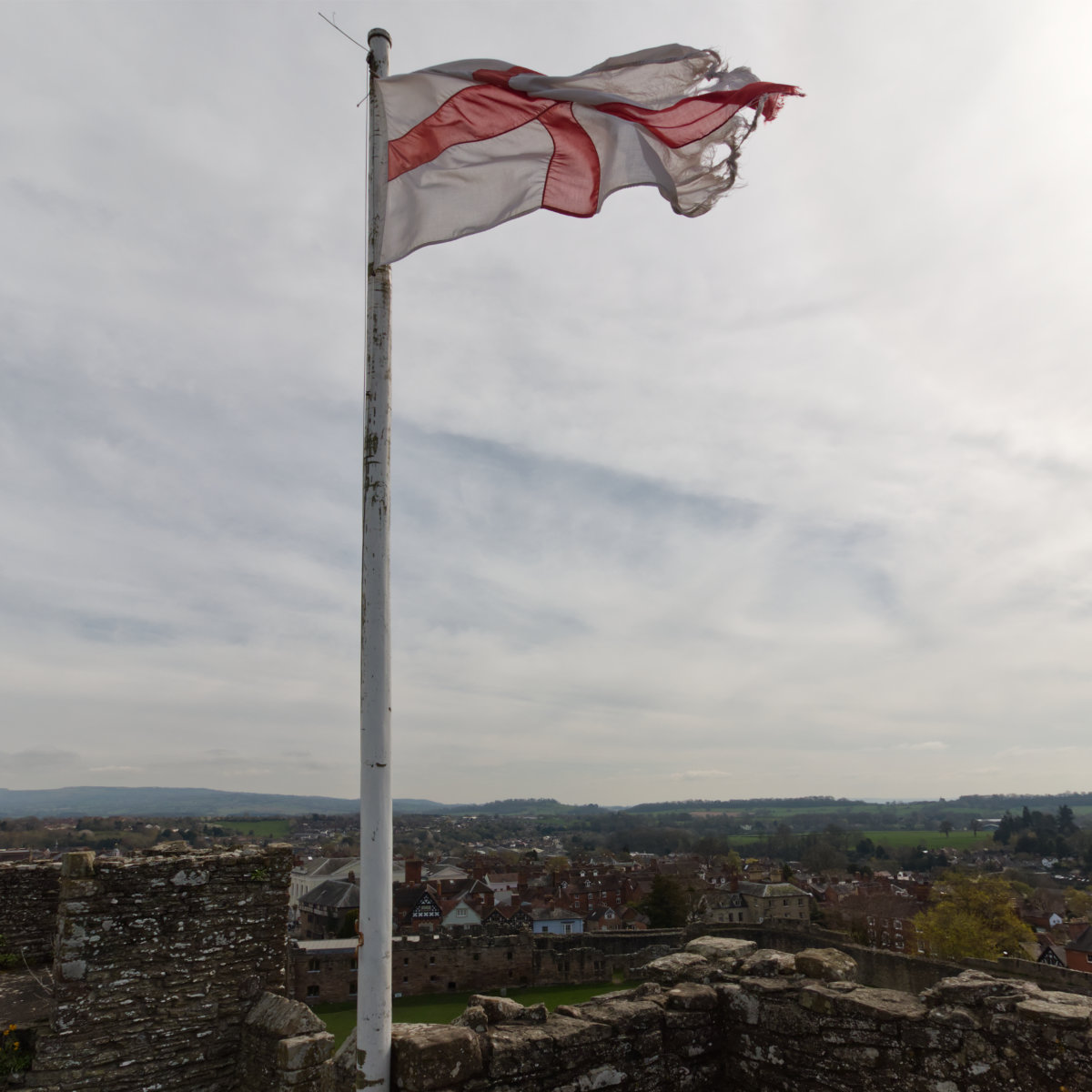 Into the town
Depending on where you begin your journey will determine what you do first, but assuming your start on the outside and work your way in your first stop will be those walls. The centre is encircled by the town's medieval walls and while these are in a state of disrepair they still add to the charm of this town and should be explored. At the very least, head to the south side of the town to visit the Broadgate, the last of Ludlow's in-tact gates.
As you venture into the town you will see splashes of history down every street, paved roads will give way to the loose cobbles and buildings will be a mix of vibrant painted render, timber-frames and sandstone for those buildings that connect to the town walls. Independent small traders rub elbows with larger chains as century-old pubs, modern barber shops, chic coffee shops and traditional knick-knack shops all trade within a stones-throw of one another alongside names known nationwide. Ludlow's central street, aptly named Castle Street, encircles Castle Square where a market operates most days of the week but with a varying schedule so be sure to check their website for the most up to date information. Don't expect a massive range of retail therapy, as many of these stores aren't going to be setting records in terms of their square-footage, but I am certain you can have a wonderful half-day of shopping quite easily here and, if you take the time to explore every hidden-away gem, you may just come away with something unique from Ludlow.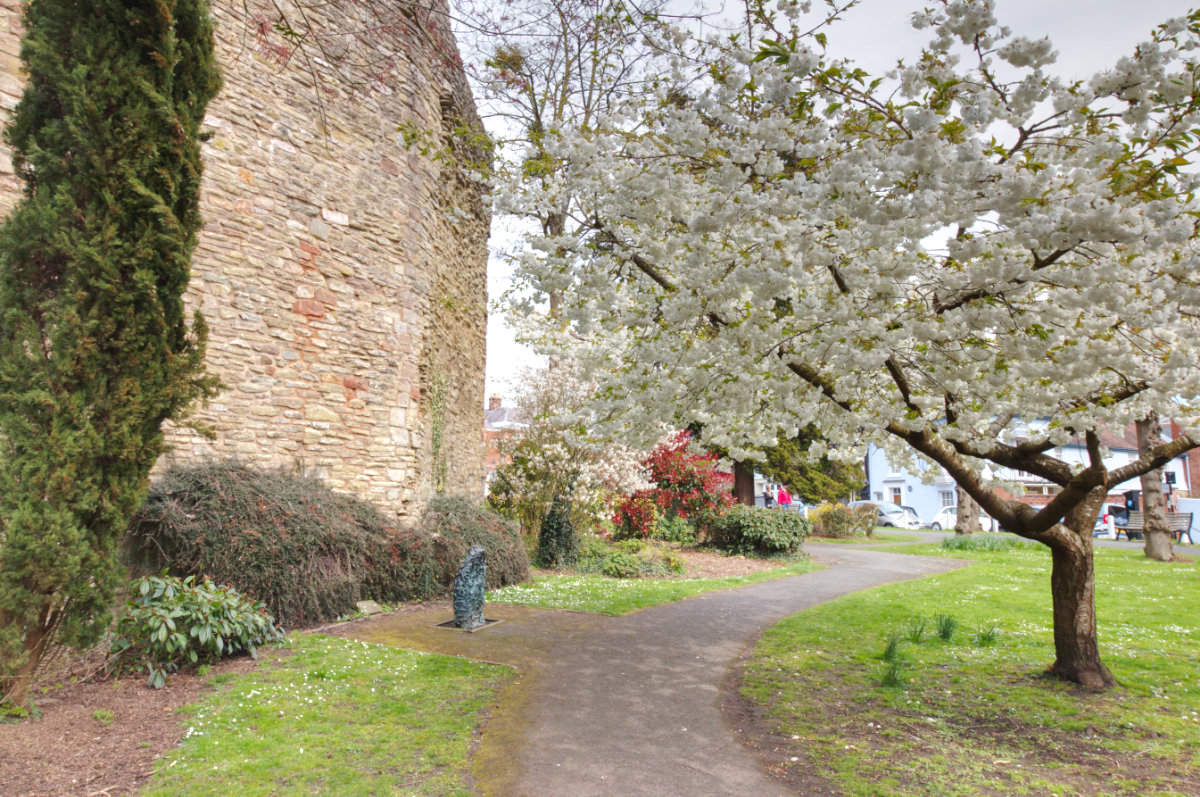 Ludlow Castle
As the name may have given away, Castle Square is within eye-shot of what, at least to me, is the main attraction of Ludlow; Ludlow Castle is just a short walk from the market and town centre, you should be able to spot the main entrance arch and cannon as a big giveaway as to where you need to head. Buy your ticket and make your way into Ludlow Castle's colossal outer bailey. A spacious and well-manicured lawn surrounds the moat and inner bailey - a beautiful space to explore or just spend some time, especially on warmer days. Considerable sections of Ludlow are accessible considering its status as a ruin, the inner bailey, in particular, has accessible upper areas and ample rooms to explore. Even if you aren't a history buff, getting up to the top of the castle and looking out over the town and rivers is worth the cost of admission and who knows - maybe you will discover a love of all things ancient in the process!
A bit of history
So now onto the history part, Ludlow Castle is noted as being one of the first stone castles in England. It was likely founded around 1075 by Walter De Lacey, a Norman nobleman who moved to England after the Norman Conquest of 1066. Ludlow began life as a castle within the manor of Stanton Lacy (now a village and civil parish 3 miles north of Ludlow) and was known as Dinham Castle before becoming Ludlow. Ludlow itself would become one of Walter's most important castles, given its strong defensive position atop a promontory (the views from the top of the castle offer perfect vantage over the east side of the river) and its location at the confluence of the Rivers Teme and Corve both offering additional defence but also an important crossroads for travellers. The castle's initial construction would have been completed sometime before 1115, with four towers, a gatehouse and a ditch for defence constructed around what is now the Inner Bailey of the castle.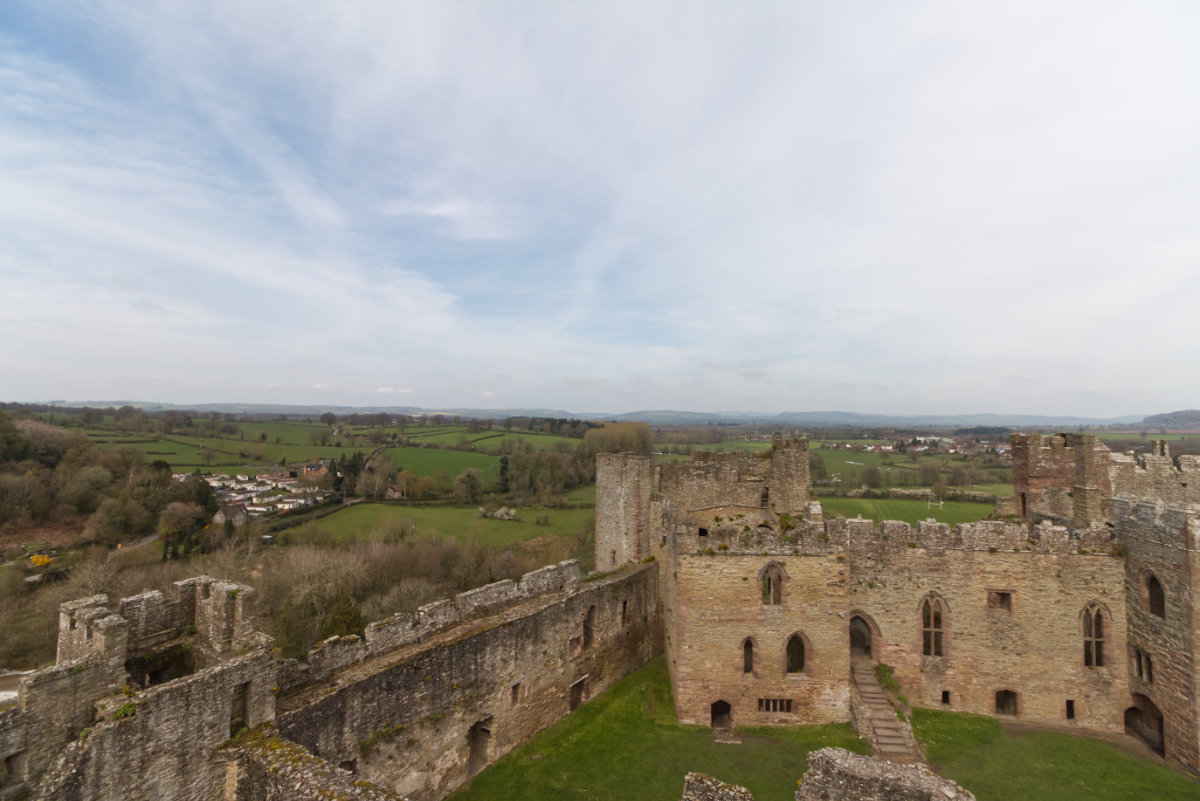 Death, Succession issues and 'The Anarchy', an early English/Normandy Civil War, saw Ludlow change hands many times; during this time the Great Tower that stands as the entrance to the inner bailey was constructed from the original entrance tower. The space in the inner bailey had also become too limited, so the outer bailey was constructed sometime before 1177 - this also meant the opportunity for the entrance to be rotated from its current south-facing inner bailey to east-facing, so the castle's entrance would point towards the growing town of Ludlow. The castle continued to change hands frequently, either through death or due to being seized by the king (an act to ensure loyalty while lords were away), but it continued to develop - by the 13th century, the innermost bailey was constructed, an area of additional privacy within the inner bailey.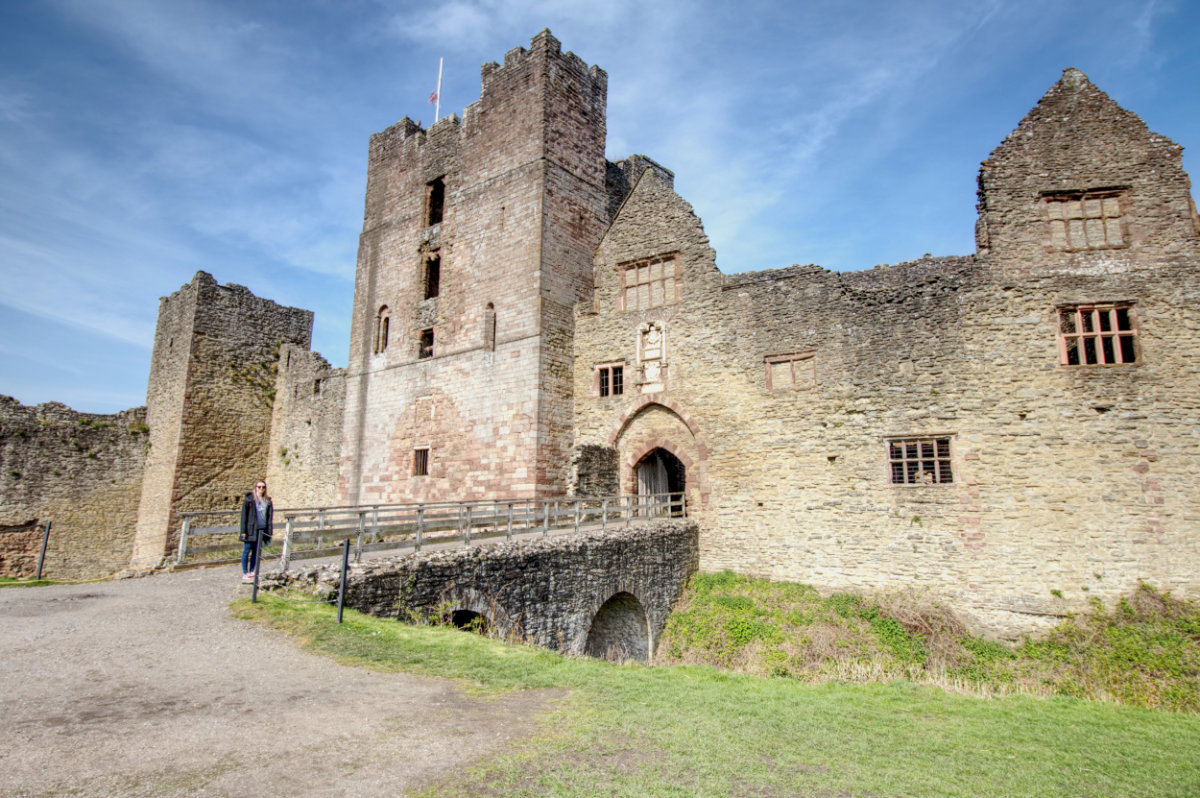 Ludlow would see action in The Second Barons' War, being briefly captured by the rebel leader Simon De Montford in 1264, before being reclaimed and acting as the staging ground for Prince Edward's campaign to retake the crown. The rest of the 13th Century saw Ludlow prosper, with the construction of the Great Hall and Solar Block, plus the construction also began on the town walls during this time. More additions came in the 14th century, with the addition of the Chamber Block, the Guardrobe tower and another construction of the future site of the Tudor Lodgings. The current controller of Ludlow Castle, Roger Mortimer, would lose the Despenser War and while in exile in France would aid Queen Isabella in taking control of England by overthrowing Edward II. Following this success, Mortimer would see great prosperity and Ludlow Castle gained the chapel on the Outer Bailey.
The castle would see military use again in the 15th century, it became a base of operations during the Owain Glyndŵr revolt in Wales. Surprisingly, Ludlow Castle did not see battle during the War of the Roses, in spite of being held by Richard Duke of York, except for the Battle of Ludford Bridge of 1459 taking place outside of the town - Edmund de la Mare would take control of the castle following this battle, but by 1461 Richard's son Edward would take the thrown and reclaim Ludlow Castle and make it a direct property of the Crown. Now acting as an administrative building and council seat, Ludlow became more residential than military. Throughout the 16th century Ludlow would see repairs to try to maintain its habitability, but also see new developments with the porter's lodge and prison added in 1552. Further developments included family apartments but there were also new appointments spanning into the 17th century, that would see Ludlow develop into a luxurious household.
That didn't mean the end of military operations at Ludlow, as the English Civil War in 1642 saw Ludlow made into a Royalist garrison. It would see most of its men drawn south to reinforce the field army, and what little garrison remained was taken by Parliamentarian forces in a short siege and surrender in 1646. During the interregnum (the period of time from 1646 to 1660 where no king ruled), Ludlow would be stripped of its most valuable assets, its weapons removed and sent to Hereford and its garrison disbanded. Despite some attempts at restoration of both the castle and the council post-King Charles II's ascension to the throne, both would fail and Ludlow's deterioration would begin.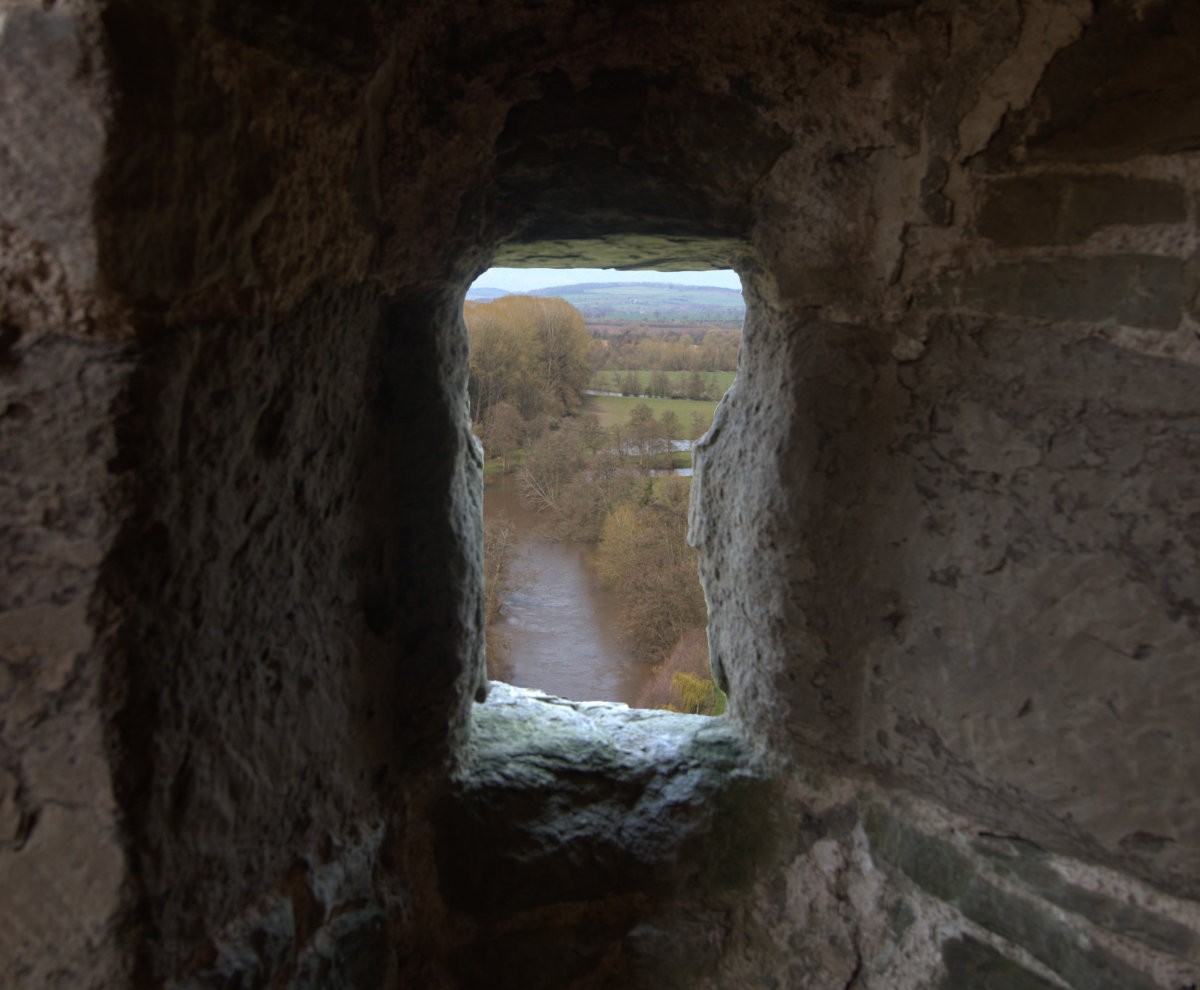 That is a very abridged version of Ludlow Castle's history, I know it probably felt like a lot but Ludlow has one of the longest active history's of any castles in England - starting life as one of the earliest stone castles and operating well into the 17th century, by comparison, castles such as Caernarfon and Warwick (prior to redevelopment) were already in a state of disrepair by the 16th century, it is no surprise Ludlow has such a rich history. I cannot stress this enough: there is so much more to Ludlow's story that taking a tour, even a self-guided one, is well worth your time!

Beyond Ludlow town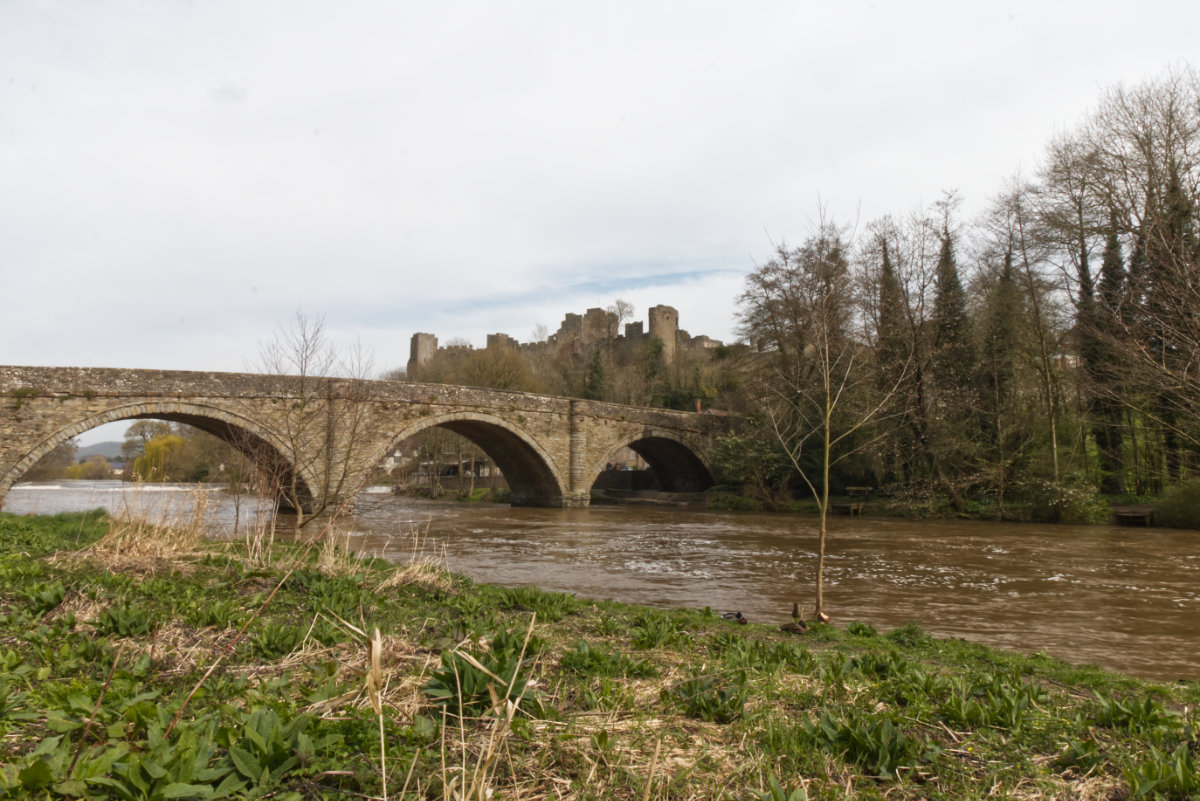 Assuming you have seen enough of the Castle, stuffed yourself at one of the local patisseries and had your fill of shopping, then you can still venture out of the town for some fresh country air and beautiful views. If you do only one thing beyond the boundaries of Ludlow town, can I suggest crossing Dinham Bridge and seeing Ludlow Castle from this spectacular angle - the bustle of the town is drowned out by the roar of the weir and the rustic charm of Dinham Bridge frames the castle perfectly. This of course puts you on the bank of the River Teme, so if you fancy a riverside stroll you are in luck. There is also Whitcliffe Common on this side of the town, so if you wish really to look out over Ludlow castle and town then you won't want to miss this.
Hopefully, this summary of Ludlow town and castle gives you enough of a taster that you are tempted to plan a visit - I heartily recommend making your way to Ludlow just for a really great dose of history with one of England's most impressive castles. You could easily combine this with a day out in the Shropshire Hills, heading to somewhere such as Carding Mill Valley for a day in nature to complement your day in history! Ludlow is such a quaint and charming town that I would recommend dropping in, even if it is just to grab a coffee on the cobbles knowing you are sat somewhere that people have sat for nearly 1000 years.