I have a handful of locations dotted around England that fall into the 'defaults', and by that I mean if I have no plans for a weekend and want somewhere to go I will just fall back to one of these locations. Situated on the England-Wales border, the Shropshire Hills offer a perfect escape from the flatlands of central England; littered with hidden treasures I love to take a drive out this way, often without a route planned, to follow
brown signs
to see what I can stumble upon next.
The first place I ever visited in the Shropshire Hills was
Carding Mill Valley
; located in the town of Church Stretton, after working your way through the narrow town streets you will find yourself dwarfed on both sides by the epic Long Mynd. There is every amenity you would expect of a National Trust attraction staffed by friendly and smiling folks. Once you have got your bearings, maybe grabbed a map and a quick brew, its time to make a decision on which direction to head first.
Climbing the walls
As you enter the valley you may have noticed paths ascending the Long Mynd on all sides, as a general rule you can pick any one of these paths and you will be greeted by breathtaking views and a healthy bit of cardio. While you can find something great by following each of these paths I will run you through my favourite route to take:

Make your way through the entrance car park, you will soon cross a small bridge and the start point of a path will appear on your left hand side - it should not be too difficult to spot as this is one of the most common paths to take and usually has a steady flow of people on it. I like to park my car as soon as I enter the cark park and walking the full distance - by the time you have reached the end of the path your car will look just like a Matchbox toy.
Passing a house on the left you will join a road, the path continues across the way where you should find a bench for a breather if needs be, at this point you can continue following the path but I would recommend heading up the side of the hill behind the bench. This can be a difficult climb, and as we found out in the winter snow it may even turn into a scramble, but it is well worth it and you will only have to travel a short distance to reach our goal. Once you reach the first rocky outcrop you should absolutely take a seat, break out a thermos or a packed lunch and enjoy the views over Church Stretton - afterwards you can either make your way onto one of the other routes around the valley or continue the straight climb up the side of the Long Mynd.

That about covers one of my favourite spots in the valley, I love it because it has the advantage of being both a short and simple hike while also being very secluded from the sometimes busier areas. If you are feeling more adventurous you can venture forth along any of the other routes around here, you can go for miles so I recommend travelling with an OS map to make sure you do not get too lost (I tend to use either the OS map app or the Geocaching App for navigation, neither of which has never let me down yet).

Finding the falls
It is funny to think but I had probably visited this place at least 5 times before I even found out there are falls here, my natural desire to gravitate away from where the crowds were heading and explore meant I had never even noticed the signs marking it out. On our last visit we finally went to find Lightspout Waterfall: National Trust offer two routes that will eventually take you to the falls, a longer challenging walk around the Long Mynd and a more direct walk straight to the falls via the valley floor. I would have loved to tackle the longer walk but as we were still in the throes of 2019's Storm Erik the wind speeds would have made it less enjoyable than I would have liked - there is always next time!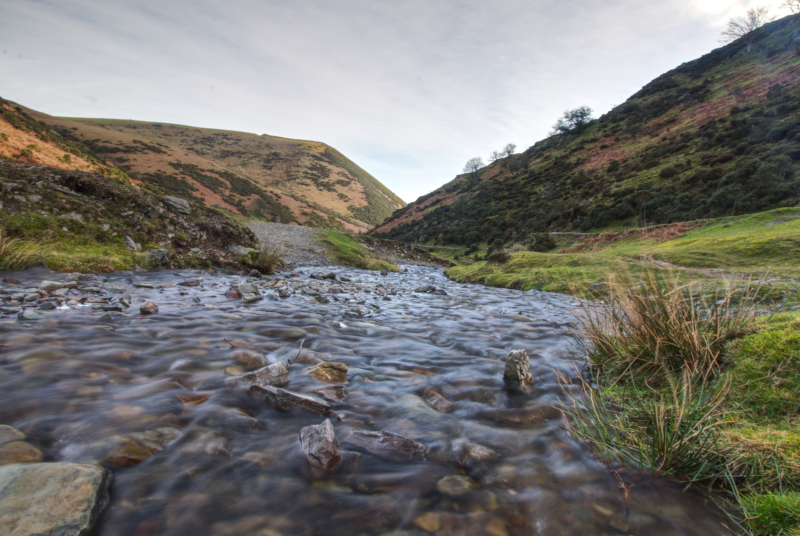 I cannot express enough how worth-while this walk is. Good, waterproof boots are recommended for crossing the very shallow fords (I was in waterproof trail runners and did okay and in some places you can avoid the fords by picking alternate paths carefully - but where is the fun in that? Keep some spare shoes/socks and go wading!) and you should be prepared for a hike that requires occasionally getting your leg up a bit but its all good fun. The thing that struck me was just how picturesque every twist and turn was: littered with small falls and babbling brooks every one worth stopping for a photo - I actually lost Rox a few times by stopping for a picture without warning her. Eventually you will reach Lightspout Waterfall itself; if you are willing to wade the better photos are from the left hand bank of the stream. Once you have soaked it all in you can either make your way back down the Valley or follow the rough-hewn steps on the right side of the bank and get lost exploring the trails from then on, I would recommend either following the National Trust's map for the longer route or taking an OS map with you!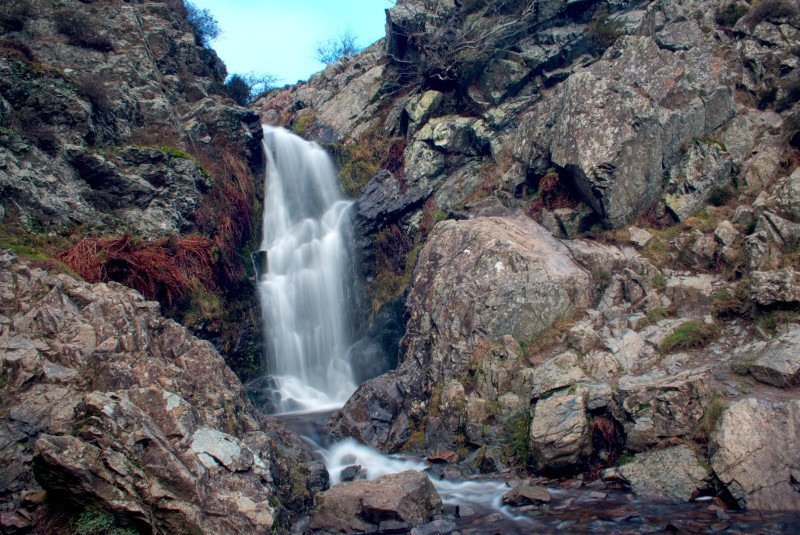 Whatever you end up doing there is definitely a day or more exploration to be done here alone, and if you want to branch out further there is plenty else to do. Whether you end up heading into Church Stretton itself or going off in search of other walks (There are some beautiful trails around Caer Caradoc and Hope Boulder - this is the area I know well as I knackered my hip exploring, but that is a story for another time) you will certainly love the valley itself and everything it has to offer.
Happy hiking.