Adventurers who find themselves exploring the extent of Wales may well have stumbled upon a set of tracks carving their way through the hills and valleys that doesn't quite look like your average line - unlike traditional rail, these lines are noticeably petite. Not just that, but as you've ventured further on you may have even heard the distant whistle or, if you're lucky, stopped to watch a glorious little steam engine putter past with a gaggle of happy passengers. Yes, narrow gauge railways with classic steam engines running the lines are a surprisingly common site around Wales, and we certainly have encountered them a few times, on our last visit to the beautiful Eryri (Snowdonia) having stumbled upon a stop along one of the lines we decided it was time for us to finally give it a go - a little different for us, considering if we wanted then almost no steps would be required for this trip! But which railway to choose...
Selecting a route you wish to take from the options around Wales is no easy feat. You can span some amazing distances, such as the Ffestiniog & Welsh Highland Railways that run from Caernarfon to Porthmadog and then to Blaenau Ffestiniog (two separate lines with multiple routes and destinations to choose from). Smaller routes exist too, and we decided these would be more appropriate for us so as not to take up too much of our day. With options including the Llanberis Lake Railway, Bala Lake Railway and, perhaps the most iconic of these trains, the Snowdon Mountain Railway, all of the shorter routes travelling exciting stretches of gorgeous countryside and mountains. But, as you may have already guessed from the title, we opted for the Talyllyn Railway on the southern side of Eryri (Snowdonia) - we weren't looking to scale Snowdon on a rainy September morning and some of the other railways either would have taken up too much of our day or were simply a little further away than we would have liked from our start point. For those still looking for more options beyond Eryri, you're still likely not too far from another steam railway; the Brecon Mountain Railway offers an accessible alternative a stone's throw north of the major cities in the south, and the Vale of Rheidol Railway can give you an adventure from Aberystwyth and the Welshpool and Llanfair Light Railway covering mid-Wales too. Even those too far east from Eryri (Snowdonia) still have a great little option with the Rhyl Miniature Railway - not quite a grand adventure, but a calm putter around a beautiful lake.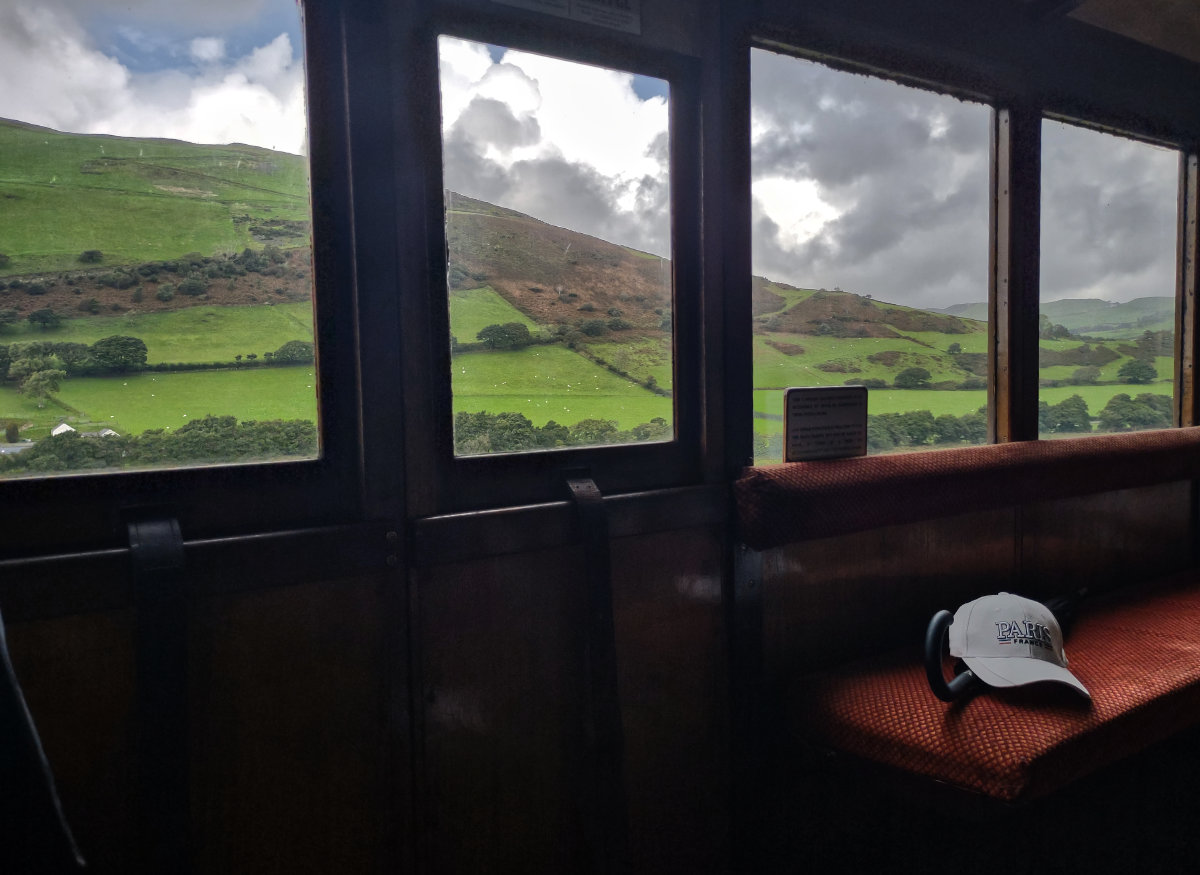 So what to expect from the Talyllyn Railway? Well, the route navigates through just over 7 miles through a valley before emerging at the coast in Tywyn. We first became familiar with this line when trekking around the spectacular Dolgoch Falls, and came across it again when walking Coed Nant Gwernol - these stops sum up what makes the Talyllyn Railway great, it is the perfect adventurer's route, with an appropriate fare to match. Now, it is important to plan your visit well, checking the timetable and knowing which fare you want - the fare I mentioned previously is the top fare, currently known as the "Adventurer's Fare" which allows you to hop on and off at your leisure. If you combine the top-level fare with one of the busier days on the schedule then you can easily see some of these amazing places, take a stroll around Tywyn and get back again all in the same day. Be sure to make sure you have a viable route to get back to your origin point, otherwise, you may need to get a taxi back at the end of the day. Dog lovers will also be happy, the railway is dog friendly, they require a small ticket of their own and given the great options for trails around this railway, this is a perfect day out for dogs!
Getting to the Talyllyn Railway depends entirely on what you want out of your day and where is most convenient for you. As mentioned previously, you can hop on wherever you wish, so if you decide to visit Dolgoch or any of the other places along the line first, then hop on there and you're golden. If you are explicitly heading out for a day on the rails, then the two major stations are Abergynolwyn and Tywyn, so these are perhaps your best options - in the navigation information above we've pointed you to Tywyn, but if you want to check out Abergynolwyn then click here. As far as I can see, Tywyn Wharf does not have any parking directly on site, but it does have a small car park just a short walk (literally 100 yards) away on Cambrian Road (plus there are plenty of other options dotted around the town), likewise, Abergynolwyn has a moderate size car park adjacent to the station but with a little paved hill between you and the platforms. Getting to any of these places is more or less the same, Tywyn can be accessed via the coastal roads from Aberdyfi/Fairbourne via the A493 and then every other station is along the B4405 that heads inland towards the town that shares the same name as the railway on the shores of Llyn Mwyngil - all of these routes are pretty straight forward and easy no matter which way you approach from.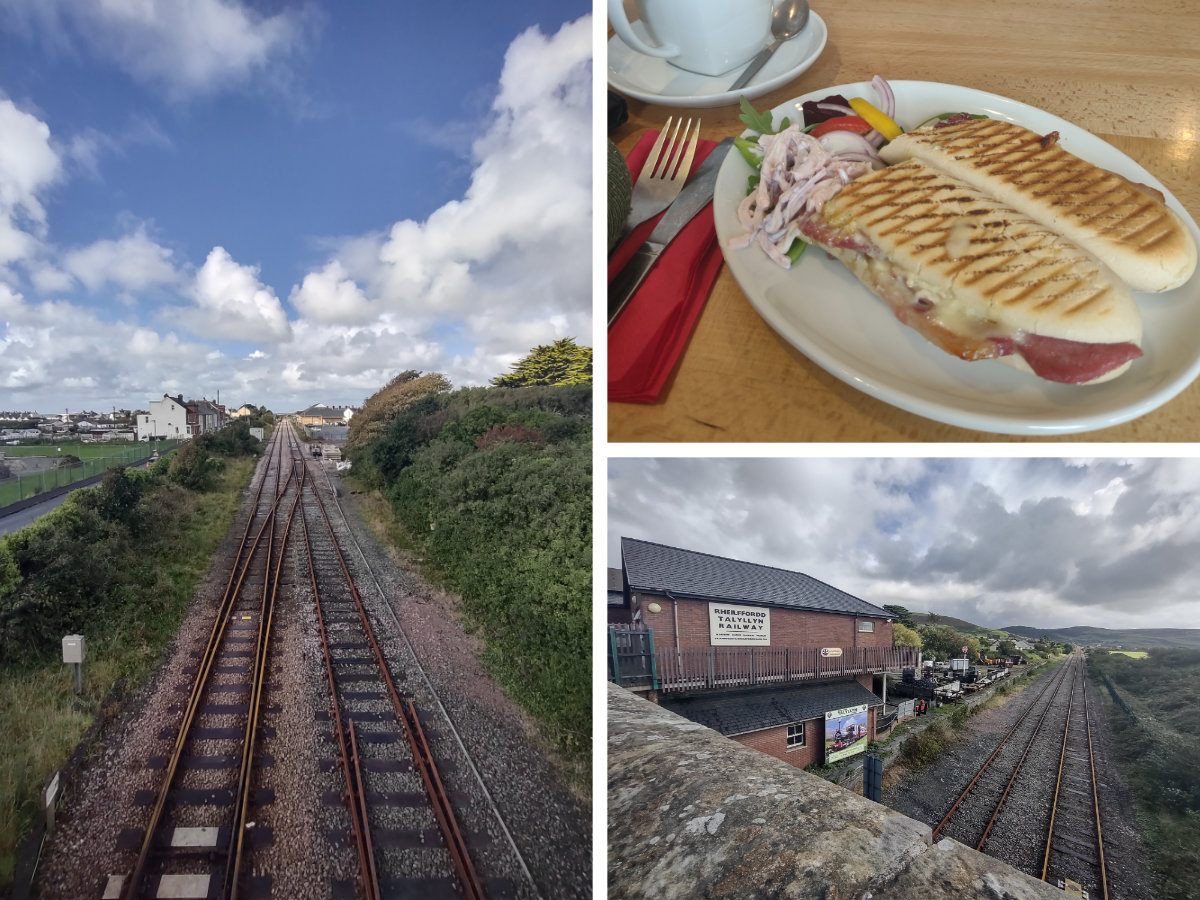 For our trip on the Talyllyn Railway, we opted to keep it simple, start at one end, ride as far as we could go and then come back again - it was a rainy day, not one for adventuring into the hills and we came here to get the full steam train experience. We took a ride from Abergynolwyn straight to Tywyn Wharf, spent some time in the lovely café there and returned about an hour later. The train calmly makes its way from stop to stop, with the occasional halt in between to allow a train in the other direction to pass as most of the track is a single route. The mountains slowly dwindle away as you approach the coast, with wisps of steam drifting by to really drive home the steam train experience. I don't think the journey could have been more relaxing, and at the end of a long week hiking we were dosing off by the return journey. The Café didn't disappoint either, we got a discount with our tickets which could be used at Abergynolwyn or Tywyn Wharf, for us a coffee along with a bacon, brie and cranberry panini fueled us nicely for the return - had we a little more time, or more trains to catch, we would have taken a walk down to the seafront, signposted at 10 minutes away from the Wharf station, but being unwilling to risk missing the final outward train of the day we spent some time in the little museum and gift shop as well as watching the train move from one end to the other, ready to take us back. The route was the perfect length, about 45 minutes in each direction, allowing you to really enjoy the experience without it beginning to drag or being desperately in need of some refreshments and a WC - the Talyllyn Railway is a perfect way to spend a few hours or a full day if you go full adventurer, either would be a brilliant day out. Want a taster of the experience? Well, join us for the Tywyn to Abergynolwyn ride on our rainy visit, 45 minutes cut down to just under 8 - it doesn't quite do justice to experiencing the real thing, but it's a great sample of what you get to enjoy...
The history of the Talyllyn Railway is, as most railways around Wales tend to be, deeply linked with industry and, of course, slate mining. The Bryneglwys slate quarry was established around 1847 and as it grew and changed hands a need to transport the mined slate easier came about, linking the slate mines to the national rail network would be the solution and the easiest-to-reach link would be at Tywyn. Thus, the Talyllyn Railway was born, engineered by Charles Easton Spooner, son of the engineer of the Ffestiniog Railway, the line would be completed by 1866 and would soon run its first passenger service alongside moving the slate - this would be the first passenger service on a narrow gauge line. Unfortunately, the cost would far outweigh the potential and it would never really see profitability, the slate mine at its peak employed some 300 people but with a lack of further investment and leases running out, the mine shut by 1909. A brief resurgence would occur at the mine post-World War I when a local MP took on the slate mine, but by the end of the Second World War, the mine would see its doors closed for good, the result of a bad collapse. This would more-or-less seal the fate of both the rail line and the quarry, with quarry buildings destroyed and machinery dismantled, the railway was left to nature. That was until a group of enthusiasts decided to take on the task of restoring and operating the train line - they were able to acquire the railway in 1951 and restorations made it into the line you see today. The only engine from the original stock to remain in working condition was the No.2 Dolgoch train (pictured above) built in 1866, the No.1 train Talyllyn requiring repairs before it could return to the line. Further stock has been acquired including No.3 and No.4 (Sir Haydn and Edward Thomas respectively) from the nearby Corris Railway and more modern stock (in relative terms) rounding out the team with the 1918 No.6 Douglas and 1949 No.7 Tom Rolt, as well as a handful of diesel stock they use for jobs. This is the short version of the line's history and details, if you wish to read more you should start your research with Talyllyn's own history page and see what else you can find!
A journey on any of the steam railways dotted around Wales is a perfect way to take a relaxing slow trip across the landscape and truly appreciate the world around you. For drivers like myself, those who find themselves doing the bulk of the navigation may have never really appreciated some of the spectacular views dotted around - they're far too focused on the winding strip of tarmac stretching out in front to really look around and fall in love with Wales and its amazing postcard-ready vistas. So not only could a trip on these trains be the perfect gift for someone in your life who may need a break from being behind the wheel, but the Talyllyn Railway, in particular, is an absolute gem in terms of adventuring - so many incredible stops on a short line to be explored, like the aforementioned Dolgoch Falls and Coed Nant Gwernol woodlands all the way out to the (hopefully) sparkling oceans at Tywyn, it couldn't be more ideal for those who like to do a bit of adventuring alongside their historic steam train experience, and I whole-heartedly recommend it.