It is late June and an absolutely scorching day as we search for something to do, with our expatriated family offering some recommendations we head out to get a nice balanced day full of the great outdoors, sandy beaches and urban living in the form of Torre La Mata. Roughly an hour south of Alicante, Torre La Mata offers just about everything you could possibly expect of a Spanish coastal town: gorgeous golden beaches spanning off as far as the eyes can see, seafront eateries and bars with a huge range of food and drink. All of this is coupled with that typically Spanish way of life that is just so infectious; you can't help but slow down and just take a moment to savour everything around you. But our adventure starts a little way inland from here, in the Parque Natural de la Mata-Torrevieja. As the name might suggest, this is a nature park that has been protected by the Valencian Government since 1989 - the park is split into two major sections, the La Mata side and the Torrevieja side, both notable for their lagoons of the same name. The Torrevieja side is known for its salt flats, with the lagoon sporting the red-pinkish hue you often associate with them. The La Mata side, while high in salinity also, is more of a typical lagoon where you can see birds feeding or resting on the beautiful blue waters.

We arrive at the sandy car-park in the early morning, near the Cementerio Municipal Torrelamata, with the sun already cooking us nicely. The land gently ebbs and flows with hills and dips, with fields of vines as far as the eye can see. You will find only small amounts of tree coverage as you make your way through the fields and down to the Laguna de la Mata, but once there you will find yourself in a quiet little paradise where you can catch a break from the unrelenting sun. You may also find yourself in some unexpected and overly friendly company...Red Squirrels! The Red Squirrels here were such a nice surprise, their incredibly inquisitive nature bringing them right to your feet; presumably, the visitors often feed the little critters. Unfortunately, we had nothing to offer them so they soon scarpered off to query the next walkers. Sitting in the shade under the canopy of trees, with a gentle breeze rolling across and squirrels darting around you, I think this is the perfect spot to spend hours relaxing. Once you're ready to step out of this little paradise and back into the sun, you're only a stones-throw from a viewing platform which will give you a beautiful view over the lagoon.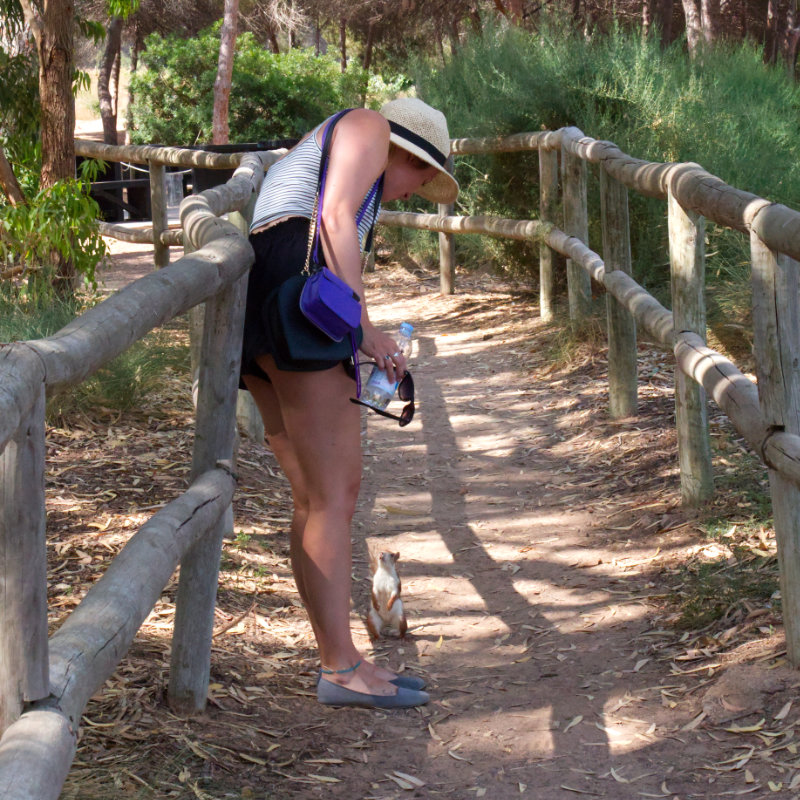 The viewing platform offers both protection from the sun and amazing views other the lagoon, it is the perfect spot to take your camera out and get some amazing photos. It offers great panoramic views all around, but bring a strong zoom lens if you want to capture the wildlife from here - if you don't quite have the gear to grab the photos from here then you may have more luck at our second stop off...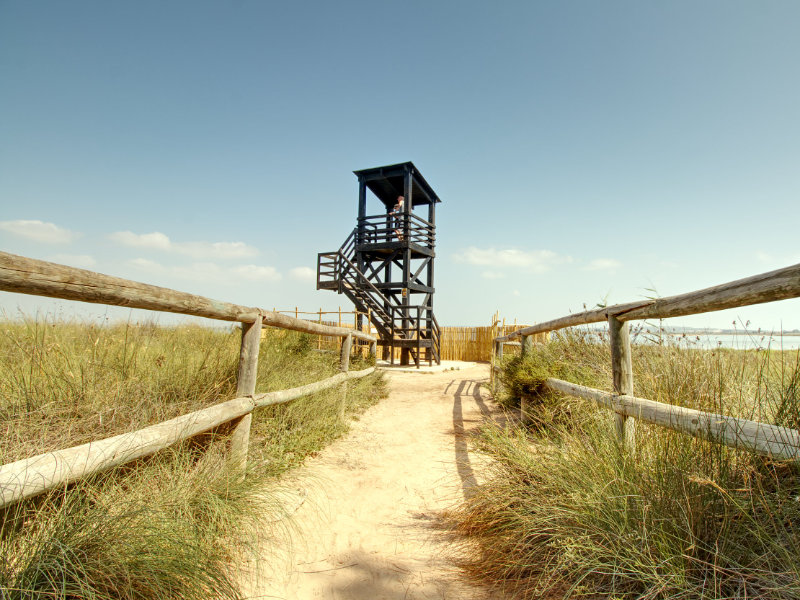 To truly appreciate the wildlife at this beautiful location, we would need to travel onwards. Not fancying too much walking, as the early morning warmth has turned into the midday oven, we head back to the air-conditioned car to relocate to the Centro de interpretación Parque Natural la Mata Torrevieja. From here, we are going to make our way back down to the water's edge to do a little bird spotting at the Observatorio Cigüeñela. Twisting down the paths through the park will bring you out to a bird watching box jutting out from the shoreline - walk out along a shrouded walkway and into the wooden structure and you will be perfectly situated to see all of the life this laguna has to offer. Depending on the time of year the waterline may be a little distance away but this shouldn't be a problem for spotting our feathered friends. This is where we went from one wildlife surprise to another - Flamingos! Amongst all of the resting birds were a handful of Flamingos, and while these beautiful creatures didn't ever come in too close it was still incredible to witness them in the wild! It is one of those things, while completely normal for locals, is something I will remember forever.

With our hiking and nature bug satisfied it was time to head into Torre La Mata. This may only be a small town, relative to some of the settlements nearby, but with plenty of little shops and eateries along its beautiful boardwalk and that absolutely gorgeous Mediterranean beach, it is hard not to love this place. The beach was also quieter than many of the other beaches along this coastline that we visited on this holiday. I will always love the beautiful buildings you find with their smooth whites, yellows and blues that glow in the sun in a way only Mediterranean buildings tend to do. Even with an ocean as calm as the Mediterranean we still got a light sea breeze, a wonderful soothing gust lined with the smell of sea-salt.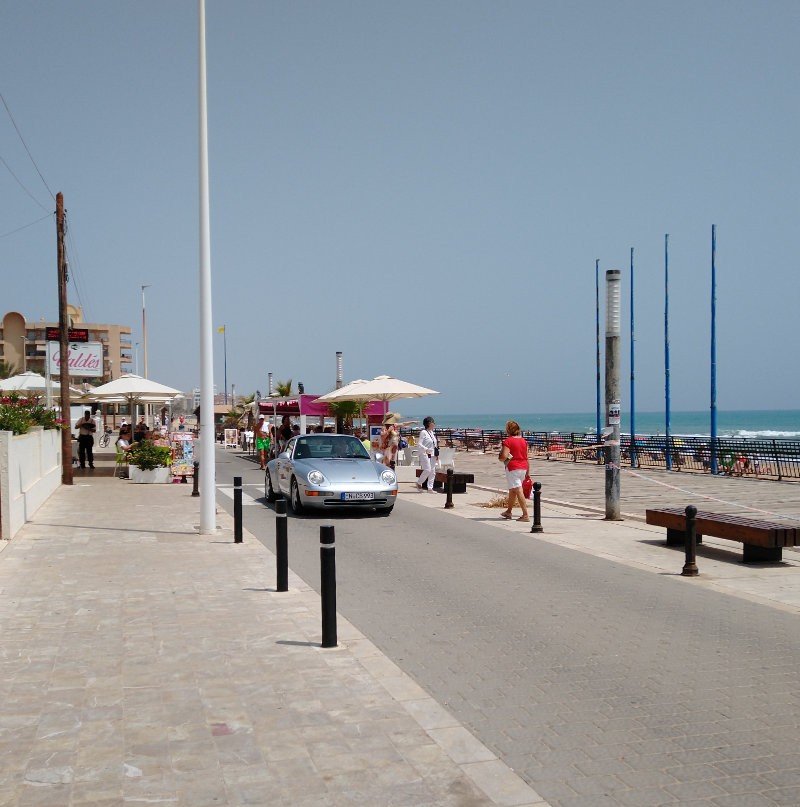 We decided to stop at Valdés to grab a sandwich and a drink while we just unwind in the afternoon sun at one of their beachfront tables, and once we were happily satiated we made our way down to dip our toes in the ocean. We walked the length of the beachfront, alternating between the boardwalk and the sand until we reached the Torre del Embarcadero, a defensive structure from the 18th century. With the warm slowly starting to dissipate, we took one last dip in the Med and made our way back home - a perfect end to a beautiful little day exploring small-town Spain.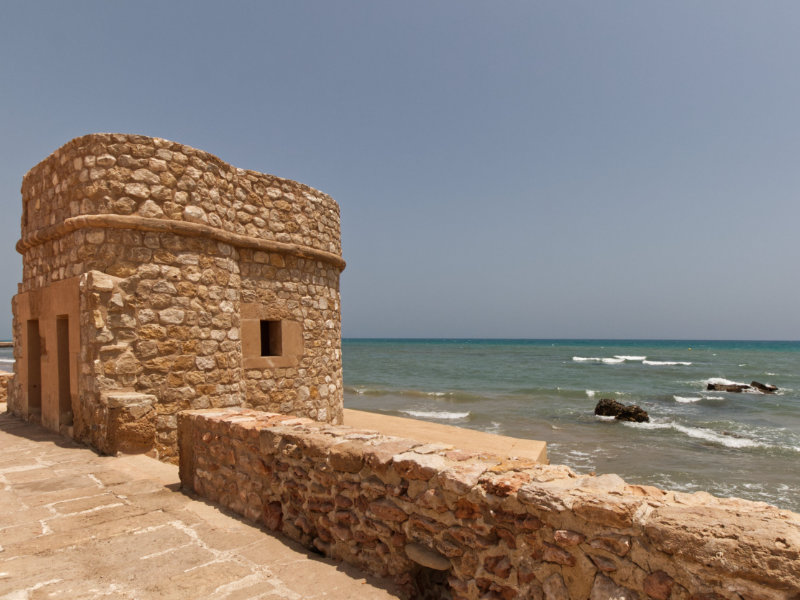 If you're looking for a tucked-away spot away from the crowds of Alicante, that has a little bit of everything to offer, you should seriously consider grabbing a rental car and exploring some of the smaller towns and cities that litter the coast to the south. La Mata is just one example of many where you can escape the hustle and bustle to find something a little less touristy, but still make for a fun day out. You can absolutely get an amazing Spain experience away from the obvious holiday destinations, without having to fight over beach space or struggle to get a table at the local restaurant.