The walking loop we are looking at today is one familiar to many explorers who have visited these parts, it is perhaps the most recognisable in and around the town of Beddgelert. This walk takes you out of the town centre and along the river on a beautiful stretch of water sandwiched between tall mountains. On the way, a small detour will take you to the town's namesake, the grave of the famous dog with an unfortunate story, before returning to the river to cross and circling back. It is a perfect little loop for those looking to get some steps in while in the town of Beddgelert, and if you are going to be passing through you might as well see where the town gets its name. So with that, onto the walk...
This walk starts and ends in the heart of Beddgelert, so you'll be parking somewhere in the town to begin - Beddgelert sits at the crossroads linking the A498 to the A4085, this allows for easy access from places such as Porthmadog, Caernarfon, Betws-y-Coed and everywhere both inbetween and beyond! There are a couple of car parks dotted around town, with the most generous sitting just off of the A498 behind the Beddgelert Information Centre - 7 Cae Morys Parking is next to the Welsh Highland Railway stop, it is not a particularly large space but we had no problems getting space, we just had to fight with the slow pay and display machine to get a ticket. Being a sizeable little town and a strong tourist draw on decent roads, Beddgelert is a great option for those travelling on public transportation, not only could you hitch a ride on the aforementioned Welsh Highland Railway, connecting you from both Porthmadog and Caernarfon (as well as Blaenau Ffestiniog via the Ffestiniog line) but busses regularly pass through the town too.
Starting out from the centre of town, near the main road bridge that cuts through the town, our walk will take us down a side road that follows the river, this is clearly marked by a brown sign for the Grave Walk. Keep following this narrow road until the last few shops of Beddgelert give way to the confluence of two rivers - the Afon Colwyn and Afon Glaslyn. There will be a footbridge in front, this will be our return route, for now, turn right and follow the river for a little way. This is a beautiful stretch, starting out passing the picturesque St. Mary's church before giving way to open fields on your right allowing those amazing mountains to really loom overhead. Depending on when you visit, the river will either be a soothing trickle or a roaring torrent, both equally enjoyable and worth taking a moment on its bank to enjoy. Before you know it, the sign denoting Gelert's Grave will pop into view and it will be time to, briefly, break away from the river and go pay your respects...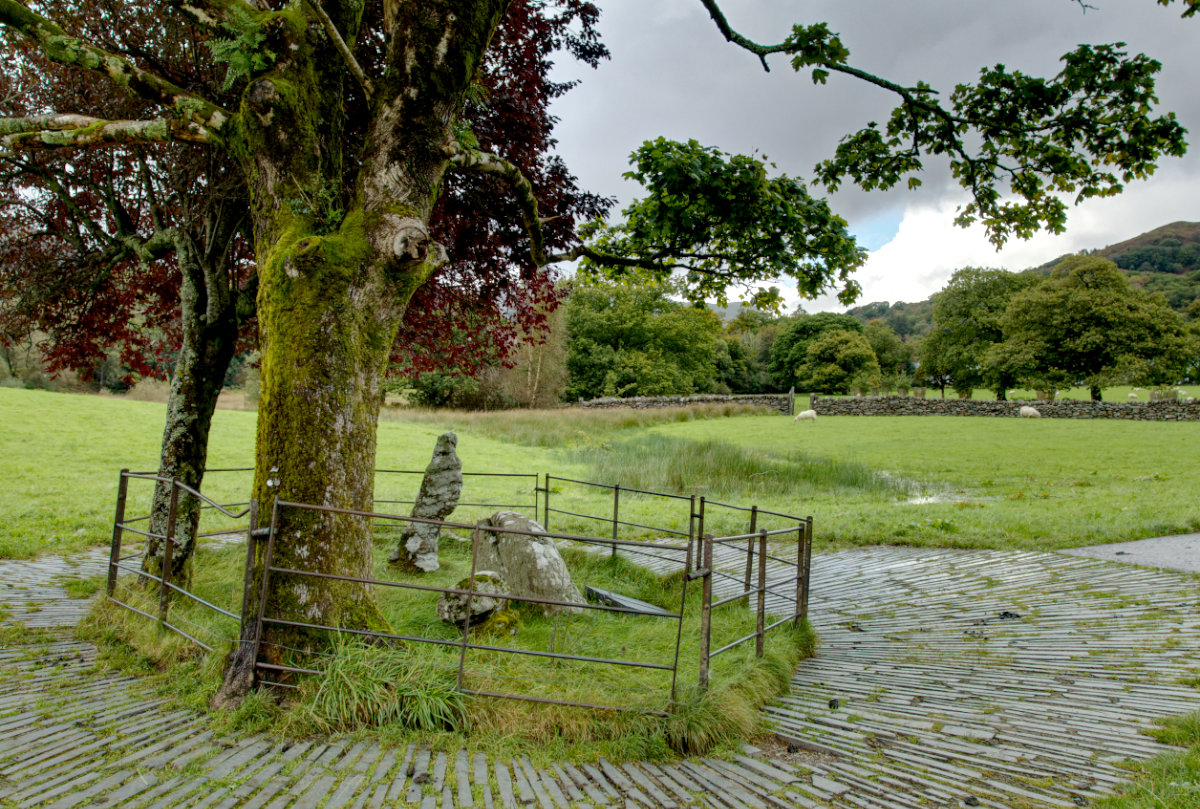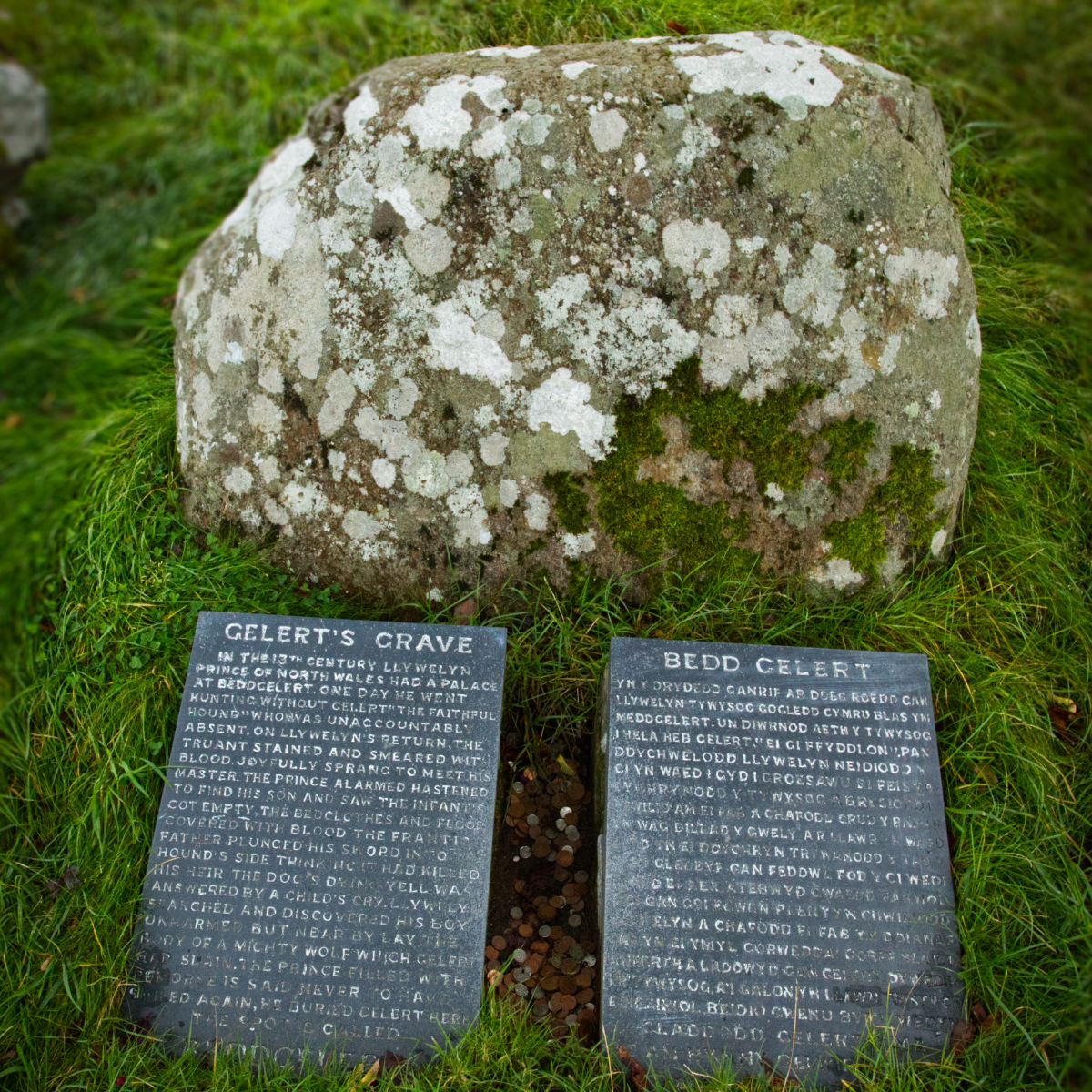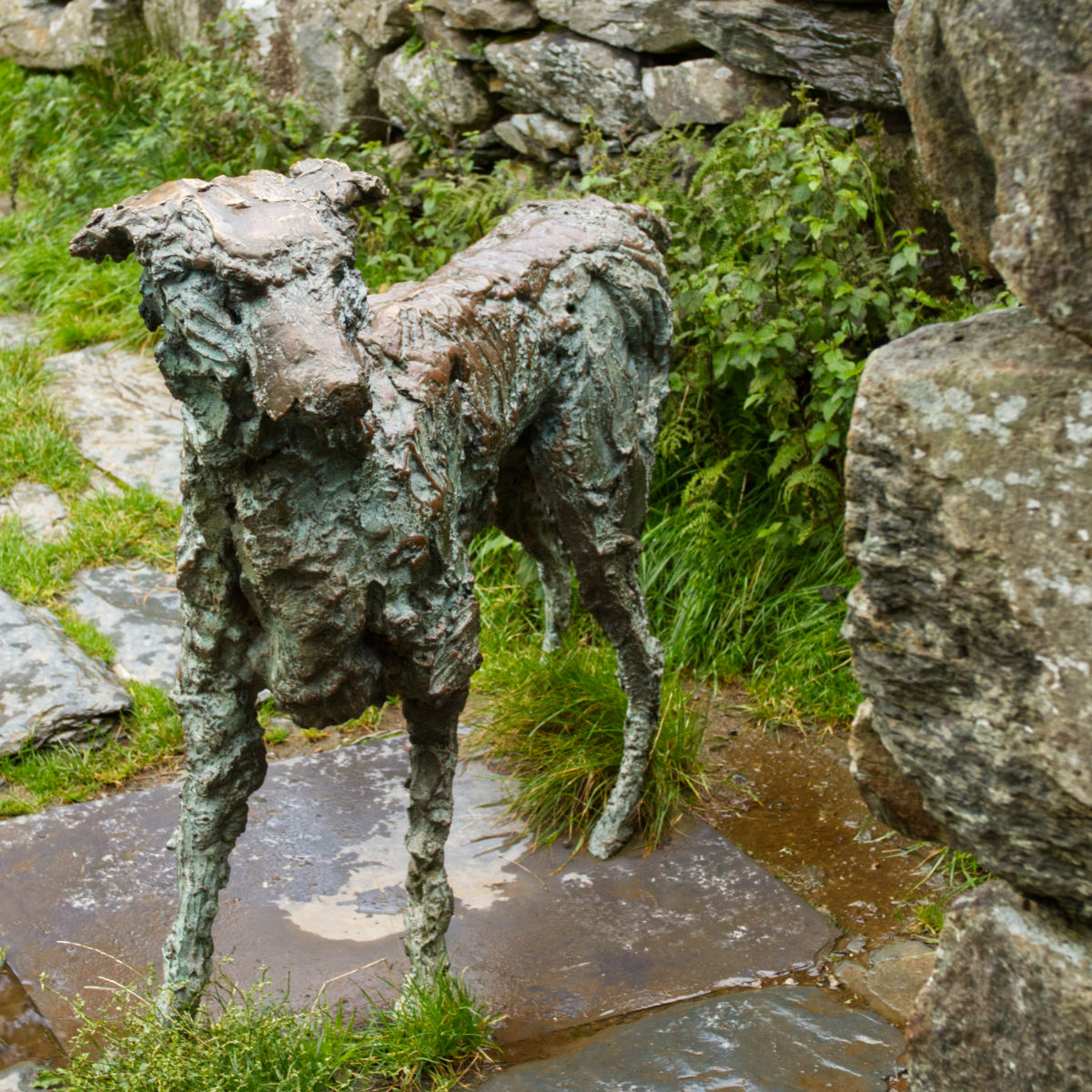 Gelert's Grave is marked by a small stone with two engraved slates below two trees. It is a beautiful spot, one we would all be so lucky to have for our eternal resting spot, but as you may expect, it is the story of Gelert that really makes this place important. Gelert is a legendary wolfhound, who was the faithful dog of Llywelyn the Great, King of Gwynedd. After going on a hunt, Llywelyn returned home to find his baby missing and quite a scene in his home - the cradle overturned and Gelert covered in blood. In response, Llywelyn drew his sword and killed Gelert - shortly after the dog's final yelp, the sound of a baby crying fills the room. Under the cradle is Llywelyn's child, beside a dead wolf which Gelert had protected the child from. Haunted by what he had done and the sound of Gelert's dying yelp, Llywelyn was said to have never smiled again. A haunting story, which has appeared in many different fables and forms, ultimately the story and its links to Beddgelert are largely false - the grave is believed to have been added by a local innkeeper to drum up tourism, but all the same, it is a great little myth that adds to the charm of the town. Don't forget to continue beyond the grave to the ruined building beyond, where you can see the Gelert statue too.
When ready to continue on, follow the path out from the ruined house and along the fence towards the river. Make a right when you reach the stone building on the river's edge and continue enjoying your walk along the Afon Glaslyn. It won't be long until you arrive at a pair of bridges, one is a narrow gauge railway line and the other is a footbridge, make your way across and now you will be onto the back leg to Beddgelert of this little loop. That being said, you may want to take a little detour before you continue, crossing the level crossing and following the path along the river there are a few spots along here where you can get some lovely views of the river. In fact, this path will continue down the Afon Glaslyn and allow you to take in some of the most turbulent sections of the river as the valley gradually narrows and the paths get rougher - it is a fun potential addition if you fancy it, but for today, we're focusing on this shorter loop.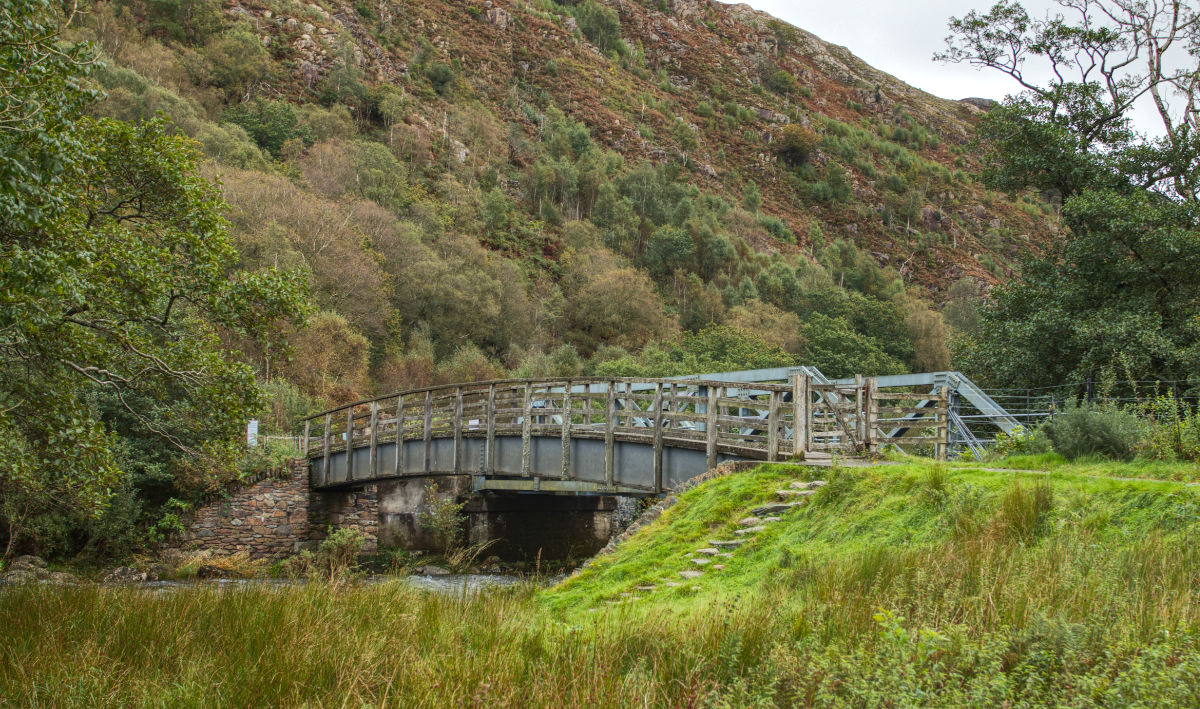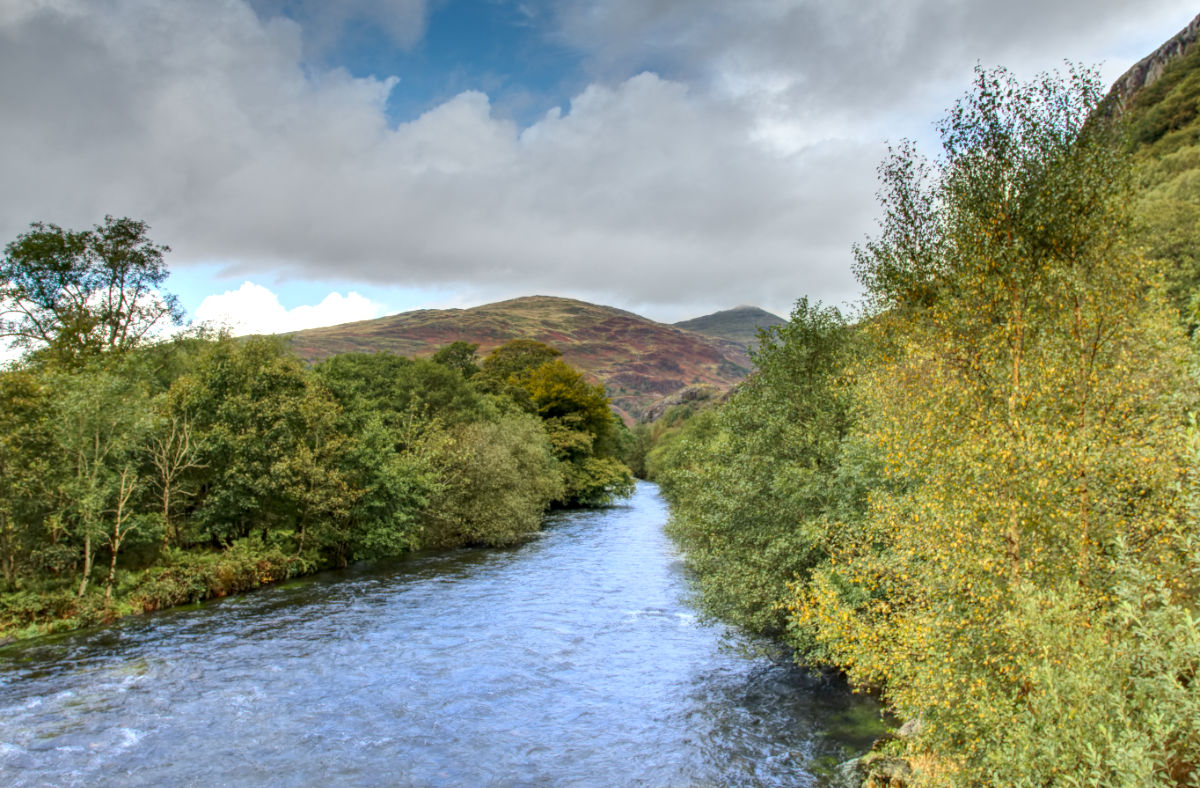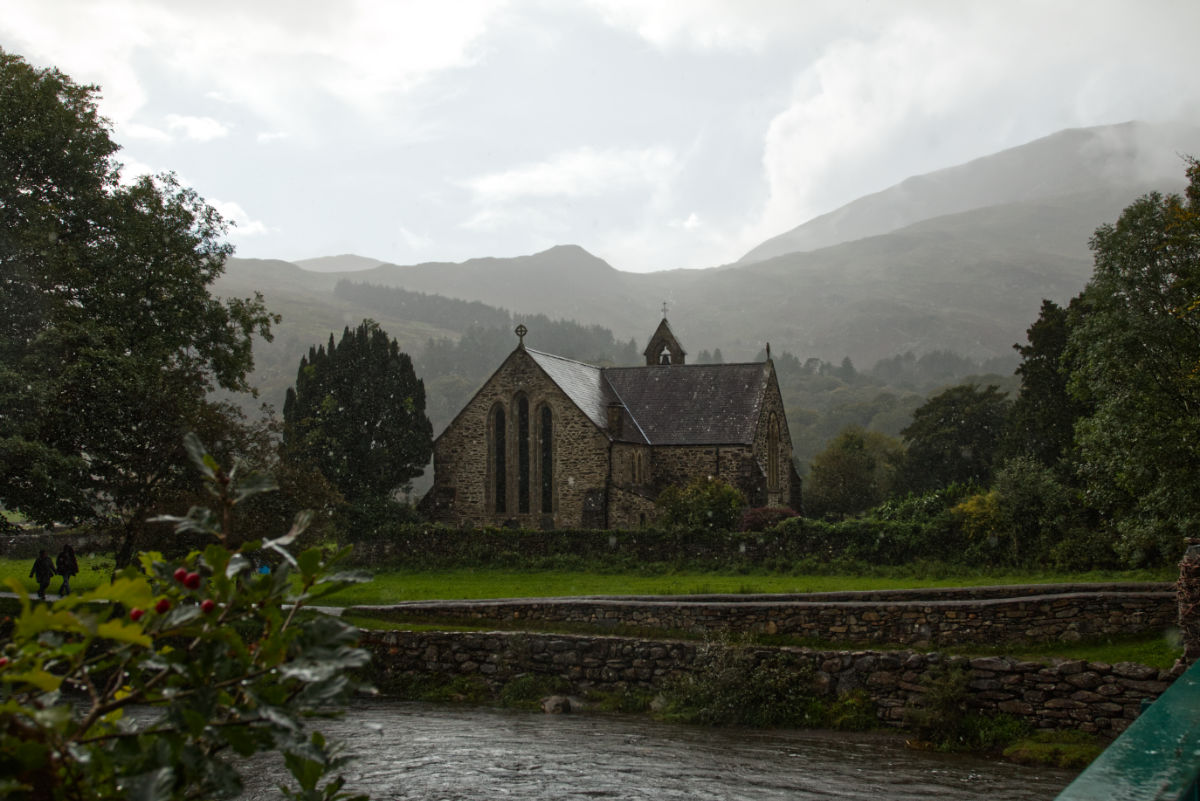 The return walk on approach to Beddgelert is through some denser trees with sections that give you quick views of the river, if you step off the paths in parts you get some nice viewpoints, but be warned this may be muddier and a little more uneven than the smooth paths you've been exploring thus far. Before long houses will begin to appear in your view again, then the bridge you passed at the start of this walk will allow you access back to the town to round out this walk. Before heading back there is a lovely bench beneath the tree here, a great place to take a load off or, if you're unlucky like us, to escape the torrential downpour that started just as we returned to town.
So that is the Beddgelert Grave Loop, a pretty simple walk perfect for all abilities but it is one I think is essential if you are going to visit the town. The town is perfectly situated so even an easy walk will give you superb views of the surrounding mountains and beautiful rivers, without requiring you to scale steep escarpments just to see the best of it. If you are looking for more outdoor adventures in these parts then there are a few great options just a short hop away - two of our favourites include Beddgelert Forest, another fairly easygoing route (if a little more hilly than this) which allows access to some stunning views, and then there is Dinas Emrys, a much more challenging hike but brilliant for those able to tackle it. If you've walked enough then the good news is that you are in a perfect little town, perhaps find some food or a nice drink or two in order to round out the perfect day in Beddgelert.