The last moments in the run up to a holiday can be a total up-hill slog - but if you keep yourself busy it can be a little less strenuous. Plus, there is a whole bunch of things you should be doing now so you're ready for departure. It can be a real pain - I should know, this week is my final week before a little Wales break! I am so excited for all of the hiking, food and adventures to come that the clock-watching has caused time to slow to a snails pace. To help with the boredom, I have outlined 5 things I do that help get me through my final week at work and into the coming adventure.
1. Plan where you're going when you arrive

I would hope by this point you have your destination and travel all sorted, but I'm guessing you maybe only have, at most, 1-2 activities for when you get there. You should really take this opportunity to get all of your ducks in a row, especially because you could potentially save yourself some cash (and disappointment) along the way.
Firsts things first: your major plans, which typically involve the biggest landmarks in the area, may be everyone else's major plan too. To avoid disappointment (and again, maybe save some cash), check to see if you can book in advance; you would genuinely be surprised how much you can schedule ahead of time online or over the phone (watch out for additional charges when calling internationally! Worst case scenario, get all the phone numbers and call as soon as you arrive). While this is important everywhere, if you are travelling to major cities or tourists hotspots then things like tour guides should absolutely be booked online in advance to avoid disappointment.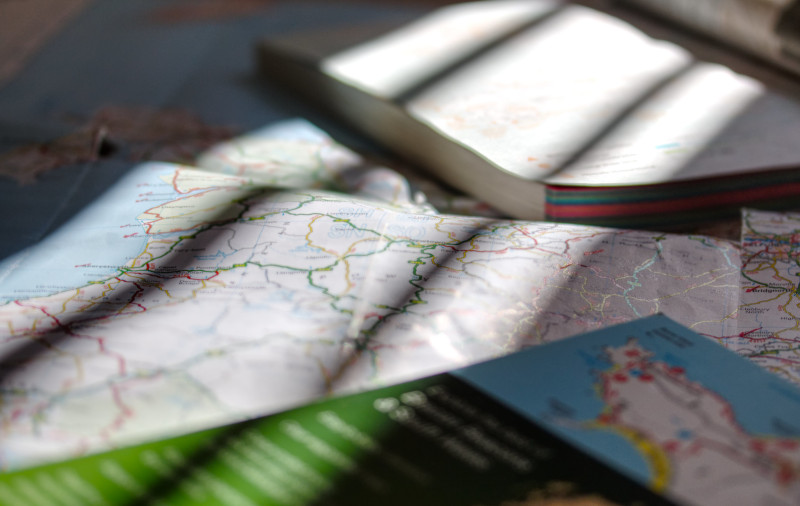 With your major plans sorted it is time to fill in the gaps - you don't want to arrive and then spend time figuring out what to do, at the very least heading out armed with the knowledge makes your travels much easier and can give you time to really know your plans. Just think: time spent planning after you arrive is time that could be better spent enjoying your break. Resources such as Wikivoyage can be an amazing source for figuring out where to go, and everyone knows Trip Advisor can be an asset but for me simply browsing Google Maps can be really useful to understand what is in your local area and what you should go to see. A great example for me would be in our last trip to Bruges, obviously we wanted to visit things like the Belfort but in searching Google Maps I discovered Sint-Janshuismolen, a mill on the outskirts of the city and from there I planned a little walking route to go see it. If nothing else, Google Maps is a great way to get your bearings and have a rough idea of how to navigate where you are going - finding things like distinct landmarks near your hotel can make getting around much easier.
2. Plan where you're eating/drinking
This one falls a little into the previous point but often gets overlooked - it's all well and good to know what you want to go and see but you'll be needing somewhere to eat when you get there. With potentially a huge range of amazing (and not so amazing) food on display knowing where is worth the trip and where to avoid is important. Once again, you can use all of the same resources outlined above to check out reviews and find the perfect spot to dine out. Definitely take the time to see if you can book in advance, and check the opening hours! Out-of-season in a holiday town you may find more things closed than open.
Another thing that can be useful is to know how full everywhere will be, if you are travelling in season this can be really problematic if you haven't booked in-advance. Google Maps does offer an estimation of how busy places will be at certain times, but for peak seasons you may just have to assume the worst. We discovered this the hard way, when we travelled to York for Christmas we had no issues getting a table on the Friday night, but the Saturday night was a complete write-off, we couldn't even get into a pub for a drink - luckily the Christmas Market saved us with some absolutely delicious German sausage!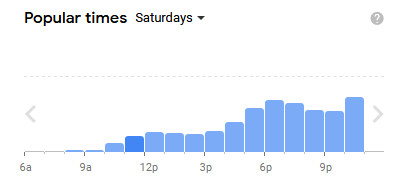 In one of my previous articles I discussed apps that can make travel easier, but if you have allergies like me you should learn some of the basics of the local language to be able to check foods. While in most places knowing English will get you by, it can be much simpler for everyone involved if you know how to ask it in their language.

3. Make a checklist and know your itinerary
At this point I'm sure you are well prepared and know everything...right? You're a week (or less) away from leaving! Get everything sorted: especially the essentials including (where required) tickets, passports, boarding passes and money. Get it gathered together somewhere safe now - this is really something you must not leave until 1am the day of departure.
For me, a checklist is essential - you can build a custom one here that you can print out. Get yourself a list that covers everything you need, print it out and stick it somewhere you cannot ignore it. This checklist will serve as a reminder of the things you have yet to purchase and the things you need to gather together, but it will also give you an opportunity to realise things you have forgotten on the list itself. The more time you give your brain to assess what you are taking the easier it is to catch the silly mistakes!
Your itinerary is more important and you need to tackle that now rather than later. Obviously it depends on where you are going and how you are travelling, but there are a number of things you should really be 100% certain of before travel:
Travelling by car? Double check your route and know the kind of roads you will be driving on. Are there any tolls? Restricted access roads? Further to this, is your car ready for the long journey? It's a bit late for a full service but at the very least check your tire tread and pressures, and make sure your vital fluids are both the colour you would expect and not dripping onto your driveway. Give belts a quick check where applicable - make sure they look healthy but also run your finger over the inner teeth to make sure you can't feel any missing. Nothing will end a road-trip faster and more spectacularly than a near-death timing belt.

Travelling by plane? Well you have a handful of rules to check, and if you don't you can be in for some nasty, often expensive, surprises. Did you definitely order space for all of the luggage you intend to take? Most airlines will allow you to amend your booking up until departure, or at least until you check-in. Failure to do so will incur a much more substantial charge once at the gate, especially for things like over-sized carry-on which may be charged as full-sized check luggage. Speaking of check-in, can you check-in early? A lot of airlines offer early check-in, some even weeks in advance. If available, get it done now and it's one less thing to worry about on the day. How about your luggage? Double check your dimensions and weight restrictions - you may not have packed yet but I wouldn't leave it much later... Finally, have you sorted how you are getting to and from the airport? It might be easy enough to grab taxis on the day but pre-booking can give you peace of mind and often be cheaper, or at least let you know what you are going to be paying!
Going Camping? If you have the space, break out all of the gear now! Test it all - arriving at your campsite to find a leak in the tent or a rip in the sleeping bag will make for a miserable trip.
This is just a handful of the things you should be know before getting too comfortable. Get it done now, so you can sleep easier as the day approaches. One tip I can give you to further help your preparations go smoother is to...
4. Live out of your suitcase
Don't wait - pack now! Well...not necessarily pack but get all of the clothes, toiletries and essentials piled in a corner of your house at least 2 days prior to departure (Ideally a week). Until you leave, you will live from the pile. Clothes should be picked from the pile (and replaced from your wardrobe/washed ready to be taken with you), all toiletries come from the pile and anything like chargers or even your evening entertainment such as books or DVDs should be in the pile.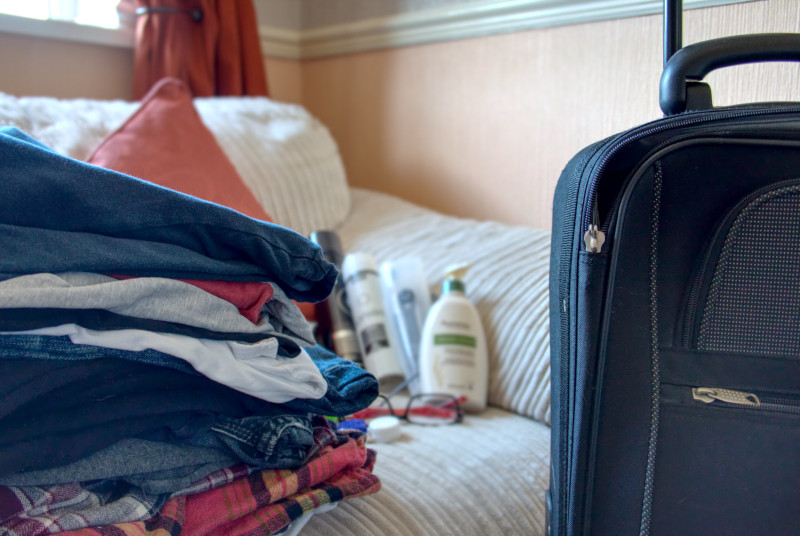 This may seem like a strange thing to do but this is great for catching the essentials you missed - one that often trips me up is I will gather all of my chargers and cables together, but completely forget my smart watch charger. Another thing this can help with is assessing how much you have packed, if you prepare the pile and live out of it for the duration you will be away you can make a judgment on how much you have. Did you run out of clothes? Did you barely put a dent in what you are packing? Adjust accordingly.
5. Throw yourself into your work
Lets face it: in your final week, work is the inescapable barrier that is keeping you from good times. If it wasn't there you would have already jetted off to adventure, and you are probably just a little bit bitter about it. Plus, when you consider it will take up the majority of your time prior to breaking-up then something has to happen to make it pass a little quicker. One of the best things you can do is make peace with your situation and know that the best way to kill time is to try to throw yourself into your work.
If you're lucky like me your job will allow you a certain degree of autonomy and the run up to a holiday is a perfect time to dig in to some of those fun side projects! This is when you can jump into those tasks that are lower priority, or things that are on the 'want-to-do' list, but haven't been able to due to other priorities. You're in a situation where you cannot really invest time into your main projects because of your holiday, so no one can argue (or at least, they shouldn't).
If you aren't in a position where you can directly control what you are doing you should still throw yourself into your work as much as you can - dedicate yourself to what you have to do and it will genuinely help avoid the clock-watching tedium. It is all too easy to fall into the trap of trying to day-dream your day away when you know your holiday is coming but this is the perfect way to make it drag as much as possible. Plus, if you find yourself with some downtime maybe you can try to tick some of the other options off this list - if you have downtime maybe you can throw together a draft of your checklist or double check your bookings on your phone, as long as your boss permits it.
...and relax
No really, I mean it...RELAX! Holiday is a time to enjoy, and while travel is stressful on everyone just remember: As long as you have money on you, anything else can be resolved. That sentiment may need to be extended to other things like passports or important medication but it is really something to bear in mind, the minor things you may forget can easily be purchased in most corners of the world, and if not you can probably live without them for a little while. Settle into your final week before departure, keep yourself busy and before you know it you will be jetting off to your adventure.