I wish I could say I had a grand plan for the cycle the month challenge, that I had spent the year slowly winding up my fitness and prepping sponsors. What actually happened: I saw an advert for it on April 28th, signed up and 2 days later I started riding. It may not be the perfect strategy but it is just the way I work. Visitors here know I am an avid cycler, I mostly go on a morning's adventure every Saturday up the canal towpaths and country lanes and often racking up 20-30 miles and beyond but it hardly meets the 300-mile goal I set myself for this challenge. On the plus side, I had recently had a long weekend break spanning 5 days, and in those 5 days I managed to ride a total of 104.22 miles - so if I can ride 100 miles over 5 days, surely I can ride 300 in 31?
Well, we have immediately identified the first issue: I most likely won't have 31 days. My birthday falls in May and I have almost always taken a week to wander around Wales as a bit of a treat to myself. This year is no exception, and as I don't have a bike rack, plus I will be hiking anyway so will likely not have anything left in the tank for a long bike ride on top, this means I am most likely going to be taking away roughly 9 days from my total ride time. 300 miles in 22 days is suddenly sounding a bit tighter, but I still believe it is something I can do. I do wish I had rested a little more prior to taking on this challenge - instead of taking it easy and saving my battery I actually road about 20 miles in the days running up to May 1st, I wish I could add these onto the tally but it, unfortunately, does not work that way and I must begin on May 1st with a blank slate.

To get started, I knew I needed to plan my rides a little better than I normally would and try to opt for smooth and easier going rides - long distances but smoother so as to not waste too much effort climbing hills and, perhaps most importantly, nothing that could result in injuries such as bombing hills or aggressive trails. My favourite peaceful rides will always be the towpaths along the canals and as these are nice and smooth they will form the perfect spine to my rides; I've built quite the network of cycle paths, country lanes and bridleways so I should never have to spend any time on main roads which suites me perfectly - I didn't buy a mountain bike and put mud tyres on it to ride on the road. Of course, this means that the miles I cover will be more difficult than if I had jumped on a road bike and stuck to the smooth stuff, but it's a trade-off I am willing to make. There is nothing quite like returning back from a great day out, head to toe in mud with a big smile on your face.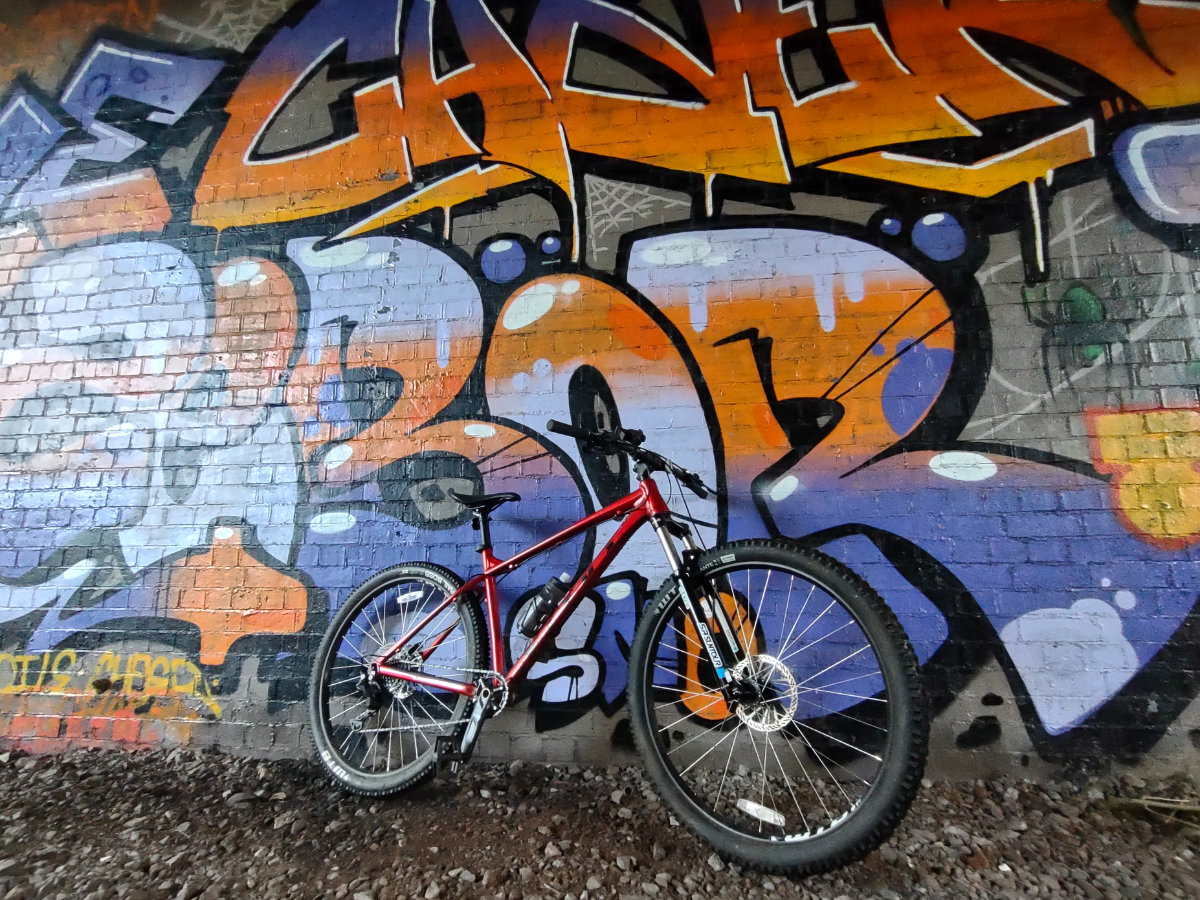 For the first day I decided to pick a ride I knew to be easygoing and a good option for covering some ground - The South Staffordshire railway walk. This long smooth route would see me snaking my way across the city to the beautiful Himley Hall and while this is a great option for covering ground easily its only problem is it can be muddy when wet. So naturally, this being May and only 1 month from summer, the heavens opened and it did not stop raining all day. Rain has never been much of a deterrent to me, with the right gear rain shouldn't be an issue - just saddle up in your best waterproofs and base layers and forget about it. That being said, waterproof over-trousers are not well suited to cycling, especially on bikes without any form of chain guard which is pretty much the norm now, and I rounded out this ride with the lower part of my right trouser leg looking like it had been mauled by a tiger. This is, unfortunately, not the first pair I have had destroyed by a bike, but luckily I can just tuck them into my waterproof socks and keep on rolling.
There were times on this ride where the scale of the challenge really hit me - I think I'm a little impatient when trying to get something done, I remember laughing to myself after looking at my watching and seeing I was 2 miles down: "Only 298 miles to go!" I thought sarcastically. The trail has little to report on, it was thankfully quiet because of the weather and as smooth as ever. I just got my head down and ticked up the miles. I knew towards Wombourne I would be where I would need to deal with the mud but it felt good to be out on a long ride and the 300-mile target looming overhead kept me motivated through the deep and dirty. I ended up skipping my usual Himley Hall lap, on a normal ride I would take a quick ride around the great pool and back but I had miles to cover and this was typically quite a leisurely pace, but today I was more focused on the journey, and the many journeys that would follow, than the destination. After having doubled back along the old railway line and getting soaked through to my core I had chalked up a solid 20.56 miles - a great start but I was not done for the day.
It is more than safe to say that by the afternoon the weather had become considerably worse. I recorded a quick story to Instagram of the rain absolutely pouring off of me as I made my way onwards - I know I mentioned the rain doesn't bother me previously, I actually quite like the rain, it is often nice to have an easy way to stay cool, but this day was stretching my love of the wet stuff a little. The waterproofs I had on were pushed beyond their limits, the zip lines giving in and allowing a little water through and I ended the day a miserable soggy mess. My second ride didn't really take to any real adventurous routes, I simply explored areas I already knew as being easy to rack up a few miles and was able to rack up an extra 13.68 miles for it. My earlier negativity about the distance I needed to cover melted away when I realised I had already chalked up 34.24 miles, more than 10% of my goal in a single day! I was cautiously optimistic if a little tired.
I moved into Monday with a more relaxed mindset, typically I didn't ride outside of Saturdays unless it was a bank holiday weekend which this happened to be, so I left without too much of a plan and once again followed the familiar paths to rack up some miles. This was a useful test considering I would be returning to my usual work schedule the next day and needed to have a list of viable routes on hand I could squeeze onto my pre-work and lunch break rides. The weather was better and while my thighs were a little cramped I was feeling good (the cramped thighs are something I would have to get used to, cycling every day since they have yet to relax!). I managed to put up another 21.17 miles but thanks to, shall we say, a slightly too hearty meal for lunch, I was a bit too dense to ride far and opted to take a much more relaxed 6.1-mile ride for the afternoon. I certainly wasn't disappointed, as that extra 27.27 miles means I had smashed the first 50 in 2 days.
Snaking between the Shropshire Union Canal and the Staffordshire & Worcestershire Canal, the Stafford road's cycle route and all the byways in between would be my bread and butter for the next 4 days. I would rise early to squeeze in an hour before work and get the best part of an hour on my lunch break too with an option to cycle after should I need it - although, for various reasons, I didn't use this option for this first week. Between bad weather and risk of injury, I felt the two rides a day were plenty but above all else, I knew I needed to average 13.6 miles a day to hit my 300 in 22 days and not only did I do that every day but I had seriously smashed it on the weekend just gone. I generally felt like I had plenty of miles in the pocket thanks to the weekend, so no need to overexert myself during the workweek. I suffered through cramps and even more torrential rain, but my main issue was knee pain I developed on the 3rd. The pain was on the inside edge of my right knee and only happened when I cycled in the sitting position, so naturally, I came to the conclusion my seat position was wrong - following a few guides I surmised it was slightly too low and raised it a to compensate but the pain was unlikely to go away without rest and that rest would have to wait. Between painkillers, heat packs and making sure I prioritise riding standing over sitting I have made it through the week, but the pain is still there and I will continue to monitor it going forward. If nothing else, I just need to make it to my holiday and then the knee will get a long break from riding. Through my 4 day work week, I added a respectable 63.53 miles, pushing through the 100-mile mark and feeling really good, all while getting my work done.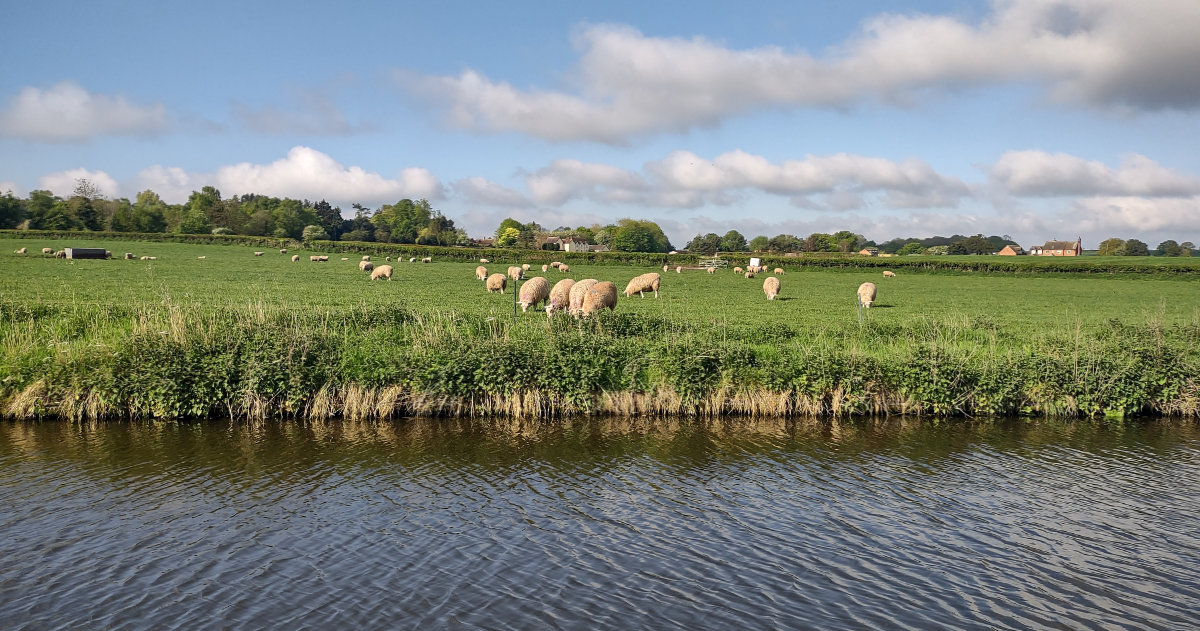 The weekend rolled back around and my knee was generally feeling okay so I planned to take a long ride along the Shropshire Union Canal to rack up some miles. The weather forecast looked good, but I rose early and at 7 am the sun was nowhere to be seen. I spent the first half wrapped up, but slowly lost layers as the sun fought through the clouds and began to cook me as I worked my way along the towpath ever northwards. The ride was quiet and uneventful, with my knee feeling perfect for the first half before the pain returned on the return journey; my route saw me all the way to the lovely village of Church Eaton, bathed in the morning sun and full of the wonderful smells of the countryside I circled the practically abandoned country lanes before returning to the towpaths home. This was certainly the happiest ride of the week, and those good vibes kept me riding until I had chalked up a nice 30.1 miles resulting in yet another milestone, possibly the best one at 150 miles (the halfway mark!) being passed. I could have taken an extra ride in the afternoon, the weather was beautiful and I was seriously itching to get out and go, but I decided to give my knee the rest it so badly needed.

Sunday I woke up far too early, barely 5 hours of sleep, and knew I needed a little more battery if I was going to cycle, so I opted for a mid-morning nap to fill in the gap. To be honest, it was one of those naps that absolutely wrecks you - 2 hours after first dosing off I awoke unaware of which planet I was on and it took me a while to bounce back to reality. This was a blessing in disguise as at least this had given my knee a chance to rest, as well as to allow the sun to come out from its grey canvas around 3 pm where I squeezed in a quick ride... It was a shorter ride, appropriate for a relaxing Sunday and the sun made it joyous again - for a moment the sun made me forget about ticking down the miles and instead I could focus on just enjoying the ride, a 13.8 mile perfect end to the week.

You can view all of the stats on the dedicated fundraiser page here, but it is safe to say the first week has been an absolute success and one I am very proud of. By pushing so hard I can ease off the throttle a little for the remaining days, I needed to average 13.6 miles, but by averaging 21.2 miles it means those last weeks I will only need to average 9.4 miles for my remaining days - I'm sure my knee will be happy about that. The biggest mile marker I needed to hit for my own sanity was the halfway point, so to have been able to smash it in 7 days has really reassured me that, yes, we will absolutely make it to 300 and hopefully a little way beyond that too. If you are reading this at the time and can support my ride then I'd be eternally grateful - you can read a little about the fundraiser at the link above or go straight to the Prostate Cancer UK website to donate via JustGiving.