It is not often you get two absolutely gorgeous walking spots that can be merged together to form into one perfect walking route, but these little beauty spots on the outskirts of Wolverhampton do just that. When combined, they make a perfect circuit that can be walked easily in either direction and have many options for exploration off of the main paths. This makes the area ideal for families and dog-walkers alike, especially for the locals who can really enjoy some nature and exercise without having to travel great distances from the city centre. Plus, you can extend your visit here as there are cafés to grab something to eat, plenty of green spaces to relax or play a game and even some walks that splinter off from the main route. If you have a day that you just want to get some fresh air and enjoy the greenery, this is one of the best options in the area!

Today's route will begin at the Baggeridge end of this walk, we will make our way through the woodlands and out to Himley hall; If the weather allows for it, I generally walk a lap of the Great Pool at Himley Hall and then make my way back through Baggeridge and to the car, usually with an exhausted dog! It should be noted that while I will be giving you general directions you should by no means feel obligated to follow them: every path here is interconnected and as long as you're generally walking in the right direction you will end up at Himley Hall. In fact, I would go as far to say that this is a perfect area to explore all of the trails that snake off, the worst thing that will happen is you will have to retrace your footsteps a little bit. Both the Baggeridge and Himley Hall car parks are pay-and-display and both have small cafes and toilets available should you need them.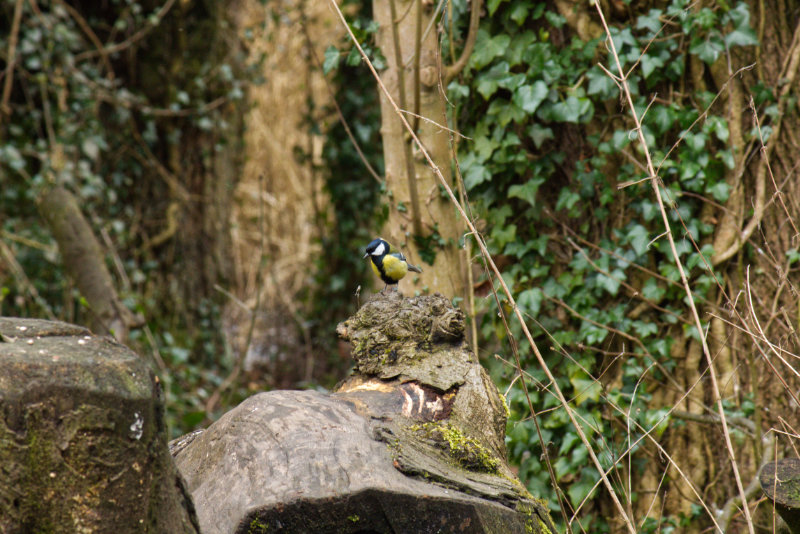 Get parked at the Baggeridge end (the entrance to which is here) and take a moment to get your bearings so we can make sure you're heading in the correct direction, with so much beauty around you it can be tempting to just head off in any direction, especially for first-time visitors! The car park is split into two distinct levels, with the children's park and facilities forming part of the division between upper and lower sections. If you aren't already there, make your way down to the lower section - our journey begins near to the toilet facilities and play area, with the "Challenge Academy" assault course and a small camping area directly in front of you - head out into the open field in front of you and follow the paths as they lead you into the woodlands.
As mentioned previously, all of these paths weave together and you can get to Himley quite easily by generally heading in your current direction (roughly south-southwest). Soon you will be shrouded in woodland, but with clear and well-maintained paths to follow it should be clear which way to go; eventually, you will start to find the pools that line the Baggeridge walk. The simplest route to Himley Hall is easily spotted, it is the widest gravel path with other options generally being narrow mud-tracks that spider-web out in different directions off of the main route.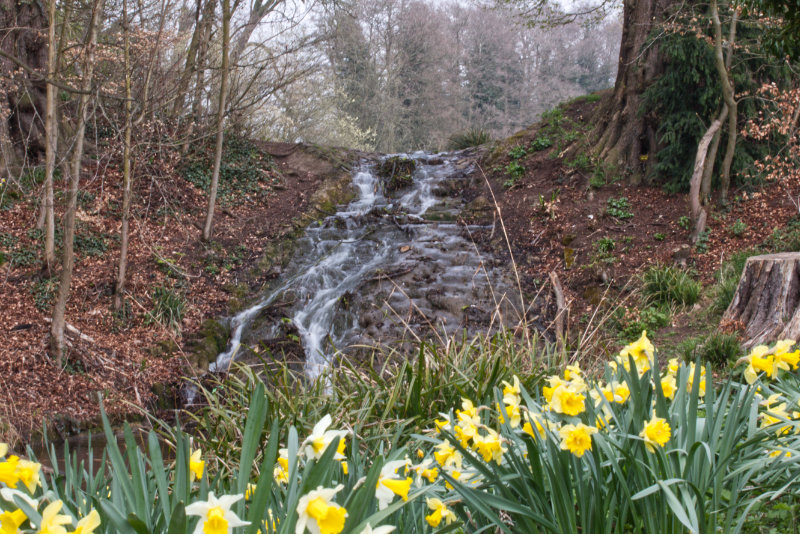 The pools are a linked chain of different shapes and sizes, allowed to grow naturally and teeming with wildlife - the final pool offers pegs for fishing but otherwise, this is a very untamed area that can make for some beautiful all-natural photos. Keep the sequence of pools on your right and keep heading onwards, while taking the time to enjoy the sights and sounds of nature, until the final major pool where the golf course appears on your left. For being mostly surrounded by urban sprawl and housing, you should encounter a fair share of wildlife from birds singing to squirrels scavenging for food! Keep your eyes peeled on this section of the walk so you don't miss anything; on one of my visits I have even heard a woodpecker hard at work in the distance but was unfortunately unable to snap a photo, maybe you will be luckier...

The final pool will see the path curve around along its top edge to the right and pass through a gate, you are now on approach to Himley Hall. You should be on a wide paved path with a stream down to your right - keep following it forwards until it opens up to another car park with Himley Hall in-front of you, and a café with toilets over to the left. Keep walking and pass down the left edge of the hall's grounds, which should give way to an open green space with the Great Pool, whether you want to walk a lap of it is entirely up to you but I absolutely recommend it! There is a small wooded section, on the left from your perspective, that is often filled with nesting birds but at the very least can offer a nice place to relax in the shade on hot days (or to escape the rain!).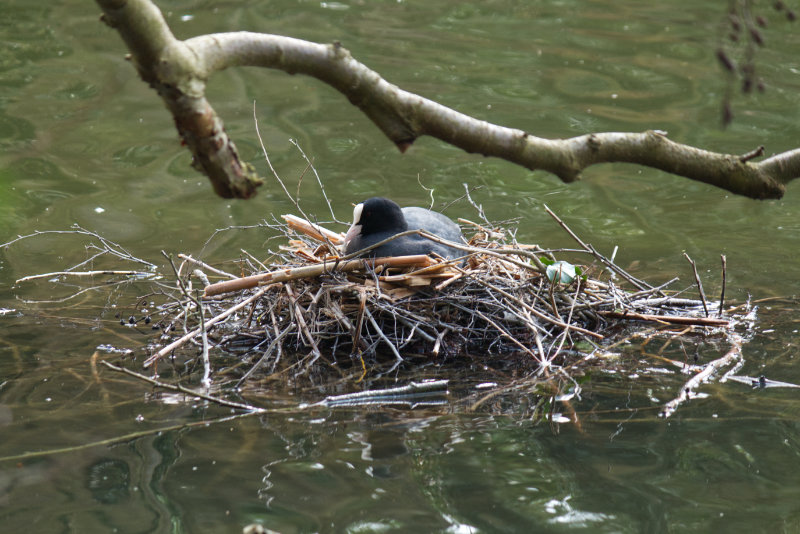 As you make your way back you have the option of either retracing your footsteps or trying to explore some of the other routes - if I had to recommend I would suggest making your way to find the toposcope at Baggeridge. There are a number of different routes that will get you here, the easiest being to make your way back into Baggeridge and once you're beyond the golf course, veer right as much as possible while still maintaining your general course towards the car park. You may pass over something that resembles a bridleway, from here most of the routes should start to move up-hill and you will know you're going in the right direction. The hill that has the toposcope on is the most prominent in the area and easily spotted, make your final ascent and the beautiful viewpoint, marked here, will be your reward. You shouldn't have any navigation problems from here on out, as the car park should be just visible through the trees from the toposcope, but if you veer slightly right there is one more small pool you can walk around and enjoy before returning to your car and calling it a day.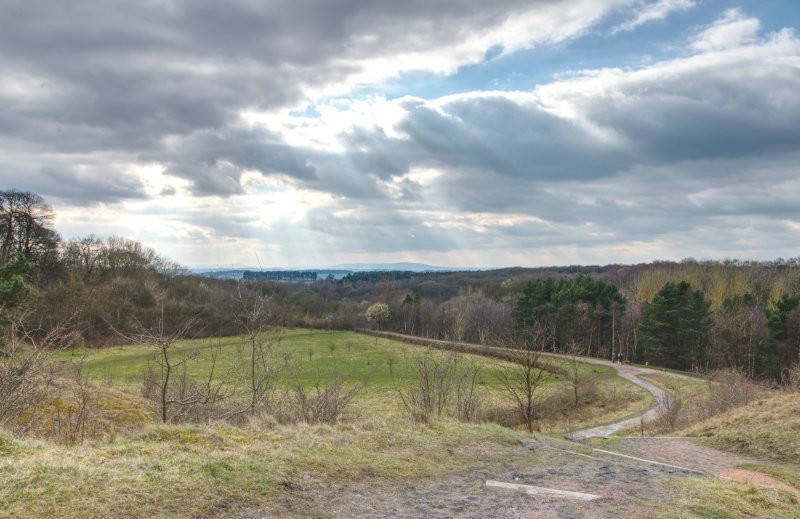 With that, you have completed a lap of Himley Hall and Baggeridge, a perfect family and dog-walkers spot with an abundance of fresh air and several options for exercise all without having to travel far beyond the city limits. If you, your family or your four-legged friends find themselves in the area and restless then this is a perfect place to get away from the concrete jungle and have some time in nature. Of course, this beautiful place can be enjoyed by more than just dog-walkers, with plenty of space for mountain bikers, fishing pegs available via the council and green-space for sports everyone can find something fun to do. Take a day and explore Baggeridge and Himley Hall, it is sure to become a go-to walk you can revisit year-round.