There's nothing we love more than a beautiful waterfall, and nestled just a stone's throw from Betws-y-Coed in the town of Trefriw is a great little quick stop where you can amble along a stream and see a calm cascade at the end. Fairy Falls is a wonderful spot, so secluded yet right in the heart of an idyllic little town, somewhere ideal if you find yourself passing through and wanting to quickly stop off at a set of falls. This walk is an easy amble up a hillside that should be manageable by most and can be completed in under 20 minutes all in. What it lacks in grand scale it absolutely makes up for with raw beauty, so let us dig into this spectacular little adventure...
Fairy Falls sits at the heart of Trefriw, a town just a short drive north of Betws-y-Coed either via the A470 through Llanrwst or the B5106 directly to Trefriw. Both of these routes are generally fine with only a few slightly narrow sections on the B5106 (pretty much just the bridge in Betws-y-Coed) and the A470 being fine at least until trying to join the B5106 by crossing the bridge at Llanrwst that, while undeniably beautiful, can be a real challenge at busy times (especially on the return journey where you have to give way based on the train crossing style signals). If you are heading from the north the options are pretty much identical, either jump on the B5106 or the A470, both of which you can follow all the way from Llandudno. For Trefriw's size there is actually plenty of parking at the main car park right in the heart of town, well signposted right by the bridge in town and surrounded by areas for children and dogs alike to play. There are plenty of transportation links in the area and Trefriw has a handful of bus stops in the area making it easy to get to the start of today's walk with routes from Llandudno to Betws-y-Coed currently operating reasonably regularly.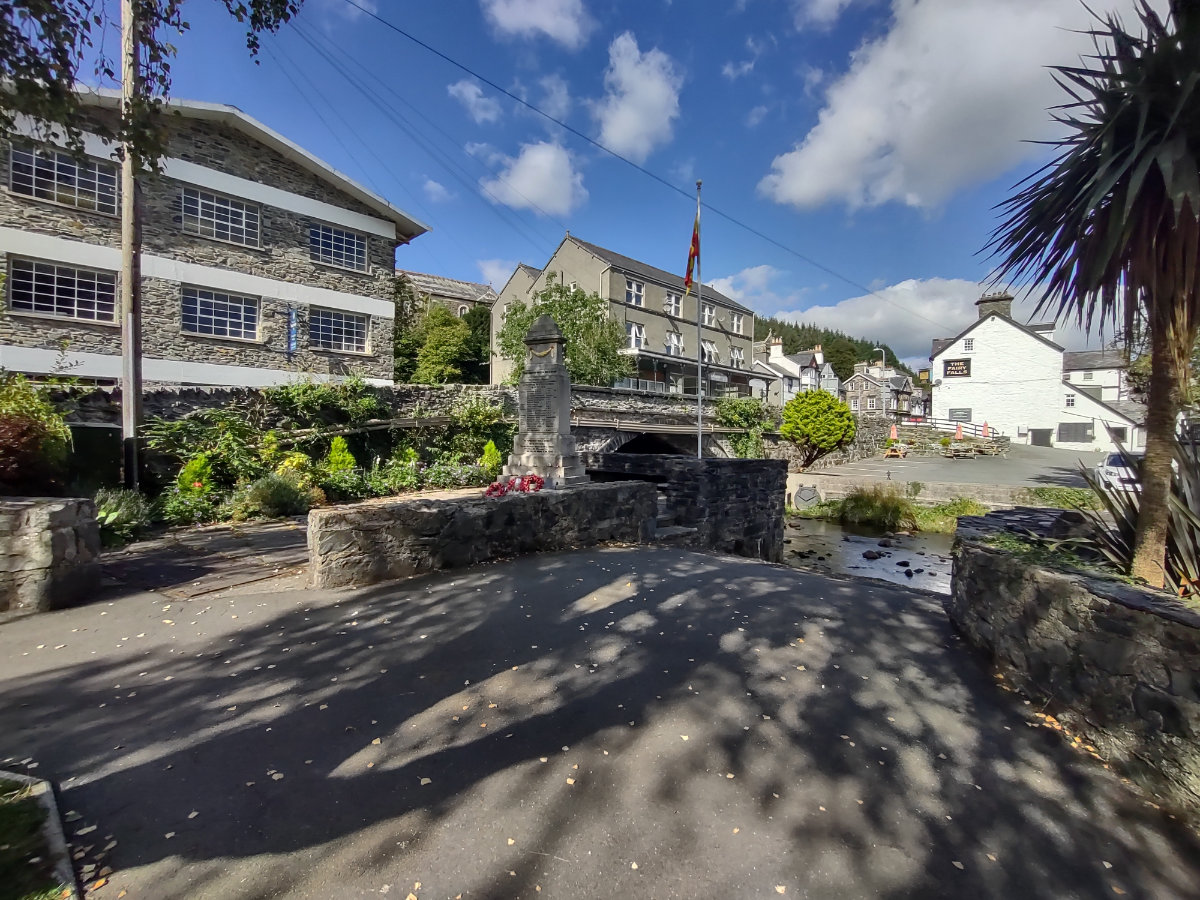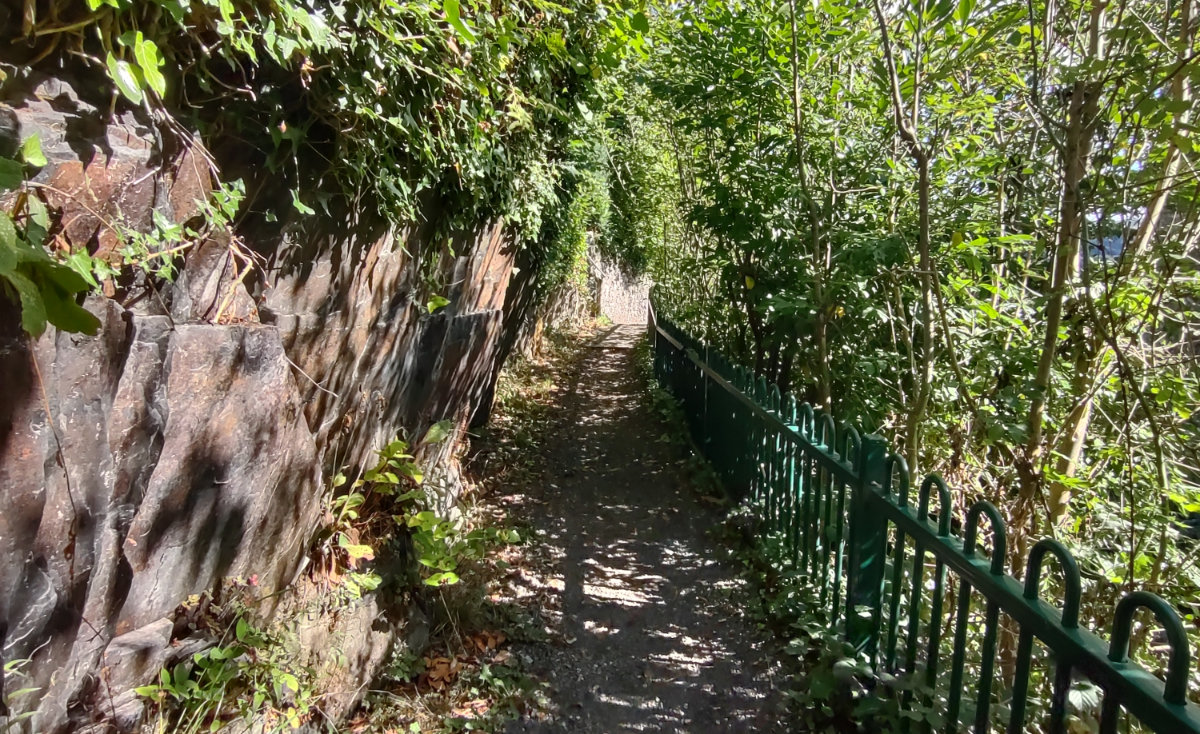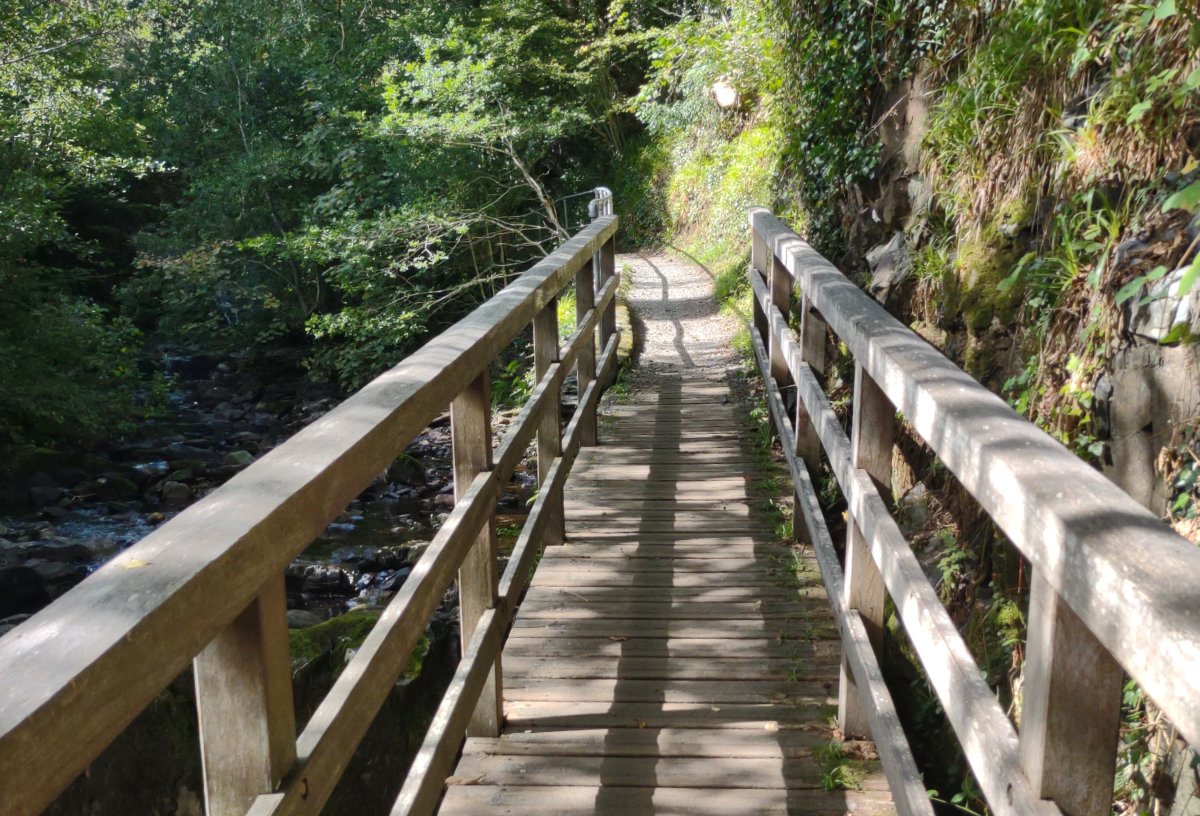 Today's walk is a short one, but as it gently follows the stream up the hillside it's a tranquil walk that can hopefully be tackled by most. Make your way back out of the car park, past Trefriw Woolen Mill and over the bridge - the biggest challenge going into the walk is the steep gradient at Chapel Hill on your left. Luckily, you only really need to climb half of it, as the walk begins on your left partway up. Once onto the walk itself, you will be wandering a narrow path along the hillside above the stream, there isn't too much to this walk other than to explore the viewpoints and listen to the chorus of cascades below while occasionally grabbing glimpses of them too. The first substantial viewpoint is at a wooden uphill bridge that connects two sections of the path together - from here you can enjoy a small section of roaring cascades before continuing on to the main viewpoint.
It won't be long before you reach the end of this little walk, the path itself turns sharply back on itself and heads uphill but you will want to head down to the bench in front and enjoy the view of the falls. The falls themselves are fed by two natural lakes up in the mountains, Llyn Crafnant and Llyn Geirionydd respectively, that converge a little way outside of Trefriw before cascading their way down; there are a few options for walks that can take you all the way to these lakes, but for the moment let us take a moment to enjoy the cascades. Just like with every fall in the United Kingdom our varied weather can really change what the falls look like - this is one of the things I truly love about our climate because every visit to a single waterfall can be vastly different and Fairy Falls is no exception. For our visit, the falls were little more than a trickle over the rocks but it made for a unique experience and one that can only be enjoyed during exceptionally warm and dry seasons - plus this gave us an excuse to plan a return trip sometime in the future to see the falls at full capacity. As an added bonus, it was possible to get down the slippery rocks in front of the bench and get really close to the falls, something you would probably want to avoid during the more rainy seasons!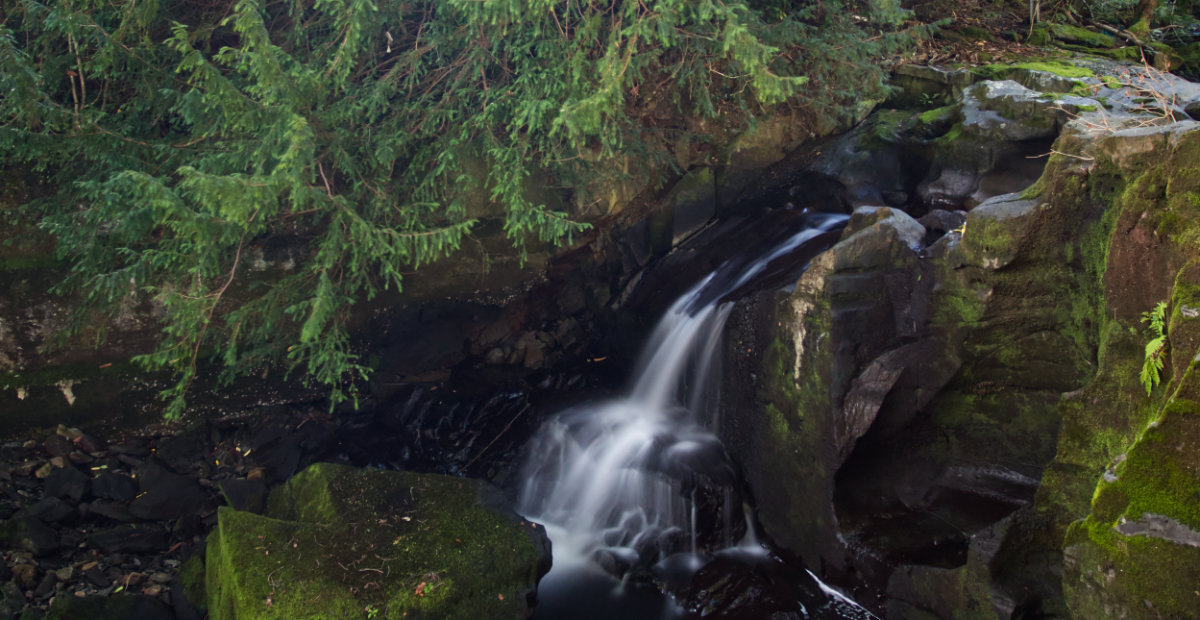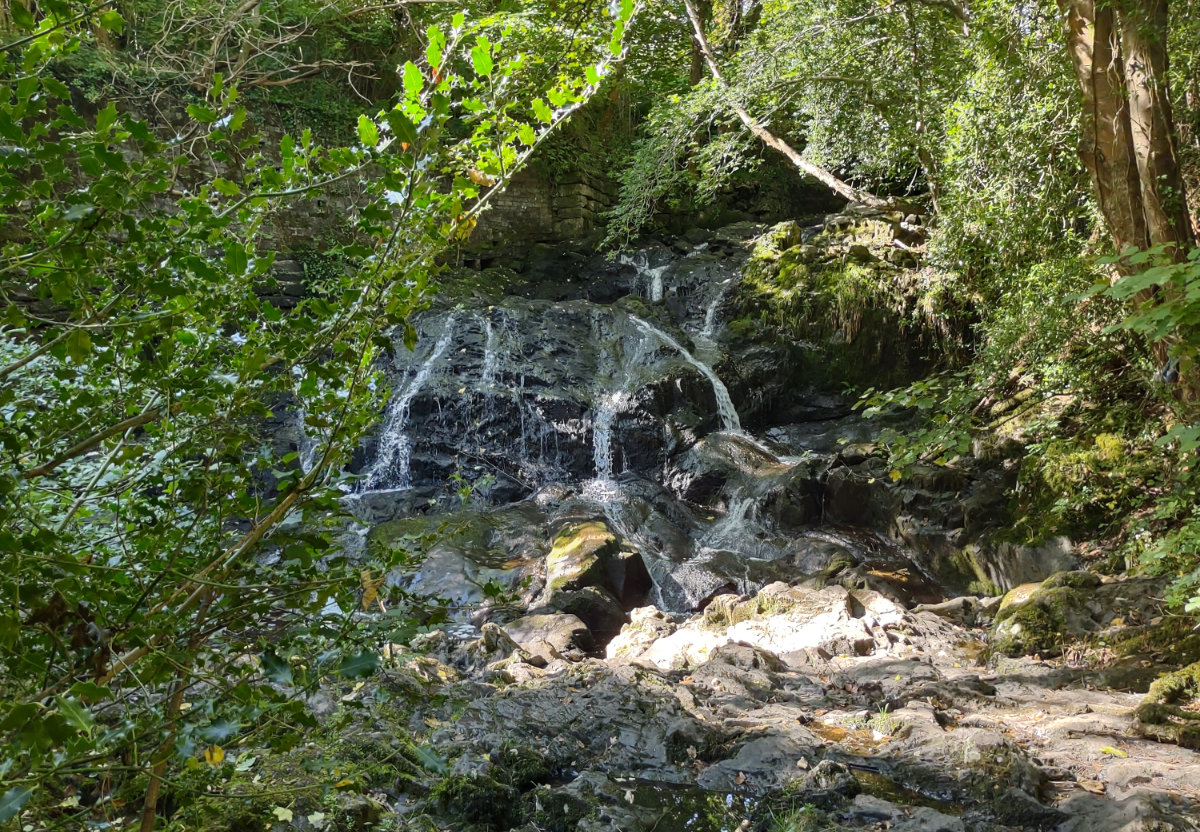 This is a great option as a quick stop, but should you want to do more hiking and adventuring in the area then there are plenty of things to see and do. The town itself has helpful information boards that detail all of the potential adventures in the area including walks all the way to the aforementioned lakes and beyond. You have options all around the area including mountain walks, mines, historic churches and buildings and more. The trails board includes distances and a brief overview of what to expect on each walk so this whole area is a goldmine for exploration, routes here range from 1-mile 'all abilities trail' all the way up to a 15-mile trail pass Llyn Cowlyd to Capel Curig. But of course, should you only want a quick stop then you absolutely can just take in the falls then head onwards.
Not only are there ample walks in the direct area of Fairy Falls at Trefriw, but if you are looking just beyond the town there are still ample opportunities to explore. There are two great water features just a stones-throw from town, both Fairy Glen and Swallow Falls respectively offer great views in spectacular scenary - a must-see while you pass through Betws-y-Coed. Speaking of Betws-y-Coed, the town is a wonderful little mountain town well worth stopping off at maybe to grab a little snack or grab some hiking essentials (the town is teeming with hiking oriented stores!). Another little journey beyond the town, but a great option if you are already heading out that way, is another quick stop and a personal favourite of mine - by combining Carneddau and Glyderau, Llyn Idwal and Llyn Ogwen you can have another great adventure which you can scale to suit your needs! There is a little bit of something for everyone in these parts, but if you just stop off at Fairy Falls I'm sure you will have a wonderful time.