This stop is another one of those wonderfully quick stops that are no less magical for its short length: Swallow Falls is super accessible and you can see the whole lot of it in under 5 minutes, but that should not be seen as a reason to skip this one out - it may be small but it is certainly memorable! Swallow Falls is a beauty spot along the Afon Llugwy, just outside the town of Betws-y-Coed, a stunning little town flanked by mountains well worth a visit in its own regard; when you plan your next journey to the area, you may as well pencil in 5 minutes to go see Swallow Falls. While there are plenty of walks in the area that flank the river if you just want to grab a moment with a gorgeous set of falls then this is a stellar option.

Swallow Falls is on one of the main routes through the Northern side of Snowdonia, the A5. Either head South-East from Capel Curig and watch for the Swallow Falls Hotel on the opposite side of the road to the lay-by, or when heading North-West you will be driving up an asymmetrical 3 lane road that scales back down to a 2 lane road just before the lay-by will appear on the opposite side - take care crossing the oncoming lane to park here. The lay-by is right outside the entrance to the falls so you need only pull over and jump out to get your visit underway. The A5 is a fairly fast road, but visibility is good enough that if you need to turn into the lay-by from the opposite lane it shouldn't be too much of a problem.
It should be noted that Swallow Falls has an entry fee, this goes to maintaining the falls but might be a shock to anyone used to adventuring around falls like these for free. So what should you expect once you arrive at Swallow Falls? Well, the paths are all well-maintained concrete with handrails down a handful of stairs. There are plenty of viewpoints littered down the stairs, but wheelchair users will be restricted to the upper viewpoint only (which is still a beautiful sight in its own regard). This isn't a spot for walkers mind, as you can probably see the whole area in under 5 minutes, but that doesn't mean you should pass this one up because it is a quick stop that will drop you right at the main attraction.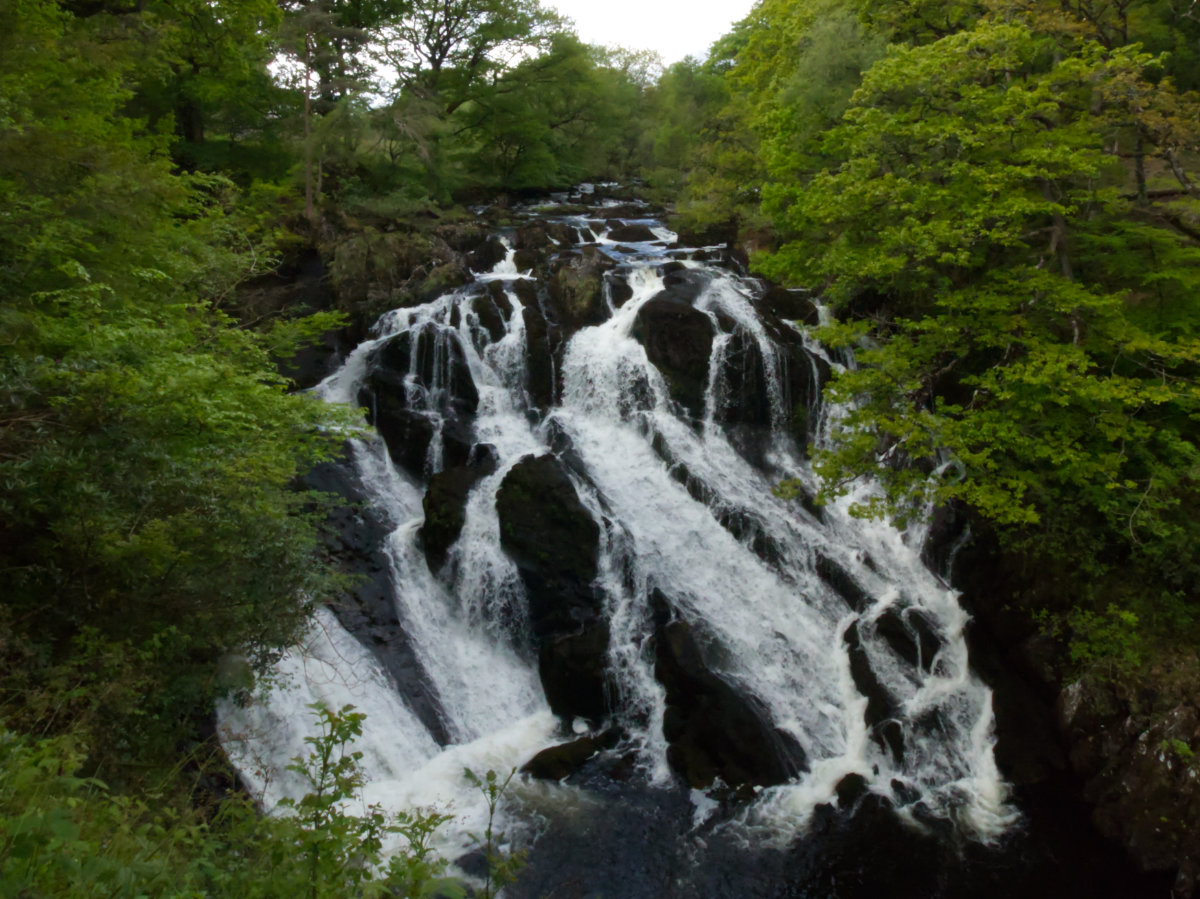 The falls themselves are a tall set of cascades that vary massively depending on rainfall so should be seen at different times of the year if possible; when the falls are at their wettest they are almost a single torrent of raging water, but in the dry season, they split into a handful of separate little falls each giving off their own little spray as they bounce down the rocks. In spite of being so close to the road, the area feels plenty secluded, dwarfed by trees and carved into a small valley you only need to descend a short way to feel away from the bustle with the only reminder of humanity being the well-maintained steps and handrails around you. The very bottom of the walk offers arguably the best views of the day, bringing you down to near eye-level with the main waterfall - it may be a quick stop but at least you get to see the falls from a variety of different rewarding viewpoints!
So that is Swallow Falls - a beautiful and quick stop on the A5. As a quick stop, it is a perfect midpoint on a grander journey and of course, there are so many options in the local area for both grander scale adventures and quicker stops alike. There is the aforementioned Betws-y-Coed, a beautiful little town full of mountain charm, eateries and independent shops to explore. You could always stop off at the magical fairy glen, just the other side of Betws-y-Coed or head further north for some of our other favourite quick stops in the form of Carneddau and Glyderau, Llyn Idwal and Llyn Ogwen. If you are looking to use this as a bit of a midway break between bigger stops, consider visiting places like Caernarfon Castle or Bodnant Gardens to the north, and then connect through to somewhere like Cwmorthin in the south for a full day of adventure! Whatever you end up doing with your day, I hope you enjoy your time at Swallow Falls, it really is one of those locations you should see at least once when in the area.