If you've ever felt the desire to get lost in a fairytale garden, somewhere you can delve into a picturesque landscape so fantastical that it is used as a filming location for the 2020s aptly named adaptation of The Secret Garden, then a days trip to Bodnant Garden is just the thing for you. This undeniably incredible example of landscaping done right not only features inch-perfect manicured lawns and flower beds bursting with the full spectrum of colours, but also interesting architectural features and a network of streams, creeks and brooks that combine together to form many varied but always gorgeous scenes. I often refer to places as having an air of magic about them and I think Bodnant Garden has scenery that is 100% deserving of the same title, with a solid balance between man-made features complimenting the natural beauty of their surroundings.

Bodnant Garden is an easy location to find, just a short drive south of Conwy and Llandudno along the A470, or north from Betws-y-Coed. Take the turning down Bodnant Road and you'll be a short run down some lanes away from your destination; the lanes on approach narrow a little, but when compared to some of the lovely country lanes you often encounter when touring Wales, these are an absolute breeze. As a National Trust maintained location, Bodnant Garden features a huge car park with generous overflow spaces at the far end - pick a spot and make your way back to the road. As you face the road from the car park entrance, to your right is a pathway that curves under the road will lead to the entrance of the gardens - even the path into Bodnant Garden has a bit of pizazz to it.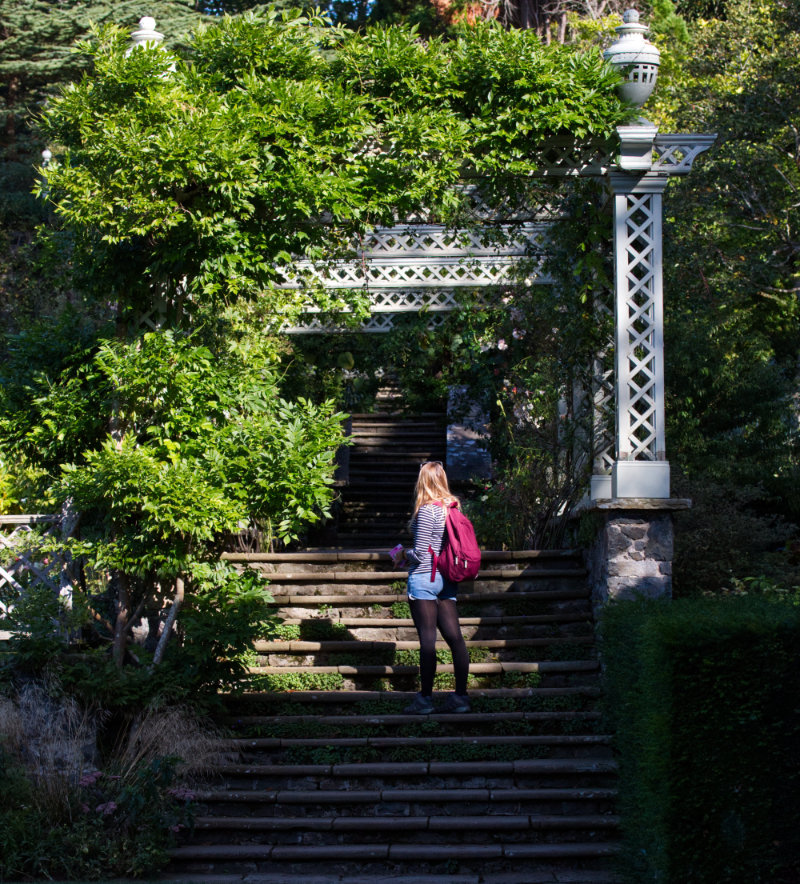 All the typical bonuses of a National Trust location are present at Bodnant Garden including high-quality cafés and all the facilities you may need, but the exit also features a small independent Garden Centre which is full of shops that are perfect for a bit of retail therapy as you are on your way home. For now, make your way inside - the friendly National Trust staff are more than happy to discuss the surroundings and any events that may be on, they also provided a map that proved to be incredibly useful when navigating the spiders-web of pathways around the gardens.

One thing I found quite unique about Bodnant Garden is the open layout that allows you to explore at your leisure; while I have included a walking route above to give you an idea of the route we took on our visit, there is no reason to feel like you have to trace it. Use the maps provided at the entrance by the National Trust, pick the things you want to see and take the time to explore this place. While a lot of locations may have a single 'main attraction', there is a plethora of things to see and do at Bodnant, meaning no matter the route you take and the landmarks you visit you are likely going to come away from here happy.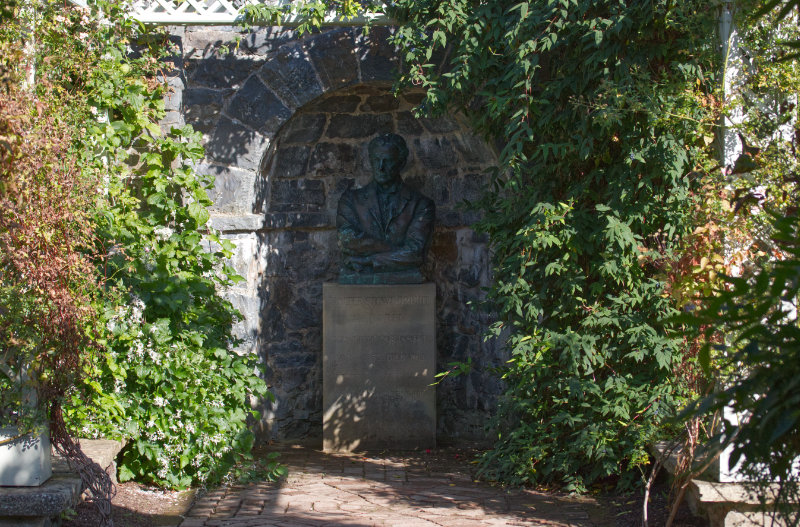 When you first enter Bodnant you will be immediately greeted by some of the most pristine sections of the gardens; while I do not deny all of Bodnant Garden is well-kept and expertly maintained, the entrance area, especially surrounding Bodnant house, is bursting with immaculate flower-beds and inch-perfect lawns. As you progress into the gardens you will find a more wild feel, especially as you explore along Afon Hiraethlyn and into the far reaches of the grounds - but we will get to that shortly. For now, navigate the paths and lawns and take some time to snake around the baths, ponds and reflecting pools. The highlight for me here is the reflecting pool at Pin Mill and the adjacent terraces, these were definitely some of the areas I spent the most time exploring and even got a nice surprise in the form of a huge dragonfly taking a break on bushes nearby. I always try to keep an eye out for local wildlife, too often excessively artificial grounds can lead to a deafening silence as birds are driven away from all the activity but there is no such issue here, the air is filled with the songs of birds and almost everywhere you look life is flourishing.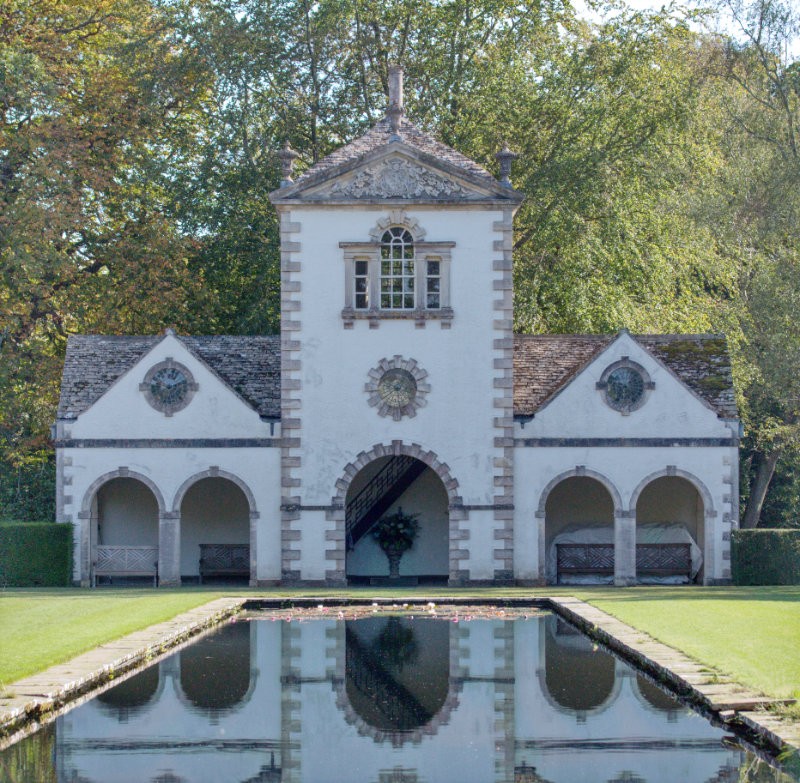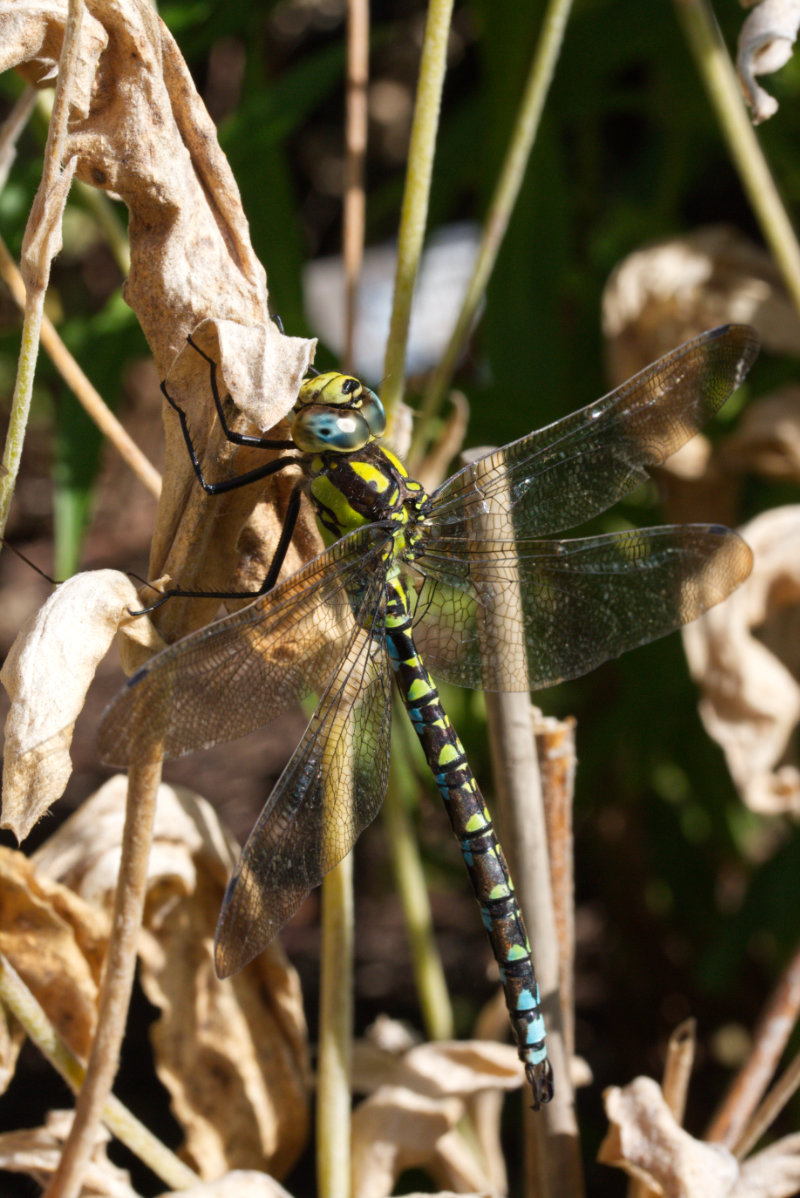 Heading onwards through the gardens you will find the paths begin to descend as they track the rivers and streams down-hill, and the area begins to feel more wooded and wild - of course, your experience may vary depending on which route you choose, but our goal from here on out was to see the Waterfall Bridge so we naturally made our way there. All of the paths immediately adjacent to the river offer a host of sights and sounds, as streams bound their ways down hillsides, between the gargantuan trees and shrubbery, sometimes even cutting beneath your path under natural stone bridges. While I may have loved the reflecting pool mentioned previously and was excited to get to the Waterfall Bridge, the route taken along the riverside was my personal highlight as somewhere to take a relaxing stroll through perfect scenery.
Before long you will be within view of the Waterfall Bridge; the bridge acts a dam along the Afon Hiraethlyn, with the upper sections deep and still waters gently trickling over the top to form the titular waterfalls (in winter this would probably form more than just a trickle). There is a small seating area at the top, which you may struggle to get to through the crowds that congregate here, but is honestly not where you want to be - find a bench down by the riverside where you can enjoy the views of the bridge rather than sitting atop it. I think many consider the Waterfall Bridge to be a kind of pinnacle to the Bodnant Garden walk, and I feel this is the case for two reasons. The first, and quite obvious reason, is this is a very impressive structure that when combined with the landscape around it can be considered a perfect endpoint for a walk in the gardens. There are easy routes from here to form a circular walk so if you feel like you have had enough then this is absolutely a good point to end. The second reason I considered this bridge to be the pinnacle for most visitors is when we continued walking beyond the bridge and into the farthest reaches of the gardens, we found ourselves in complete isolation.
Beyond the bridge is more of a simple area of lawns and streams; this is not a criticism as it combines well with everything else Bodnant Garden already has on offer. This little extension beyond the Waterfall Bridge is a perfect way to round out your walk, make a circle around the Skating Pond and return along the opposite shore. When it came time to double back we opted to cross over the river near the Waterfall Bridge and make our way through the more open sections, although there were still plenty of wooded sections and different pieces of architecture to see around here. This section of the gardens was also nice and peaceful, where we barely encountered a soul although this may have had something to do with the time of day as sunset was an ever-looming threat.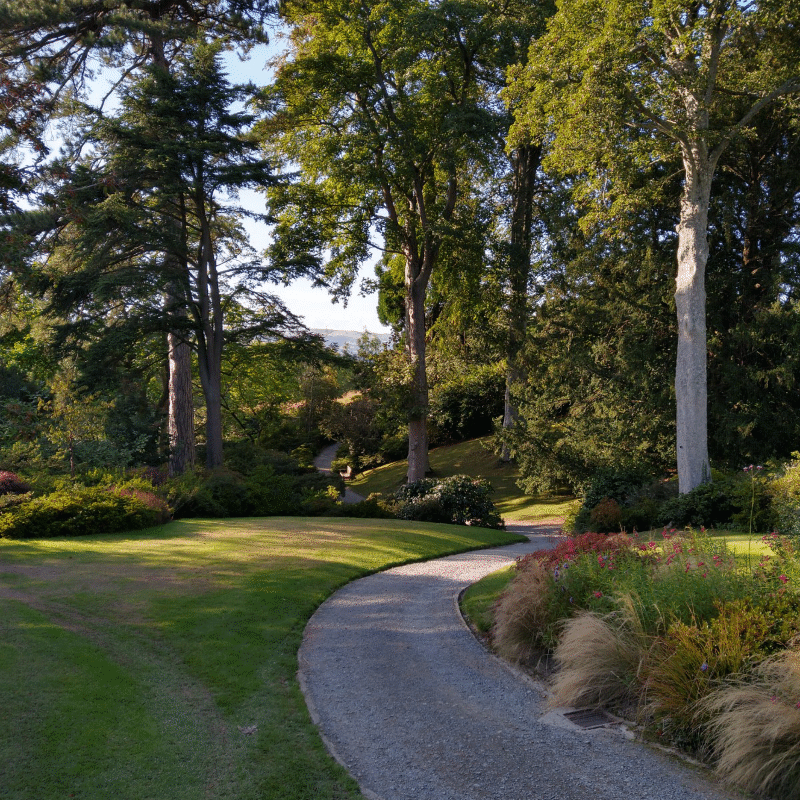 There are a lot of options here that you could easily tack-on to a walk, in fact, if you took your time you could very easily spend a whole day here. Not only are there a boatload of different landmarks for you to visit but also a list of "Champion Trees", trees of note either due to their size, age or exotic nature. As previously mentioned, every facility you need is provided, with cafés dotted around at various points on your exploration, so no need to cut your adventures short just find one and refuel. They also seem to be taking the time to gradually expand the gardens, looking back at historical maps the National Trust has given out they seem to keep opening extra areas to this already expansive set of gardens.

Bodnant Garden is a true testament to what the National Trust is capable of when it comes to landscaping and could certainly be considered their flagship gardens. This was a location picked on a whim when already in the area, but what we found was a beautiful spot to spend a day exploring and snapping photo after photo. It is hard to believe all of Bodnant Garden is just one location, with such varied styles and flora there is just so much to see here - It would be a missed opportunity if you found yourself in the area and didn't take the time to explore this gem.