Conwy Castle forms the historical centre of a stunning walled town on the north coast of Wales, right on the estuary of the Afon Conwy. Another member of the Ring of Iron built to enforce English rule over the Welsh, this beautiful structure has since become a wonderful attraction for the town, an unmistakable landmark with its three bridges and magnificent harbour region. This is a great spot for a day out in a beautiful town, with the added bonus that it is steeped in history and still has plenty to do. If you find yourself anywhere near the area then Conwy Castle is a must-see! So let's take a look at what makes it so special...

The castle is just about central to the urban area of Conwy, with the town's walls surrounding the core part of the town, but its historic outward appearance doesn't make for a miserable journey - the North Wales Expressway, AKA the A55, runs from Chester to Holyhead and makes reaching the town a breeze. While roads within the walls may shrink in parts, generally it is easy to navigate and get to somewhere to park. Speaking of which, parking is ample, with Vicarage Gardens Pay & Display Car Park practically on the doorstep of the castle - plus several other options nearby, such as Morfa Bach Car Park and Market Place Car Park just a short distance away. In terms of public transport, plenty of bus options get you to Conwy town and the local train station couldn't be much closer to the castle either. All in all, this is an easy place to reach for pretty much anyone.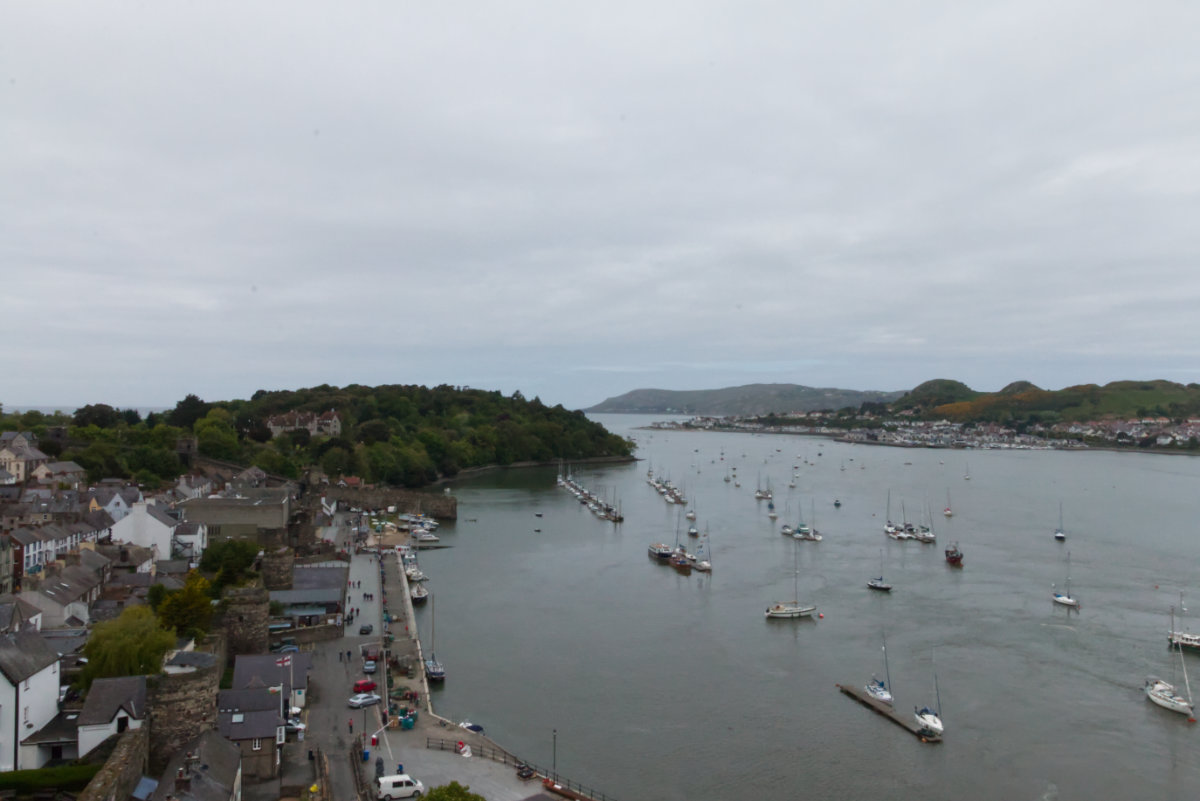 Before we get into the castle, let us get into the history. As mentioned previously, Conwy was constructed as part of the Ring of Iron, a plan we have discussed many times previously - simply put, King Edward I of England wished to strengthen his stranglehold over Wales, and did so with a sequence of fortifications such as Beaumaris Castle, Harlech Castle, Caernarfon Castle and, of course, Conwy Castle. Conwy would be built near the site of Aberconwy Abbey at a strategic point along the river - the abbey would be relocated to become the still-standing Maenan Abbey and construction would begin within days of Edward I's decision. The castle would be constructed by 1287, with the town and walls totalling some £15,000 - adjusted for inflation, this would be roughly a staggering £21,000,000 in today's money; like many of the castles constructed in this time, it was a costly endeavour. Sir William de Cicon would be the first constable of the castle and mayor of the new town of Conwy, and would see action almost immediately with the rebellion of Madog ap Llywelyn in 1294; Conwy Castle would hold under siege for 3 months before being relieved by reinforcements.
Conwy would fall quickly into disrepair, and by 1321 it would already be plagued by leaking roofs, rotten timbers and limited stores. These problems would briefly be resolved when the castle was taken by Edward, the Black Prince who would see to some degree of repair but poor conditions would return to the castle again after his death. The castle would see some use, first as emergency refuse for Richard II following his second crisis and would eventually be taken over by Welsh rebels under the leadership of Owain Glyndŵr for around 3 months. These brief uses of the castle would result in minor repairs that generally kept the castle functional, but by the early 17th century the castle would be back in a state of disrepair. By the English Civil War, the castle once again had plans to be repaired and used as a military structure, but this was only a brief return to form and by the tail end of the 1600s the castle would be slighted and considered a ruin.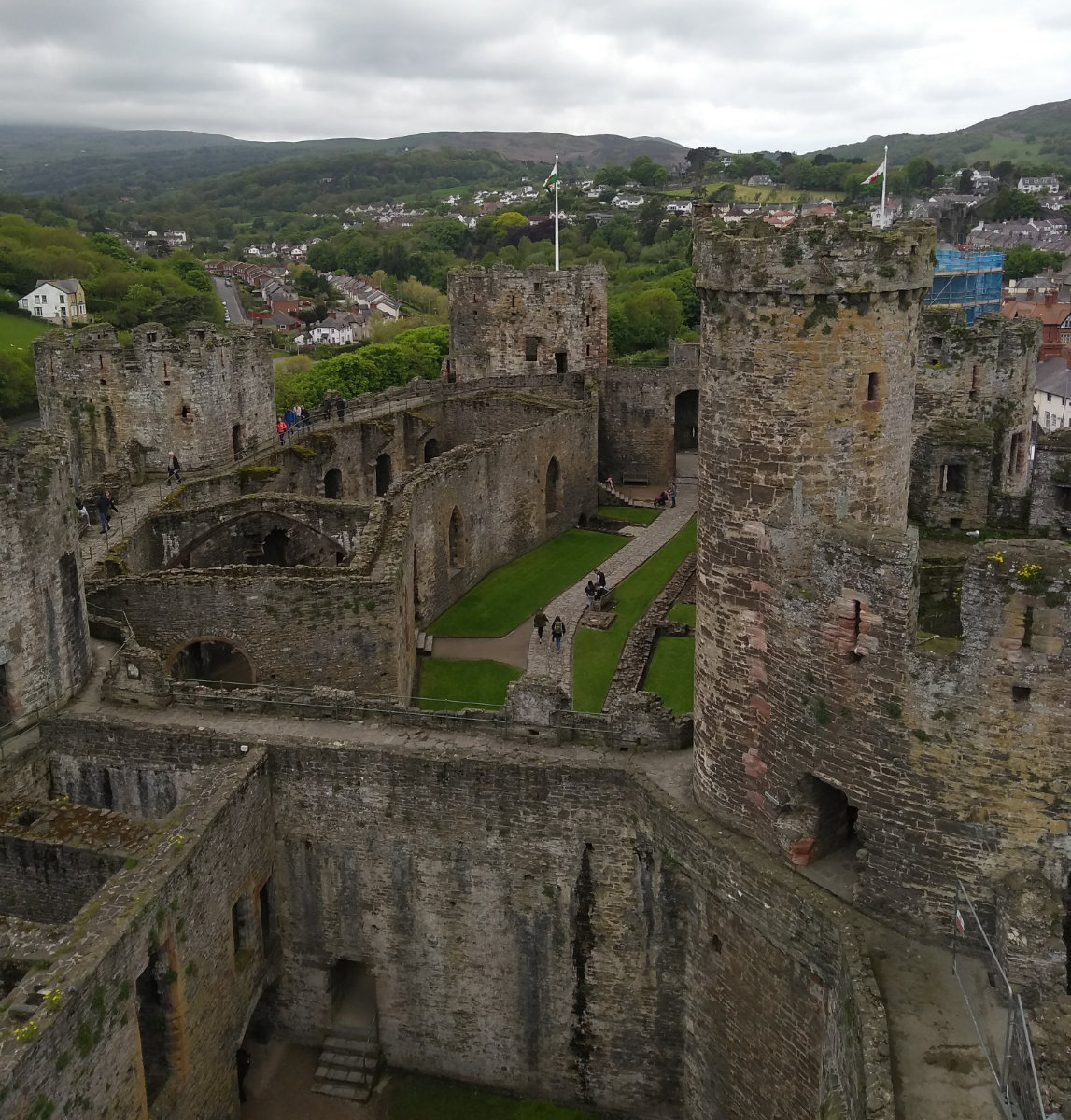 Exploring Conwy castle is exactly what you would expect for a castle partly in ruin - occasionally dank stone walkways and a bit muddy, narrow winding stairs and spectacular views. As with any visit to these castles you should take your time and really explore every nook and cranny, making sure to explore all of the towers and enjoy every viewpoint over Conwy and beyond. All Cadw managed castles have great options for guidebooks and helpful guides with exhibitions to help bring the castle to life. Conwy is one of the more sprawling castles, stretching out to fit the landscape and makes it feel like there are plenty of mysteries to discover - so have fun adventuring!
Your day amongst the castle's fortifications isn't limited to the castle grounds and battlements, and there is one essential landmark just beyond the walls - Conwy Castle's bridge. Conwy has three bridges, but as you can probably guess I'm not trying to draw your attention to the fairly unassuming car bridge or the boxed train bridge, instead you should check out Conwy Suspension Bridge. This is actually a National Trust attraction that is publicly accessible without admission; the bridge was a modern addition to the castle designed by Thomas Telford to replace the ferry at the same point and is a wonderful structure with gargantuan chains supporting its span. It is a wonderful landmark in its own regard and offers some great viewpoints back to the castle, considering it's just outside the castle and can be explored in minutes this is absolutely unmissable.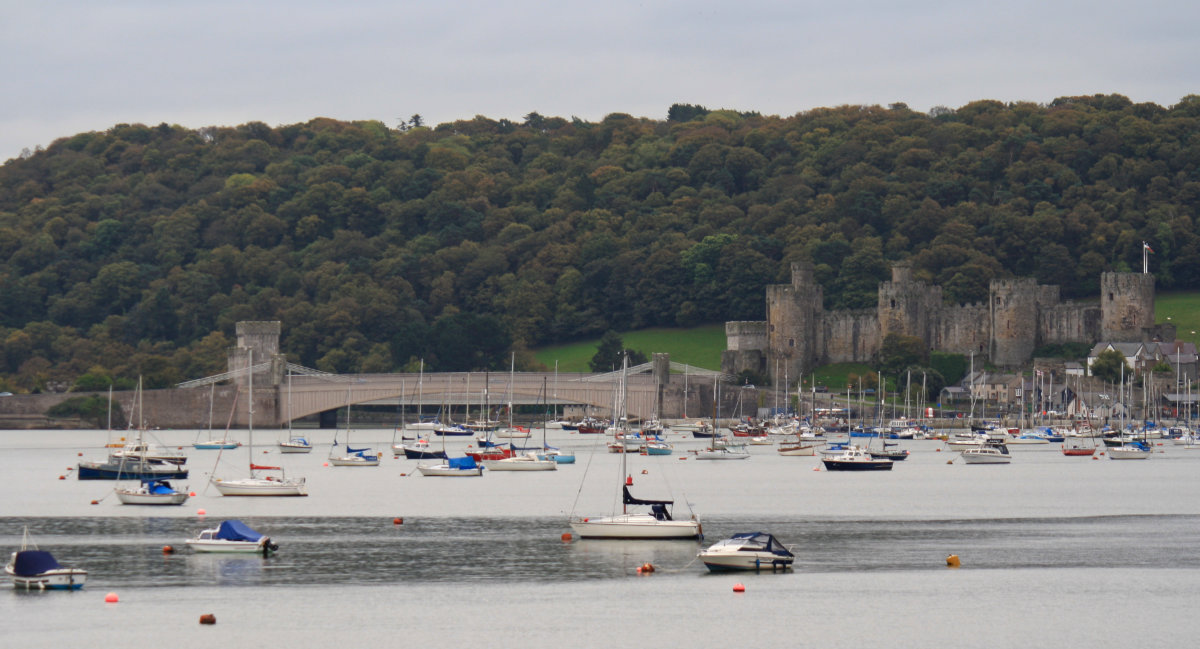 Beyond the castle is, of course, the charming town of Conwy. If you don't have much time I still recommend you walk the harbour, grab some chips from the prettiest little chip-shop garden (keep an eye out for the signs that take you through the town walls and into a beautiful little flowered space) and sit amongst the boats to absorb the ambience. If you continue down the harbour you will find Great Britain's smallest house, a novel experience that you should absolutely pay the admission and stick your head into. It should go without saying, but this is a walled town so naturally, you should take a little time to walk around the walls and see what you can find...
That just about sums up Conwy Castle, a spectacular option for someone looking to adventure in a history-rich environment, explore a wonderful town and soak up some spectacular North Wales views. This castle is a great option for coupling with, amongst other things, other castles! With great options such as Caernarfon Castle and Beaumaris Castle just a short drive away. If you fancy some variety, you could have a wonderful time exploring the magic gardens at Bodnant, or make your way inland south to see the wonderful Swallow Falls or explore Fairy Glen. Alternatively, just stay at Conwy, enjoy this wonderful little town in the shadow of a glorious piece of history.