Tucked away up a lane barely wide enough for two cars is a stunning little gem out on the Llŷn Peninsula: Plas yn Rhiw; this charming historic manor house may lack the grand scale of some other National Trust attractions, but it is no less worth your time - especially if you already find yourself on a journey between Aberdaron and Abersoch. With some elegantly manicured garden spaces and a lovely woodland walk perfectly framing the elegant little house, this is a stop full of character and absolutely one I would recommend dropping into just for the grounds alone. You could realistically have a 10-15 minute wander around the gardens and be on your way to another adventure, or pitch up at the café, have an amble around the house, learn all about the history and make a day out of this quick stop. I have had a few journeys out this way and will admit I had no idea it was even there until recently, so upon finding out about it I just had to break out our membership cards and have a wonder around this idyllic spot in a wonderful location.
There are two major roads between Aberdaron and Abersoch, the primary one is the B4413 which snakes its way from Abersoch inland before descending to Aberdaron, and then there is an (as far as I can tell) unnamed road that sticks closer to the coastline - it is on this more southern road you can find Plas yn Rhiw. A sat-nav is recommended, for reasons I will explain shortly, but as a general overview: heading from Abersoch, keep an eye out for the brown sign to know where to turn and then just keep following the lane, likewise from Aberdaron there are two bridges in the centre of town, crossing both of them from the B4413 will put you on the same side of town as the beach, head up the hillside and past the church with the sprawling graveyard and once again just keep following the lane. The roads here are narrowish in parts but are generally pretty easygoing, many sections are wide enough for two cars (just lacking the dividing line) and other places are a squeeze but completely doable if you are a sensible driver. The trick with this journey is spotting the car park in time, this is a National Speed limit road and as a single-carriageway, I wouldn't expect anyone to be hitting 60 but even at a sensible speed you may find spotting the car park in either direction; you can see the entrance to the car park on street view here, marked in either direction by black signs, but from Aberdaron, the descent down the hill will keep it hidden until the last second, and from Abersoch, the ascent up a slight hill and trees will almost completely occlude it. The car park is a decent size considering its location, but it also seemed to fill up pretty fast - we arrived fairly early in the morning and had no trouble finding a spot, but by the time we came to leave around midday there was a visitor happy to see us leaving as not a single space remained. I would imagine this could be quite the challenge in peak summer. There are also a handful of accessible parking spaces at the welcome hut, so if you need something a bit closer there are some convenient spaces that cut out an uphill walk and deposit you right near the entrance to the house - of course, these are very limited with room for maybe 8-10 cars by my estimate so I would recommend just heading to the larger car park if you are able.
Public transport in the area is limited, but it does have a hidden opportunity for one grand day out I will explain shortly. I couldn't really imagine busses making their way down the lane to Plas yn Rhiw, between the narrow roads and some of the hills it wouldn't be a fun day out for the driver but there may be a route that heads this way, as there is a bus stop marked on maps just outside Plas yn Rhiw but I couldn't find conclusive evidence a bus actually stops here - there are routes between Aberdaron and Abersoch, but these follow the northern B4413 road. If you wanted to walk from Aberdaron or Abersoch it would mean in either direction you would be looking at a 4-ish mile trek along the lanes, hardly something I would recommend if for no other reason than it would not make for an exciting day out. The opportunity I mentioned, however, could be a really memorable day out: the coastal path from Aberdaron connects all the way to just up from the entrance to Plas yn Rhiw following the Wales coastal path. Large sections of this route are mapped out on street view and you can take an OS map to plot your walk, you would need to love walking of course as this would be, at a very rough estimate, 10 miles there and back again and that doesn't factor any walking you would do around the National Trust house too - but I can guarantee you would see some unparalleled vistas and be able to soak in some of the spectacular countryside views around here at the same time.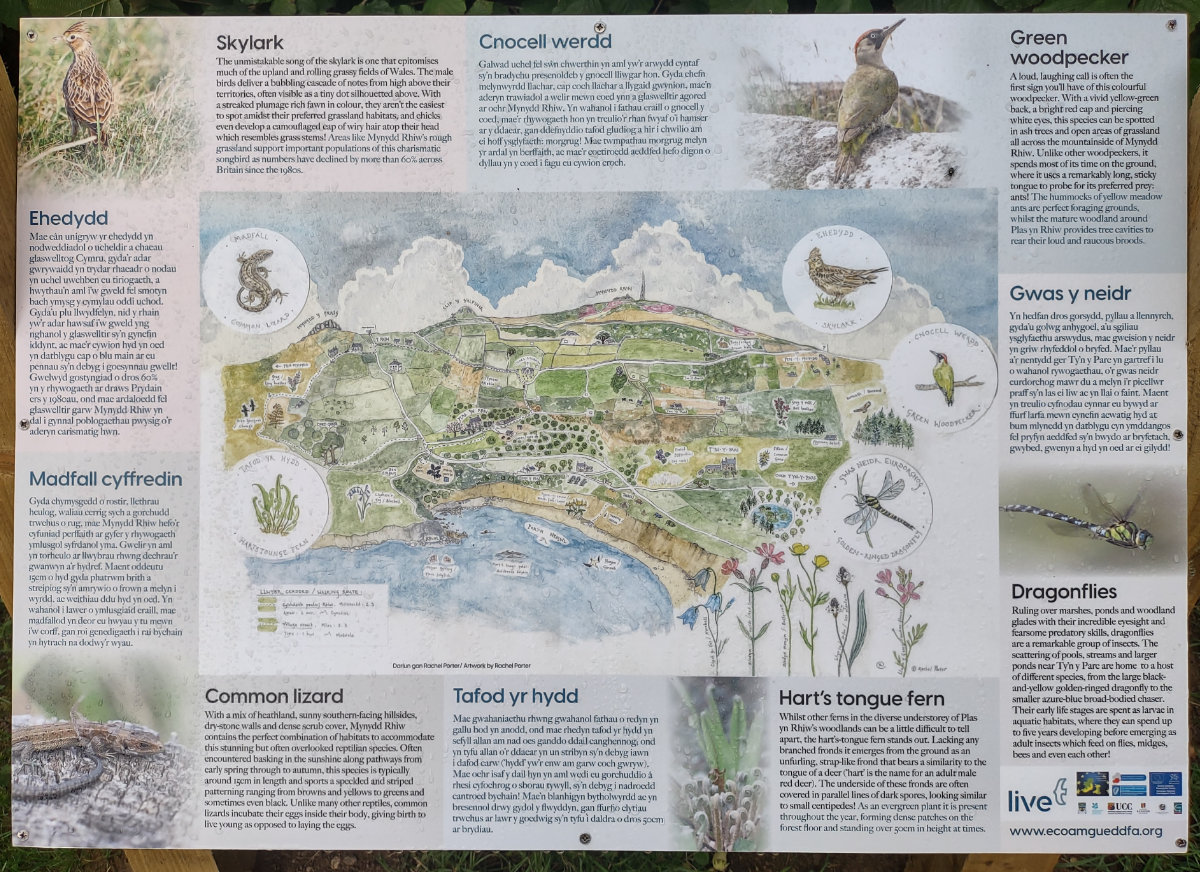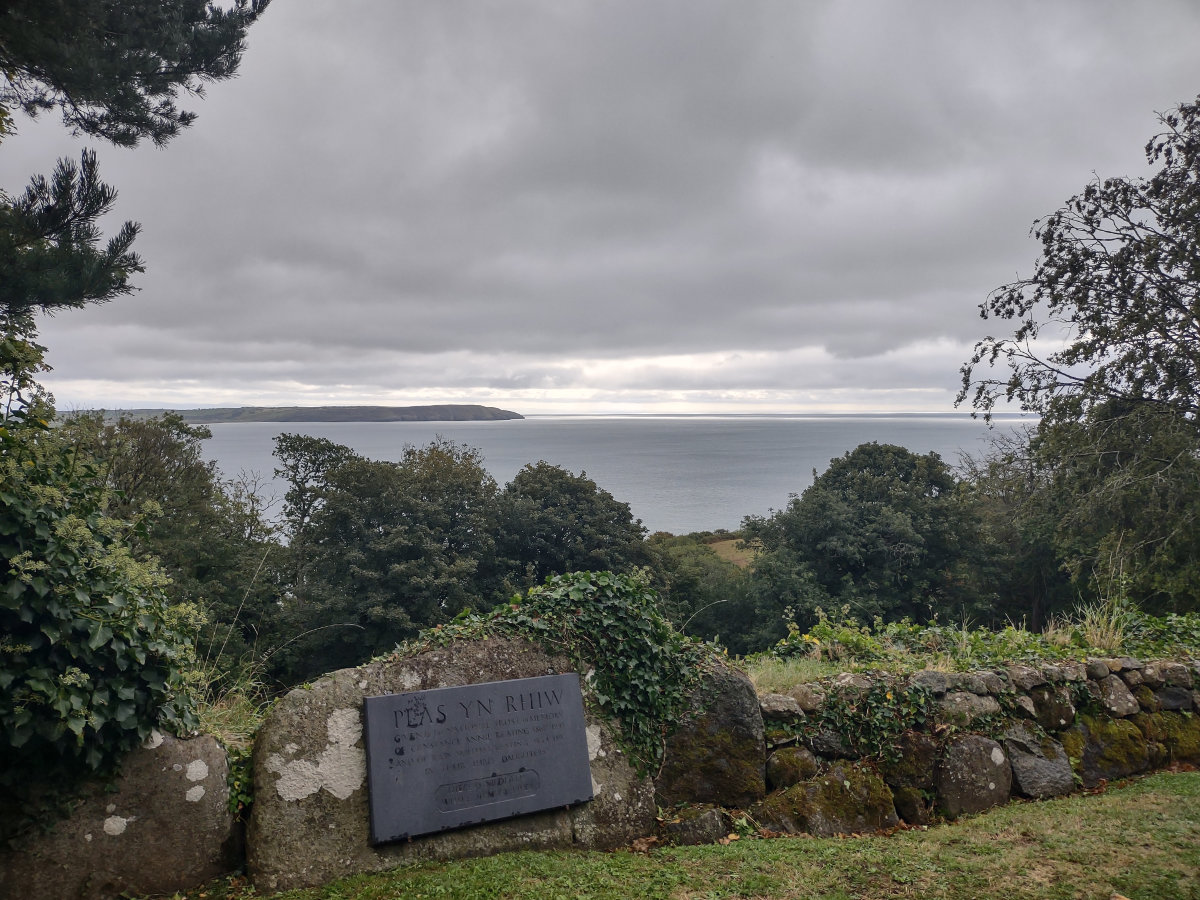 Once you arrive, there is a short uphill jaunt to get through before you arrive at the house - starting from the corner of the car park with the information board there is a road crossing which you will need to use your ears as much as your eyes to cross due to the limited ability to see oncoming cars. Once safely across you will have a gentle climb up the hillside that eventually switchbacks its way up to the welcome area and disabled parking. Knowing this was a smaller National Trust attraction I didn't know what to expect in terms of facilities, but beyond the welcome centre where we received a warm greeting with a handy map and a couple of toilets just beyond, there is a great café which is well stocked with light bites including toasties, jacket potatoes and sandwiches alongside a range of drinks to keep you fuelled for your day out. Off to a great start and excited to get exploring, we made our way up the lane to find the entrance to the house grounds.
A quick hop up the lane to a beautiful gate shrouded by towering trees grants us entrance to the mystical and enchanting gardens at Plas yn Rhiw. You can make your way straight ahead and immediately to the manor house, but we opted to tour the gardens first and what spectacular gardens they are! We visited in late summer and everything was lush and green, I could imagine these gardens are awe-inspiring year around but it would be amazing to see everything in the depths of spring, to see the bees buzzing around the fully in bloom gardens. There was a set of numbered boards dotted around the gardens talking all about the local flowers and visiting bees plus many more interesting facts. The gardens have a handful of old structures and are mostly divided into little squares with their own charm and beauty - some of the more interesting and exotic plants are labelled with their name and country of origin, but there is plenty to appreciate here even if you aren't a botanist. I think you could have a lot of fun here with a macro lens, snapping up all the flowers as well as any winged visitors up close. Towards the back of the garden was an active vegetable patch with a handful of folks working hard to grow some great-looking vegetables, notably during our visit the pumpkins were well on their way to being ready just in time for autumn and Halloween to begin.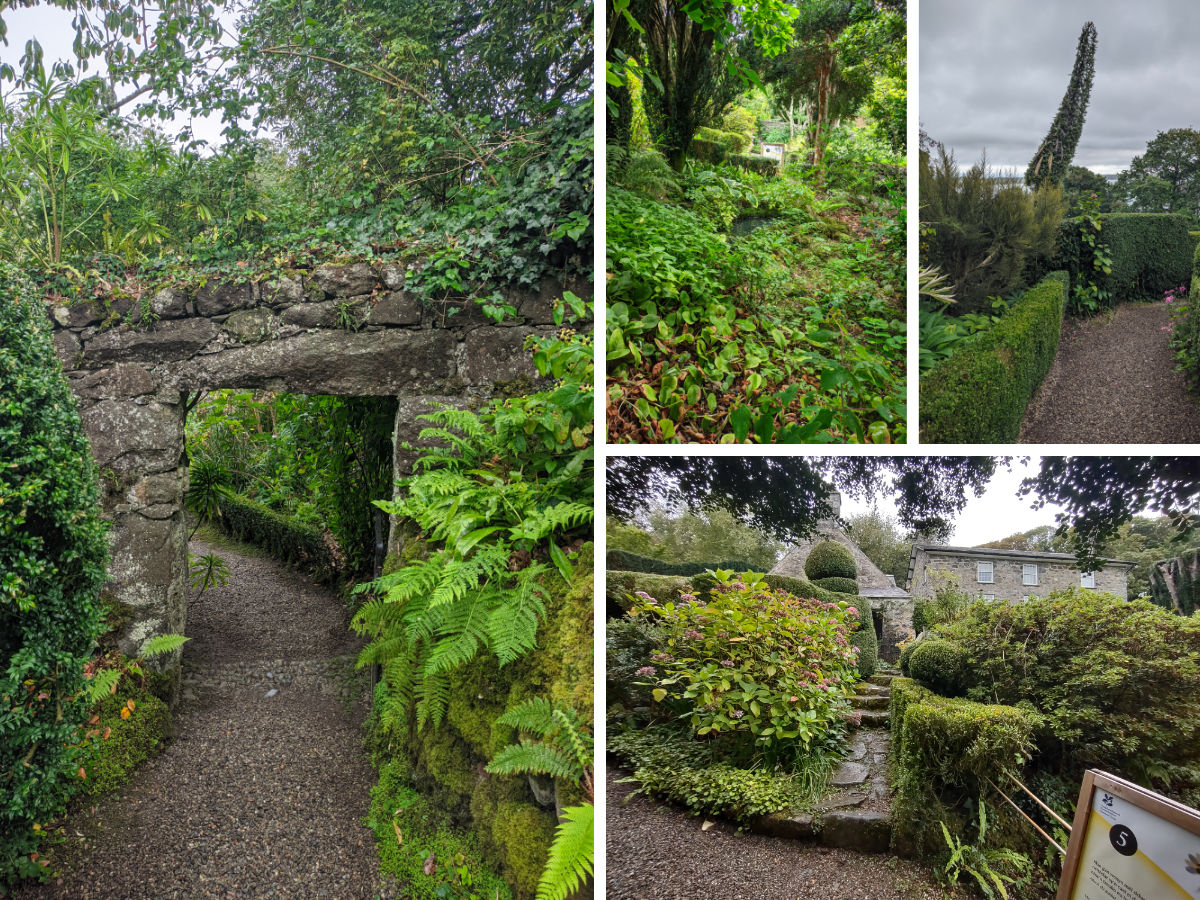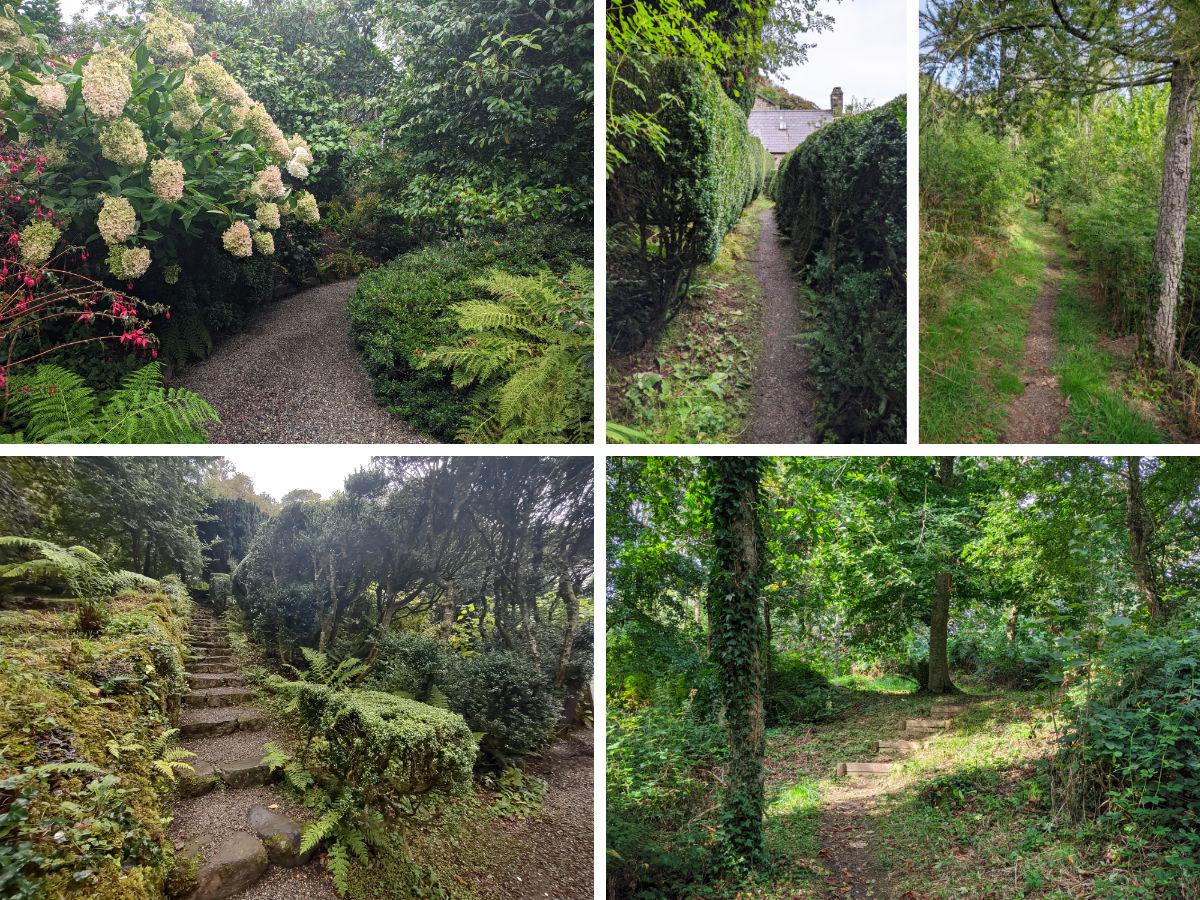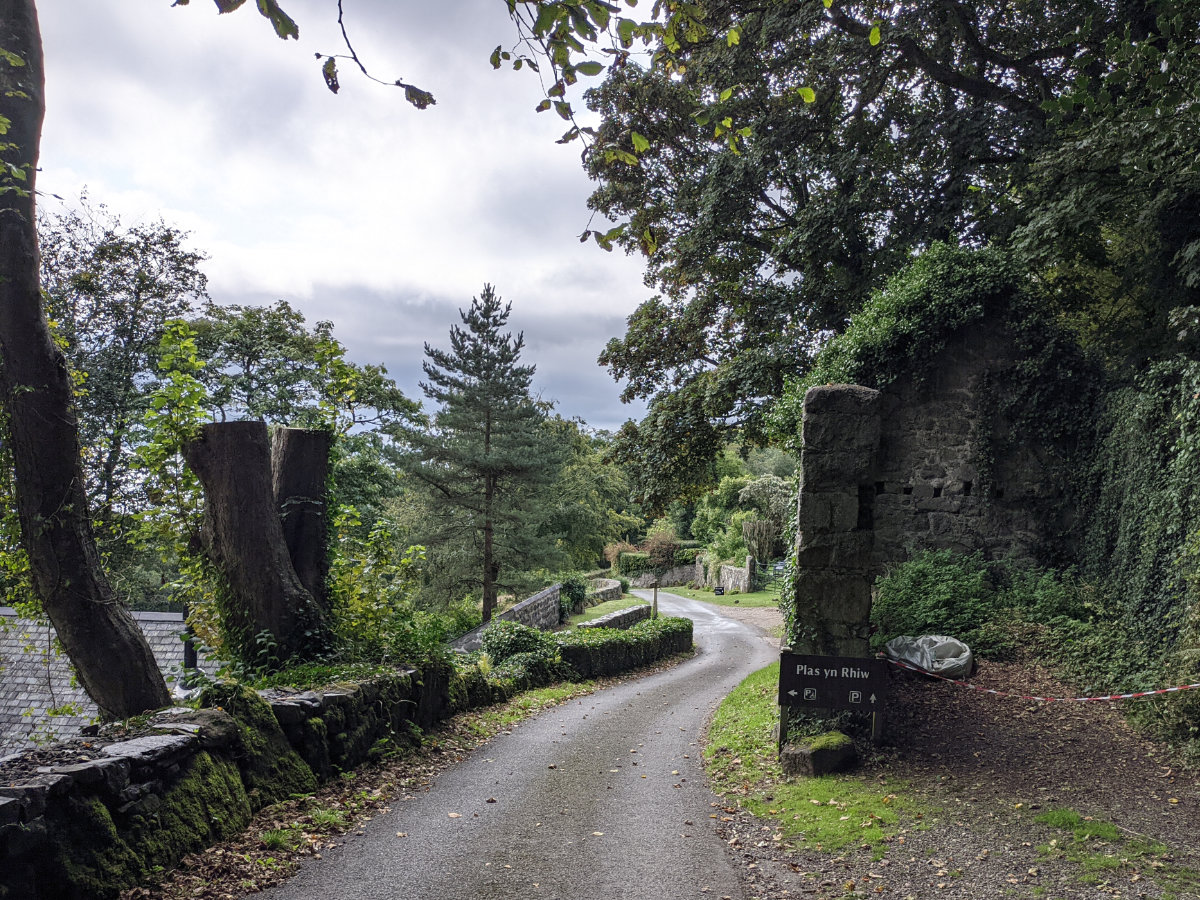 From a small exit in the top corner of the gardens we were able to take a gentle circular tour of the upper woodlands, this is a nice little route with some muddy and rough tracks but nothing that should stop most walkers from adventuring onwards. At the top of the hillside is a small orchard, which you can reach via a more direct track alongside the house, but our route took us along the orchard and back down to the lane just a stone's throw from where we had entered the house grounds. From here you can easily get back to the house or cut back through to the café. As an extra option you could always follow the lane down to the main road, as just up from the entrance to this path is the start of the Wales Coastal Walk - even if you aren't planning to walk all the way to Aberdaron, you could take a short walk along the coast and soak in some of the incredible views.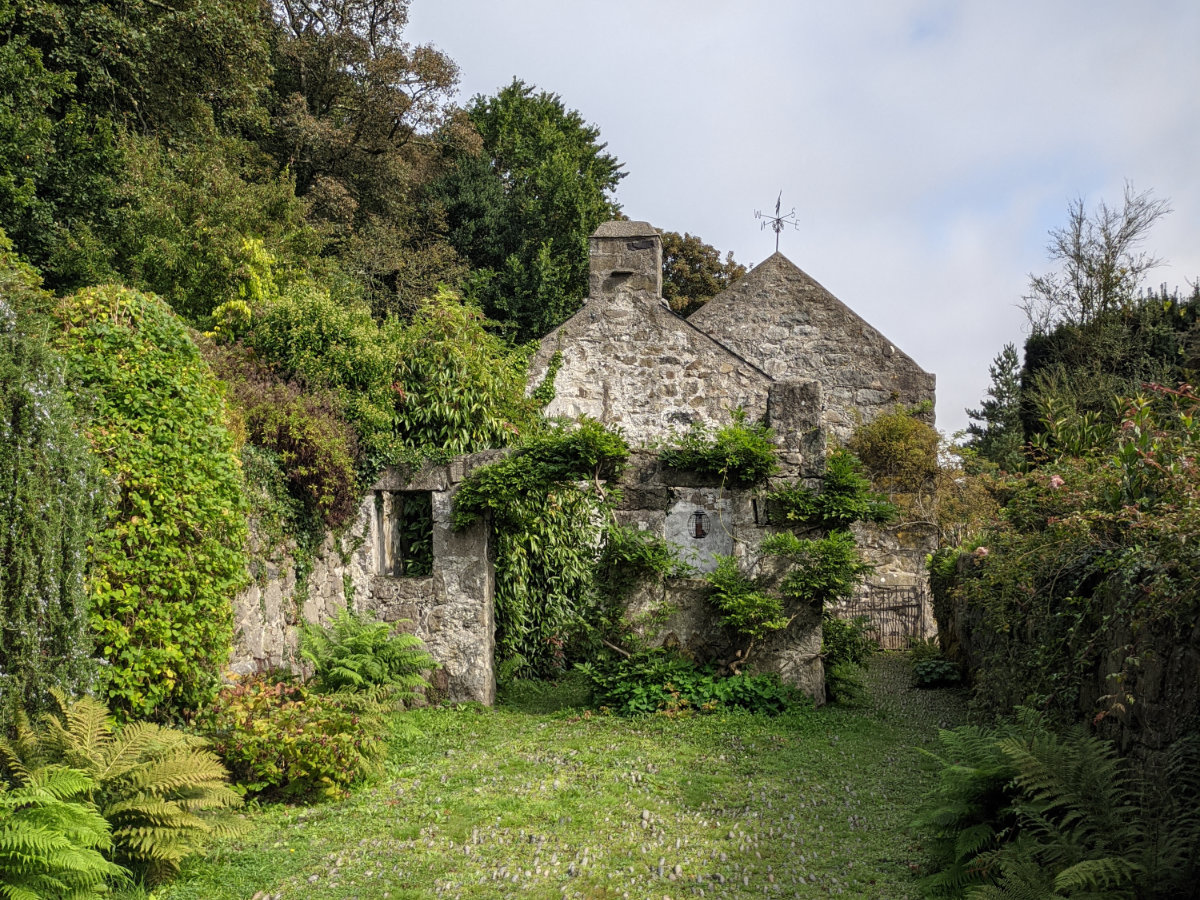 To conclude, let's take a quick look at Plas yn Rhiw's history. It is more than just a pretty old house on the hill, in fact, the area has a rich history dating far back, possibly as far as 4000 years. One of the first structures close to the current site of Plas yn Rhiw was said to have been established by the grandson of Rhodri the Great, the first king of a united Wales, built strategically as part of a defence against Viking raids. The modern incarnation was constructed in the 17th century and was passed down through the Lewis family, experiencing many expansions up until the 19th century when the last of the Lewis line died and the house was auctioned off. The house would pass through a few hands but by 1922 would be abandoned and in a state of disrepair until a family who traced their lineage back to the original owners of the home purchased it in 1939 and set about restoration, improving the gardens and expanding the land holding. The outbuildings remain in a ruined state but the manor is well cared for and by 1946 the home was donated to the National Trust - the family had opened it to the public and continued to live there after the donation until 1981. The whole site is dedicated to the parents of the sisters who had restored the home to its former glory, commemorated by the plaque that is seen near the entrance. This is obviously just a quick summary of the manor houses' history, there is plenty more to see on your visit but rather than give you a whole heap of information now I feel this is better absorbed as you tour the grounds and can read the information the National Trust has provided around the place.
That just about wraps it up Plas yn Rhiw, it was a great quick stop for us as we toured around the Llŷn Peninsula and we had a wonderful time exploring those stunning gardens and seeing the beautiful house at the heart of it all. You can really tailor this visit to suit whatever you have in mind, we really just wanted to be able to soak it in before hopping onwards and while it was perfect for that, you could certainly make a great day out in these parts. There is plenty of beauty to be explored around this area, from the wonderful coastal walk all the way up to the stunning seaside town of Aberdaron, but if you are willing to venture just a little further I whole-heartedly recommend crossing the arm of the peninsula and checking out another National Trust property: Porthdinllaen. Wherever you choose to head, you are certain to discover something amazing in this rugged, beautiful section of North Wales.