On a recent tour around the north-western reaches of Wales, I had been tipped off to a great little beach with a waterfall visible right from the sands, and I have to admit I was excited at the prospect. This is Porth Ysgo, a great spot tucked away on the southern side of the tip of the Llŷn Peninsula and it can make a great quick stop that you can duck into from the nearby Aberdaron as part of a grand day out, or by linking the places together via the great paths provided by the Wales Coastal Path. It promises a secluded beach, lapping waves and an impressive waterfall, all in one convenient spot. Our visit didn't pan out exactly as we had hoped, which I will expand upon as we go along, but it is a testament to this great little spot that I still loved our visit and wholeheartedly recommend you go to! Hopefully, you can learn from what went wrong for us and make your visit absolutely perfect. Regardless, it's a beach, it has a waterfall and ideally, it will have some sun for you - so what is not to love? Let us start by getting you there safely...
Getting to the beach is fairly easy, with a few options that can get you here with various degrees of difficulty. Driving requires you to follow the main southern road along the edge of the Llŷn Peninsula, which is pretty easygoing for the most part, just about wide enough for two cars for most of the run. This lane is unlabelled on most maps, but connects the town of Aberdaron at the B4413, to a junction near the village of Mynytho which is also on the B4413. Eventually, you will need to turn off onto a single-track road to do the final half a mile or so but these are properly quiet lanes so just take it steady and you should have no worries. Google Maps lists the nearest village as Llanfaelrhys, and there are three junctions off of the B4413 that should take you to Porth Ysgo - the two entrances closest to Aberdaron should see you spend the least amount of time on the narrower tracks (either this junction or this junction). There is a car park right here, just turn into the farm and drive through, keeping an eye out for the blue 'P' sign - there is an honesty box and a hut which contains refreshments, this was not open during our visit but it is likely available during peak times. Public transport through the region is limited but likely available, Google Maps shows bus stops along the main road but even if the busses here do not run often enough you can always catch a bus to Aberdaron and take a walk along the coast. The walk is something I have suggested a few times, from our Aberdaron short loop and the Plas yn Rhiw National Trust spot, and it is a beautiful trek along the top of cliffs with some spectacular views. From Aberdaron to Porth Ysgo, you will be looking at about a 3-and-a-half-mile walk one way, so make sure you are up for the walk before you select this option...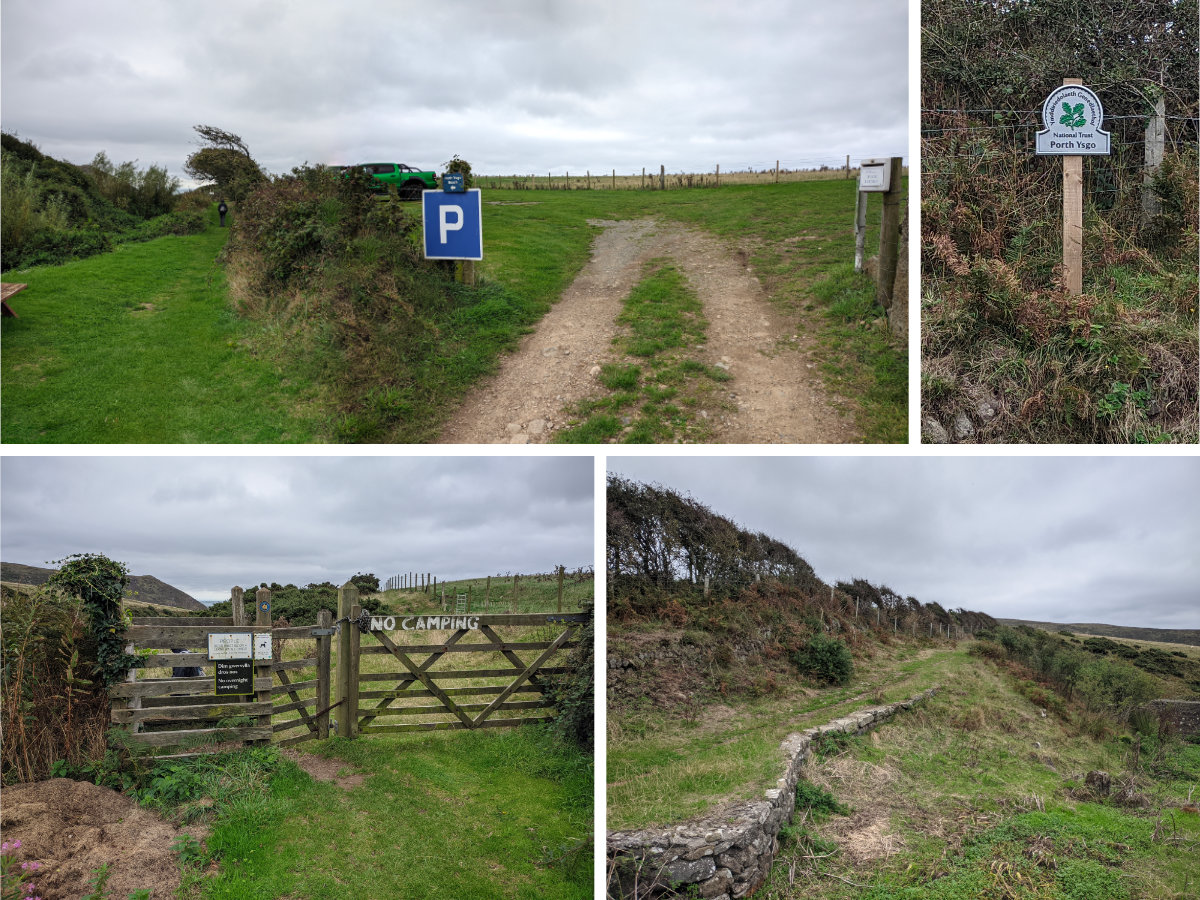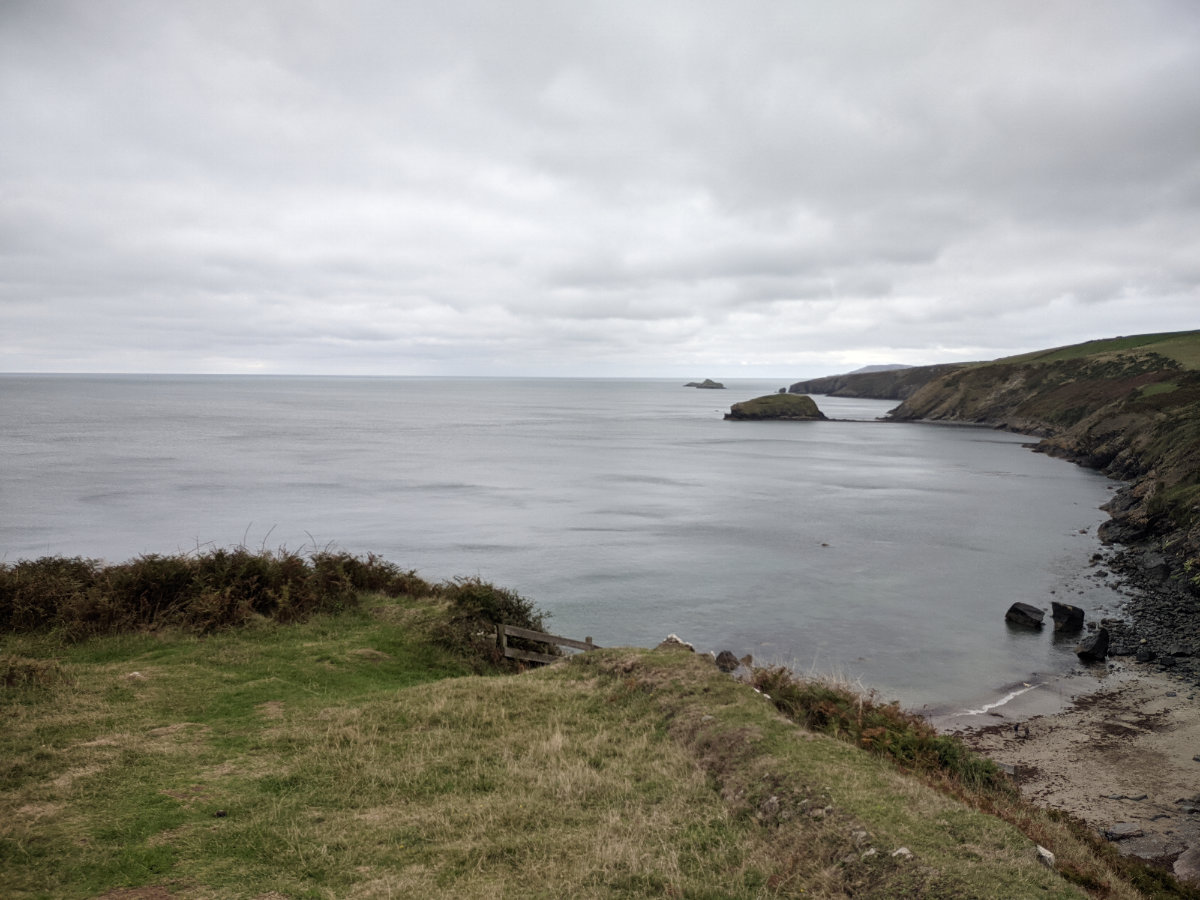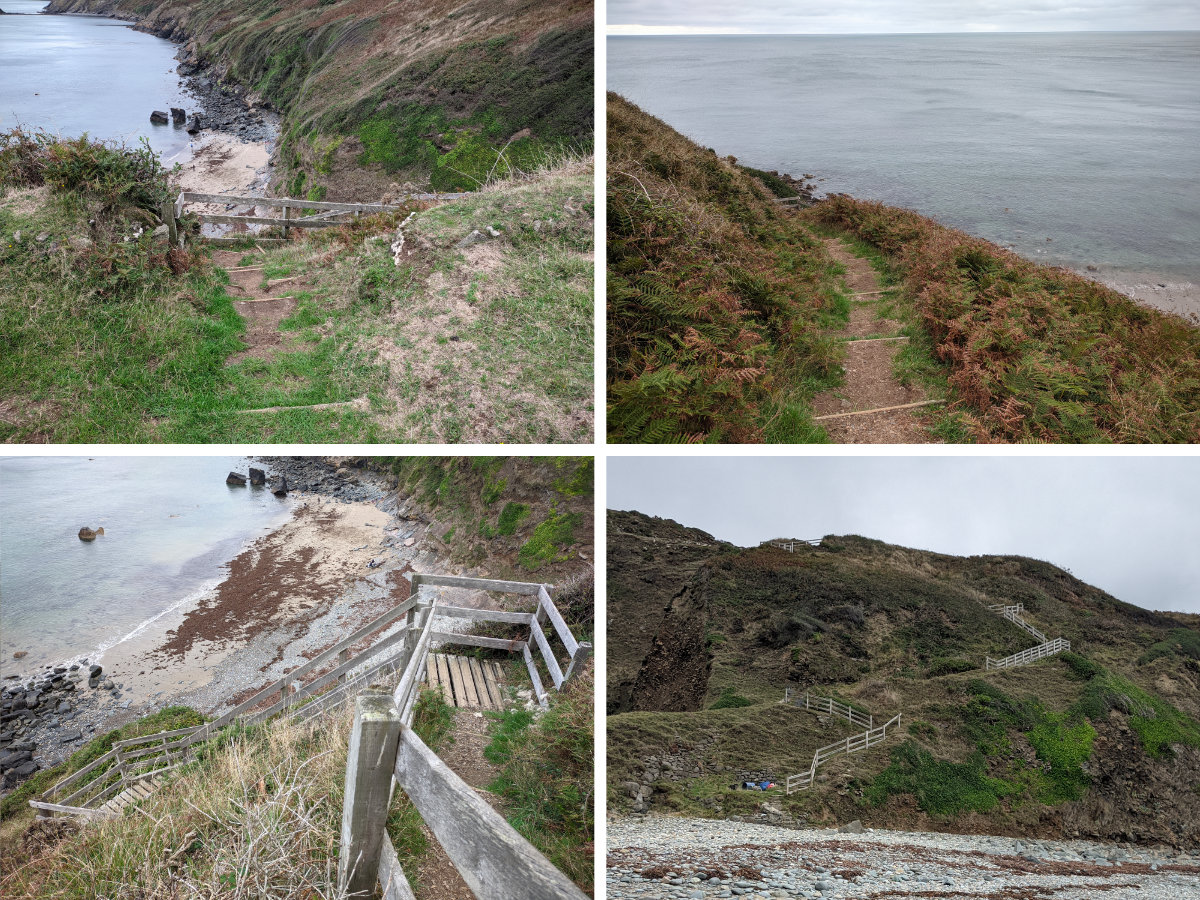 The route marked above starts from the car park, but the route from the car park will join the Aberdaron and Plas yn Rhiw walking paths which are both labelled so just use the map to judge where you are likely to approach from. You will want to head out of the car park entrance and take your immediate right, following the hill as it slowly makes its way down. Passing through the gate and crossing a picturesque old bridge, you will be greeted by a National Trust plaque marking the start of Porth Ysgo - just keep heading downhill and you will soon be able to see the cliffs open up down to your right, following the path of the gentle stream which will become the waterfall. The views quickly open up too, with sightlines up the coast towards Maen Gwenonwy, the rocky little peninsula jutting from the cliffs, and Ynys Gwylan-Fawr/Ynys Gwylan-bach, the two razor-sharp rocky islands visible from near Aberdaron. There are some truly stunning views along here, that I recommend you explore, but first, we shall descend to the beach and check out the promised waterfall...
The stairs down to Porth Ysgo beach should be fairly easy to spot, with a well-trodden path leading down to the wooden staircase anchored into the cliffside. This is a pretty sturdy set of stairs, one that should feel comfortable to walkers of any experience level, and three-quarters of the way down you get a little outcropping to step onto where you should get your first glimpse of the waterfall. I say should, because as mentioned previously our visit didn't exactly go to plan - unfortunately, we were at the tail end of a long drought, and while the rains had been back for a while the waters hadn't exactly returned to Porth Ysgo's waterfall just yet - instead there were a few trickles, like a quarter-turned on tap barely spluttering out a bit of water down the rocks. That being said, it is pretty clear this waterfall has plenty of flow during the wetter months so don't write this off just because of our experience! A cursory glance at Google shows this can be a great little waterfall, just plan your visit around the weather and make sure there have been a few solid downpours (or visit in spring after a nice and wet winter) to make the most of this part of the visit. We will certainly be planning a return in the wetter months to capture some more satisfying photos of this potentially great landmark...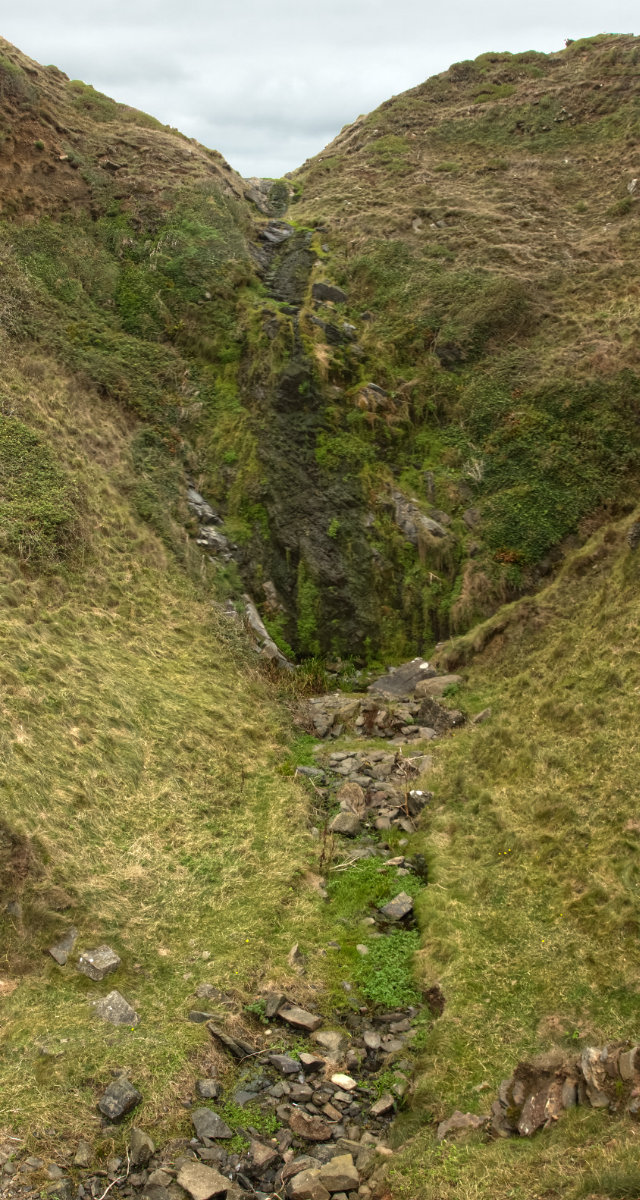 So with the waterfall out of commission at Porth Ysgo, why were we not disappointed? Well, first and most obvious is that this is a great little secluded beach - very pretty and full of interesting spots to explore, something that would suit a quick visit or a longer stay depending on what you were looking for. We spent some time exploring the rocks along the seafront, checking out the various little pools for signs of life and exploring up to the very interesting cave formation here - we didn't dare venture in, as the roof to the cave appears to be more loose earth than solid rock, but up to the mouth of the cave was plenty to check out. Otherwise, it was a great little beach to just sit and watch the water roll in, and then when we were ready we headed back up to the top of the stairs to take a look around the walks beyond the beach.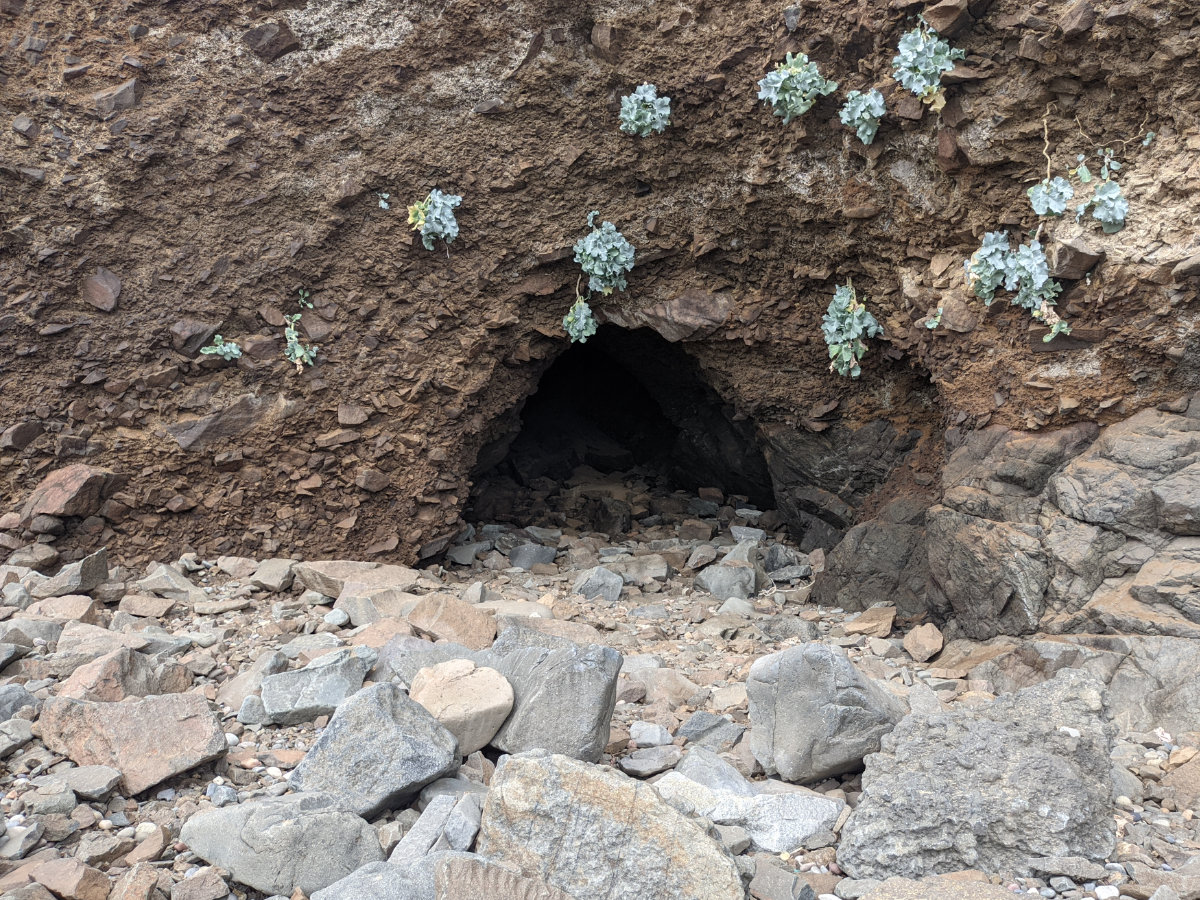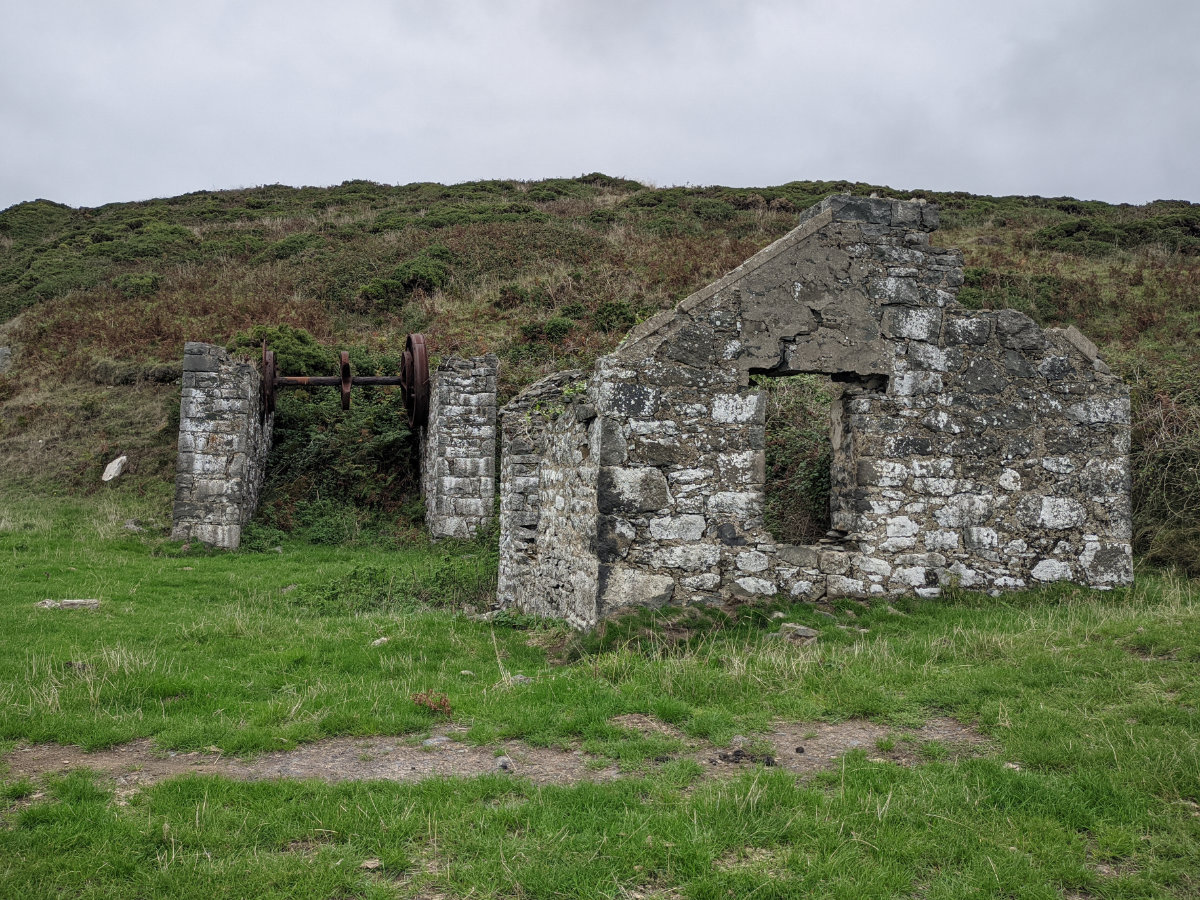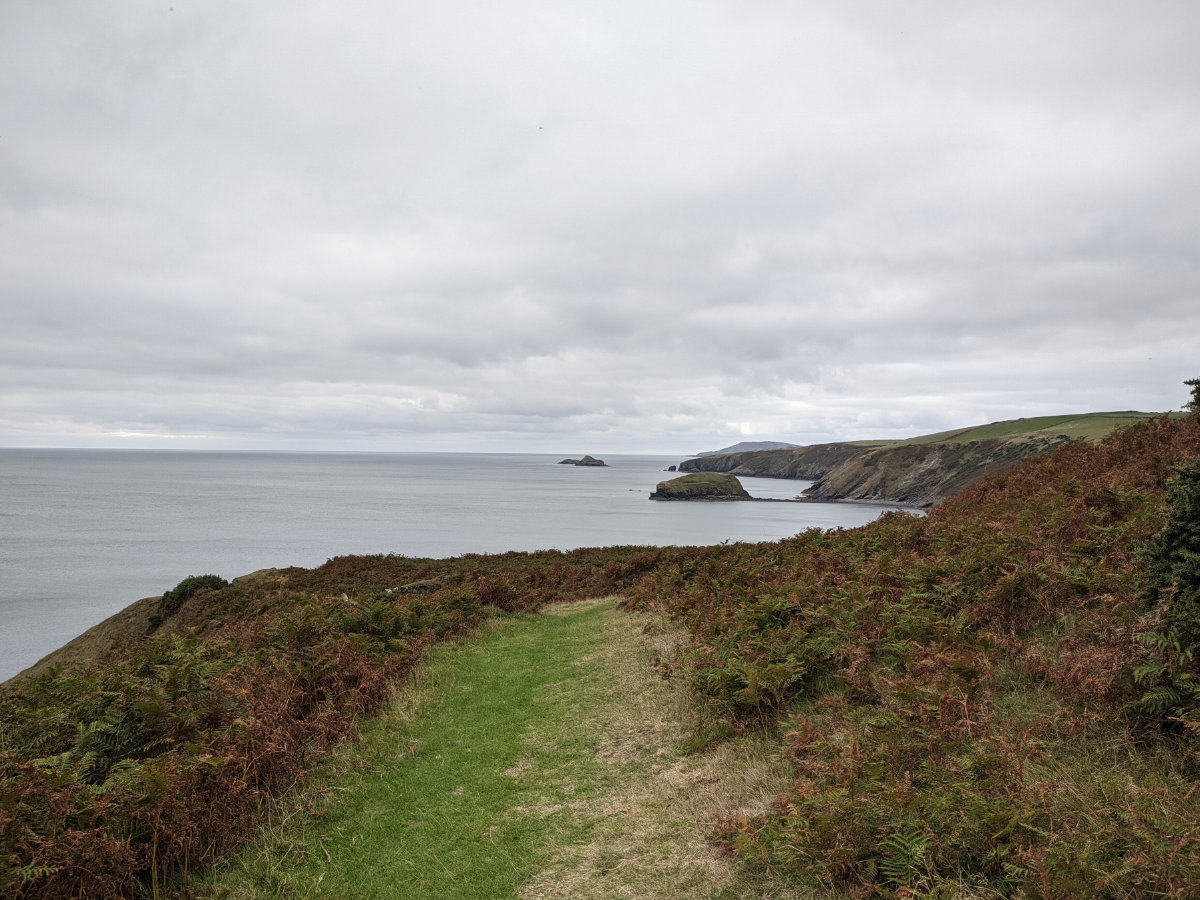 You don't have to venture too far from the beach at Porth Ysgo to see some spectacular views, as well as some of the remnants of an old mine, there are plenty of old shafts in the area that should only be explored by those experienced and equipped to do so, but there are some old buildings to check out around the coastline. Even if you don't choose to venture far, a quick walk up the coast is worth it to soak in some of the views and of course, for those that fancy it, great longer walks to both Plas yn Rhiw and Aberdaron are just waiting to be explored. We had a wonderful time exploring just a sample of the beauty and amazing spots around this area of the Llŷn Peninsula and are certainly excited to return - if only to catch Porth Ysgo waterfall in its true glory! Still, if a quiet beach that only really draws in the locals is something you think you would enjoy, you are likely to love this beach any time of year.