When exploring the Beddgelert region of Snowdonia there are a lot of great options for things to see and do; the town itself is a beautiful little village set on the confluence of the rivers Glaslyn and Colwyn, but today we are going to be looking beyond the village's edge and to an excellent National Trust location for walkers. Craflwyn and Beddgelert is a tucked-away spot in Nant Gwynant, a valley through which the River Glaslyn runs by passing through several beautiful lakes. All along this valley is great stop-off points and places to relax and enjoy, but our goal today is to take in all of the sights in one go from a good vantage point by climbing Dinas Emrys. This hill has the remains of an Iron Age hillfort at the top, but it's the stunning views of the valley that make this trip worthwhile. Of course, if you fancy it there are plenty of mountains nearby to really get stuck into but this walk offers a nice balance between challenge and reward.

Our journey begins, as it often does with National Trust locations, at a well-maintained car park with all of the essential facilities, although without any café - there are plenty of places, including a National Trust shop, in the town of Beddgelert itself so make a stop off as you pass through to grab any essentials. A signpost near to the car-park will detail the walk ahead, The Legendary trail of Dinas Emrys, and as you continue onwards everything is easy enough to follow. There are plenty of other trails to follow here too, meaning you'll have plenty of reasons to return and explore the surrounding areas in the future. As you progress paths are well maintained and easy to follow with only a few forks in the early part of the journey, nothing that should see you lost; as always if you are concerned with getting lost OS maps are a good companion to any trail.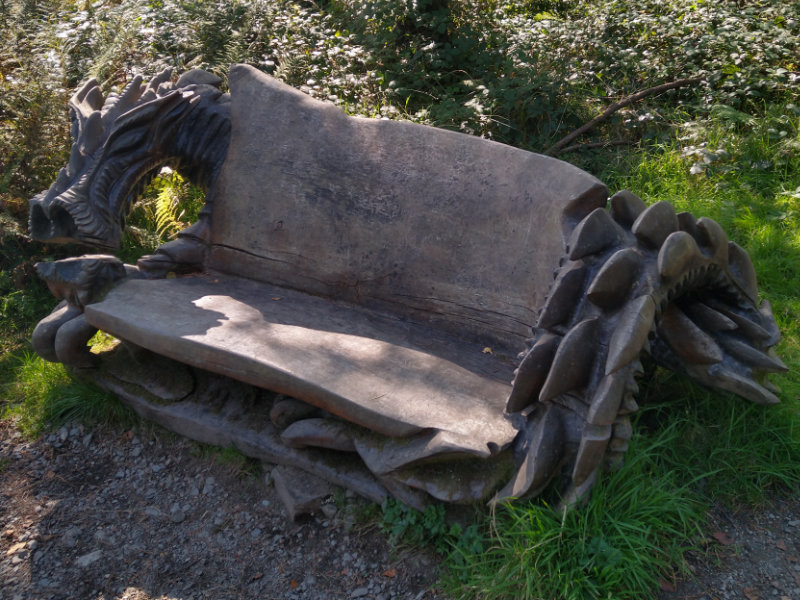 The walk starts off easy enough, climbing gradually through beautifully maintained woodlands, passing by the amazing carved dragon bench as you make your way onwards. This area is full of little streams and cascades, we walked it on a perfect summer's day and the trees were full of birds singing and the glorious smells of nature hung in the air. Once you've had your fill of all the beautiful nature on offer you can press onwards through the gates and along the pathways, eventually arriving at the first surprise of the walk.
A perfect little waterfall sits in this wonderfully isolated spot, in the shade of trees we shared this area with some cautious cows. You should take a moment to have a break and enjoy the moment in this spectacular little spot, before continuing across the stream and onwards on the trek. Considering we went into this walk fairly blind, excited primarily by the views at the top, this sure was a great little bonus!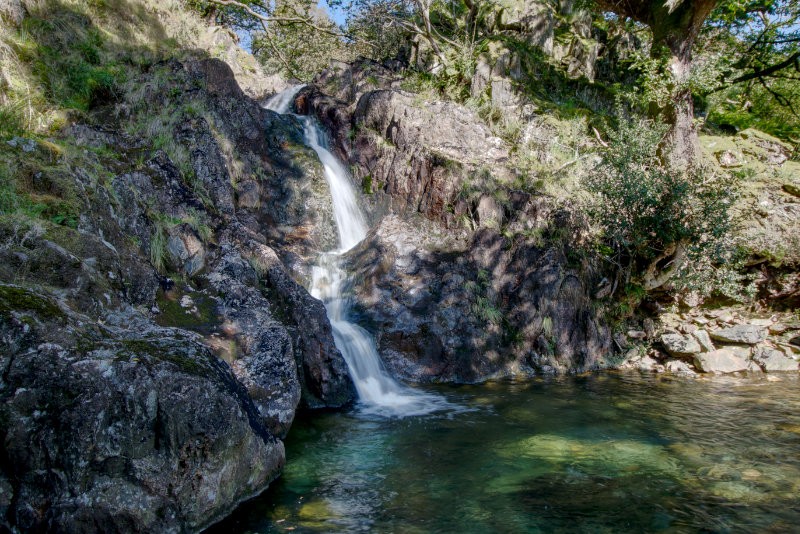 You'll continue your gradual ascent on loose paths and over stiles, from this point out the journey begins to get more rocky as you progress with some moderately steep sections to tackle. The final woods before the ascent of Dinas Emrys is probably my favourite section of the walk, as you bound up and down through mossy woodlands it feels like something from a grand adventure, the type of woodlands you'd expect to encounter a band of hobbits in. After reaching the foot of the hillock itself you will face the last difficulty, the side of Dinas Emrys turns especially rocky and borders on a scramble at times; luckily, this is a short scramble to the top and you'll be happy to sit in the shade of the few trees available and recover after your ordeal. Hopefully, you're well-stocked with water and food to replenish your morale, our walk on a hot summers day left us thoroughly cooked by the end.

The views from the top of this little hillock are surprisingly varied, to the West is Llyn Dinas, one of the lakes the river Glasyn passes through and well worth a visit after you make your way back down. To the south is the Sygun Copper Mine, another excellent exploration spot that you can combine with this walk and a walk to the lake to make a day of. To the East, while you do not have a clear view of Beddgelert, you have a gorgeous patchwork of farmland leading up to the mountains. This place is a photographer's dream and you should really take some time to capture the beauty to its fullest. While there isn't much left of the Iron Age hillfort, there are still some remnants and footings to explore; at the very least the small crumbling walls make for a great picnic spot or a foreground decoration to your panoramic photos.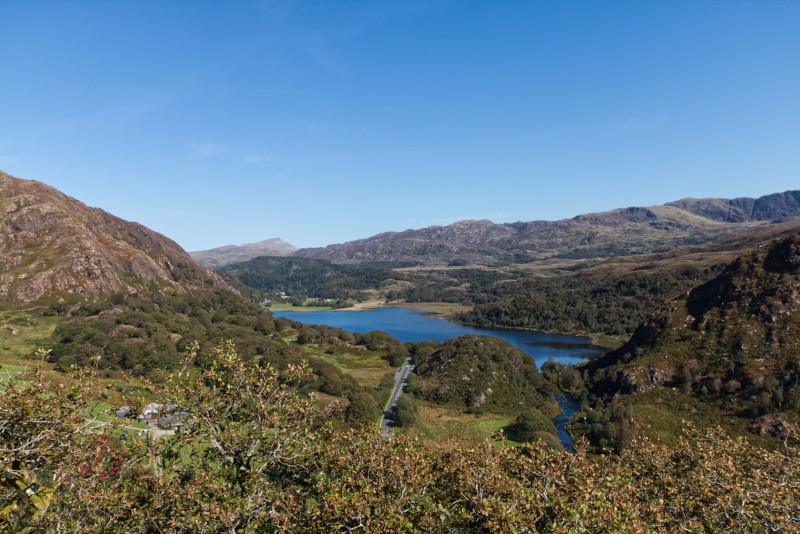 Once you've had your fill of the glorious views all you need to do is retrace your steps until you make your way back to the car park, taking care towards the end to follow the correct paths. If you've still got some energy left then you're spoilt for choice in this wonderful section of Wales, you could always follow some of the other routes listed out by the National Trust which can even take you into Beddgelert if you fancy it. If I had to make a recommendation, I think I would suggest heading over to the previously mentioned Sygun Copper Mine - an awe-inspiring delve into the hillside at a reasonable price, you can also follow the walk onwards from the mine to view Llyn Dinas in all its glory. Fancy more National Trust goodness? Well if you continue through Beddgelert south you'll arrive at the National Trust section of Aber Glaslyn, with even more great options for walks full of amazing scenery. You really are spoilt for choice...