Lockdown has been hard on millions of people I am sure and when you are an adventure seeker like me, being forced to stay home/limited to where you can travel can be really frustrating. During this time I have tried to remain as positive as I can and still get as much adventure out of things as possible! I had to trade mountains for the countryside, canals, local fields and ponds, yet it turns out in doing so I have had a couple of the most exciting and unique experiences of my life. If you are lucky enough to live in or by the countryside like I am, there are many new things to explore on your doorstep. I have thoroughly enjoyed long walks along the canal in the gorgeous sunshine, soaking up the beautiful views that I often take for granted as I see them so often. I have wandered along country lanes, breathing in the fresh, crisp air and loving the complete serenity of being surrounded by nothing but greenery and the only sounds being the birds and bees. I have taken in a whole new love for nature, encountering little lambs sneezing (and making me jump!), seeing tadpoles turn into tiny frogs and seeing tens of fish bobbing up to the surface of their newly empty canals, exploring their new freedoms. Seeing the change of not only the entire world but everything in nature whilst the world has been so quiet has been eye-opening.
One of my favourite things I have done is interact with baby geese, which is pretty funny considering before this I hated geese. I thought they were mean, angry, violent birds and after an experience in my childhood of one trying to bite me, we can see why I felt this way. It all started one day on our usual routine of walking the dog, a little Border Terrier named Bella, we headed around the estate as we usually do, walking past the many houses with nothing too exciting to see. We often pass a small pond and field which is normally full of ducks, Canadian Geese and sometimes even a heron! Usually, in non-lockdown circumstances we wouldn't pay too much attention to this place, however, with our options lacking in where we could go, we made use of this local pond as a little scenic place to explore. On this day, we happened to see the mother geese nesting on the island in the middle of the pond so we were very excited about potentially seeing some baby geese! We kept coming back to this pond until we finally saw the fluffy little babies out of the water for the first time. It was really incredible and my first thought was that I wanted to try and get close to them and stroke one. I never thought this would happen due to:
my dislike for adult geese, and
the adult geese trying to kill me for getting close to their babies.

Dan's mom is an avid bird lover so naturally she has tonnes of birdseed, so we decided to fill a bag and take it to the geese to try to bribe the mother geese to let me close and surprisingly it worked! For the first time in my life, I got close enough to be able to stroke and pet these tiny, super soft goslings. The mother geese were not too happy and hissed at me a few times, once even flapped her wings at me but they were, for the most part, just happy to be fed something other than grass or bread. The goslings even began to run up to us whenever they saw us. This was a once in a lifetime experience for me that I would never have got to enjoy had it not been for the lockdown scenario. We continued to go back to the goslings a few times a week, feeding them every time until the mother geese began to recognize us and no longer felt threatened. I got to pet the goslings so many times and watch them lose all their downy fir, grow their wings and finally become adult geese. I like to think we helped keep them safe from any foxes and/or dogs in the area as all 7 geese are still at the pond.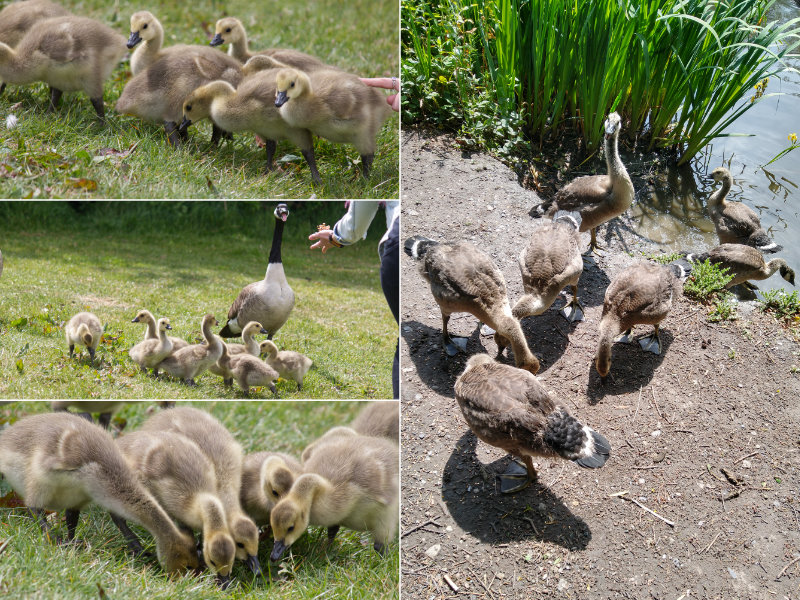 Another first time experience for me came about for us on a random drive during May. We were fed up of being stuck in the house or the garden and wanted to at least try to see or go somewhere new as it was such a nice day. We didn't have to drive far, it's not like we were allowed anyway, and Dan had an idea of a place to go after looking at maps. This, unfortunately, was a bust, there was nowhere for us to park for miles so we could not go walking, however not to be defeated Dan used his map skills to find a local nature reserve we had not been to before instead. This actually worked out really well and we had a nice walk around the forest and did not have to encounter any people. There was a huge fishing pond here also and some beautiful views of the countryside including a herd of cows basking in the midday heat. We didn't want the mini-adventure to be over, so we took a walk around the local houses and streets, coming up to more countryside at the edge of the cul-de-sac. This is where we saw a beautiful, galloping horse in the fields, she was super friendly and came straight up to the fence for a fuss. Again, this is another first for me and I won't forget it, it just goes to show there can always be an adventure made, even if your plans go topsy-turvy! Use the things immediately available to you such as maps on your phone or GPS. Making the most of the small things can feel huge and such a relief in times like these where we are so restricted.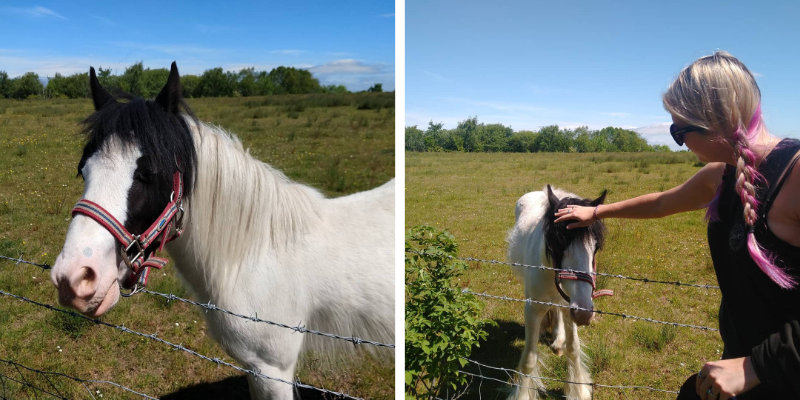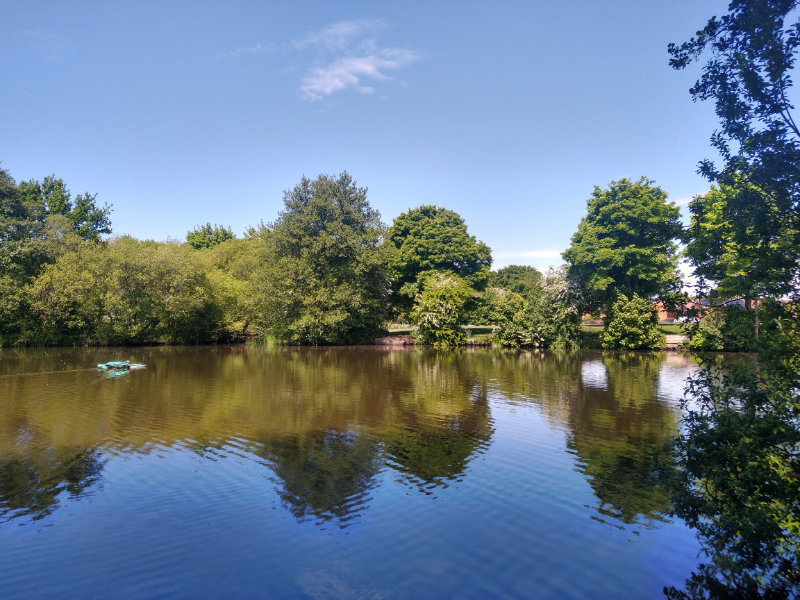 One thing we have done a lot of is utilising the back garden! If you are lucky enough to have a garden to spend time in, there is plenty of stuff to keep you entertained. My favourite thing we have done there is bird watching, I never, ever thought I would be the type of person to bird watch, however, it has been a pleasant activity to partake in, allowing me to relax while also learning a little about the natural world around me. We happened to notice a bird of prey continuously flying around the area and one day noticed 2 large black birds (possibly crows) try to attack it, very dramatic! Trying to photograph the birds was a fun, challenging experience too, as was trying to photograph any of the other nature in the garden. It's an easy way to keep yourself entertained outside without having to leave your house or be bored sunbathing. We fed bees sugar-water, saw some very unique, beautiful moths, found frogs in the pool, watched a brave little blackbird get closer and closer to us popping into the bird-bath and bird-feeders, learned the call of several birds, captured a greedy little squirrel on the nature cam, played with the dog (a lot) and generally had a great time exploring what we can on our doorstep,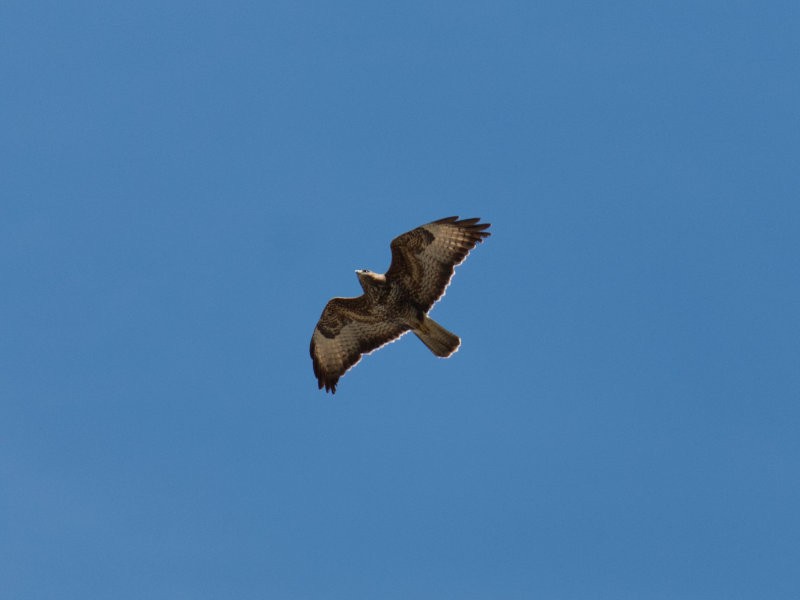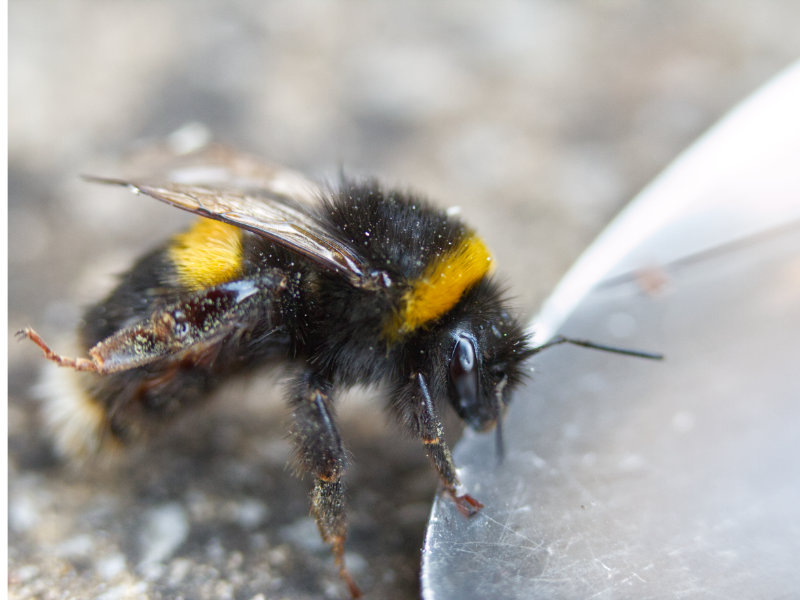 I've learned not every adventure has to be a huge, mountain climbing experience, it doesn't have to involve travelling far away to find a new experience. I have been very lucky to enjoy as much as I have over lockdown and don't get me wrong, I can't wait to go running around Wales again, but I've gained a new-found appreciation for the little things.