The first time we went to Ray's Farm was back in 2015, we found it totally by accident, we were driving around one weekend and spotted a deer's head logo on a brown sign. Now Dan loves deer so of course we had to go and check it out! What we discovered is now one of my favourite places ever.
Ray's Farm is a farm/petting zoo in Billingsley, it's in a wonderful rural spot in the Shropshire countryside. You follow some winding country roads to get here, making for a visually stunning drive to the spacious car-park at the entrance.


There's a bunch of different animals at Ray's Farm, most of which you can hand feed and touch. This is by far my favourite part of going! Getting to see and even give a fuss to animals I'd never normally get to is so much fun. If you're an animal lover you will very much enjoy visiting Ray's.
One of the best times to visit is in the spring - this way you will get to see all the newborn lambs. One of my more memorable visits include a tiny little black lamb named Hamish who had been rejected by his mother. Because of this, he was in one of the barns with a couple of other rejected lambs however, Hamish was the only black lamb of the bunch. I instantly fell in love with this little guy and had I had the room at the time to keep him I definitely would have taken him home!! I got to hand feed him, stroke him, he even tried to feed from my knuckle (like a teat) it was unbelievably adorable. We even went back to visit a year later and saw Hamish as a fully grown ram with his huge horns. I always look forward to going back in the spring.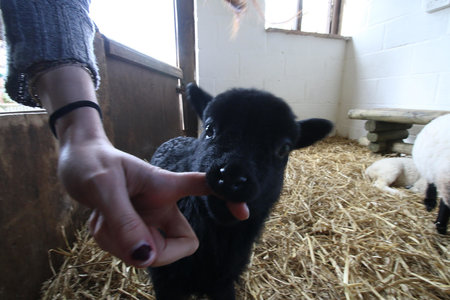 Little Hamish
As well as lambs and sheep, there's plenty of goats - although beware going into the goat field as they are very energetic and excitable! They have a long list of other animals such as: alpacas, llamas, dogs, rabbits, chickens, donkeys, horses, pigs, deer, turkeys, guinea pigs, ducks, geese, reindeer, owls, chipmunks and even chinchillas. There is plenty to see.

Another one of my favourite things about Ray's is when they have the owl encounter event. They have a bunch of different types of owls out in one of the barns (with professionals keeping an eye on them of course) and you can hold an owl and learn some more about them.
They include owls of all different sizes, some that look big enough to eat a small child!! There's the option to donate to owl charities also which is always a good thing.
This is a great experience for children and adults which I would highly recommend.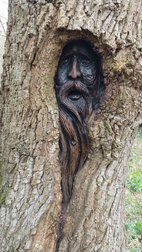 Once you've paid to go in, you can stay as long as you like within opening hours of course, which is great because as well as all the animals there's also a fairy-tale woodland walk along a stream you can do at Ray's Farm. The walk includes hand carved wooden sculptures of traditional fairy-tale characters which are incredible to see, some are even carved into the trees. The walk, especially during the spring and summer, is a wonderful burst of colours and smells and it's always a nice feeling going back to childhood by remembering all these fairy-tale stories. One end of the walk takes you to a bird watching hide, this is lovely and peaceful especially on a quiet day at Ray's, there's always a bunch of wildlife to spot and hear.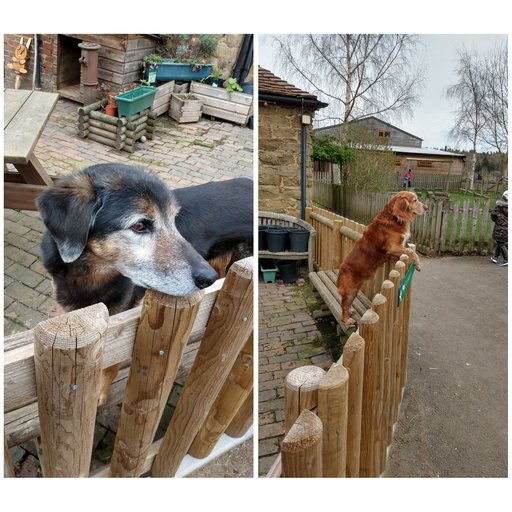 Once you've done everything, you can stop in the cafe for a coffee and a snack or grab a meal in the restaurant. There's a couple gift shops which are always nice, they've also started selling marmalade's, chutneys and jams - yummy! In this same area of open barns there's the farmhouse on the corner which features the friendliest dog I have ever met; Max. He is a gorgeous red spaniel and absolutely loves some attention from the visitors. Along with Max is Milo, the older farm dog. Milo is a little more reserved and loves having a nap on the table, shying away from the people, but still just as lovely. I would probably go back to Ray's Farm just to see Max and Milo but then I
am
a huge dog lover. You can't have a visit to Ray's Farm without spending some time with these pair.
I absolutely love coming back here year after year and meeting all the new animals, seeing some of the old ones growing greyer. I'll be visiting Ray's Farm for a long time for sure. With
Bridgnorth just a few miles down the road, a couple National Trust places nearby too like Morville Hall and Dudmaston, you could really make an entire day of being in this part of the UK.