Hello!
I'm Rox :)
Thought I would give this blogging thing a go...
I'm going to begin with somewhere quite special to both Dan and myself: Barmouth.
It's somewhere I've been going to since I was a kid, we used to camp over at Tyddyn Goronwy Camping Park AKA 'the chicken farm' (as me and my younger sister called it haha) quite often. I remember running around on the green fields, begging to go to the arcades and down to the beach. We'd spend hours and hours building sandcastles and running into the ocean - something I wouldn't dare do now!!
Obviously the older I got, the less I wanted to go on family holidays so my time in Wales gradually stopped happening. I hadn't even considered going back to Wales for years, until I met Dan. He quickly wooed me and when we were planning a coffee date, he said something along the lines of he "knew a great coffee shop for us to have a date - but it was all the way in Barmouth". So off we went! We got up nice and early one Saturday and drove to Barmouth for our coffee. The cute little coffee shop was called 'Goodies' and it was perfect. I'd highly recommend a visit to this coffee shop, they do some really nice food also such as cakes and sandwiches. It's very cosy and has a nice vibe, plus you would be supporting a smaller business. It's right in the centre of Barmouth too so very easy to find, nice for a quick break and relax if you've been walking around Barmouth all day. We took a nice, romantic, WINDY stroll on the beach in December - freeeezing!! - and watched the most beautiful sunset from the sea wall. The sunsets over the ocean are one of my favourite things about Wales, the pinks, reds, oranges and yellows slowly blending into the waves and fluffy clouds, with the silhouette of the mountains behind...I adore it.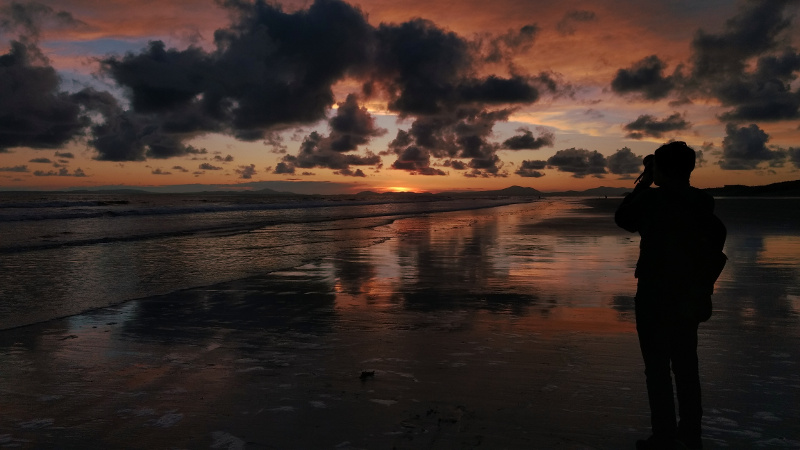 This first visit to Wales together quickly snowballed into many trips later. We've walked miles on the coastal walk, we've climbed mountains (hello Cader Idris!!), done the Panorama Walk and ended up in and above the clouds, Geocached along the way, walked the Barmouth Bridge and driven many miles across this wonderful country, even all the way to South Stack Lighthouse. There's so many incredible things I can recommend about Wales, it's going to have to be a series of entries.
It's funny how when you're a kid you don't appreciate the beauty around you, how close these phenomenal mountains and national parks are to us e.g Snowdonia!! I can't wait to see even more of it.
If you are ever considering going to Barmouth, for a day trip, weekend, or holiday, I can only encourage you to do so. There's plenty to do that doesn't involve having to be in the centre of the busy Barmouth town, although there is some great food places there if you're peckish, like the Tal-Y-Don, you really can't go wrong with any of the food here...portions are massive, food is delicious and local meat etc all for fab prices. It's dog friendly, so be prepared to give lots of pets to lots of dogs! Very friendly people and a nice place to grab a beer. Or there's Knickerbockers for our sweet toothed readers ;) right on the harbour front, it's lovely to sit there with your desert on a sunny day.
Hopefully I'll get some photos up eventually to try and show you the world through my lens.