Barmouth is a great option for those looking to escape to the seaside or to explore the mountainous countryside that Snowdonia has on offer, while still having plenty of opportunities for good food and entertainment for the little ones. There is something for just about everyone, from ramblers and dog walkers to beachgoers and more. Above all else, Barmouth has some absolutely spectacular viewpoints that absolutely need to be seen to be believed, so this day out will take you on a tour of some of our favourite viewpoints that let you see every beautiful angle of this part of the world!
If you have never been to Barmouth before you are in for a treat, situated on the mouth of the Afon Aber (Barmouth being an anglicised version of its Welsh name, Abermaw) this former harbour town turned seaside resort is a great base of operations for those looking to explore Snowdonia. Cadair Idris to the south, the Snowdon massif to the north, great road links to get around and when the day is over you can have a walk on its golden sandy beaches - what is not to love?
This day out can be seen in a single day but feel free to split these into multiple days in their own right, especially if you particularly enjoy a stop-off and want to make the most of it. Ultimately this is just inspiration, and you can mould this day out into whatever fits your experience level and whatever your current holiday plans may be. Most of these can be easily walked to unless specified otherwise, but it is recommended you have good shoes or even boots depending on the weather conditions. Above all else, have a fun time, grab some great photos and experience Barmouth, in all of its glory, from every angle...
Getting There
Barmouth is a great option for the land-locked central Welsh and western English counties to escape to, should you feel the need to see some seaside scenary. When travelling from England the M54 is the main avenue from the central counties to get out towards Wales and then you need only follow the roads west until you reach the coast. Don't expect motorways to carry you all the way there, this is the wilderness of Snowdonia after all and the only motorways in Wales are in the south. Instead, there is an array of plenty wide enough A-roads spiderwebbing their way across the landscape, so almost every option is an easygoing route to reach Barmouth. The town itself is on the A496 with Harlech to the north and Dolgellau to the east - travelling up from the south will need you to either cross the toll bridge or make your way inland at the Mawddach Estuary up towards Dolgellau before navigating back along the estuary along the other side. There is also a train station in Barmouth which is well connected considering its rural setting - routes running from as far as Shrewsbury will carry you all the way to the coast in comfort.

Getting some amazing views - nearby or a short drive

Let us begin with some of the best views to look down over Barmouth town - for me, there are two choices that really allow you to see the town from two very different but equally awe-inspiring angles. One requires driving out of the town, across the toll bridge (or up to the free crossing near Dolgellau), and up a hillside via some narrow country lanes, but it does have much more to see beyond the obvious views. The second option is much, much more local to Barmouth town and while it may not have quite so dramatic views of the town itself, it too has some amazing things to see! Plus, if you don't mind walking out a bit you can soak in some additional scenic sights.

You could potentially see both in a single day, but trying to do everything listed in this entire day out may stretch you a little thin if you aren't careful - you should either start early to give yourself plenty of time to enjoy this stuff or split these over multiple days. With that out of the way, let's start with the local one...
It is hard not to argue with taking the time to explore Dinas Oleu - this beauty spot right above Barmouth town can create some great panoramic shots of the town and beyond, and all you need to do is scale a small hill (relatively small, compared to the kind of hills Snowdonia can throw at you). I also find the walk perpetually rewarding, you almost want to stop and take a photo of the views with every step you take but keep pushing forwards as the best views await above. Plus, you can get some unparalleled views up the Mawddach Estuary and there are plenty of options for extra walks here if the initial walk isn't quite enough for you. Our article details some of the great points worth visiting up this hill, including the Frenchman's Grave and the bench right at the top of the town - no reason not to see both if you already find yourself up here!

If you do want to tackle the drive around the river to climb partway up the mountains, then your next stop is a cracker...
Reaching Cregennan Lakes is a bit much for walking, especially if you are trying to see a lot of this in a single day, so you will need to drive. You will want to leave Barmouth out from its south end along the A496 - following the Afon Mawddach inland. You can either cross the toll bridge or circle all the way to the outskirts of Dolgellau where you can join the A493 and head back down the river. Just before the town of Arthog is a signpost for the lakes, where you will follow country lanes up the mountainside until reaching the car park. There may be some gates along the way so make sure to close them as you go, and getting back to Barmouth after the fact is as simple as retracing your route here. If you did decide to walk, you can make your way to the lakes via Arthog Falls - check out our article below all about those falls and the possible walks beyond.
A couple of peaceful lakes sat in the foothills of Cadair Idris are enough of a draw in their own regard, but in keeping with the theme of this article, you can get one amazing view over Barmouth, the estuary and into the sea beyond. Not only that but there are plenty of walks in this area for all skill levels or just a great place to relax in some of the most serene surroundings in the area. Take some time to walk around the paths that circle the lake and around these mountains, check out the amazing views of Cadair Idris and then, when you are ready, let's get back to town...

While at Cregennan Lakes
Depending on whether you just want to make the most of your time on this side of the Afon Mawddach, or if you are planning to walk to Cregennan Lakes, you should stop off at Arthog Falls - this is quite the climb and would probably be a little much to do in combination with everything else here in a single day, but if you fancy the challenge then go for it! If you are walking then you will want to combine these falls with Barmouth Bridge - which we will discuss shortly...
If you want to really maximise the views you can see at Cregennan Lakes, the only way to do so is to go higher and naturally Cadair Idris is the best viewpoint in the area. You can tackle this behemoth either by driving through Dolgellau to find the car park on the country lane, or you can combine it with Cregennan Lakes by continuing on along the road up the hillside rather than doubling back (more directions in the article below). This Is another big challenge, so either plan for a long day or split into multiple days - but the views cannot be beaten!
Back to the town
Once back to Barmouth Town proper, take some time to relax and unwind from your last excursion. If you fancy it, and the weather fits the mood, I highly recommend dropping by Knickerbockers for an ice cream - this place has a great selection and never disappoints.

Take your ice cream for a stroll on the beach and make your way to the end of the concrete wave break that protects the harbour. Not only is this a pleasant walk in its own right, but it ends with one of the best views up the river and you can clearly see our next destination...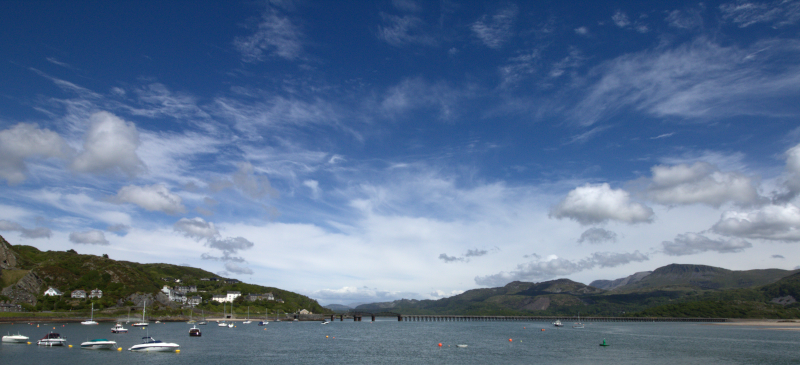 The bridge is just a short stroll up the lane out of Barmouth, taking care when crossing as spotting cars can be tricky. Once onto the bridge you will have awesome views both out to sea and up the estuary; the bridge itself is an experience in its own regard, especially if you get to cross as a train goes by - don't let the rattling and shaking put you off! The bridge is best crossed when the weather is good (wear suntan lotion on the hotter days - there's no shade) as the wind really picks up by the middle but in any conditions, this is a fun walk to take you out over the Mawddach Estuary. One of my favourite memories of Barmouth as a whole is crossing the bridge at sunset, simply unforgettable!

Beyond Barmouth

If you have already taken the time to walk the bridge, why not continue? Fairbourne's beach links right up to the other side of the Estuary and you can get some great shots of Barmouth from across the gap. This is another great sandy beach to explore, plus the Barmouth Ferry runs to here so if you don't fancy the walk back you can always take a shortcut...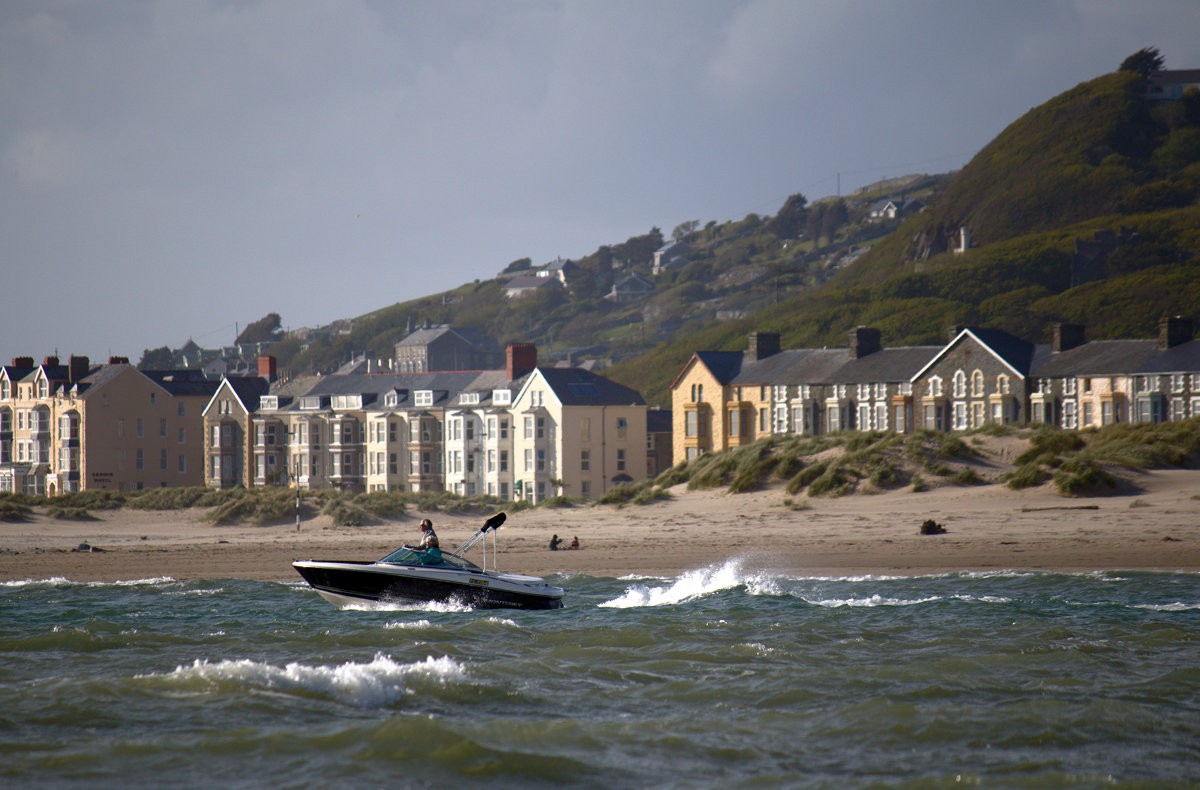 Depending on how much you choose to do that should just about fill up your day and I'm betting you are pretty famished by this point. It is hard to beat Fish and Chips by the seaside, we have visited pretty much all of them and can confirm that just about every chip shop in Barmouth serves great food - pick the one most convenient to you, or the one with the shortest queue, pick a nice spot along the sea wall and finally relax!
Hopefully, you have enjoyed our tour of some of the best views over Barmouth - I am sure there are plenty more angles to find that each offers a unique perspective over the landscape, but these should give you a taste of some of the breathtaking sights available here. The handful detailed above are definitely some of my favourites, the only way you can really surpass them is if you take to the skies, the last time I visited I managed to do some flying around the Mawddach Estuary at sunset (amongst some other amazing places), that really just took my breath away...