The landscape of North Wales is littered with small lakes and reservoirs often nestled in the shadows of towering mountains (or sometimes on top of) which make for beautiful views and spectacular walks. Llyn Bodlyn is a man-made reservoir, flanked on three sides by steep hills and rugged cliff faces and approached by farmland with some absolutely breathtaking views out over Cardigan bay. It has a modest dam, quite tiny compared to some others in Wales such as Vyrnwy or Trawsfynydd, but the spillways feed a constant flow of white water down to the ocean beyond in the form of the Afon Ysgethin - giving the landscape a very dramatic feel. This area may not have the biggest, tallest, most awe-inspiring or most beautiful of anything, but it is the perfect balance of everything Wales has to offer and because it is not so well known you will often get the place all to yourself.
Heading North out of Barmouth you will need to tackle a short country lane to our stop - considering how difficult some roads in Wales can be this is a fairly wide track with a generous amount of passing points so you can trundle up safely. As with many of these nestled away spots there is nothing really to sign-post it, you will need to follow a Sat-Nav to make sure you find the correct turning in the small town of LLanddwywe, just on from Tal-y-Bont. While the sat-nav may try to take you all the way to the lakeside, our actual destination is a small car-park with an honesty box. If you happen to have arrived here on horseback then feel free to follow the bridleway, otherwise park up and continue onwards on-foot closing any gates you pass and giving way to any vehicles you encounter.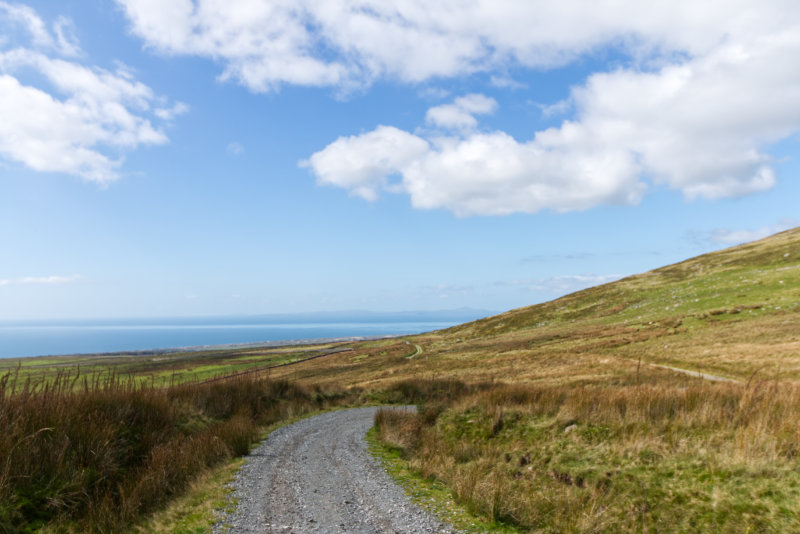 The remaining trek, if you follow the lanes rather than deviating, is roughly 3 and a half miles of loose gravel roads that are easy enough to follow and the gradient is nice and steady. The main road can easily be completed in comfy shoes or trainers, although further exploration will require something sturdier. You will wander through farmers lands, where we were greeted by one particularly vocal cow, and eventually out onto more open landscape with some opportunities to explore other paths. Even in September some of these paths were heavily flooded and very muddy, so plan for the worst or stick to the main roads - but if you are feeling more adventurous you can get views from above by following the marked trails, the turning to head up the mountainside can be seen here.
If you stick to the roads you will arrive at the lake in no-time. You can make your way down to the lakeside at any of the banks, but if you follow the road all the way to the end you will come to the dam itself. There is a small bridge to cross the spillway and you can explore the foot of the dam or make your way further around the lake. It is such a quiet spot, perfect for a picnic and to soak in the beautiful Wales countryside.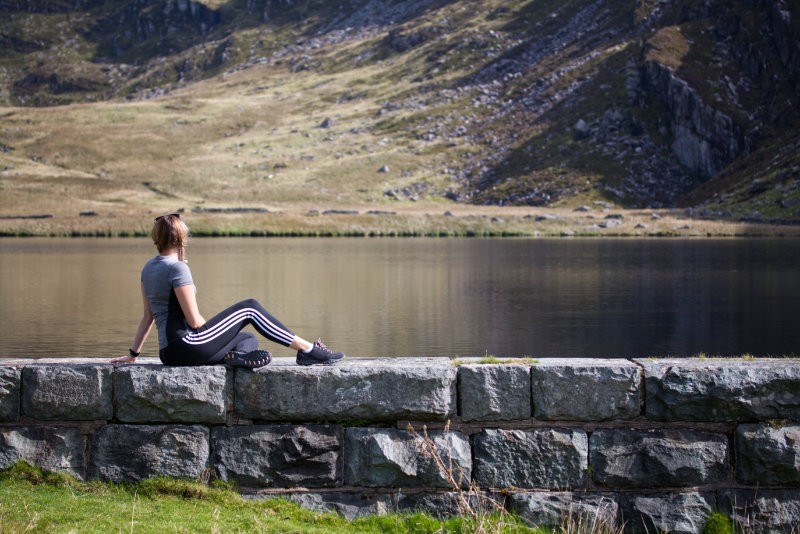 As ever in Wales the walks can go on as far as you want them to, you may have even noticed Llyn Lrddyn as you approached but there is also the smaller LIyn Dulyn nestled in the mountainside, feeding into Llyn Bodlyn. A quick look on Google Maps shows all the little lakes littered nearby - so you really are spoiled for choice if you want to go lake-hopping! Just another wonderful spot that Snowdonia has to offer, well worth a stop off on a sunny day for a quick afternoons hike.