Tucked away up a lane along the Mawddach Estuary is a relatively short section of path that offers absolutely staggering views over the river and to the mountains beyond, this unmissable slice of heaven is an easy-going walk (depending on what route you choose to take) that will provide picture-perfect scenery that is seriously hard to beat. Titled the "New Precipice Walk", presumably to tie it to the nearby Precipice Walk which also offers some fantastic views that should also be seen, this is a great option for anyone passing through the area that can be coupled with many walks to create a full day's adventure around the estuary and its other nearby attractions. The possibilities are practically endless, with great options for extra exploration at both ends - so let us plan you a day out in the mountains that will leave you snapping your camera shutter all the way through...

The New Precipice Walk has two major options for getting to it, one is more convenient and will start you out one gate away and the other we have spoken about previously: the Cymer Abbey to Llyn Tan-y-Graig walk. Now the Tan-y-Graig walk will absolutely add around 5 miles or so to your total, mostly steep ground that will be taxing on the ankles, but these are some of the most beautiful areas you can find in these parts, especially the lake itself which somewhat feels like a little slice of Canada with its towering evergreens framing the calm water perfectly. We have detailed that walk before and how to get there in the previous link, with its start point at a car park near Cymer Abbey, but if the extended walk seems a little much and you are looking to just take in the New Precipice Walk then you're in luck: there is a dedicated small car park right near the start of the New Precipice Walk. Up a narrow line at Taicynhaeaf opposite the Penmaenpool Toll Bridge, this is the same lane for Cwm Mynach a recovering woodland we covered previously, is a small parking area adjacent to a farmhouse that, while a challenging drive, offers the most accessible option for walkers and is a single gate away from the start of today's walk. The lane is a bit of an annoyance but at least it is a relatively short drive, you should expect roughly 1.5 miles of proper country lanes with fairly limited passing points - just progress slowly and carefully and you won't have a problem. Public transportation is still an option surprisingly, even though this is a little remote there is a bus stop right at the bottom of the lane so you would only need to walk the same 1.5 miles to get to the walk; certainly if you opted to walk those lanes it would be a bit of a steep climb, but no more difficult than taking the lake route recommended previously. If you wanted the lake route you are still okay on the public transportation front, as there are stops on the A496/A470 around Llanelltyd.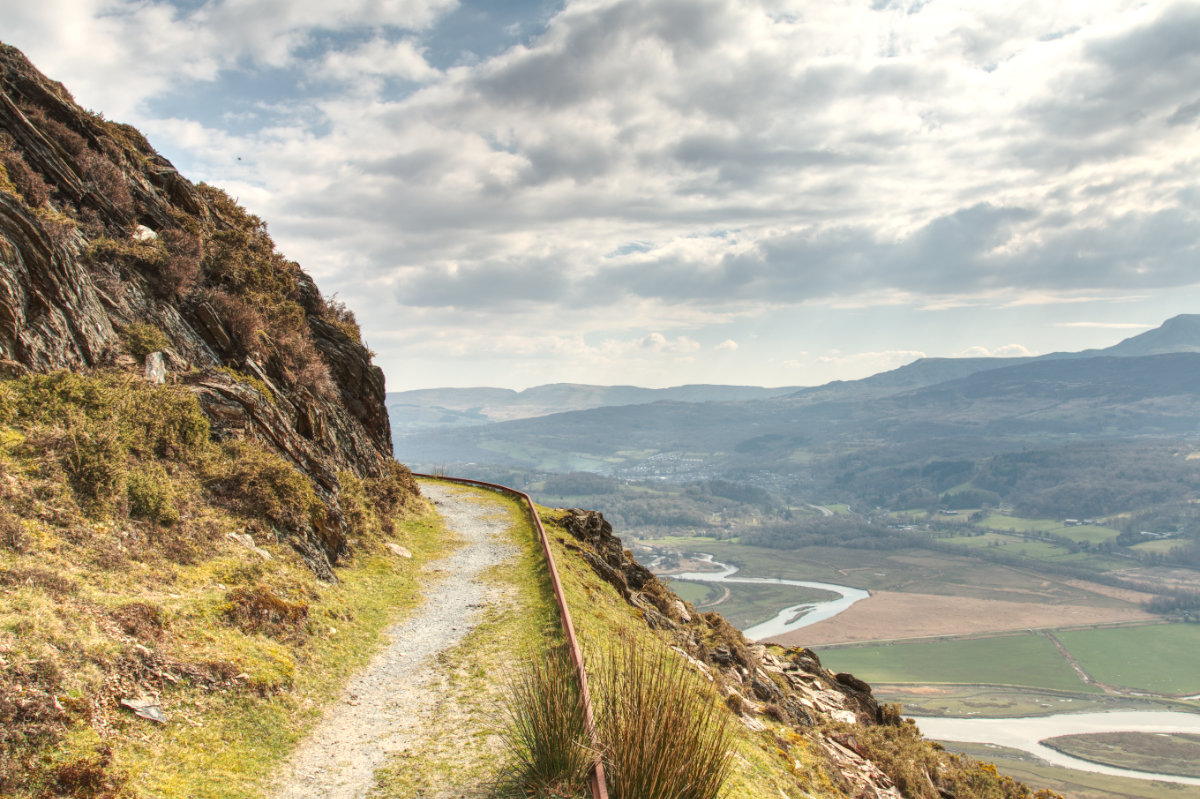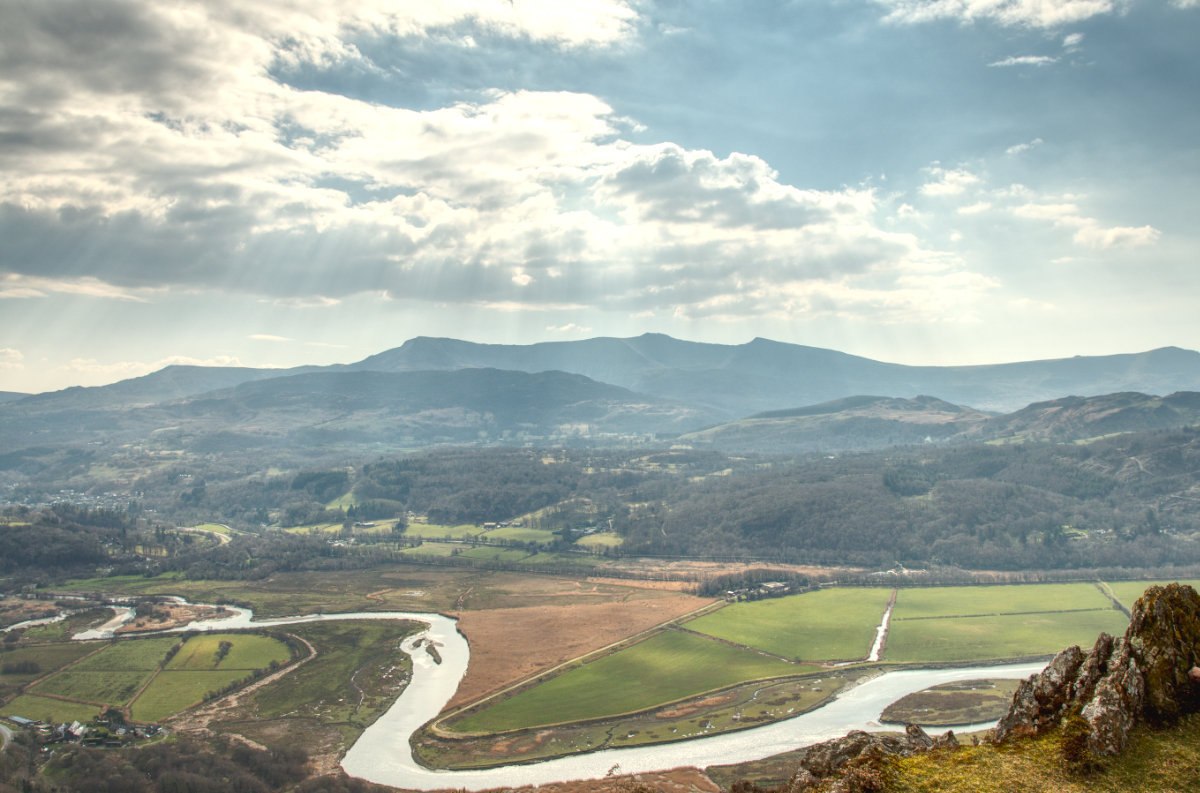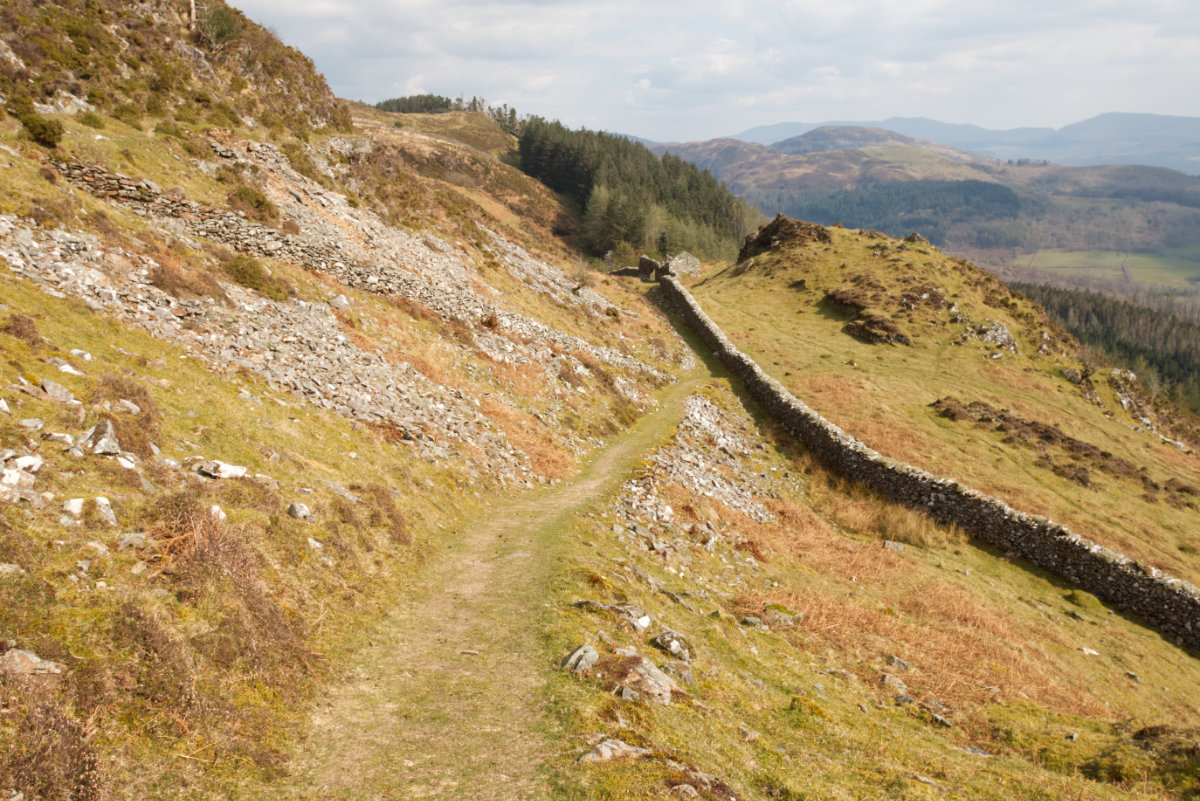 We will talk about the alternative route briefly in a moment, but if you drove up to the car park at the New Precipice Walk then there isn't too much to explain - step through the gate to the side of the white cottage and start walking! The path snakes around the hillside with a small grassy area protecting you from the larger drops initially, before moving out towards the drops to follow the outer edges of the hillside. As you can imagine, there are some pretty breathtaking drops on your side but the paths are reasonably wide enough that you should be comfortable and even if you think you may struggle, just remember the views are unquestionably worth it and if you reach your limit you can always turn back. There isn't too much else to mention, the paths are well maintained and surprisingly smooth for a hillside walk, and you can enjoy most of this path without too much ascending/descending, at least initially. Eventually, you will drop down and this is where you can pass through a gap in the wall to get one of the best vantage points on the whole walk - this is a short climb but if you can make it you will have perhaps the most uninterrupted views up and down the estuary and it will really help sell why this is a must-do walk. Places like Cadair Idris or Cregennan Lakes might offer some great elevated views over the river, but the New Precipice Walk is just perfectly situated to give a dramatic view up the river and towards the ocean - when framed by the mountains it is just a wonder to behold.
For those looking to continue beyond the limits of the New Precipice Walk then you have some great options. The previously mentioned walk to Llyn Tan-y-Graig via Cymer Abbey is my recommended route to take, not just because there is better parking up more forgiving lanes but the extra attractions are all worth it. Again, we will assume you did park from the New Precipice Walk car park, but if you do decide to walk from the lake then following this route in reverse is simple enough. Beyond the vantage point above, there is a small wooden bridge that passes over a calm trickling waterfall, adjacent to the remains of an old crumbling building, presumably a part of the nearby Foel Ispri Gold Mine - there isn't too much left of the interior but the exterior is surprisingly intact, and we can only imagine how amazing it would have been to live up here with some of these spectacular views acting as your back garden. Beyond the house, follow the wall until you reach a stile that allows you to cross into the woodlands. These are the same woodlands that line Llyn Tan-y-Graig and the descent down will be a serene stroll amongst birdsong and wind rustling through the trees. Cross a tiny stream and take a left where the path follows a second stream (Some of these streams may be dry in peak summer, but the paths are generally clear enough to see), before long you will be at the western tip of Llyn Tan-y-Graig. If you did choose to start out from the New Precipice Walk I still recommend at least coming to this lake, if not continuing onwards to see the town of Llanelltyd, Cymer Abbey and the spectacular old Llanelltyd bridge between over the Afon Mawddach - these are some of the best beauty spots in the area and should not be missed!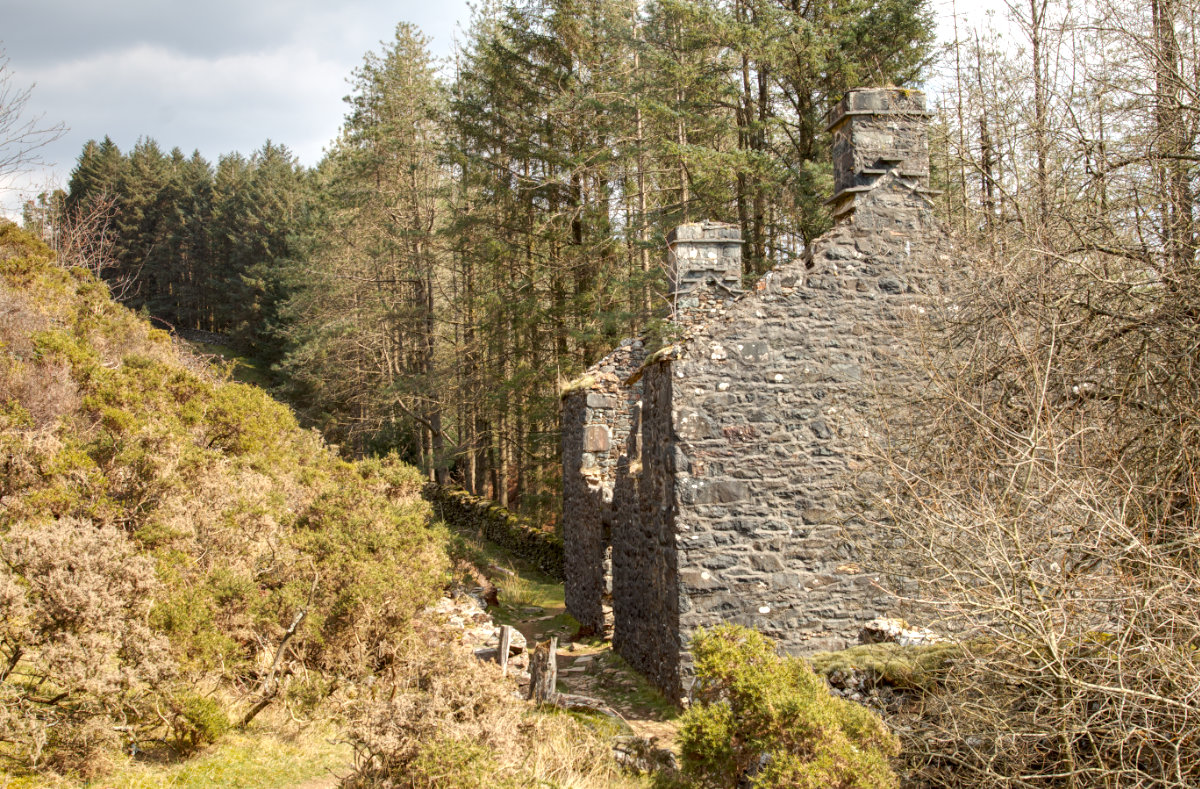 For those looking to greatly expand their adventure and see a little more of the Afon Mawddach, you can complete a larger circular recommended only for those who seriously love walking. Continuing past the car park you should descend the lane on foot, before crossing the A496 and making your way to the Penmaenpool Toll Bridge - a beautiful Grade 2 listed bridge in its own right dating back to 1879. Before linking up with the A493 on the other side, keep your eyes peeled for a path on your left that tracks alongside the river, this is the Mawddach trail and one we have explored a few times in the past including when we took a trip over Barmouth Bridge when we visited Arthog Falls - both potentially worth adding on if you really want some steps! Otherwise, head towards Dolgellau on the long and smooth paths, after a short walk you will rejoin the main road - either follow this back to the Cymer Abbey car park, or cut through the back of the town, and continue on your circular back up the hillside. While beautiful in its own right, the trail is more of a way to expand your walk than an absolutely essential visit, so unless you really want to add a bit of millage onto today's adventure I'd stick to one of the shorter options, then double back on yourself to get back to your chosen starting point.

The New Precipice Walk is an adventure I cannot recommend enough. The views on offer, in such a convenient walk that will not be too taxing for most experience levels, are just phenomenal and quite possibly unparalleled as far as views over the Mawddach are concerned. If you can get up on a clear and ideally sunny day you will be rewarded with a plethora of amazing sights - grab your camera and get going! As far as other things to see and do in the area, I think I've mentioned it more than enough thus far, but I wholeheartedly recommend you do the Llyn Tan-y-Graig walk with this one to make it a few hours of adventure through some of the prettiest vistas in the area. Beyond this, you could always take in the original Precipice Walk, which offers some equally amazing views over another stunning section of the Afon Mawddach or continue onwards to see a woodland being rejuvenated - Cwm Mynach. Don't feel like you have to move on to other places to have a great day out though, considering all of the walking opportunities in the area you could easily spend a whole day enjoying the New Precipice Walk's beauty and you would not regret it.