I would like to think Love Our Adventures has maintained its mission statement quite well while discussing all of these spectacular locations:
"Love Our Adventures is all about inclusivity, trips here are aimed for all experience levels and all backgrounds."
Regardless of your personal skill level, whether you are someone just starting out looking for some nice smooth paved paths to someone planning their next excursion up a jagged mountainside, there is an important part of pushing yourself that is well worth discussing: failure. Anything we embark upon comes with a risk of failure, especially if you are trying to push yourself beyond what you are normally capable of. So in the interest of that inclusivity, I want to offer some reassurance when it comes to failure - I could give you a pep-talk about how it is alright and what you need to do in the future to achieve perfection, or drum up some list of the "10 biggest mistakes all newbies make", but I think it would be much more valuable to recall a time I had to throw in the towel on a day out and what I personally took away from it.
Our journey starts out near Barmouth, as they so often do for us. Days usually break down into two categories: travel days, where we have a schedule, a list of destinations with an overall plan for how it is going to work and then 'take it easy' days where we stay fairly local, perhaps picking one location nearby to go and explore. Our easier days can be either short or long walks, but they are usually days meant to slot in between bigger adventures where we are likely to need some recovery time. The other part of these easier days is they are typically within a reasonable distance of where we are based, usually because the bigger days can often involve plenty of driving too. The weekend before, I had done my 40k walk in blistering heat and the following day we were planning big walks around Anglesey with our lighthouse to lighthouse journey taking place - considering all the adventures planned, something a bit simpler in between would be needed.
So we found ourselves in need of an easier day to fill a gap, I was aware of a National Trust location nearby, actually, all I knew was there was a National Trust sign on a gate and was curious as to what was up the lane; I had spotted some paths on OS maps leading up the hillside beyond the gate and we agreed it could be a fun day out. It turns out the National Trust location was Egryn, a rentable Medieval Hall house in a private walled garden surrounded by working farmland, our route would see us cutting through the farmland and up to the hillside above. This isn't a typical write-up of a location, but I have included this detail because the views pictured are undeniably awe-inspiring so you should absolutely take on this walk if you get the chance. With our journey set, there was nothing else to do but get a good nights sleep and embark on an adventure.

Late start - hot beginnings
With no need to set an alarm and no real schedule to work to, we rolled out of bed as and when we felt like it. Prep was easy going, but even with our laid back approach, the day was getting on a bit so we grabbed a light bite, filled our smaller backpacks up with all the essentials and made our way out by about 11 am. Our first walk involved navigating the roads to get to the start point and the heat was already pretty impressive; almost pure blue skies left the sun blazing and temperatures were already north of 20 degrees, not bad for May! Still, we had plenty of water and we weren't going (that) far, so we enjoyed the sun and looked forward to getting some shade amongst the trees. All we needed to do was get off of the road and up the lane and there was sure to be plenty of shade...

We arrived at the gates with only a rough idea of where we were going, but we followed the lane up to the farm and enjoyed the beautiful surroundings from the cool little hobbit hole storehouse to the vocal sheep who lined the public footpath. We spent some time in the peace of the farm before we crossed a little bridge over a brook and found our way onto the public footpaths. These were a fairly gentle gradient, twin-track roads that did have some trees but the already sun sat so high in the sky that there was little shade to speak of. We were still in good spirits of course, and those spectacular views more than made up for a bit of heat! We weren't walking completely blind, as always with these walks I had my GPS to hand, but the walk was simple enough to follow for the most part: just keep following those tracks.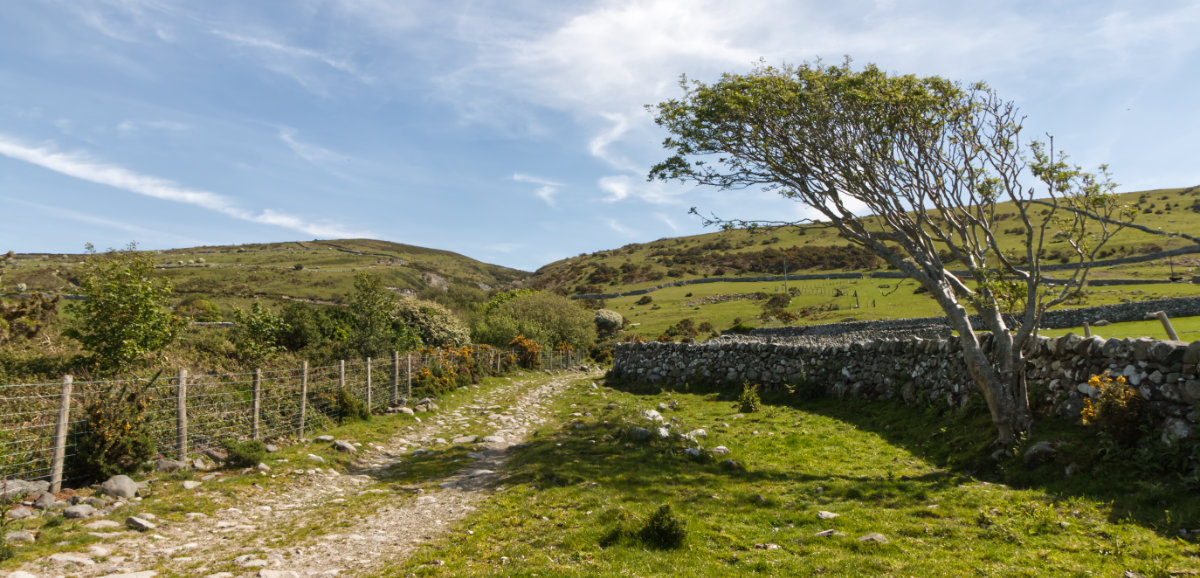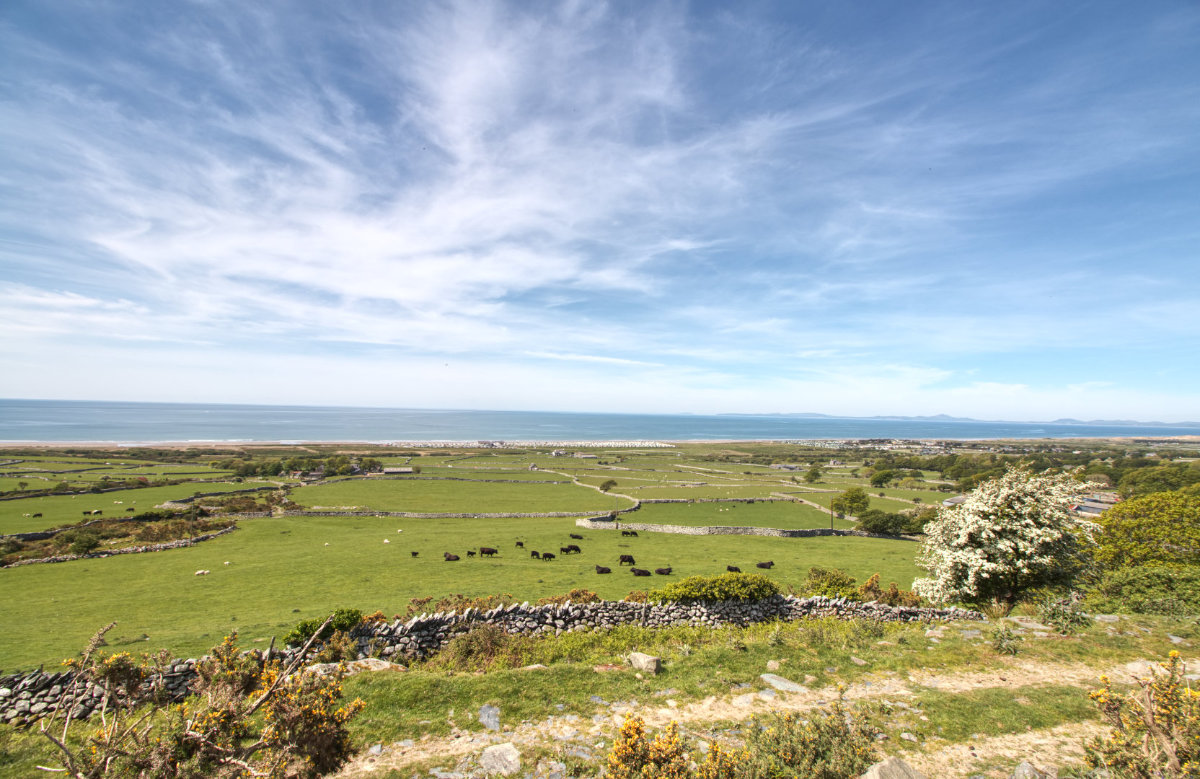 Spirits were high - the views were already looking magnificent and we had barely even made it much beyond the farm. We knew we were in for a great walk and had clearly picked a perfect place to explore. So now it was time to get really stuck in.

Ascending in the sunshine
With those views for motivation, there was nothing to do but continue onwards and upwards. Our path flanked by spindly trees and razor-sharp bushes that would shred your legs if you go too close; nothing was providing cover as the sun pushed well into its midday position. There were occasional breaks from the scorching weather as small sections of trees dotted around gates allowed for us to cool off, if only briefly. Sunglasses protected my eyes and a cap, worn backwards, protected my neck from burning and I was generally feeling good - I just wanted to get to the top. The walk continued to ascend and we bounded over the hills with reasonable eagerness, even if we needed to bathe in suntan lotion, and our progress was well measured by the sea slowly disappearing from view behind us. The walk would alternate between the ankle and calf-destroying ascents to more casual strolls through open fields amongst the sheep. Eventually, the last few bits of trees disappeared and all we were left with was open fields to trek across.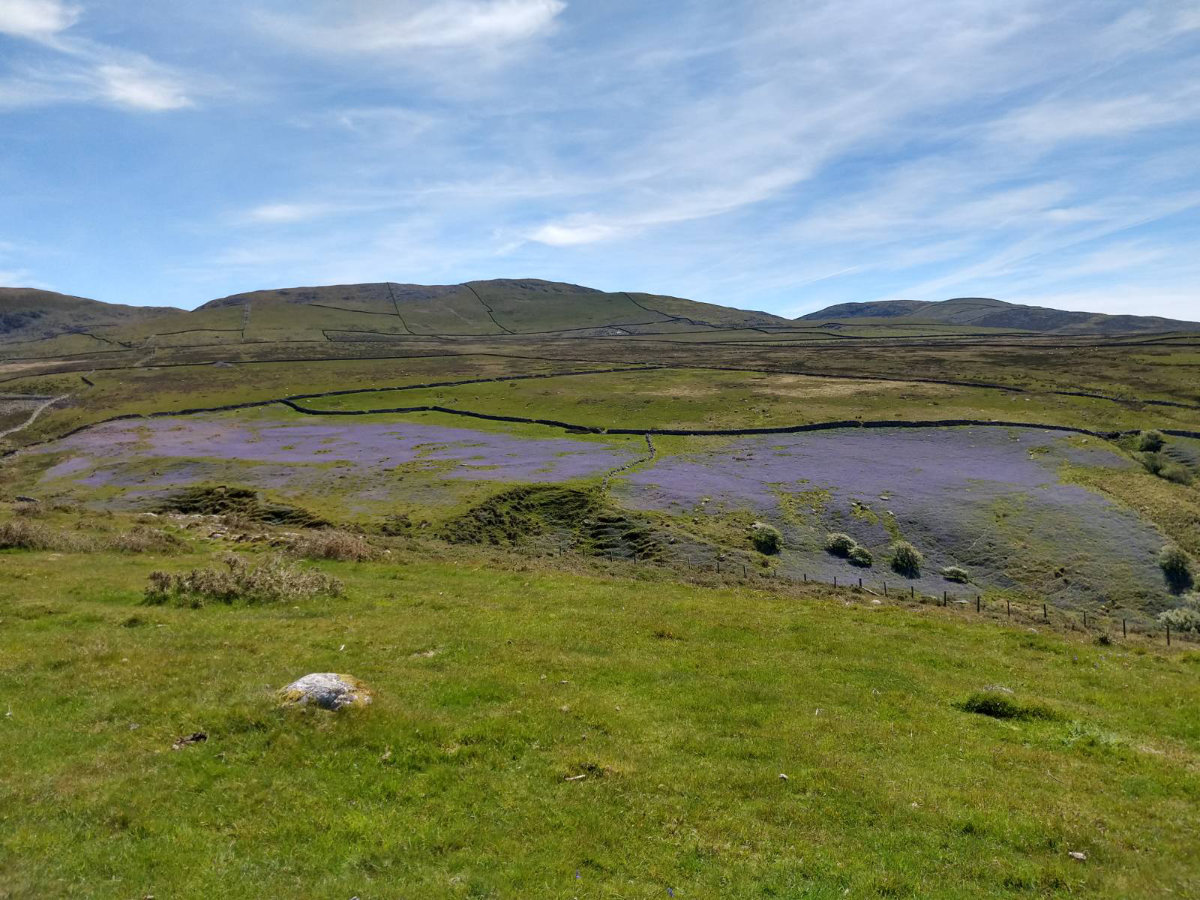 Now, I love walking in the countryside just about as much as anywhere else, and if it is hilly and mountainous then great! But, this walk was starting to become a slog. The sun was absolutely brutal, I admittedly had started to feel the impact of that and was starting to feel a little unwell but was determined to keep marching towards our end goal. What made the situation worse was the views had all but disappeared: on the left, there was a field with sheep, on the right a field with sheep, and as far as the eye could see in front, fields with sheep. We were up on a small plateau so there wasn't a whole lot to see and nothing in front of me to keep me motivated. The wonderful sea views behind us we had been periodically stopping to photograph were long gone. We followed yet another stone wall with perturbed sheep eyeing us from across the field, rounded a corner through a gate and saw yet another field, the longest yet I may add, stretch out in front without a lick of shade; that sight was the straw that broke the camels back, and I said I couldn't keep going...
Throwing in the towel
So there we were, sat below the stone wall trying to capture what little shade there was on offer, when that failed I propped my bag overhead to give me a break from the peak sun. Rox, who had the foresight to pack some sandwiches, handed me one and I shakily ate - I knew I was hungry, but I had left it longer than I should and had started to feel nauseous. We had plenty of water, but I almost certainly hadn't stopped often enough for a drink either, so I chugged as much as I could and just sat against the wall feeling a little sorry for myself. About 10 minutes later I started to feel well enough to pick myself up and we made our way back down. With each step, I felt a little better as the food reached my system but it would have been foolhardy to continue considering how bad I had felt just moments ago. The sun was still as strong as ever, but at least walking this way I knew where the shade would be.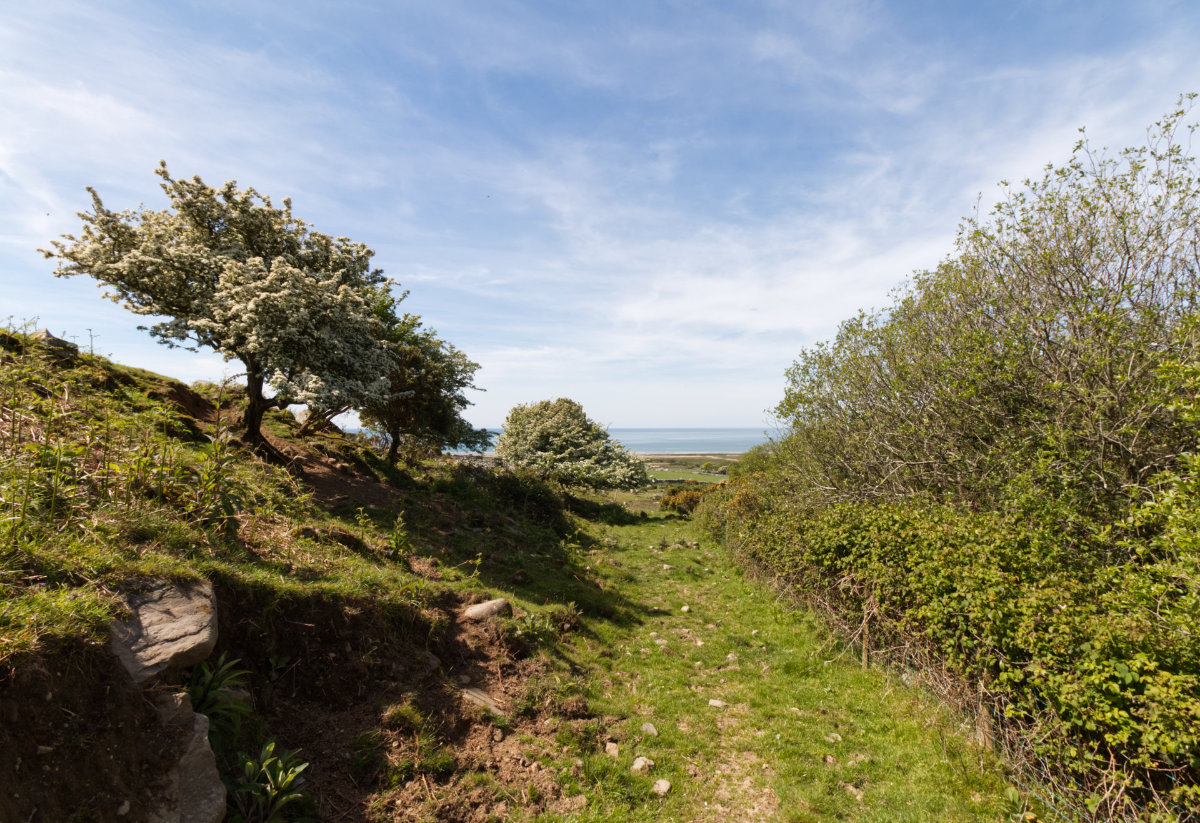 Now obviously, this was not a life or death situation and we did have everything we need, but this was perhaps more of an attitude problem than one of preparedness. Of course, someone in the same situation who is underprepared could find themselves in trouble quite easy - with things like sunstroke being a very real problem on exposed walks, you would never want to find yourself out there with insufficient water. Remember, even if you aren't scaling mountains, getting yourself into a sticky spot out in these places will need Mountain Rescue to come and get you. So now let us reflect: in hindsight, I made several mistakes that had I slightly changed my behaviour, the walk wouldn't have had to end in the way it did:
1. Listen to your body, take breaks often
This may feel like an obvious bit of advice to most, but in my early years of hiking, I was quite bullheaded about getting to my destination - in my eyes, I needed to just get to my destination and then I could take a break. Since this walk, I have learnt to actually acknowledge how I am feeling and take breaks often. Above all else, I think this means I enjoy the journey much more than I had in the past and it was definitely the key to being able to do longer walks in the future, I doubt I would have ever been able to do some of the things I have done since that day without learning to listen to how I am feeling and act accordingly.

2. Don't underestimate small walks
Just because a walk is thrown together at a moments notice, or is a local walk, doesn't mean it won't throw up challenges. Before I would just see something interesting and pick it as a walking spot but these days I try to at least have a general idea of where we are going and what to expect - even if it is just a cursory glance at Google Earth to get an idea of the terrain and tree coverage. Don't get me wrong, adventuring blind is still a great experience I enjoy from time to time, but I make sure to pack as though I have no idea what I am going to face...because I don't! By having a better idea of what is coming up, it is easier for me to factor in the next lesson...
3. Tailor walks to the weather
I have always felt like there is an appropriate temperature for hiking for me, I've never put an exact number on it but if the thermometer is around 25 degrees and up I will try to favour walks with plenty of shade. I will always love walking in the sun, but there is no denying it is particularly taxing to get up a mountainside on those exceptionally hot days so now I try to reserve those scorchers for shorter walks, walks in woodland or simply any walk where I know there will be plenty of places to escape the blazing sun. It is not like I will ever refuse to do a walk if it becomes too hot, or if the weather clears up unexpectedly, but if I can more often than not factor in the weather then it is just another bonus to making sure I succeed on my hikes. Plus, if I do commit to a long walk in the sun with little shade, at least I have the experience and by knowing what to expect I can prepare better than I used to.

4. Pack food!
I have always tried to pack food for my bigger walks, usually, something I can snack on and sometimes something a little more substantial for the longer walks. The take-away for me from this walk was to just treat every adventure the same, and now I tend to just pack for all my walks as though they are going to be all-day sessions - plenty of food, tons of water and you can't go wrong! Sure, it is a little extra weight that you may not need to carry, but it is better to have it and not need it.
So that is the story of just about the only time I have given up on a walk - being ill-prepared and not responding to how I was feeling resulted in my only failed adventure. But of course, it is not really a failure if you learn from it and those lessons have taken me forward to greater places and grander journeys. Hopefully, you don't need to heed any of these warnings, but if there is only one thing to take away from this as a newer walker it is this: don't get swept upon reaching the destination, try to enjoy the journey as much as possible. Take breaks, explore, bring enough food to have a veritable picnic! Hiking is not a race, and I guarantee you will have tons of fun taking the time to enjoy your surroundings rather than just charging through them. If nothing else, if you take plenty of breaks you will never have to throw in the towel as I did.