It was a little heartbreaking to see, we had tackled the drive up and made the walk following the smooth woodland roads looking forwards to getting down to the lakeside and soaking in the views. The Woodland Trust had even suggested the possibility of seeing otter! At the very least, I had already heard some unfamiliar bird calls, including a very unhappy sounding squawk that could have only come from something fairly sizable. We rounded the last corner, surmounted the last small slope and what we found can only be described as a desolate wasteland; trees felled all across the landscape, what would have been a beautiful dense forest replaced by a dull vista of greys and oranges - how could they let them deforest such a hidden away little treasure? Well, it turns out this had little to do with profiting from a bit of lumber and everything to do with restoring this section of Wales back to its former glory.
But before I get into that, let us talk about what you should expect if you are visiting. The getting there is an interesting journey, to say the least; if you choose to drive to the entrance the approach road is a contender for the worst country lane I have ever seen but, thankfully, it is not very long. Expect very few passing points (often grass verges), steep grades and blind corners. The Woodland Trust recommends finding somewhere to park along the A493 and walk-up, a sentiment I agree with, some potential options include the Fiddler's Elbow lay-by (52.752112, -3.960220) mentioned on their website, or you could park across the toll-bridge at Penmaenpool and add that into the journey too (remember the toll applies to everyone, not just cars!). Of course, plenty of walks bring you into the same general area as Cwm Mynach, including the New Precipice Walk and several trails that bound over the top of the hills in the area - take a look at the route map at the top of this page to see some of the options in the area that you could potentially combine with this woodland walk. If you do decide you are going to drive up, you will be taking the turning opposite the toll road entrance on the A493, heading up the hill and to the entrance of the woods. There is very limited parking at the top, including a single lay-by that can fit about three cars at a push, and the entrance can fit a couple of cars but make sure you do not block the gate!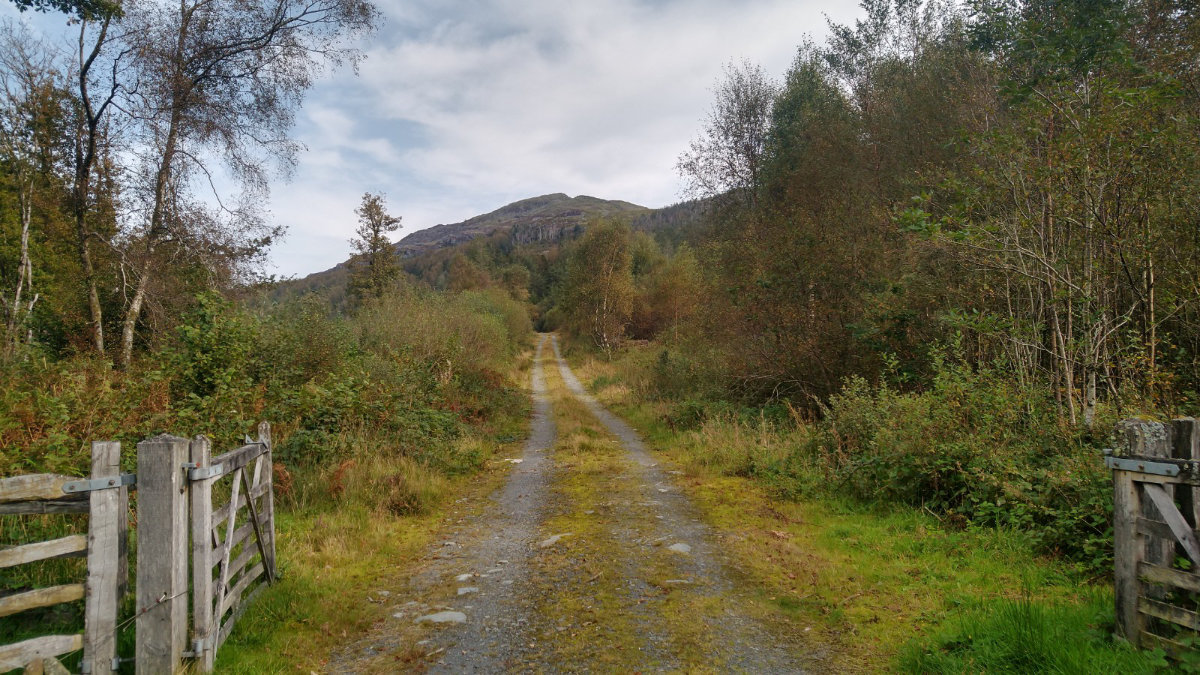 This is not my typical write up of a walk and while I have given a map of the short walk between the parking at the woodland entrance to the views over the lake, the focus here is more on the excellent work being carried out by the Woodland Trust. That said, if you do decide to take a trip here there is still plenty of gorgeous expansive woodland to see in the area and it still feels plenty alive with birds singing all around you and the constant background hum of streams navigating down the hillsides and the wind rustling the trees. Remember, although woods may have been cut down in certain places there is still plenty of trees around here! The area used to be a part of the Cymer Abbey estate and many abandoned buildings and mines can still be found. As mentioned previously, there are plenty of walks in the area that can bring you here or you could start out somewhere and make your way into the hills in this area with plenty of spectacular views on offer; you can potentially make your way to Llyn Tan-y-Graig and Cymer Abbey (and even continue on into Dolgellau) or follow the paths all the way to Barmouth via Dinas Oleu. It is certainly a spot with plenty of potential for adventures, or if you are just after a quick and easy woodland walk then you will be plenty happy with what is on offer at Cwm Mynach.
Finding out about the destruction...
I was certainly left very curious as I made my way back down the paths to the car. I had seen photos that showed this area with dense forestry just a few years prior to our visit, and the internet listed Cwm Mynach as a managed woodland by the Woodland Trust, not the kind of place you would expect a private enterprise to come and rip out the trees for a quick buck...The welcome board does shine a little light on this and states the following:
In recent years commercial forestry made its mark on the landscape of Cwm Mynach as much of the wood was planted with conifer trees. Sympathetic restoration of these areas has begun.
Over the coming years you will see this ancient woodland transformed into one rich in native broadleaved trees. This will enhance the biodiversity of the valley, bring new life and light to the wood.
This work is possible thanks to generous public and corporate donations that allowed the Woodland Trust to buy this wood in 2010.
So the goal is clear, but this still left me with questions - mostly just about how this whole process would work. Obviously their goal is to convert the landscape into one full of broadleaved trees, but wasn't the large scale felling of trees a little bit destructive for the local fauna? I am definitely the kind of person who likes to know how things work, so I started digging to try to understand how the "Sympathetic Restoration" process works.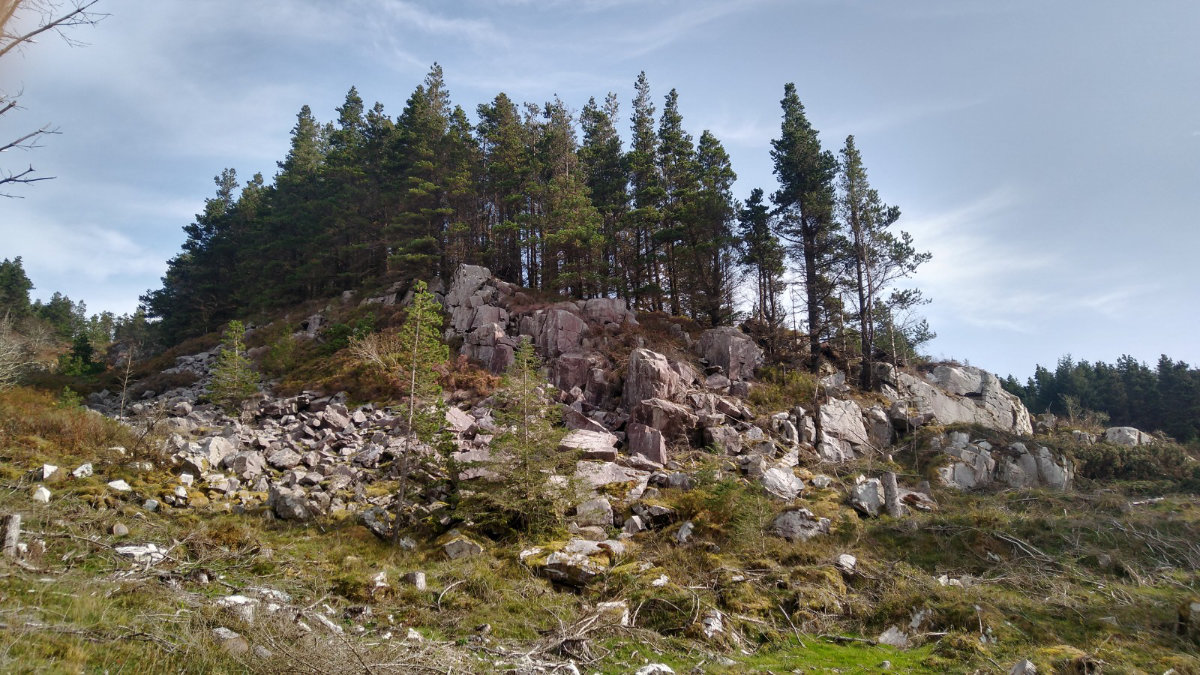 The next part of trying to figure out what happened is quite funny in hindsight, I was basically trying to find the answer to "why is someone cutting down trees in this very specific location?", I found myself digging through Environmental Impact Assessments and various other legal documents that are exactly as exciting as they sound. Largely I struggled because it was hard to know what to search, or even if I was going to find anything - if the above quote on the welcome board was out of date and this was a commercial project I was unlikely to find anything substantial. My exhaustive journey took me right back to the start, the Woodland Trust website, where a 45 page Public Works Management Plan from the team(s) carrying out the work that would shed light on what I had seen... Unlike many documents of its type, it was a surprisingly easy read devoid of the usual legalese, but maybe I was just so invested at this point that I have become a bit of an obsessed anorak on the subject.
So why the deforestation?
First and foremost, Cwm Mynach is the site of ancient woodland - for those unfamiliar, ancient woodland is an area that has seen continuous woodland cover since at least 1600AD, it is one of the most biodiverse habitats in the United Kingdom but it is also one of the rarest. Our industrial and agricultural history meant we spent a good portion of British history destroying huge amounts of ancient woodland. However, at Cwm Mynach actual ancient woods are limited to small pockets dotted around the 400-hectare area - since the 1950s, most of it has been replaced by conifer trees as part of the previously mentioned commercial forestry. This drastically changed the landscape, replacing heathland, bog and the ancient Celtic Rainforest with dense conifer plantations. It should also be noted that the conifer plantation is so dense that a lot of the remaining ancient woodlands is struggling to thrive or even survive in parts, meaning the little broadleaf that remains is unlikely to naturally expand and may even disappear in parts.
The Woodland Trust aims to have a much more traditional woodland put back into the area, with a greater variety of trees that are more likely to develop and complement the native flora rather than dominate as the conifers do. The goal is that, by 2060, conifers will no longer be the primary tree in the area (although some will remain) and oak trees will fill the landscape. Other trees, including Alder, Ash, Birch, Hazel, Rowan and Willow, are also expected to thrive in the new environment, creating a considerably more diverse area. Once the trees are rebalanced there will be a knock-on effect for the local mossy ground plants, currently, they struggle under the dense conifer coverage. Instead of a restrictive canopy of conifer taking over everything, there will be light and airy woodland where a variety of life can flourish.

Why not just keep the conifers?
So the trees were replaced - why the need to rebuild the more traditional woods? And why do so many conifers need to be ripped out? Well, there are a number of reasons - as far as the current trees are concerned the Woodland Trust state:
Whilst some of this softwood timber is of good quality, the climate, terrain and location of the site, as well as the health of some of the conifer crops, present challenges to economic forestry management.
The area itself is also well connected to neighbouring woodlands, including Coed Garth Gell, the lower gorge section of Cwm Mynach and Rhinog some of which are "Special Areas of Conservation". By restoring Cwm Mynach to its original broadleaved woodland, the Trust hopes to benefit the local biodiversity. In order to do this, a gradual transformation needs to take place where the tree canopy should be maintained, conifers will be thinned out and the regeneration works will favour broadleaved trees. However, the goal is not just to replace dense conifer with a new woodland, but to recreate a variety of biomes, such as heathland and bog, to recreate a more natural environment and to benefit the greatest range of wildlife. It may also be required to clear-fell and re-stock the woods if made necessary by the effects of windthrow and tree disease.
The simple answer as to why the conversion is worthwhile can be summed up in this quote:
There is a significant opportunity to convert plantation woodland of relatively low biodiversity value into a habitat of European importance and to restore fragments of damaged upland oak and ash woodland.
Not all woodland is created equal and the conifers do not offer much to the local flora and fauna when compared with the traditional Celtic Rainforest.
The "desolate wasteland"
On our visit I was so disappointed to see such a large scale removal of trees, but put into context it suddenly becomes clear we are seeing the first step of a very important process. That said, the goal appears to be to thin out the existing trees while supporting the growth of more desirable woodlands - so why is the area around the lake so heavily deforested?

What is happening here is the recreation of open ground habitats that are set to occupy areas to the north, east and west of the lake. With the 5-year goal (2016-2021) being to remove any planted conifer from areas of significance (specifically, areas of "deep peat") and the removal of any man-made impact to the local waterways. Once that process is completed, any conifer regeneration is to be prevented and while broadleaved trees are expected in the area they should not be allowed to exceed 25% coverage. If I am reading the document correctly, the area we saw is compartment 8a, an area primarily made up of Sitka spruce which were marked for clearing some time in 2018.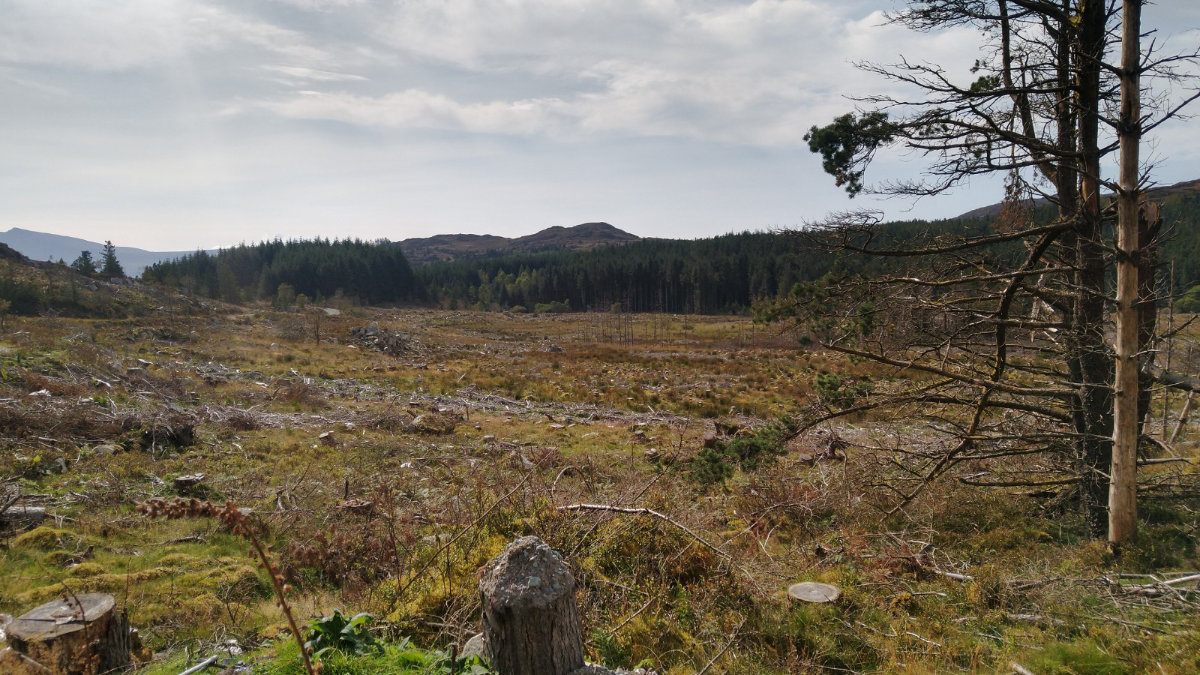 So that is why it was cleared, but again, to what end? Could we not just fill it with broadleaved trees and have beautiful woodlands as far as the eyes can see? Forests may be pretty, but these open areas are of equal importance for certain wildlife. In fact, the document lists a whole variety of animals and insects that will benefit from this, such as lizards, otters, butterflies, snakes and a whole heap of birds. So while it may be a little shocking to see in its current state, hopefully, I will get to return to this spot down the line and see a thriving area of natural beauty that contributes to the preservation of Wale's spectacular landscapes.

The challenges ahead
So the Woodland Trust wants to rip out the existing trees, slap in some new one and call it a day - easy enough right? Well, it is also interesting to note some of the difficulties they face. I have to admit, I had a little chuckle when the threat of the local feral goat population came into play but it is an interesting consideration, something that an outsider such as myself would never have even imagined. The local wildlife and farm livestock are an ever-present challenge, with everything from deer to squirrels posing a potential threat to growing operations. Saplings will be fragile when initially planted and grazing can be detrimental to the ground flora the Woodland Trust are hoping to preserve so there are many challenges to overcome.
Obviously, the current stock of conifers are being removed in places but thinned in others, so this will need careful management as the plan goes ahead. After all, if nature takes its course then those trees will seemly seed the new clearings and slowly take back over.

Windthrow, or the uprooting of trees by the wind, is another identified threat. Some of these trees may have stood for years but it is a tenuous balance that can be upset by removing neighbouring trees - ripping out large sections of trees can not only expose potentially weaker trees to the elements but it will also make growing the new stock difficult, if they themselves have no protection. This is why a pattern of thinning (rather than complete felling) may be the necessary approach to protect the new growth.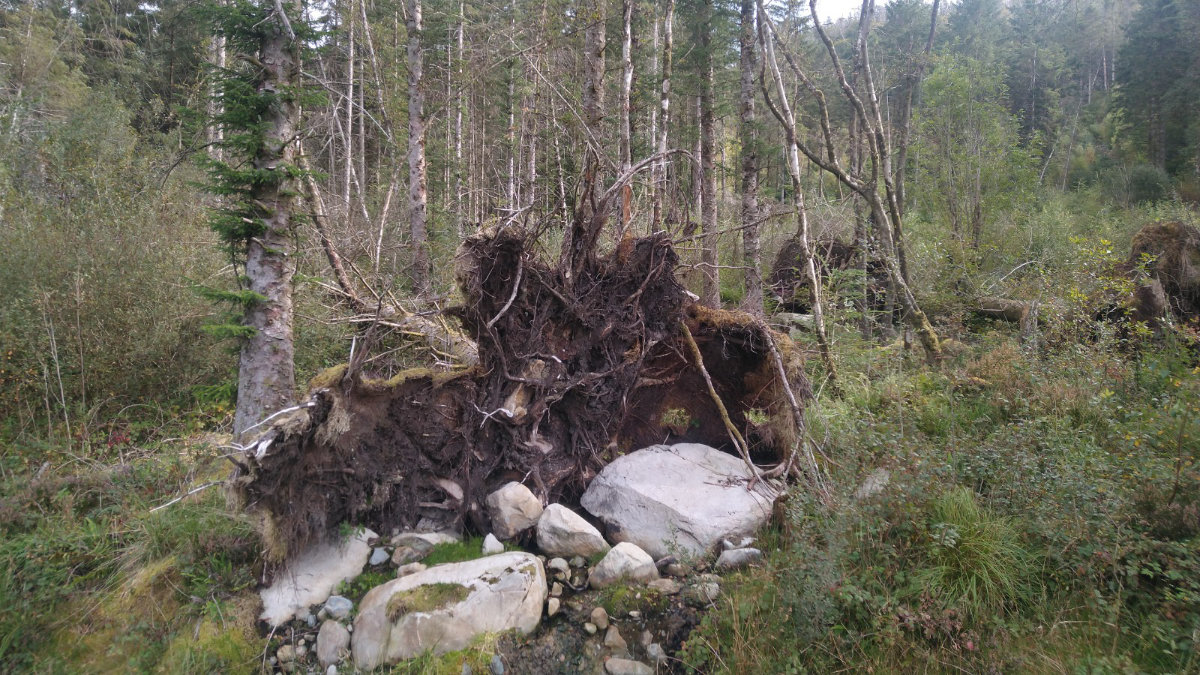 Finally, there are plenty of other threats, such as disease, that are an constant challenge to any woodland that the Woodland Trust will have to manage. It is an evolving process, they need to strike a surprisingly delicate balance that will constantly need to be reviewed. It is something that I had never considered the complexity of and it is fascinating to see just how much work goes into rebuilding a forest - ripping out trees and planting new ones is a surprisingly delicate process.
The Woodland Trust certainly have a difficult task ahead of them and I have found it absolutely fascinating to learn all about what goes into rebuilding a forest back to its former glory. What started out as a quick days walk on an easy-going Friday became an adventure into discovering all about the kind of the work the Woodland Trust is doing, and I have gone from being so disappointed about what initially looked like destructive commerical logging to being excited for what the future holds for Cwm Mynach! Plan a trip now that passes through this area and plan repeat visits every few years - I think it will be amazing to watch this area be rebuilt for future generations to enjoy. If you fancy diving into the document yourself, it can be found here on the Woodland Trust's website - happy reading!