I always find that the best walks are the ones that have a feeling of seclusion, and preferably a bit of a magical feel too - any place that feels like it would be at home in a fantasy novel is a place I want to explore! The Torrent Walk is a perfect example of this; a somewhat hidden spot near the small town of Brithdir, this is a set of cascades and small falls that are sheltered by a canopy of thick foliage, that on every trip I have had all to myself. The mixture of birds singing, the water rushing through the rocks and little breaks in the trees allowing the sun's rays to break through make this a glorious place to take a walk. This walk features some rough surfaces and the occasional incline, but if you can push through that you will find a quick and fulfilling trek through some great Welsh woodlands alongside one of the most beautiful rivers around, with so many tumbles and drops that every section is worth a moment to enjoy.

Our walk starts at a lay-by on a road just off of the A470, not far from Dolgellau - the lay-by itself can be found here, the approaching roads are fine, although if you are coming from the A470 there is one sharp turn over a bridge to cross that can be a challenge so do take care crossing. If you manage to squeeze your car into the lay-by, your walk begins at the gate next right in front of you, a short stroll downhill next to a stone wall will eventually open up into a wooded and mossy landscape with the sounds of rushing water just off to your left. The walk you will follow is simple enough, a circular path keeping the torrents on your left; with so many things to see the return walk feels just as fresh and exciting as the approach, and there will be plenty of places to take breaks or just enjoy the scenery.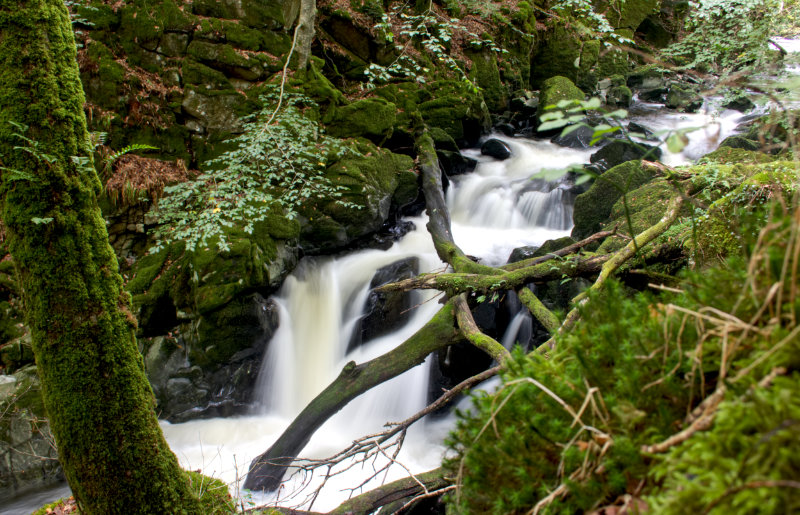 Rather than being tempted to power through the walk, take the time to cautiously and carefully explore off of the beaten paths to find the best views. As long as you have a decent set of shoes and employ some common sense you can safely explore the rocky and muddy banks, with some amazing photos being your reward. There are a few spots that should become instantly apparent as photo opportunities, there are a handful of outcrops that are safe enough to stand on which overlook beautiful cascades just begging for a quick picture! A photographer could easily get lost for an entire day snapping up every inch of this amazing landscape. Take a tripod and lazy-up your shutter to make the most of these beautiful little falls. This is another one of those locations where the time of year you choose to visit will completely change the feel of the place, making it wonderful to return time-after-time to see how the river looks at high and low water levels.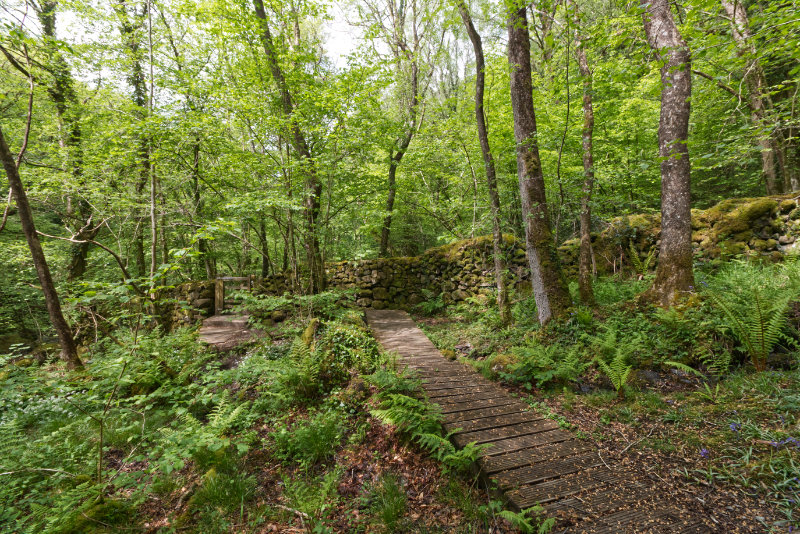 The paths will wind onwards through gates and over boardwalks designed to protect you from the mud below. The route will eventually turn away from the water and join a paved road; take a left when you join the road, pass by some houses (joining another road at the give-way lines) and over a bridge. The gate to return to continue the torrent walk will be on your left, right around here, and once through you are about halfway done and are ready for the return journey.

The second half of the walk starts with a beautiful spot for a break, just off to your left is a flat and gravelly embankment, looking out to the bridge you just crossed - a perfect backdrop with the soundtrack of the river making for a postcard moment. Take the same approach to your return journey as you did on the start, be sure to take your time and explore as much as possible where ever it is safe to do so. Don't assume that you've already seen everything on the approach, as many different views become available depending on the side you are on. One of the most magical parts for me is towards the end of the walk you will climb up and eventually reach a fenced pathway, you can look out over the river and see vines dangle down from the treetops above over one of the more gently flowing sections of the river. You start to feel like you've left the United Kingdom and entered some kind of enchanted forest! From here, at the right time of year, the paths will be lined with flowers as you make your way up towards the end of your walk, topping off the magical feeling and rounding out this walk wonderfully.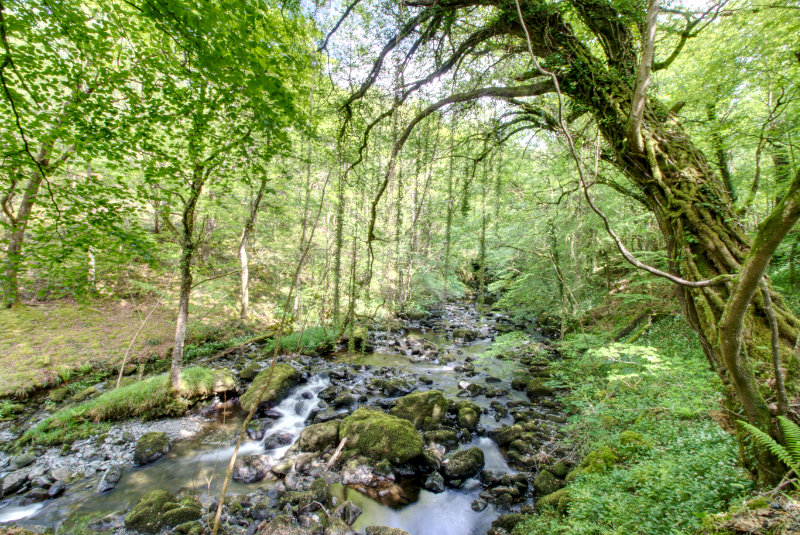 To get back to your car you will pass through a gate and be dumped onto the road, there is no path here so make your way forwards cautiously and single-file if you're in a group. You emerge roughly here, so you are already within eyesight of your car and will be safely back off the road before you know it - in my experience, these roads are fairly quiet so this should end up being an uneventful little walk. As with any time you are walking on the road, take it steady and try to push yourself into the verge should a car need to pass. You may feel safer walking down the opposite side of the road with its wider verge, but as the cars can be going a good speed down this section you may be better off staying where you are. I know I sound like a worrying mother, but the last thing I want is for an adventure to be ended with a disaster.

As you climb back into your car, the walk is done! It is a nice and relaxing walk, without too many difficult inclines or rough surfaces to slow you down. You can either make this an easy days walk, or a quick stop off to recharge between more challenging hikes. Whatever ends up bringing you here, I guarantee you won't be disappointed in this stunning nature walk full of colour and life! This will forever be one of the walks we do when we're in the area and our days walk ended early, or if we have a bunch of little stop-offs you can practically guarantee we will throw this in. This is a great walk for all ages and experiences, and anyone who loves nature and landscapes will find something to love here.