Coed y Brenin is a sprawling woodland in central Snowdonia that combines all of the beauty of nature with a handful of history and the confluence of two rivers, all of which come together against the mountains to create stunning vistas perfect for a memorable day out. It may be one of the most popular locations for ramblers, runners and riders in north Wales, but thanks to its size there is plenty of space for everyone and it is easy to be completely alone on massive sections of these trails. You may not be amongst the towering giants of the Snowdonian mountains, but don't think that makes today's walk an easy one as there are plenty of climbs and drops to explore. Our walk today, the Gain Waterfall Walking Trail or the Red Route, is one of the longest and most challenging on offer out of the walking routes and excluding the places the red route crosses other paths we spent our entire day alone and were really able to enjoy nature - if this sounds like an ideal day to you, then read on and let us direct you around the spectacular woodlands and on to two wonderful waterfalls.
The main car park and visitors centre at Coed y Brenin, from which most trails start, is easily reached from the A470. It has ample parking spaces and while it does charge to park there, it offers good rates if you are planning to spend the entire day in the woods. There are a few options for alternative parking that will allow you to join the expansive wood, but because all of the major walks at Coed y Brenin begin from the main car park we are going to recommend you head there. In future, once you know the woods well, there are alternative start points you will discover that allow new routes through the trees. Public transportation is limited to busses passing through the nearby town of Ganllwyd, which leaves you quite a walk from the visitors centre, however, there may be a request stop option on some busses that travel the A470 so check before you embark as this could be an incredibly convenient option. If you do stop at Ganllwyd then you are near the start of the Coed Ganllwyd waterfall walk, but if you follow the river downstream instead of up and cross the bridge you are in Coed y Brenin - a good walk away from the start of today's walk but you might want to change your route and head directly to the waterfalls using OS maps. You could always follow the road, you would need to walk roughly 1.7 miles to reach the car park entrance so you might as well go the more scenic route instead.

A note before you set off, Coed y Brenin has an absolute wealth of options for adventures but please make sure you are following the correct trail. There are a handful of trails dedicated to hiking, mountain biking and jogging respectively and you should be sticking to the trails that suit your chosen discipline - today's route is discussing the longest of the hiking routes, and you can find information about all of the routes over by the information centre near the start of the walks. In some places, there are crossings where the mountain bike trails may pass across the other trails at Coed y Brenin (to my recollection there is one crossing on today's route), it is imperative you actually check before you cross as mountain bikers are likely to be going full steam through the trees and won't be able to stop for you. The last thing we want is your day ruined because you stumbled onto the wrong path, but thankfully if you follow the signs you won't have any problems. With those warnings sorted - let's get hiking.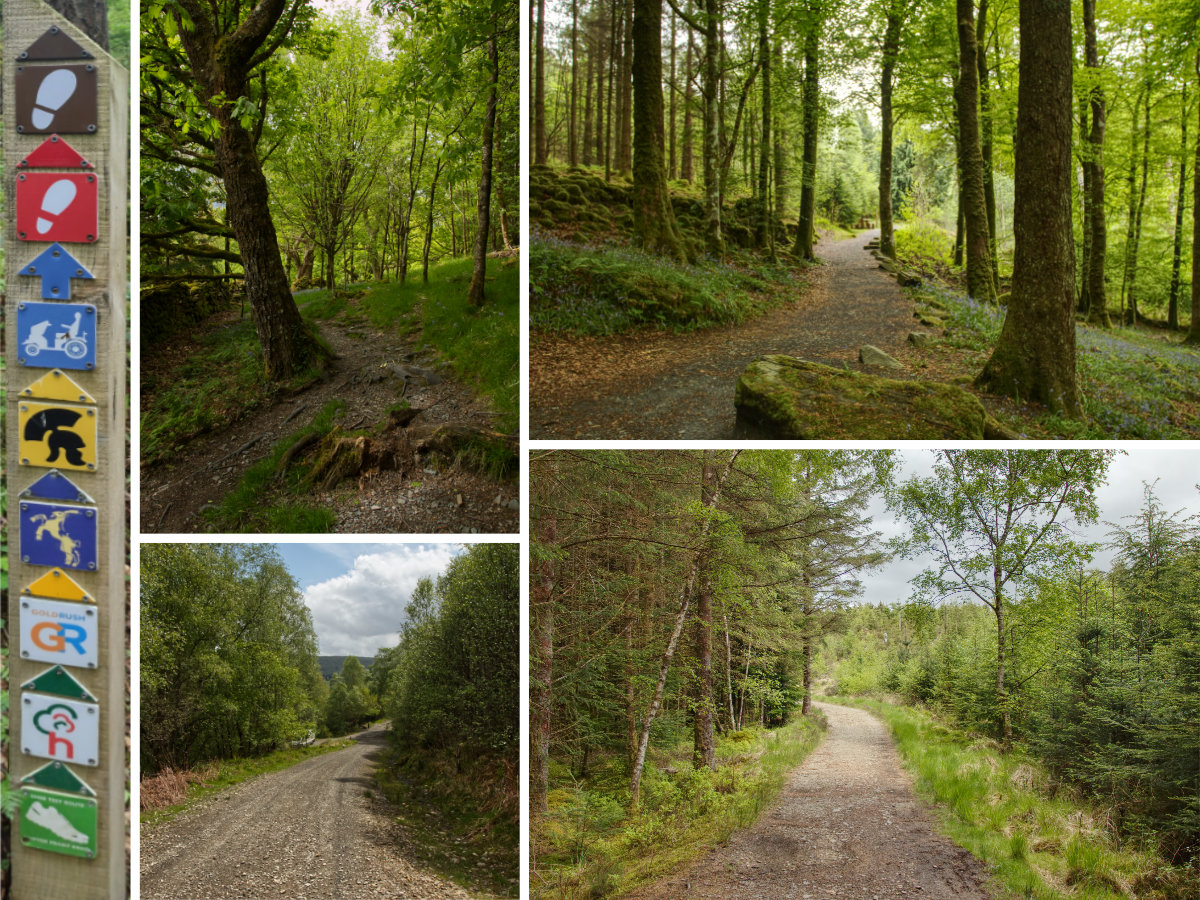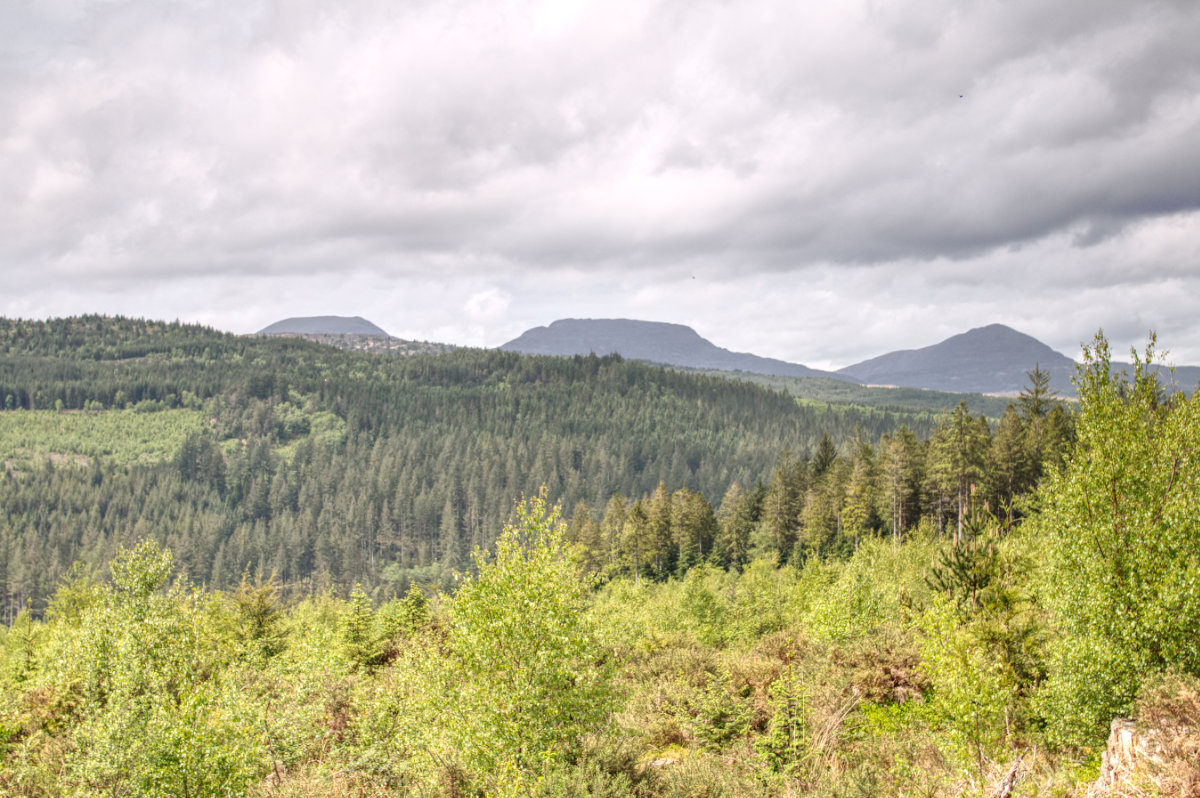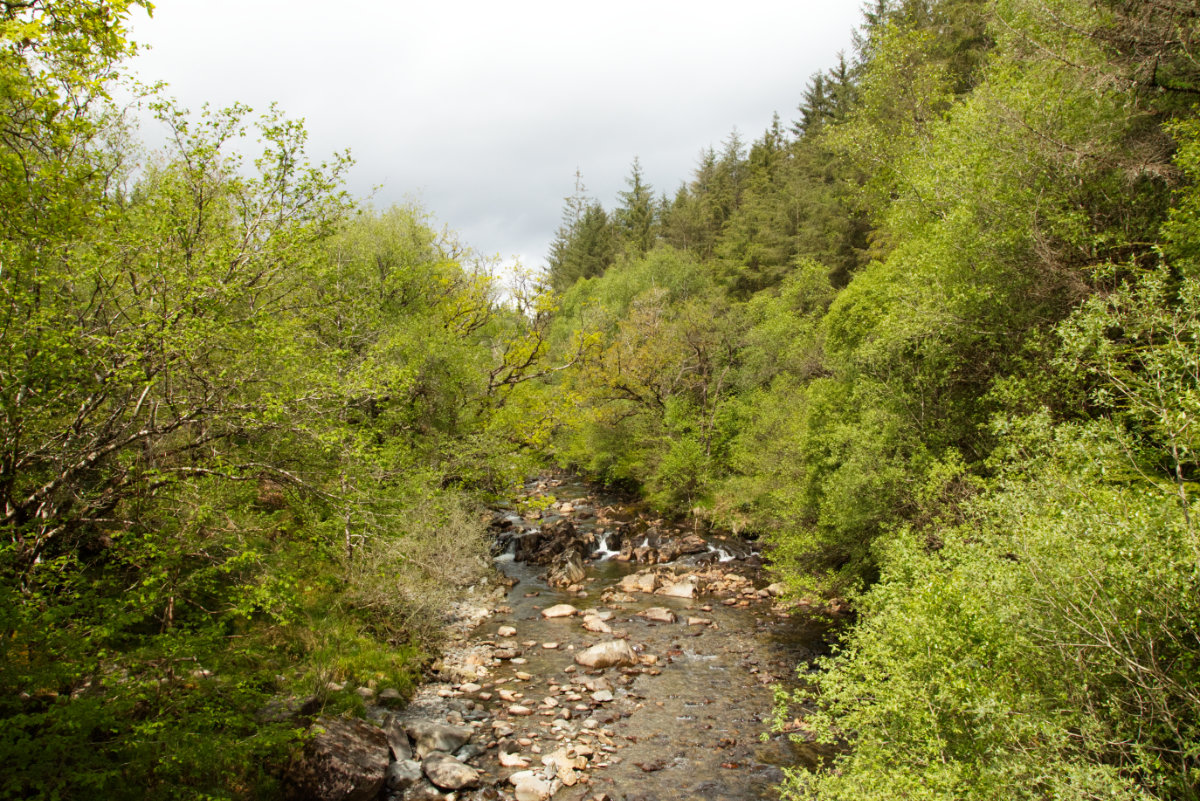 A good number of the early walks start out together and loop their way through the idyllic and tranquil first section that is easy going and while the paths have a bit of a gradient in parts, they should not pose too much of a challenge. It should be stressed that no walk has to be difficult if you do not want them to be, and if you fancy an easier route you can always follow the access/escape roads that run through all of Coed y Brenin; the access & escape roads here are easy to spot, they are wide gravel paths designed for moving vehicles around and while they may take a circuitous route, they will divert you around the hills and valleys while still taking you to the waterfalls at the end. The beauty, of course, is that these roads allow access to people with disabilities who otherwise would not be able to enjoy the wonders of nature without them; if you do find yourself needing guidance around accessible trips around Coed y Brenin then the visitors centre can be of assistance (and the entrance to the building is accessible too). Otherwise, the path will wind its way up until you join one of the aforementioned roads but you won't be enjoying it for long... It is from here that the paths take a more challenging turn, while you will occasionally get to enjoy the wide roads and the smooth paths, for the most part, the red route follows rutted, rocky and rooty routes that I will attempt to trip you at every turn and certainly test your ankle strength. Good boots are recommended, nothing ends a nice day out quite like a rolled ankle. Ascents and descents will be tiring but nothing excessively challenging, generally speaking, nothing here should require you to scramble although there is one downhill section that can get tricky - we will get to that shortly.
The trees give way at parts to some amazing sightlines, beyond the fringes of Coed y Brenin and out towards the breathtaking mountains before enclosing in around you again - follow the ebb and flow of the paths, all the while tracking the little red arrow markers (or following your GPS) wherever it wants to take you. Eventually, you will cut down what is actually a fairly gradual descent, but with some of the most difficult terrain of the entire walk - huge loose rocks down a narrow route make for a tough climb down and there was quite a ledge part way, maybe 3-4 feet at its tallest, that required a cautious approach to get down that borders on a careful scramble. You would be forgiven at this point for thinking you had accidentally stumbled onto a mountain bike trail by mistake, but don't worry you are very much on the right track. In fact, you need to be careful of the path crossing around here, it is clear where the routes cross over one another and you will likely be moving slowly due to the terrain anyway. See the pictures below for reference, you can see the type of terrain and that one big drop in the bottom right. For the most part, we had no issues staying on the correct path and while there may be sections without signs for a while that just means you need to keep going and before long the little red arrow would crop up again; the only time we had to backtrack during the entire walk was by the bridge near the waterfalls, but this was mostly on us (we saw the bridge and immediately went there to take photos before realising there were no red arrows beyond the bridge, the trail continues on the same bank of the river we arrived on).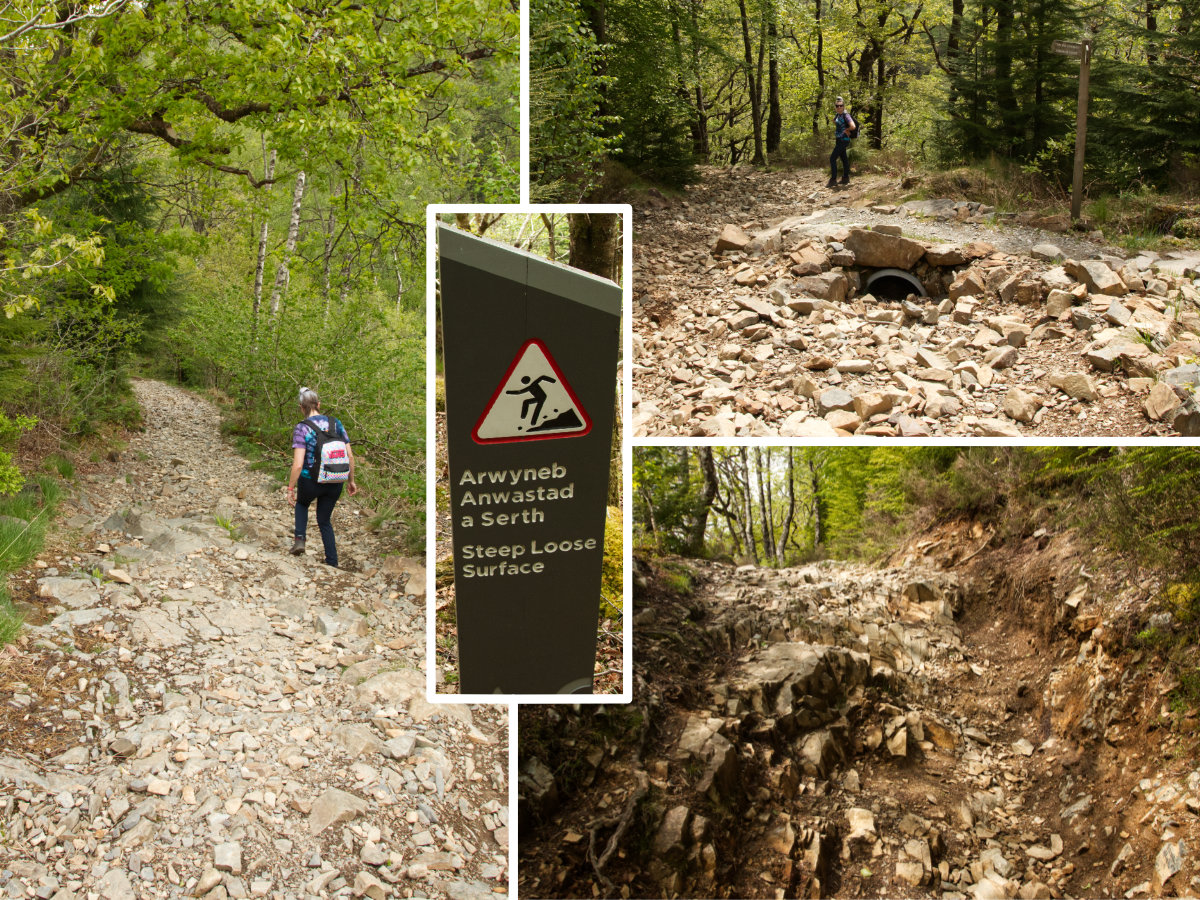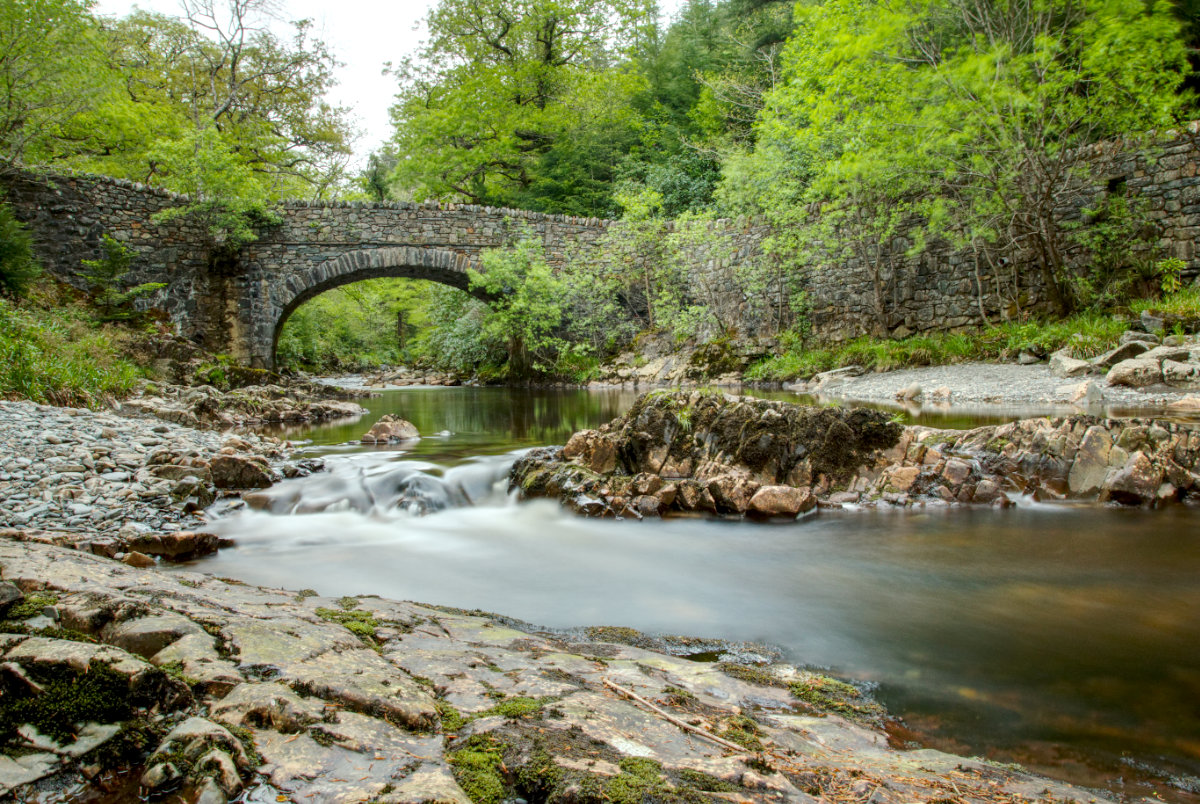 Speaking of waterfalls, once you reach the bridge you are within earshot of the first falls. Coed y Brenin has two major waterfalls (and countless other smaller cascades beyond that for you to enjoy), but the good news is that they happen to be about a 1-minute walk from one another. The first waterfall, labelled as the Rhaeadr Mawddach, sits amongst old buildings that would have formed part of the Gwynfynydd Gold mine - an 1880s lode that produced Welsh gold until 1999. The views are a little limited, with the best viewpoint a short way downstream of the falls on a bit of an outcrop high above the confluence of the Afon Mawddach and Afon Gain. The top of the falls has a sort of man-made weir structure to it, but this immediately gives way to an impressive cascade. Take your time to enjoy the wonderful sounds and sights, as well as the small clearing away from the main path before moving on to our second waterfall: Pistyll Gain. The path links you to a bridge that gives an absolutely staggering view of Pistyll Gain, and unlike Rhaeadr Mawddach this waterfall's viewpoint is pretty uninterrupted. There is a short walk to the side of the bridge that allows you to get a little closer and there is a rocky section you can scale to get even closer. Now, I can't in all seriousness tell you not to do something I did, but I will ask you to proceed with caution and to only attempt such a thing if you have appropriate gear - especially a good set of boots. If you do decide to tackle the admittedly short scramble/climb I recommend a cautious approach, remove any backpacks or anything that could knock you off your balance before you climb yourself and always make sure you have a firm footing before transferring your body weight - scrambling and small climbs is a learned skill and I would recommend you practice somewhere with less of a drop! But the views make the challenge worth it...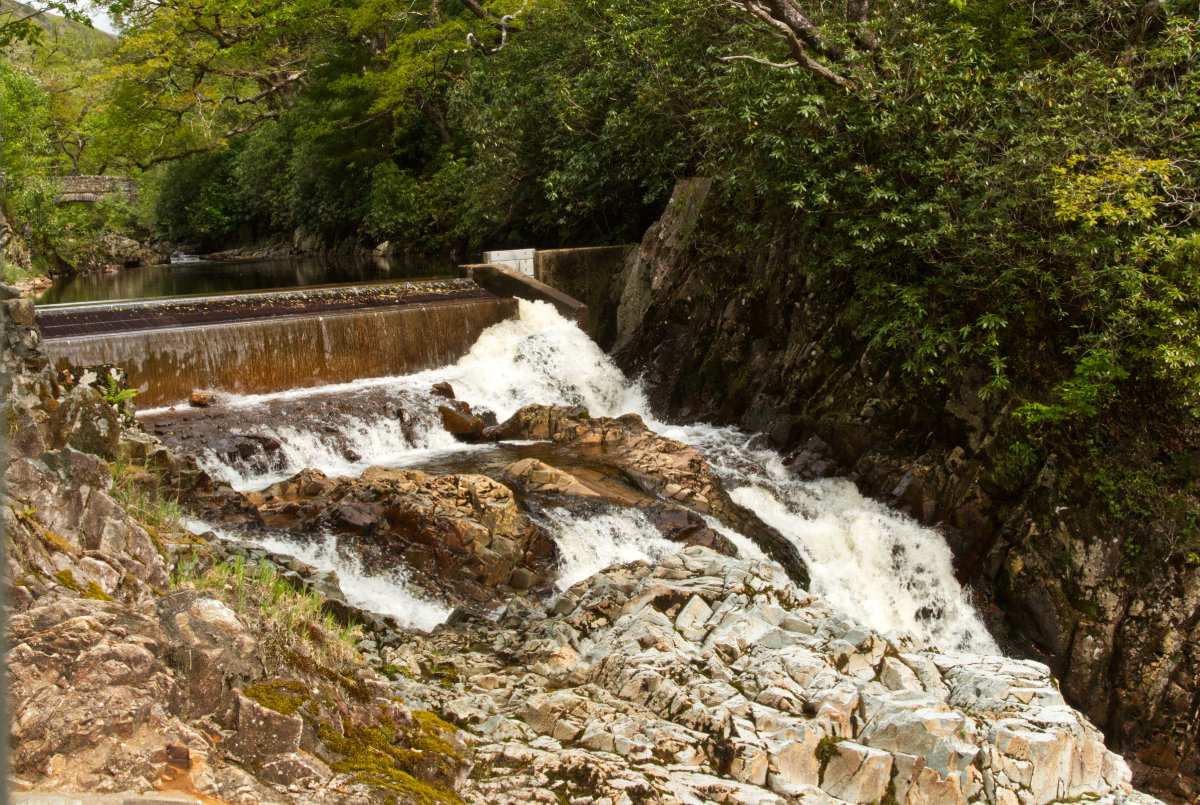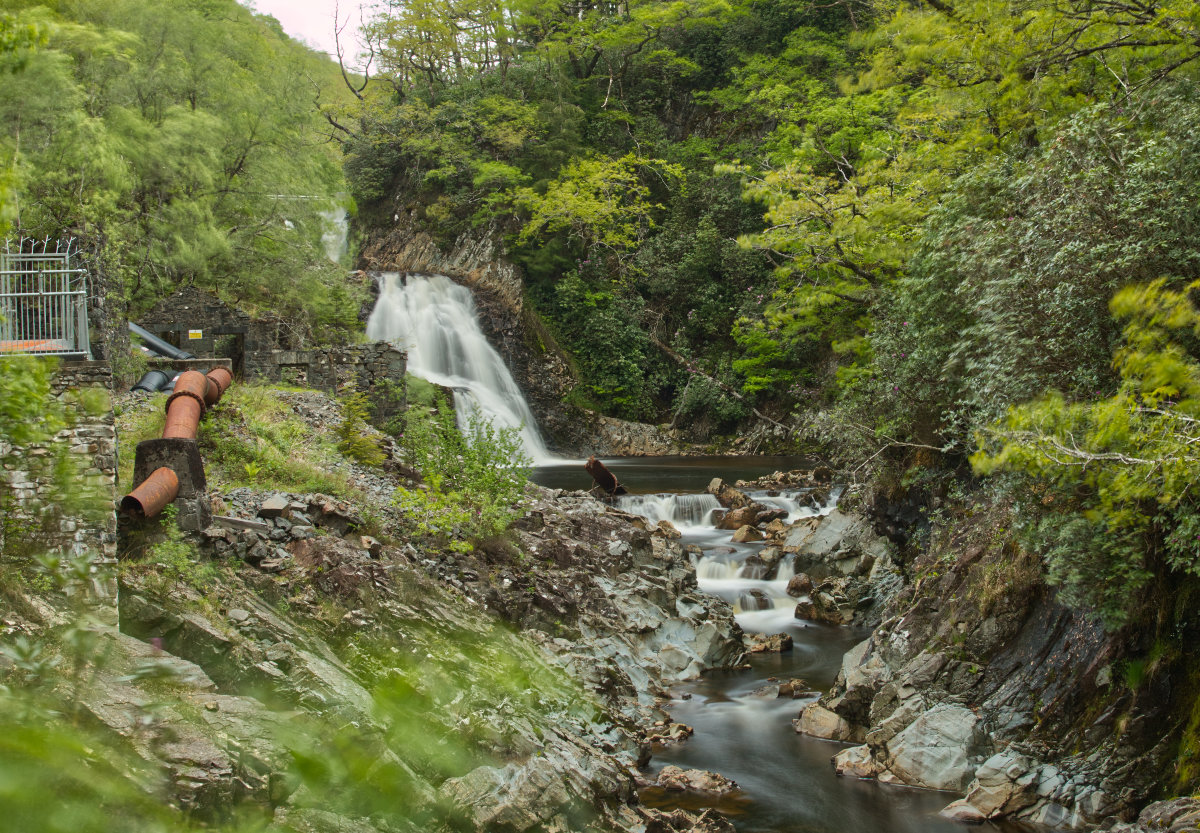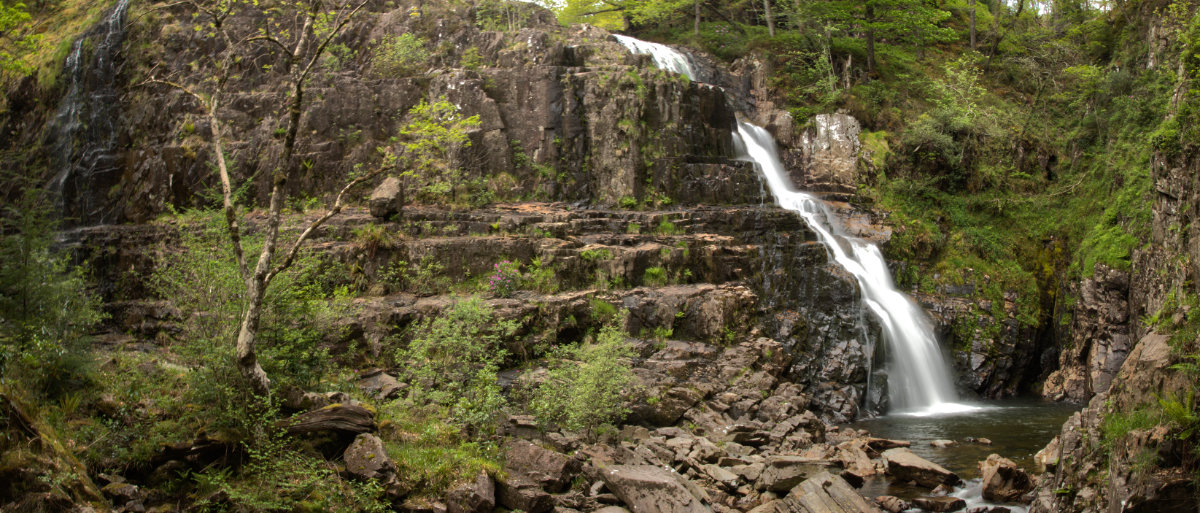 These two waterfalls certainly make a visit to Coed y Brenin worthwhile, and hopefully, they will fuel you through the final section of our journey. If you were hoping for an easy stroll amongst the trees you will be disappointed with what the strenuous red route has to offer you. While you depart from the waterfall bridge on smooth gravel roads, the red arrow of the Gain Waterfall route will see you ascend the hillside for one last climb. This is nothing beyond what you have become accustomed to at this point, but if you have had your fill of climbs and descents you can follow the road back to the visitors centre - this is unquestionably longer, potentially adding around 1.5 miles onto your journey, but this route would be much flatter (think of it as walking around the hill versus climbing straight up and over it). If you opt for the up and over, then you will be rewarded with a handful of great views and before long you will start the climb down and begin to recognise paths again, while you do take a slightly different route back you will keep getting flashes of the woods you started out from all those miles ago before finally returning to the information centre to round out this walk.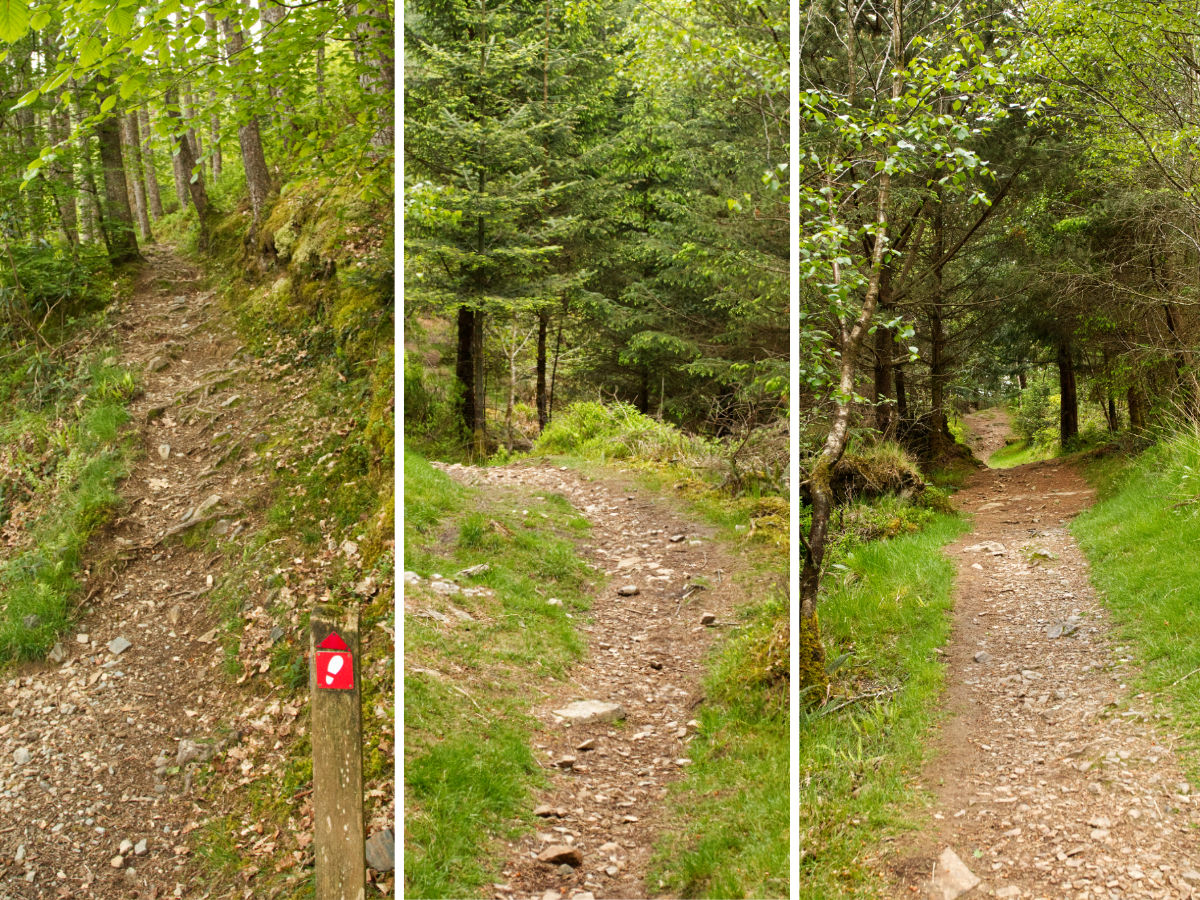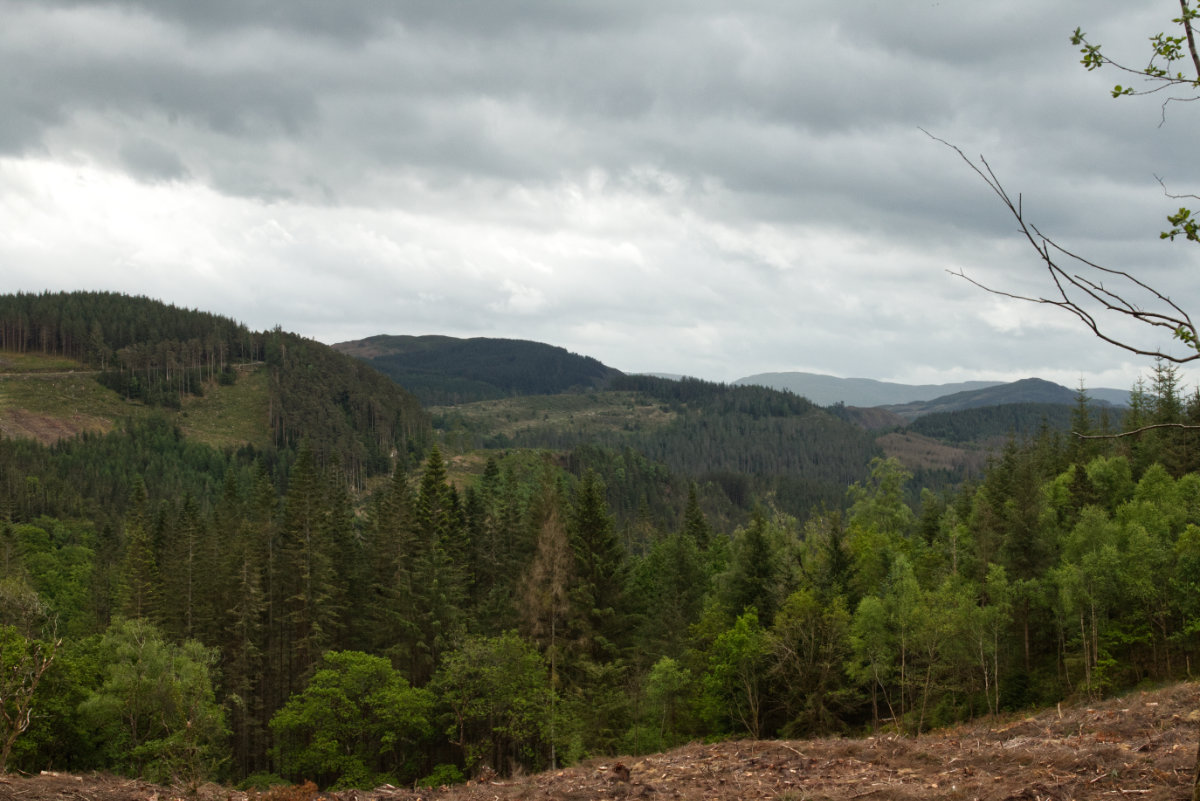 That just about wraps up the red route at Coed y Brenin - this is, at least to me, unquestionably one of the best ways to see just about everything these woodlands have to offer. With delightful views dotted throughout a natural wonderland, I would recommend this walk even if it didn't have a beautiful waterfall at the end, but it doesn't, it has two of them! Rich in rewards this was a great morning out and the thing I love is, because of Natural Resource Wale's dedication to accessibility, Coed y Brenin has routes for all skill levels and if you can manage the length the waterfalls can be seen by just about anyone. If you have completed the red route but are still hungry for more then you are certainly in luck - this is one of my favourite areas for walks. There are plenty of options to walk or drive to Llyn Trawsfynydd and Ceunant Llennyrch to the north and Ty'n y Groes and Rhaeadr Ddu & Coed Ganllwyd a short journey south, all perfect compliments to round out your day. Otherwise, you could very easily spend a full day (and many beyond) at Coed y Brenin, so make the most of your day in nature and you are sure to fall in love with this wonderful woodland.