Not every walk has to scale mountains or descend valleys to be rewarding, in-fact there are a huge number of options for people who want to explore places in and around Snowdonia, take a nice walk without straining themselves and still get to enjoy some of those wonderful Welsh sights and sounds. This list breaks down 7 of my favourite walks that can be tackled by all skills and fitness levels, as I elaborate on these spots I will do everything I can to identify some of the difficulties you may encounter so you are fully prepared to make it through to the other side, then if you want to learn more you can click through to the dedicated articles where applicable. As much as I can I have tried to pick walks that meet our easy criteria while still being distributed around Snowdonia National Park, so there are plenty more options out there, I am just listing some of my favourites!
1. Newborough National Nature Reserve and Forest - Tŵr Mawr Lighthouse
Location: South-West point on Anglesey (Entrance at 53.157688, -4.372308)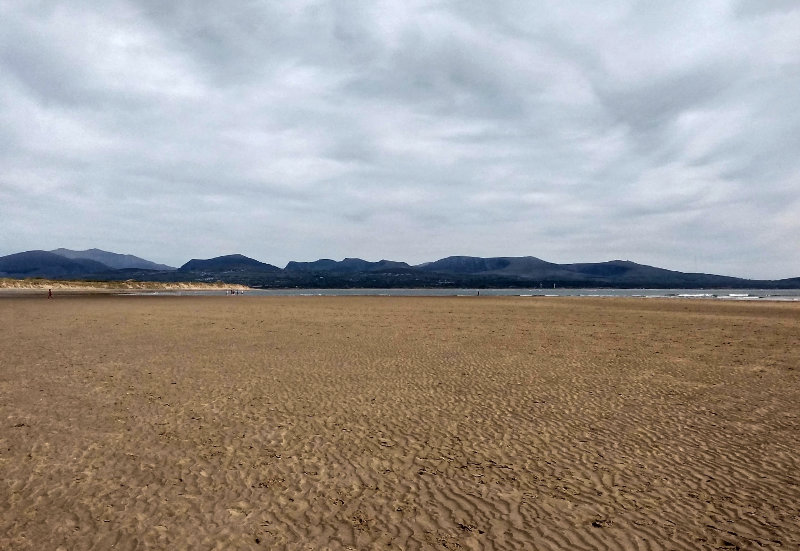 This is high on my list of beauty spots that I will always return to, the combination of dense and lively forests combined with a gorgeous sweeping golden beach that leads to a tidal island full of nice surprises makes this place a full day out that can be explored by all skill levels. I recounted my journey from across Anglesey to see two gorgeous lighthouses in a previous post, but I cannot wait to return to Newborough to give these woods the proper exploration they deserve; as far as I can see you could probably spend multiple days exploring these woodlands without seeing everything they have to offer. The entire area is managed by Natural Resources Wales, which is a good indicator you will be able to trundle along well maintained and clearly marked paths with the option of breaking off onto the trails should you want something a little harder going. One of the great things about these types of location, where a large organisation handles the maintenance, is you always know the core routes will be easy to follow.

While you can easily wander the woodlands and have an amazing time you should take the time to see Tŵr Mawr Lighthouse on Ynys Llanddwyn, the previously mentioned tidal island. As you may be able to figure out by the name, it is important you check tide times to make sure you can actually reach the island and that you don't get stranded there when you do, try to head over as soon as the high tide recedes to maximise your time on there. Getting onto the beach may be a little challenging if you choose the wrong route (like we did), as the area is littered with sand dunes, but if you make sure to exit via the wooden walkway near the car park then this will be a non-issue. The beach itself is a long sweeping and smooth walk with the slightly wet sand making for a firm surface, with your only concern being exposure to the weather on particularly warm or cold days - dress appropriately and you should make sure you have plenty of water. Once you reach the foot of Ynys Llanddwyn, you have the option to take the roughly cut steps up along the cliffside but a much easier lower walk runs straight through the middle of the island, with only gradual undulations in height to tackle; this route is the widest entrance and easily spotted, it is found just behind the information board, the surface is loose crushed sea-shells and I think most will be able to make this walk.
Follow the easier route and you will arrive at the Pilot's cottages which are just a short walk from both Tŵr Mawr and Tŵr Bach, you should be able to get some amazing views from the paths and if you want to make your way up to either you have the option. The route to Tŵr Bach is to your left from the cottages, down a short run of rough stairs, along a wide sea-wall then back up the other side; unfortunately, I would say the climb up the side to Tŵr Bach is the only roadblock here, as it doesn't really have a clear point to ascend and might be beyond people with mobility issues. Tŵr Mawr, on the other hand, is a much clearer route along paths and up a single run of stairs, this should be accessible to anyone as long as they take their time. Don't worry if you cannot make your way to either of the buildings, because it is better to be looking at these gorgeous structures from your current vantage point anyway!
Return by retracing the same route back, or feel free to explore in any direction that takes your fancy! We took the time to explore in a few directions, and thanks to the work National Resources Wales has done we always found accessible routes that would be great for adventurers of any experience level.
2. Bodnant Garden
Location: North-East Snowdonia, South of Llandudno and Conwy just off the A470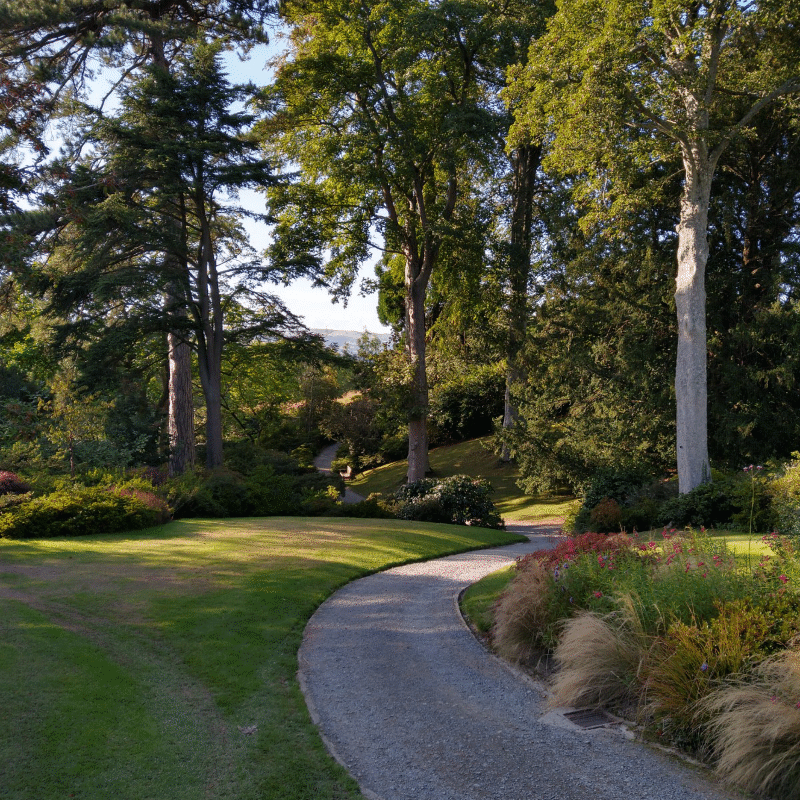 I have already gushed about Bodnant Garden in its own article, a stunning collection of landscapes and buildings that is truly a sight to behold. Of course, the National Trust is another organisation known for its excellent maintenance of pathways that make this another great option for those of us just looking for an easy walk in some sensational surroundings.
Unlike other entries on this list, I cannot detail a single route and explain the surfaces and difficulties you may encounter. There are simply too many different possible routes you can take and so many places you can make your way to. You may find some paths are difficult gradients but they are generally aided by stairs or can be circumnavigated via an easier path. Plus, the friendly staff are more than happy to help you navigate the gardens and make sure you make the most of this. The only drawback to Bodnant Garden is you may find it impossible to explore fully if you are in a wheelchair or require a mobility scooter, some of the paths are simply too steep and stairs will prevent your progress; the gardens you are restricted to are nonetheless pristine and well worth exploring, but it is something to bear in mind. The restriction comes from the descent from the entrance gardens down to the riverside, if you can manage to navigate your way down the hillside safely then you should have no problems exploring the rest of the gardens.

If you choose to make your way here know there is so much to see and do that if you cannot tackle a specific path or make your way to a particular landmark, you can just select another spot on the map and you're sure to find something worth seeing.

3. Barmouth Bridge
Location: Mid-West Snowdonia, spanning the Mawddach Estuary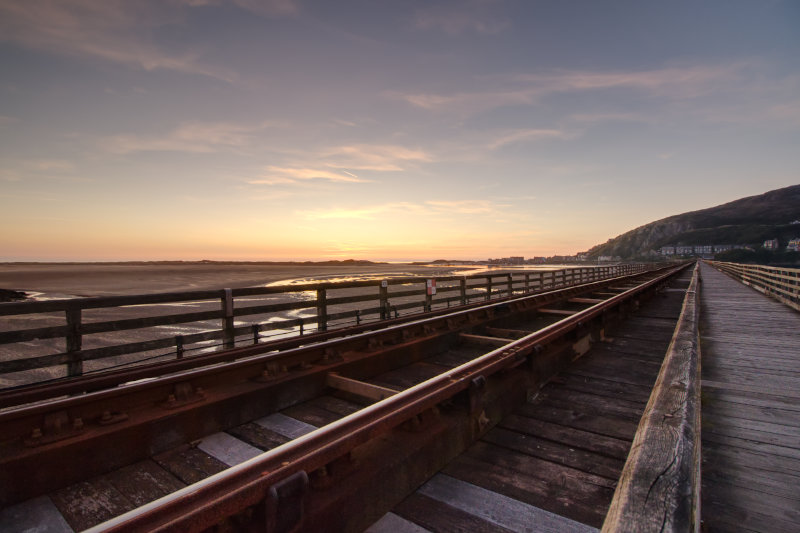 Considering my love for the town of Barmouth and it's surrounding areas, it is hardly surprising that Barmouth's imposing bridge made the list. I have already written up what I love about the bridge and its excellent walking route, but I also think this is a perfect route for beginners and those that are looking for an easier walk or perhaps something more accessible. There is an asterisk attached to this, however, and that is at the Barmouth end of the bridge...
Getting to the bridge from the Barmouth side will pose a challenge for those with mobility issues for two reasons. The first is the approach road, that only has a path down the opposite side we want to be on and visibility is difficult at the exact point you would want to cross. This can be mitigated by crossing earlier or later where visibility is better, but this means walking in the road for a while which is hardly an ideal solution. The second issue is the slope of path, there is a fairly short section immediately after the road that may be difficult for wheelchair users or anyone who may struggle with inclines. Neither of these problems is insurmountable, but they are something to be aware of. I only include the bridge as there is an easier option that mitigates all these issues: the approach from the other side of the bridge is smooth and easy, with Morfa Mawddach train station being a better place to start from if you are concerned.
The bridge walkway itself is wood planks that are for the most part even and smooth enough, with the immediate reward of stunning views both up the Mawddach estuary, over Barmouth harbour and out to sea being well worth heading out to the middle of the bridge at least. From the exit on the Fairbourne side, the paths are paved and level with a few gates to navigate depending on where you wish to go. If you did wish to continue on to Fairbourne, you need to cross over the train tracks and follow the gravel paths; this is a bit of a long walk but is smooth and level all the way, you will emerge on the road that links the town to Fairbourne point which has no paths but in my experience doesn't get too much traffic and has grass verges you can use to allow vehicles to pass. Alternatively, you can continue to follow the Mawddach trail, a perfectly smooth raised gravel walkway with kissing gates that will take you along the river past the towns of Arthog, Penmaenpool at the toll bridge, and even crossing the A493 onto Dolgellau; the full route is more of a cycling trail given its length but it is a great pedestrian highway that allows you to explore all around the Mawdach estuary area and all of the hidden gems it has to offer. Like so many places around in and around Snowdonia, once you start out on this walk the sky is the limit for connecting walks, so if you choose carefully you should be able to keep following the easier paths or splinter off onto something a little more challenging.

4. Coed-y-Brenin
Location: Central Snowdonia, North of Ganllwyd on the A470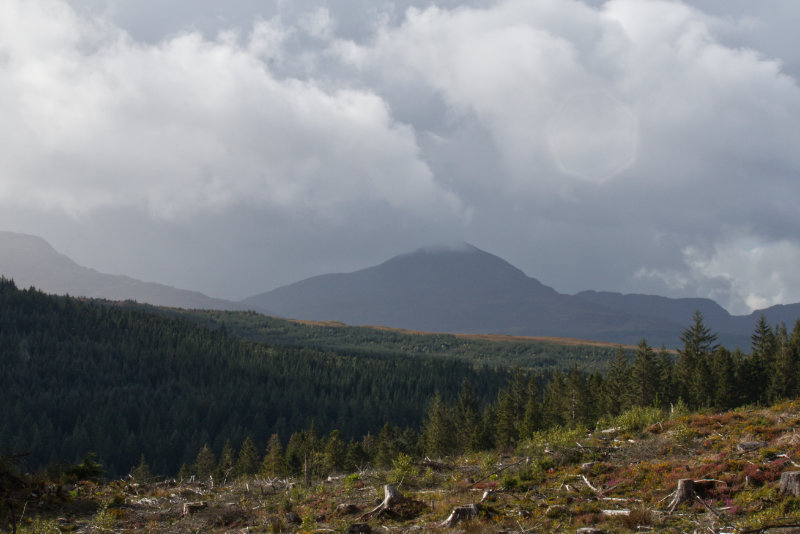 Another National Resources Wales maintained location, Coed-y-Brenin is a sprawling section of forestry with rivers dividing the woodlands with cascades and waterfalls. These woodlands are undeniably a cycling heartlands with mountain bikers exploring the spider's web of trails for all skill levels, but this doesn't mean walkers are not welcome as there are a handful of paths dedicated to walkers and the wider paths that can easily be shared by all. Sure, Coed-y-Brenin has some steep and rough sections to really test the abilities of the cyclists, but it also has larger smooth paths designed for cruising on a bike that you ramblers like us can use to get around without breaking a sweat.
After you have parked up you should head to the information centre, the boards here offer more than enough information about the routes on offer and the expected difficulty with some being identified as more accessible than others. The trails around here are well marked and their difficulty ratings, at least from my perspective, seem accurate to the experience you will have. There are waterfalls at Coed-y-Brenin, however, pick your route carefully as it could be a little too difficult and prevent some from reaching them. Walks are easy enough to follow with everything being colour coded, with only minor sections of confusion found much deeper into the woods, if you're looking for somewhere to take a relaxing stroll then you can follow the shorter routes and won't encounter this problem. Whatever route you choose to follow, your rewards will be dense woodlands filled with bird calls and fresh air to fill the lungs and inspire the soul.

5. Swallow falls
Location: Central Snowdonia, West of Betws-y-Coed on the A5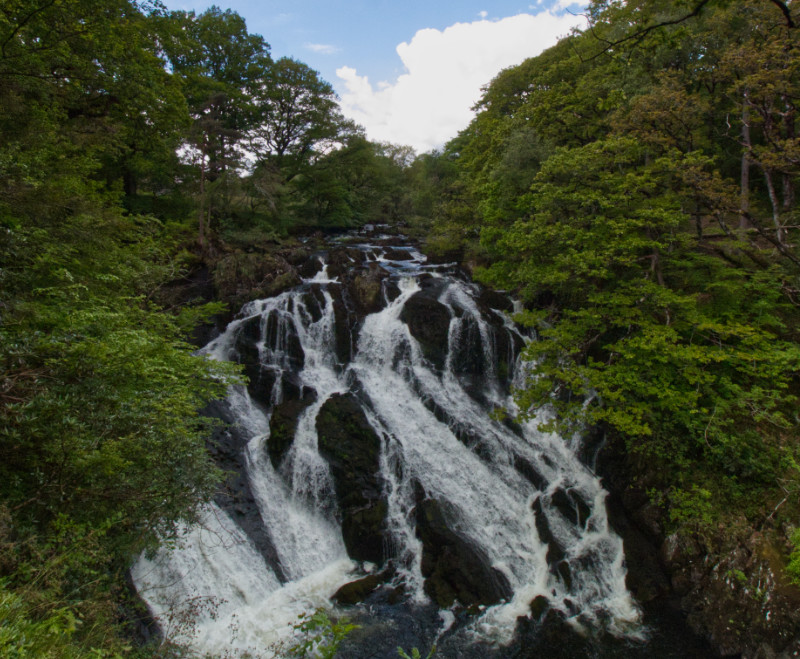 I love waterfalls, they are so often awe-inspiring and always make for beautiful photos, the only drawback to waterfalls is they are rarely accessible. Very occasionally they might be close to a road and have a dedicated car park, such as Pistyll Rhaeadr; but most waterfalls are found deep in woodlands, halfway up mountains or somewhere equally difficult to reach. While Swallow Falls will probably be inaccessible to those wheelchair-bound, it is one of the better places for those with low mobility. Unfortunately, while the literal barrier to entry can be bypassed for wheelchair users, you will be restricted to the top only due to all routes having stairs down. These falls are pay to enter, but this means they are maintained in such a way that makes them easier to explore with almost every path paved and clean stairs to get between the various levels and viewpoints. Plus, the layby right next to the falls entrance means you should be able to enjoy this place without too many issues.
If you can make your way in you get to venture downwards, stopping at multiple viewpoints that give vastly different views of Swallow Falls. Your exploration here is limited to only a small area but with such a beautiful waterfall to look at you won't leave disappointed. That just about covers everything at Swallow Falls, it is a gorgeous compact spot that may not lead you down the longest of walks but gives you an immense waterfall to enjoy in a location that is easier to reach than most! Plus Betws-y-Coed is such a beautiful little town that you can drive in and extend your easy-going walk with a trundle around the shops here.
6. Porthdinllaen
Location: North-East Snowdonia, West of Nefyn, North-West of Criccieth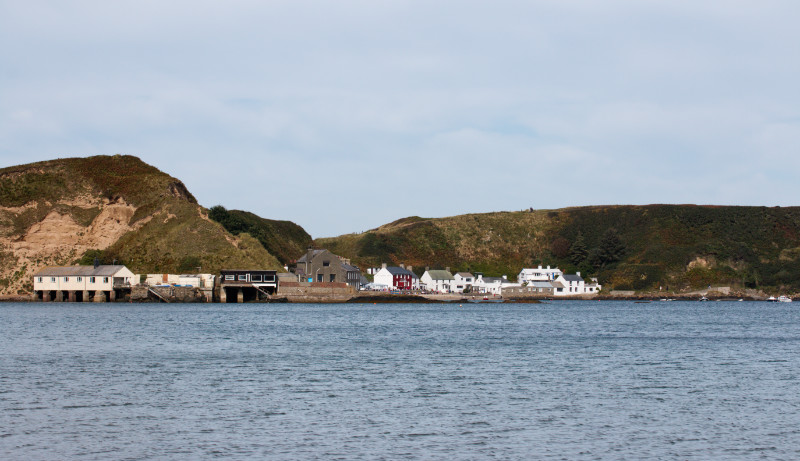 If beautiful coastal walks, stunning golden sands and a postcard-perfect town sound like an amazing day out, then Porthdinllaen will be one place you will want to visit. Porthdinllaen was such an unexpected surprise but one I completely fell in love with, that immediately became one of our favourite places. With some adequate planning and careful selection of routes, you can absolutely navigate around the peninsula at any skill level, without turning it into an ordeal. From the National Trust car park you can make your way down via the stairs carved into the hillside, but for those who may not be able to take this route, a longer but smoother option exists: head out of the car park the same way you came in, walk into the town and take a left down Lon Bridlin - this road is a quiet stretch of housing which gradually slopes down to the beach, bringing you out at the same place as the steps would have.
Making your way along the beach is as simple as you would expect, with a couple of muddy spots but nothing that should stop progress as they can be easily circumnavigated so just enjoy the looming cliffs, golden sands and gently rolling ocean as you amble onwards. Before you know it you will arrive at the town, feel free to make use of the facilities on offer and if you have had your fill of walking then this is just about the perfect spot for a break, pull up at the pub and enjoy some refreshments. If you fancy a little more, then you can make your way to the tip of the peninsula via one of two routes. The first route is to follow the path around the lower portion of the cliffside, that bounces up and down via narrow walkways with stairs; this route is definitely not for everyone, but if you can manage it you will get some outstanding views as you make your way forwards. The second route is to head out the back of the town up the single road carved into the hillside, obviously much smoother but so steep that some may find it too much. If you really want to see the tip of the peninsula, and really love walking, then you can always follow the road from the car park instead of walking the beach, this road passes straight through the golf course and eventually arrives at the Lifeboat Station if you follow it all the way; I would certainly consider following the road the long way around, especially if you have already visited the town, but it is the best option available to those that need it.

Overall, Porthdinllaen is a wonderful place to take a walk that, with a little adjustment, can be accessed by all skill levels and abilities. In my original write-up, I think I did everything I could to sell you on this beautiful place and I absolutely stand by it, from the little town that could just as easily be mistaken for somewhere down-south to the gorgeous views out over the bay and beyond there is so much to love here. If nothing else will convince you, making your way to the tip of the peninsula to watch the seals sunbathe and swim is something I will remember forever and I am sure you will too.
7. Torrent Walk
Location: Central Snowdonia, North-East of Dolgellau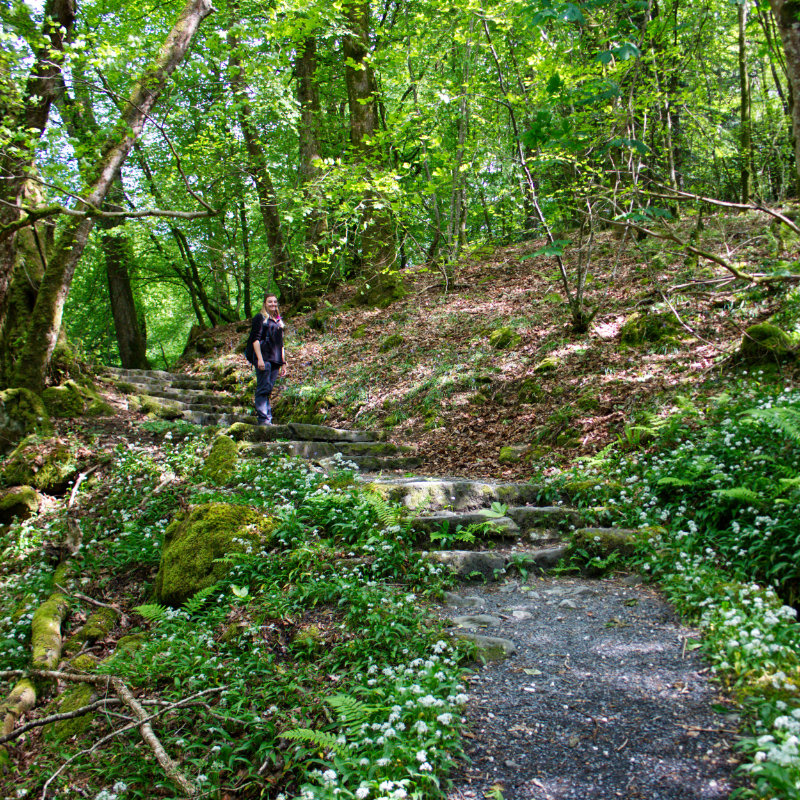 North Wales is littered with a huge number of impressive rivers, full of cascades and falls worth picturing, but more often than not these locations require a difficult journey just to reach the start of the walk; the natural gorges these rivers carve are stunning, but don't really aid accessibility. This problem doesn't apply to the Torrent Walk, where the only challenging bits are a small hill at the end and the short section you will walk along the roadside; the worst the route has to offer is a few gates, a handful of steps and occasional slight slope that should hopefully not pose a threat. Good boots may be required depending on when you choose to visit, as some of the paths may be a little muddy - this is only a minor issue as some of the worst sections have been reinforced by wooden walkways. The majority of this route is dirt with some loose stones, with two short sections of smooth road at either end of the walk. As an added bonus, you won't have to deal with any excessive hills at all with only a couple of short sections of dips and climbs that, with any luck, won't be a dealbreaker for any skill-level.

So this is a pretty straightforward walk, but what do you get in return? A lush forest walk that frames a turbulent section of the Afon Clywedog, paths that circle around and back to the start giving a panoramic view of this striking location. The furthest end has a beautiful bridge to cross and at one point vine dangle down from the canopy above like an exotic jungle; there are a bunch of different reasons to take this walk, that are all detailed in full in the original article, just know that this is a place well worth your time and when you consider how easy the walk can be there is just no excuse not to visit as soon as possible.

Honourable mentions
This list has tried to focus on some of my favourite places, different walks distributed around Snowdonia, that offer the greatest options in terms of accessibility. But this doesn't mean that is all there is on offer. Almost every beach you could possibly want has some means of getting there easily, with Traeth Morfa Bychan (Black Rock Sands) even allowing you to drive right onto the beach itself. The advent of street-view by google, and their ongoing project to map not only roads but paths and walkways too, meaning you can often check out some of these locations to get a good idea of the difficulty without ever leaving your home.
If you want something a little more historical, many of the Cadw managed castles actually do a reasonable job of remaining accessible, and while some of us may struggle to get into every nook-and-cranny and wheelchair users may be restricted to courtyards (to balance this out it should be noted that, at the time of writing, disabled visitors can access Cadw locations for free), the beauty of these castles often lies in their exteriors anyway. Locations such as Caernarfon sits pretty in a quaint town square that is full of things to see and places to go with the gorgeous city walls and narrow historic streets just begging to be explored.
There are also so many road-side and easy to reach attractions around Wales, you can check out 10 quick-stops around Snowdonia, some of these locations may vary in terms of their accessibility, but as most are almost directly along the roadside they can generally be enjoyed by all! Even if you cannot explore every part of these locations, their position so close to the roadside means you should be able to get plenty of great memories and beautiful photos from them regardless.

Hopefully, regardless of your experience walking or your physical ability, you can find some inspiration among these places to get out there and do some walking in spectacular surroundings. It can be difficult to find places that cater to all skill levels, but if you prepare you can still maximise your enjoyment of the great outdoors. Just because Snowdonia is full to the brim with mountains and valleys doesn't mean you cannot find a walk tailored to your abilities; it may take a little adjustment or planning on your part, but no matter who you are you can get out there and do some adventuring of your own.